Mountainsmith Scream 55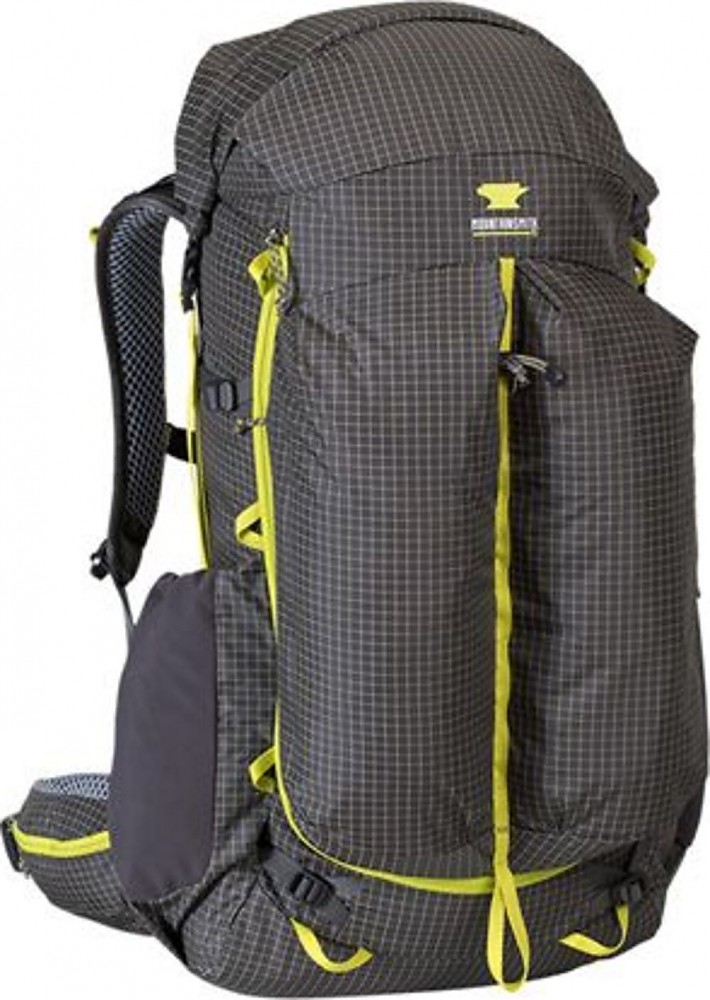 A well-built frameless weekender, the Scream 55 can be a year-round performer if the rest of your gear allows it. Keep your total weight under 30 pounds and head for the hills.
Pros
Waterproof, roll-top closure
High-tech Robic fabric is durable and waterproof
3-D spacer mesh on shoulder straps and hip-belt
Hydration sleeve-compatible
Great hip-belt pockets
Cons
Nearly useless load-lifters
Removable stays would be nice...
Best For: Weekend warriors with lightweight gear still looking for that 90%-of-the-time backpack. Ultralighters that want a measure of waterproofness.
Design
The Scream 55 is a mid-size, frameless backpack constructed mostly of Robic, one of the newest, most promising fabrics to come along since the Dimension Polyant's X-Pac line. For a few years X-Pac reigned as the fabric of choice for backpacks due to its blend of weather resistance and durability for its weight. Robic is a contender for the crown, retaining almost the same measure of weatherproofness and durability as X-Pac, but at a significantly reduced weight. It has a clear PU coating, and it is not lined. The bottom of the pack uses 610D Cordura for added abrasion resistance.
Being frameless, the weight one will be able to schlep with the Scream is limited by design. Without the option of a frame—even a single stay is better than no stay—the most well-designed backpack will not likely be comfortable when loads get above 35lbs. Sure the pack might be able to physically hold and carry 60lbs, but it will not ride as it should: with the majority of the pack's weight resting on one's hip-bones instead of shoulders.
Mountainsmith puts the comfort limit at 45lbs, a bit optimistic in my experience.

Mountainsmith Scream 55 backpack...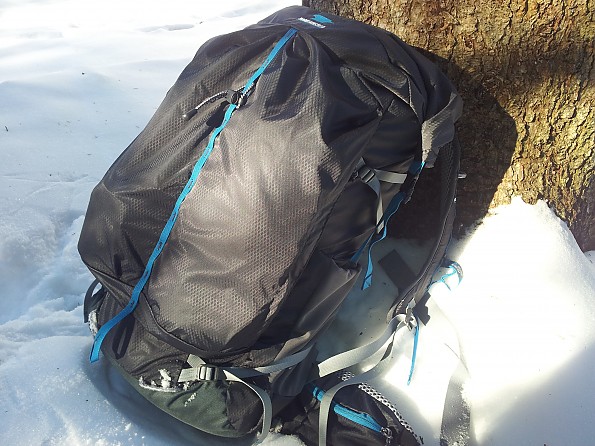 Without a frame, however, the Scream 55 weighs in at about 2lbs, which will suit the lightweight backpackers among us just fine. When one's kit has a base-weight (total weight of everything carried, minus consumables) under 15lbs, a frame isn't strictly needed anyway.
Now logically, a giant, frameless pack is something of an oddity, so it makes sense that the Scream has about 50L of capacity. Just right for the majority of weekends trips most of us take, with the ability to do a UL thru-hike if things line up.
The main compartment is really quite generous in size, and I'd guess that it, by itself, gives the Scream 55 its name; add in all the pockets and I'd put the total capacity around 60L. It is larger in capacity than most frameless packs. The main bag closes via a roll-top closure which also provides some vertical compression to the entire load when cinched, as the roll-top buckles into straps on the side of the pack.
Roll-top reinforced with 3/4" webbing...

Critical points are bar-tacked, buckles are large and sturdy, and zippers have cordage pulls to aid with grip. I always like to see a reverse-pull center buckle and split hip-belt design, as found on the Scream 55. I find buckles of this type slip less under load, while split-belts provide a greater range of adjustment, and thus, comfort.

So let's talk about all those pockets. I love them because their form follows the their function, with not one present just to "look cool". Inspecting the pack, we find two matching, vertical tube-style pockets on the back of the pack body, a la Dana Design. Their size accommodates oblong objects well, and the symmetry encourages intuitive organization (e.g. "wet and dry", "soiled and clean").
Profile shot showing tube and side pockets...

We also find two differentially-cut (read: designed so as to keep the stuff you put in them from poking you) hip-belt pockets large enough to store a couple of energy bars each, but small enough to not get in the way of your swinging arms.
Lastly, a pair of stretchy-mesh side pockets are equally adept at holding 1L water bottles and wet tent flys. They are not bellowed, and so will be limited in what they can hold by what is packed in the main bag.
The fixed-torso-length suspension of the pack is pretty plush, especially considering there's no frame. A person with a torso-length around 18-20 inches with be well served by the Scream 55. Both the hip-belt and the S-curve shoulder straps are made of 3D-spacer-mesh-lined, 3/8"-thick open-cell foam with a nice wide profile.
The back-panel is corrugated 1/4" Evazote foam reinforcements on top of a removable 1/4" Plastizote sheet. It looks like a set-up that would be complimented by a rigid frame; it also looks like most of what Osprey's been employing in their suspensions for years now.
Close-up of shoulder straps and side pockets...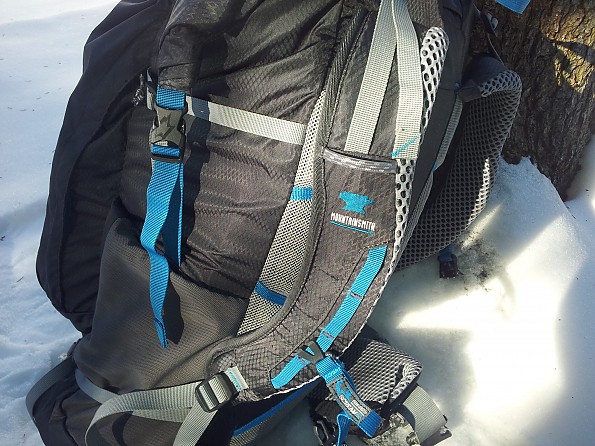 Otherwhere, which is a word I just made up, everything is as it should be: There is an adjustable sternum strap; a hydration bladder sleeve, hydration port, and tube keepers on each shoulder strap; two compression straps on each side; ice-axe loops, and a center daisy chain. Sewn into the seams of the bottom of the pack are two sets of thermoplastic-tube-reinforced nylon cordage, presumably as lashing points.
Also present are two load-lifter straps which, because they are not anchored to any kind of rigid thing which is also anchored to the hip-belt (like, you know, a stay...), are mostly useless. Their only function might be to help pull the top of the load closer to your back, changing your center of gravity. Fit the pack with these straps arching down from about fifteen degrees above your shoulders. Between these you'll find a stout haul handle, a couple layers of seamed webbing.

Load lifters, haul loop, and hydration port detail...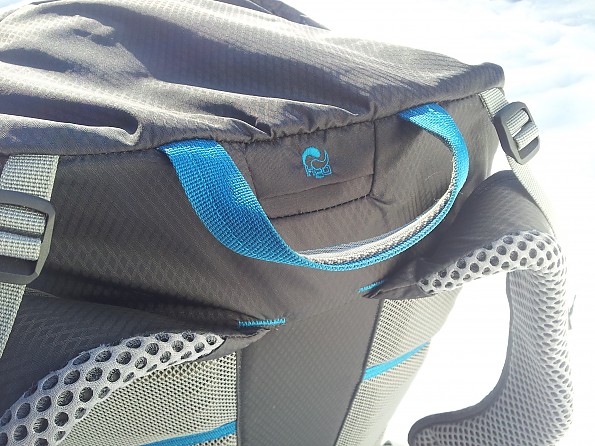 Performance
So yeah, the Scream 55 would benefit from a couple of removable stays in a V shape, with the tops of each stay anchored to the load lifter straps. It's a good backpack as it is, but it would be a great pack with them. As is, the Scream will start to fold in the middle once one's total pack weight gets above ~33lbs, which is exactly what happens in every frameless pack above a certain weight. I would not take it near the 45lbs suggested by Mountainsmith unless you like sore shoulders.

As this is expected, however, I can't fault the pack. Almost any pack is happy with a lunch and the ten essentials; a lot of things need to go right for a frameless pack to be comfortable near its upper weight limit. Namely, the pack needs to have a good compression system, and an overall design which can effectively transfer weight to the user's hips. (read: it should hug you like a monkey!)
Here, the Scream 55 excels. As mentioned, that center-pull hip-belt, which routes behind the hip-belt pockets, splits off to provide two anchor points on either side, instead of the usual single point, which greatly helps the pack contour to your lower torso.

Efficient, wrap-around hip-belt and bar tacks aplenty...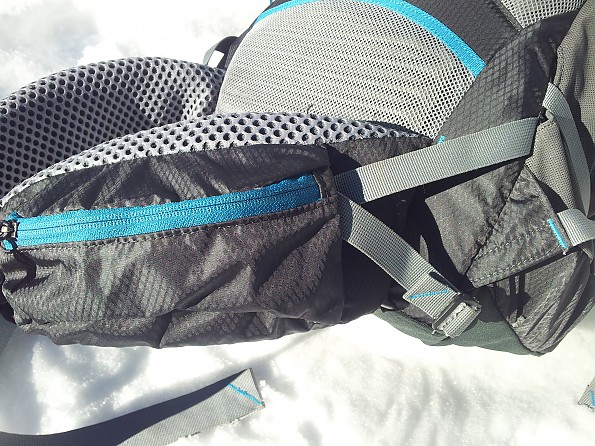 The back-panel has enough padding to keep stuff from poking you in the back, the hip-belt wraps your hip-bones perfectly, and the contour of the shoulder straps combined with their width are effective at distributing weight across the shoulder and collar bones. The corrugated sections of the back-panel—those six pod-like things—and their accompanying channels, affect two positive effects: They help to increase the ventilation of your back, kind of like little 'pumps' that move air as you stride about; and they create natural stress lines that allow the pack to move with you. These channels are also exactly where the pack collapses when total weight gets too high.
Corrugated 'pods' over a full-length, inner pad...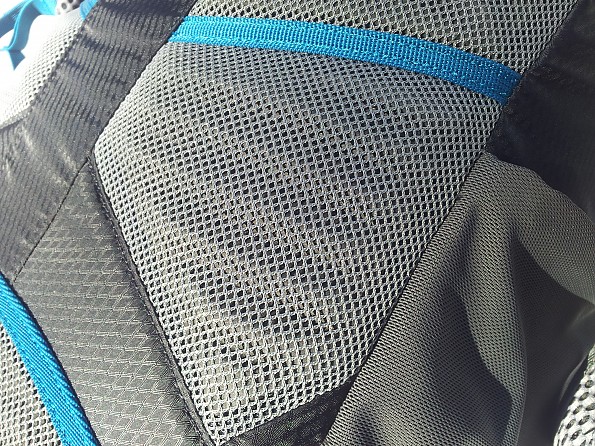 The side compression straps in conjunction with the roll-top closure keep your load snug against your back, and the load lifters do indeed help a bit in this regard. Also surprising, the two sets of nylon cordage on the bottom of the pack can be cinched together very easily to further decrease the volume of the lower section while shifting the overall load higher on your back.
Pack bottom featuring Cordura fabric and lash points...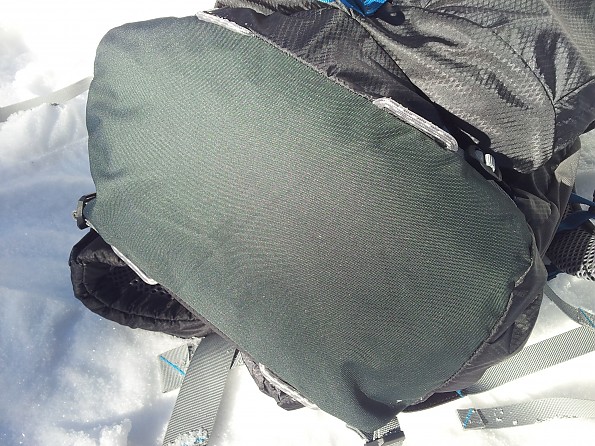 A good way to provide structure to a frameless pack is to create a "virtual" frame using the things you pack inside of it. For most, this is done using one's sleeping pad; closed-cell-foam pads are folded and slid against the back-panel, stiffening the entire package and giving those load lifters something to pull against. A similar effect can be achieved with inflatable pads, with the added bonus of being able to take up the extra space created as you eat all your food over the course of your trip, thus keeping your load snugly compressed.
While this technique will not transfer weight as effectively as an actual frame, it does help out. Perhaps this is what Mountainsmith assumed people would do when using the Scream. For a virtual frame I used a ¾-length folded-over 3/8" CCF pad, a ¾-length Klymit X-Lite, and a full-length Therm-a-Rest NeoAir XLite.
Stiffened up with the Klymit pad...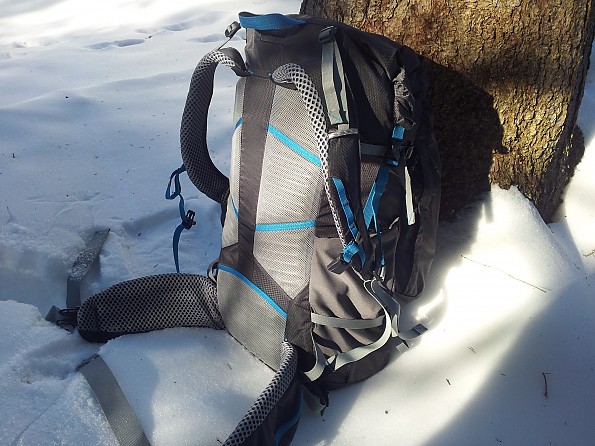 For this pack, with the rest of my 3-to-4-season kit (~3lb bag, 4oz stove setup, 1lb of accessories, ~4lb tent, 4oz water treatment/water bottles), I really like the Klymit pad. It folds really nice against the back-panel, and in conjunction with the aforementioned bottom-section-cinching trick the Klymit allows the pack to always have effective compression. The Klymit strikes a perfect balance with its laughably small packed size and surprising warmth when used inside your sleeping bag. I also like the three-quarter-length Klymit because it allows me to go dual-use with the removable frame sheet/bivy pad, using it under my legs.

Overall, I find the Scream 55 ideally suited to UL weekends in winter, where the bit of extra volume provided by the pack can be best utilized. The Robic fabric is stout enough to require no special attention, even off-trail, and is very hydrophobic. There is very little water regain to speak of as the cumulative effects of a multi-day trip in wet or snowy conditions add up. The side compression straps support the weight of a pair of skis, and the roll-top accommodates all the fluffy insulative crap we bring along to prevent our dying that way.
The roll-top is absolutely waterproof, BTW, as is the Robic fabric. The only place for water to enter is through the seams of the pack body, and well, you know, trash bags are your friend. Of course, you could also smear some Seam Grip on the seams which penetrate the main bag and have a nearly completely-waterproof backpack. (The hydration port...) Perhaps Mountainsmith is marketing the Scream 55 as more of a winter pack? Like a techy-er Cold Cold World pack? The removable bivy pad supports this notion...

At any rate, I'm also happy to report that the stretch mesh used for the side pockets is more robust than expected. Not very stretchy, but rather abrasion-resistant; I think it finds a good middle ground. In hindsight, I think their sleeker design, relative to if they had bellows, also helps immensely in not getting snagged by brush. Most of the time you're just squishing in your sleeping bag anyway, so you really can stuff a lot in them. A
s for those tube pockets on the front, designed by Mountainsmith so as to fit their Mountain Shelter LT (which I concurrently reviewed) I can say that while the shelter does fit fine, I wouldn't put it there, as its density moves my center of gravity too far back when wearing the pack. I find those pockets best used when stuffed to the brim with lighter things like socks, gloves, and hats.

Cleanup & Maintenance
The Scream 55 is, if nothing else, durably constructed, so you can put some elbow grease into servicing it. Most everything but pine sap can be spot-cleaned with barely-soapy warm water and a stiff-bristle nylon brush. Air dry it, hung upside-down.
The only other thing I can envision down the line would be wanting a more durable bottom, or fixing a hole that might develop on the bottom of the pack. In such an instance, I'd patch the hole with any number of awesome tapes if needed, then spread a coat of Shoe Goo on the fabric. (I had an Arc'teryx Bora 95 when I was in the Army, which would regularly get loaded with 120 lbs and then dropped straight onto tarmac. A single application of Shoe Goo right after I bought the pack kept the bottom looking pristine the entire time I owned it.)
Soapbox
So here, as much as with any product, we find the "but what was it designed for?" question applies. Packs have a nice dividing line with the frameless vs. framed thing. Not giving the user the option of a frame stay or two (for what, two ounces of weight?) great limits the capabilities of a pack, and inherently means that "it's not designed to comfortably carry a lot of stuff".
As the Mountainsmith Scream 55 is frameless it's not a load hauler, meaning it's designed for lighter loads, meaning it needs to mind its own weight, as it strikes whatever balance of whatever compromises it does. The Scream is on the heavier side of frameless packs, but you get a well-engineered suspension, ample padding, and durable fabrics throughout.
That said, my Mountain Laurel Designs Burn is little smaller in capacity and little less durable, with a simpler suspension, and it weighs a quarter of the Scream. Since I'm bringing a sleeping pad along anyway, the Burn does almost everything the Scream does at 8oz, vs. 2lbs.
It's no secret that I appreciate well-executed Jack-of-All-Trades type of stuff, and I do (partially) because such things are spectacular embodiments of a long line of successes in knowledge, purpose, design, engineering, and construction. Such things give me hope in the world, and the Scream 55 is not one of those things. The vestigial load lifters alone tell me that a number of people failed in bringing this pack to market. To have any merit you'd have to call them "those things you pull that kinda feel like they're doing something but you can really tell what" straps.
At least Mountainsmith has the good sense to employ a few of the features Dana Gleason innovated. Keeping the hatchet buried, its clear to me that in today's backpacking world there are few, if any, truly original ideas anymore. (Every company does what it must to stay afloat.) Whether it's just that there's nothing left to think of or there's no-one left to think of it, is another discussion.
I just don't think those backpackers looking for a cushy, feature-laden pack that's hydration bladder-compatible are keeping their base-weights under 15lbs, and I'm not sure they'll know this isn't the pack for them.
Conclusion
If you're looking for your first frameless backpack, the Scream 55 is a tempting package with its blend of durability, comfort, and function. If you're looking for your first backpack, the Scream might not be of interest to you as you'll want the ability to carry more weight comfortably. If you're looking for another arrow to add to your quiver, the Scream could be downright useless.
But certainly, don't let the silly notion that this pack "doesn't give you hope in the world"—What?! What kind of fool would say that?—keep you from considering the Scream 55. With a $150 MSRP it's a fine value considering the generous feature set and build quality.
As it so often goes, being happy with this pack is a matter of being an informed consumer. It's just knowing what you want, and cross-referencing that against the feature set of the Scream, right? Thing is, even once you know what you're looking for, you'll find that it can often be difficult to divine the purpose of a thing via the manufacturer's description, and that's why I'm here. (Heck, that's why Trailspace is here!) Mountainsmith likes to think of this as a minimalist pack, but a lack of a proper frame does not a minimal pack make.

A big thank you to Mountainsmith for letting me test the Scream. Although the pack may have a narrow window of applicability, the Scream 55 does what it does pretty well, namely being a little frameless tank for the winter explorers among us.

Testing Conditions: Hiawatha National Forest, Pictured Rocks National Lakeshore Trail, and Escanaba State Forest in Michigan's incomparable Upper Peninsula: Late summer, fall, and winter temperatures ranging from -10 to 70 degrees Fahrenheit.
About the Author: Vince Contreras has been working as a professional Forester and Ranger for various federal land management agencies since graduating with a Bachelor's Degree in Forestry from Southern Illinois University in 2010. He currently resides in Michigan's Upper Peninsula, a Forester and Wildland Firefighter for the US Forest Service. He enjoys rock climbing, backpacking, and debating nineteenth-century German Idealist philosophy. Other hobbies include leather-working, bushcraft, and really, just creating original things.
Source: received for testing via the Trailspace Review Corps (Sample provided by Mountainsmith for testing and review)

Your Review
Where to Buy
Help support this site by making your next gear purchase through one of the links above. Click a link, buy what you need, and the seller will contribute a portion of the purchase price to support Trailspace's independent gear reviews.
You May Like
Specs
Price
MSRP: $149.95
Current Retail: $87.97-$159.95
Historic Range: $86.73-$159.95

Weight
2 lbs 4 oz / 1.02 kg

Volume
3350 cu in / 55L

Capacity
Up to 45 lbs

Dimensions
24.25 x 10.75 x 8 in / 61.5 x 27.3 x 20.3 cm

Recently on Trailspace