NEMO Tensor Ultralight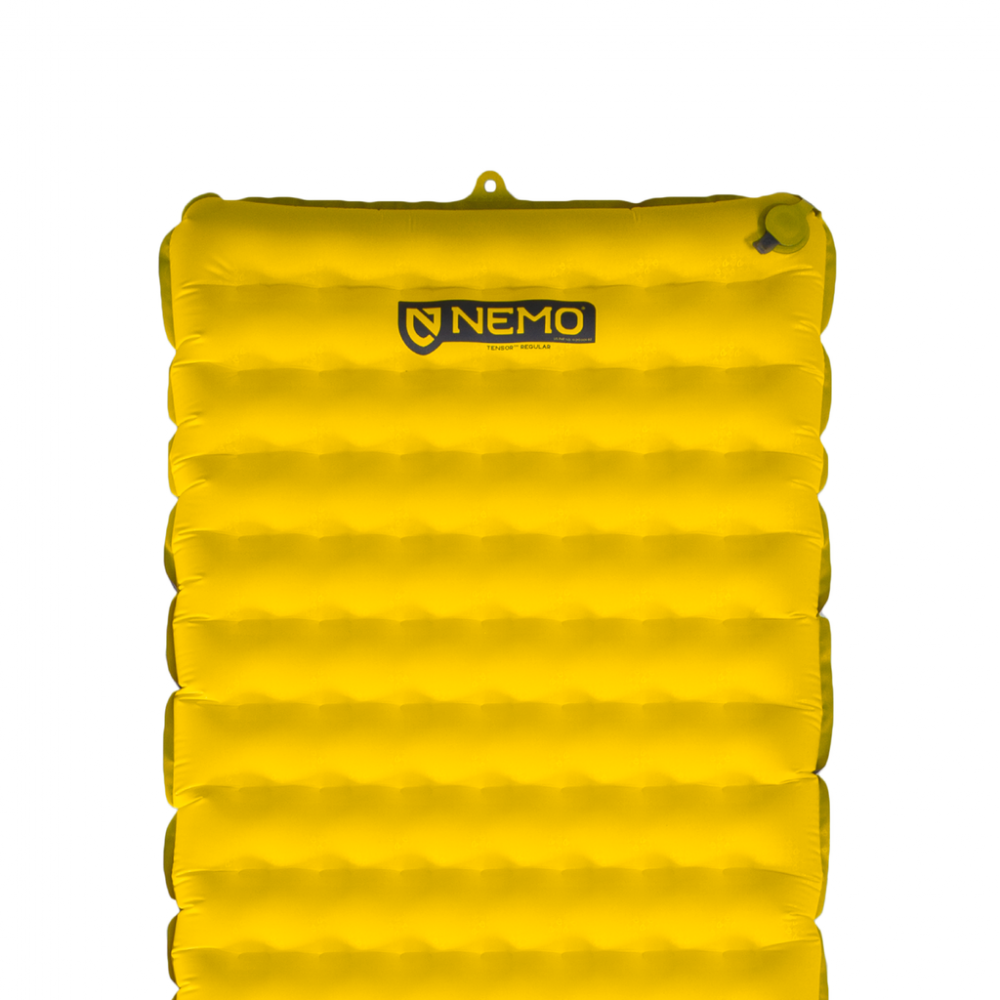 A comfortable, compact, and lightweight inflatable sleeping pad. Especially in the chosen size/format (regular wide). Like most other lightweight pads, requires care and attention to avoid damages and leaks. The 2.5 R-Value means four-season usability for my tropical settings, even without supplemental insulation.
Pros
Very, very comfortable.
Relatively lightweight and compact
Decent R-Value (2.5) = four-season usability (for my settings)
Cons
Inflating system works fine, but could be improved.
I'd love a more subdued color.
Not fragile, but requires care and attention to use.
Regular wide format not the best for hammocks
Since I resumed using my 1P tent for camping a few months back, I decided to go for a higher R-Value sleeping pad.
Nothing wrong with my beloved Ether Light XT air. It's long, wide, and extremely comfortable with its 4" of stable baffled suspension. It's also relatively lightweight, though not much compact, and has proven extremely reliable even after a few years of hard use. The S2S inflating system is the best I've ever tried, no other comes even close. 
But its 0.8 R-Value is too low even for our tropical climate. Oftentimes I found myself having to add a layer or two of extra insulation, especially in the winter or even spring and autumn colder nights. It gets close or even below to low-30's/mid 20's (0°C or below in the mountains), and without an additional layer of insulation (or two) some cold can be felt through. It's less pronounced in the hammock, but more in the tent when I'm closer to the ground.
That is fine when I'm using my hammock, because I already use a sock (with my Hummingbird which has no bug netting), or a hammock UQ protector (with my ENO Junglenest), to reduce wind chill and bugs biting through the hammock fabric. Both systems work well, and it's still not cold enough to bother much or keep me awake, but some nights I find myself thinking something warmer would be nicer.
Thus, the Nemo Tensor.
I was going for the insulated version, which is 4.2 R-Value, but decided the 2.5 of the UL would be enough for me, since my other pads are below that and don't leave me with cold spots. It's close to my old Therm-a-Rest NeoAir Uber Light (2.3 if I recall), though it was way lighter and more compact (and also more fragile: mine started leaking after little use even with lots of babying and attention).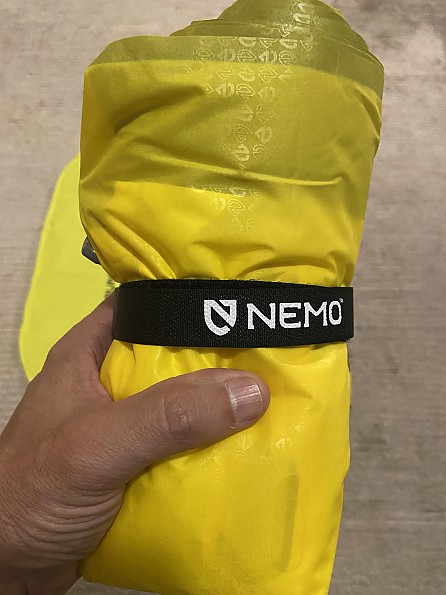 The Tensor UL construction is top-notch, and the baffled design makes it very, very comfortable to sleep on. I found no difference in comfort between the 4" S2S Ether XT and the 3" Tensor UL. Both are very stable and comfortable in any position, even sideways (I'm a side sleeper). No sore spots. Both retain inflation quite well too, and this is very important. 
I took some pictures of both side-by-side to give an idea of the differences in lenght and height.
Both are the same width at the largest portion, which for the Tensor UL is the entire length, since it's rectangular-shaped whereas the S2S is mummy. This makes the S2S better for the hammock. Both work fine in the tent, though.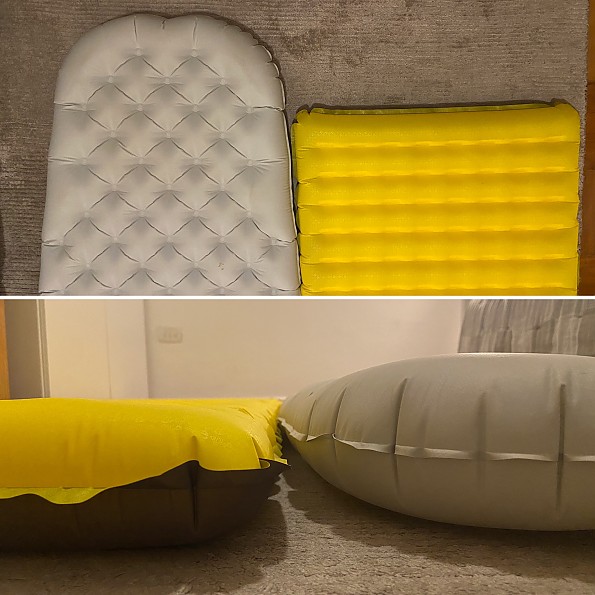 The Ether Light is longer at over 1,90m, which may seem a good thing on first sight since I'm 6' (180lbs.). But in practice it makes no difference, because the Tensor is 183cm in length and honestly I look for width as a better measure of good comfort so both are great in this regard. But in all honesty, the Ether Light is wide enough throughout its length and comes no short in size whatsoever.
Being slightly shorter, the Tensor actually leaves a little more space for my gear inside at the top head part of the Snugpack Ionosphere. I like the squared shape as it's more similar to a conventional mattress, but I can't say it being rectangular makes that much of a difference in practice, at least in my opinion. 
The Tensor is more pleasant to the touch than the S2S. By a fair margin IMHO. 
And that says something because the Ether Light is actually very good to stay on too, especially when it's warm since it's a "colder" mattress. It's also more silent, which surprised me because it has an internal reflective insulation that's even visible through the inflating valve. Whatever Nemo did, they did it right because this is a huge plus of the Tensor.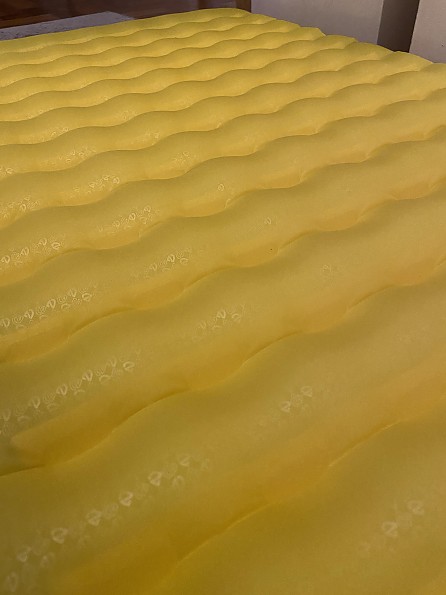 BTW, the valve is flat and easy to open. The Vortex inflating bag works OK, better than Therm-a-Rest system and most others in fact. But still nowhere near as good as the S2S inflating system, which is also cleverly integrated with the storing sack. It's lower volume than the Ether, being wider but 1" thinner, but takes longer to fill, and it's harder, too. S2S nailed the inflation system to perfection IMHO.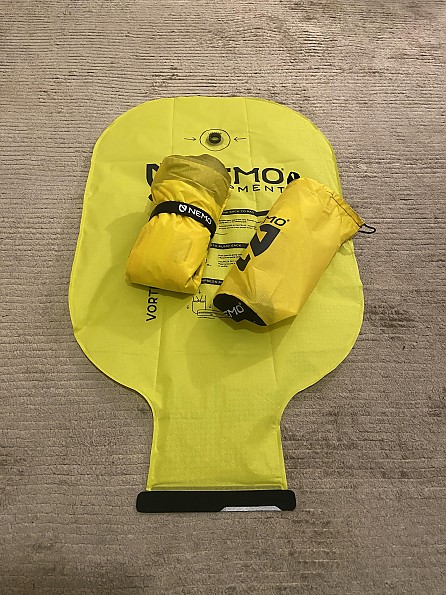 It deflates easily and packs fine. The square shape helps with rolling it quickly and easily. Nemo included a velcro strap, which is fine to keep both the pad and the Vortex wrapped and cinched down. But the storage bag is enough for that. Mine came without the patching kit, I hope it's not necessary anyway but would be fine to have in any case. 
I've tested both side-by-side outdoors too, a couple of times, over a cold soft grass surface to test comfort and insulation. Rolling from one to the other shows the difference in R-Value in practice: the Tensor feels warmer immediately, and stays warm. Without a secondary insulation (a mylar or silnylon footprint or something), the difference is evident. 
Long-term durability is still open for me.
So far (a few months using it), so good. I treat my stuff with care, so I'm keeping an eye on construction issues, and hoping nothing shows up. Both my Sea to Summit pads (the Ether Light and Ultralight) are holding fine after years of use, and even some abuse. The Ultralight gets used with my Air Chair oftentimes, and not a single leak or issue. Props to S2S for that. 
But as I said, so far so good. Performance is top notch. For my needs and preferences, it's a perfect blend of comfort, size, weight, price, and warmth.
We've just entered winter here, so I'll be using the Tensor for the rest of the season both for hammocking and tent camping and report back at the start of spring, when I plan to switch back to the cooler Ether Light XT Air. The idea is alternating both as temps change throughout seasons, to get the best of each according to the weather, and perhaps extend their life by that. 

Overall, the Nemo Tensor Ultralight is a very comfortable, silent, and pleasant air pad, with a decent R-Value that I can actually feel in practice. It's been a while but I remember it being warmer than my Uber Light, and certainly much more than my other current pads.It's a joy to sleep on, and I wake up rested and without any signs of soreness. I get that (sans the warmth) with the Ether Light XT as well, but it packs slightly bigger (though it's a few ounces lighter), so switching between the two is easy. 
Experience
I've been using inflatable sleeping pads for camping and wild camping for years, and currently own a Sea to Summit Ultralight (regular mummy) and Ether Light XT Air (long wide), both reviewed here at Trailspace. I've also owned other pads, a couple of low-cost Chinese brands, and a Therm-a-Rest that was great—ultralight, ultra compact, and comfortable, but didn't last too long. I've been using the Tensor UL for a couple of months (autumn) and will update this review by the end of the winter or mid spring, when I'll move back to the Ether Light XT when temps rise again.
Source: bought it new
Price Paid: USD 200 + shipping and importing tax

Comfortable, durable, lightweight, and quiet. Packs up quite small.
Pros
No squeaking if you toss or turn
Comfortable
Packs up small
Cons
Can take awhile to blow up
The Nemo Tensor 25L is quite convenient for camping or even just to bring to a friend's house. It can be inflated with a hair drier or anything else you can get in the quick release valve (though make sure you don't have the hair drier on a high heat mode). Blowing it up can be a bit of a chore, but worth it overall. Comes with its own repair kit, and although I haven't needed it yet I am glad to have it.
It's about 2" thick when blown up, and is quite comfortable, whether you like it firm or a bit softer. I haven't had a sore back because of it, after using it about 20 times. 
Originally purchased at REI, and one of the reasons I got it (besides the compact size) is that it doesn't make much of a crunching or squeaking noise when inflated. It is near silent when compared to other inflatable sleeping pads that I tried in-store. 
There's not much else to say. It's a great pad, definitely worth it if you can find it on sale like I did.
Source: bought it new
Price Paid: $150

Your Review
Where to Buy
Help support this site by making your next gear purchase through one of the links above. Click a link, buy what you need, and the seller will contribute a portion of the purchase price to support Trailspace's independent gear reviews.
You May Like
Specs
short mummy
regular
regular mummy
regular wide
long wide
Price
Current Retail: $104.99-$179.95
Historic Range: $49.95-$219.95
Reviewers Paid: $150.00-$200.00

Temp Rating
35 to 45°F / 2 to 7°C

Minimum Weight
8 oz / 230 g
13 oz / 370 g
12 oz / 345 g
1 lb / 460 g
1 lb 1 oz / 490 g
Packed Weight
11 oz / 310 g
1 lb / 450 g
15 oz / 425 g
1 lb 3 oz / 540 g
1 lb 4 oz / 570 g
Packed Size
8 x 2.5 in dia / 20 x 6.5 cm dia
8 x 3 in dia / 20 x 7.5 cm dia
8 x 3 in dia / 20 x 7.5 cm dia
9.5 x 3 in dia / 24 x 7.5 cm dia
9.5 x 3 in dia / 24 x 8 cm dia
Thickness
3.0 in

Dimensions
48 x 20 x 3 in / 122 x 51 x 8 cm
72 x 20 x 3 in / 183 x 51 x 8 cm
72 x 20 x 3 in / 183 x 51 x 8 cm
72 x 25 x 3.0 in / 183 x 64 x 8 cm
76 x 25 x 3 in / 193 x 64 x 8 cm
Recently on Trailspace