Therm-a-Rest NeoAir UberLite

The NeoAir UberLite is a welcomed ultralight addition to the NeoAir lineup, filling a niche as Therm-A-Rest's premier summer sleeping pad. It shares the dimensions and comfort of the XLite series, with a savings of about 3.5 ounces for a size regular. It sacrifices some warmth, quite noticeable when it gets into the 30's. The 15D lightweight material is also a bit slippery and less rigid compared to a NeoAir XLite.

I was concerned about the durability of such an ultralight product but it survived intact for a three-week section hike on the CDT through New Mexico. I would stick with an XLite for three-season conditions, but this is an ideal summer and/or short-trip sleeping pad, saving a considerable amount of weight and bulk over other pads.
Pros
Ultra-lightweight
Ultra-compact
Comfortable
Made in the USA
Not noisy
R value=2=great for warm/hot climates
Cons
R-value=2=not best for three-season use (not intended to be, but warmer sleepers could definitely make due)
Pricey
Slippery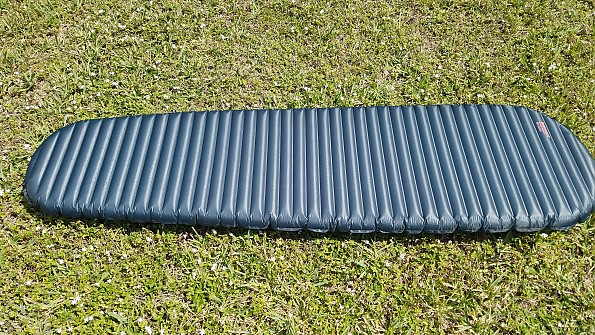 Manufacturer Specs, Size Regular:
R-Value: 2 (Summer conditions-per manufacturer guidelines)
Weight: 8.8 oz /250 g *
Width: 20 in / 51 cm
Length: 72 in / 183 cm
Thickness: 2.5 in / 6.4 cm
Packed dimensions: 6 in x 3.5 in / 15 cm x 9 cm
Top fabric type: 15D rip nylon
Bottom fabric type: 15D Nylon
Included: stuff sack and patch kit 
Available in three sizes: 47 x 20" small (6 oz), 72 x 20" regular (8.8 oz), and 77 x 25" long and wide (12 oz)
*Note: my regular size sample weighed in at 8.5 ounces, just below manufacturer specs.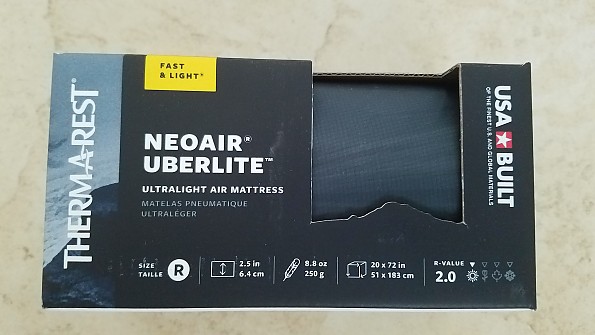 Background: I am a long-term user of Therm-A-Rest sleeping pads. I started with one of the old self-inflating types and then upgraded to a NeoAir XLite (my third review on Trailspace). I bought my XLite the first year that it was released (2012) and I am still using that same pad today. It has been through several thru-hikes without ever having gotten a puncture or leak and is one of my favorite pieces of gear. I also own and use the women's XLite for colder conditions. I have tried a few other pads over the years but never found them to be as warm or comfortable.
Given my extensive and favorable experience with my XLites, I struggled with whether I should relate my review and rating of the UberLite to a comparison of the XLite. I decided this was appropriate since it's a very similar product by the same manufacturer. Besides, many readers are probably considering whether to make the switch from an XLite to an UberLite. So bear in mind this somewhat conditional or more narrow perspective for the rest of the review.

Comfort: The UberLite offers basically the same level of comfort that I have come to know with the XLite, which is to say, pretty exceptional. It is a little less rigid than what I am used to, however. I notice that the structure collapses some when pressure is applied to the edges, say by an elbow.
The baffles also flex a bit, accordion-style, from body movement. This is most noticeable when lying on my stomach... I can sometimes feel the pad expanding and contracting under my tummy as I breathe. The 15D material is just so thin that it doesn't take much to cause ripples. Fortunately, none of this affected my sleep. My hips never bottomed out and I spent the majority of time sleeping on either my sides or stomach.
Lastly, the material is more slippery than that of an XLite. Using various quilts (Katabatic Gear Alsek and Therm-A-Rest Vesper), the pad attachment systems helped lock me down. But often I found that my feet had slid off to the side sometime in the night. The pad also migrated easily towards the head or foot of my tent whenever on a slight slope.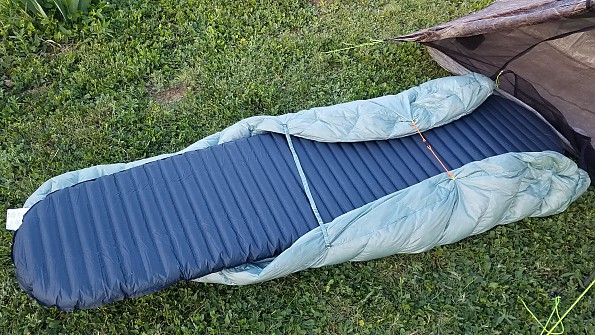 Upside down view of the Vesper quilt and pad attachment system, which helps to keep the pad from sliding around.

The feel of the material against bare skin isn't to my liking, either. A couple nights I slept in my hiking skirt and t-shirt and between the sweat and dirt on my skin, I was sticking to the pad. But I rarely sleep in anything less than tights and a long-sleeve baselayer, so this is not a big concern.

Thermal Protection: A big part of the XLite's long-term success is its excellent R-Value (a measure of thermal resistance per unit of a pad's exposed area). An XLite men's regular has an R-Value of 3.2 and the women's version is 3.9. Therm-A-Rest keeps the weight and bulk down by utilizing a thin reflective layer,ThermaCapture technology, which is what makes the XLite so crinkly and noisy. A triangular core matrix baffle design also traps heat. This brilliant combination of engineering has produced the warmest lightweight pad.

To make a pad that is even lighter than the XLite, something had to give. The UberLite drops the ThermaCapture layer and subsequently its R-Value down to 2. It does retain the Triangular Core Matrix and this dead air space is the sole basis of its insulation. For me, the lack of the ThermaCapture layer is a noticeable and significant difference. On the positive side, the UberLite is not noisy when compared to its predecessor (a factor that never bothered me).

But the UberLite does sleep colder. Again, per the manufacturer's published information, it is only intended for Summer use. Furthermore, a cooler pad could be seen as a positive if the pad is used in hot and humid climates...like say Florida, where I do a fair amount of kayak camping and backpacking. The XLite was always way too hot for such trips, so I'm ecstatic that there is now a pad to accommodate summer and/or temperate and tropical climates.
As for a thru-hike of the Continental Divide Trail, highest-altitude and coldest of the three long U.S. trails, the shortcomings of the UberLite quickly became apparent. I knew I would probably be pushing it past its limits in bringing it along. My plan was to at least try it for the stretch through New Mexico, then switch back to my women's XLite if I found it too cold.
As I feared, freezing temperatures and bitter winds proved to be a challenge in NM, leaving me wont for my XLite after only a few weeks. But the UberLite was just warm enough when paired with my 22°F Alsek quilt. I could feel cold spots underneath on many nights but the warmth of the quilt compensated. I am an average-temperature-sleeper for a female and I think many male users will find the UberLite to be plenty warm down to freezing or even below. But given my experience, I would hesitate to push it past its limits again unless I also had an overly-warm quilt and/or extra clothing layers.
The good thing about an R-Value is that it is a definitive measurement, standard across the board, so users should be able to make an educated guess as to how an R-Value of 2 will perform for their unique sleeping habits and conditions.

Ease of Use: The UberLite is not self-inflating and takes a fair amount of breaths (15-30, depending on lung capacity and altitude). The "twist-to-close/open" valve and inflation procedure are the same as for the XLite. I use an alternate method for inflation, to save effort and reduce the amount of moisture that gets inside the pad...see my review of the Exped Schnozzel Pumpbag.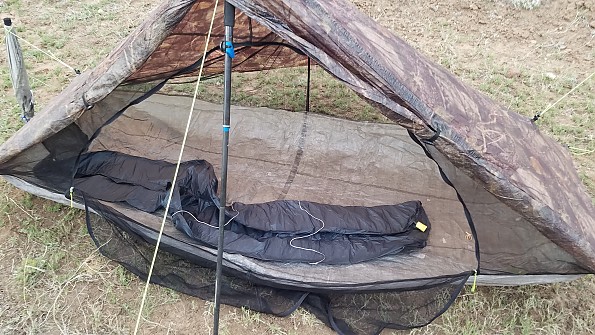 Unrolling the UberLite, ready to inflate inside the protection of my tent.
Getting air out of the pad is efficiently achieved by opening the valve while lying on top. This is the first thing I do in my morning ritual, as it forces me to have to wake up and get moving. The Uberlite comes out of the box folded into 4ths and is very compact in this configuration...small enough to fit into a back pocket. But I found it more tedious to roll/squeeze air out when it is folded into fourths, as opposed to thirds—my preferred fold. I don't use the stuff sack, so I don't have to worry about squeezing it back into its original form. It's still plenty small enough to fit into my 10L stuff sack along with my quilt and spare clothes.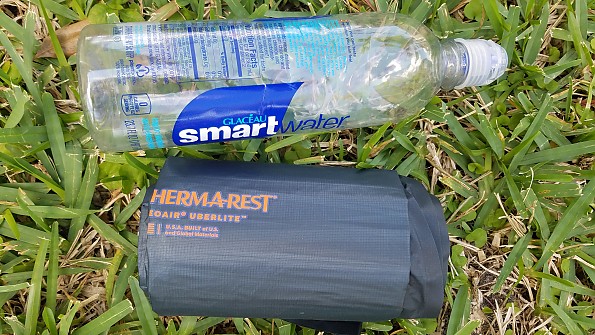 The UberLite is about the size of a soda-can when factory-rolled.


Shape and Dimensions: The UberLite is essentially identical in design and proportions to the XLite series (although as of yet, there is no women's UberLite version). Like its predecessors, it sports a very efficient profile. In rounding the corners, all unnecessary excess has been eliminated. This also results in the pad taking up minimum space inside a tent (especially important in an ultralight single tent like the Zpacks Solplex). Not all will find the svelte 20" width to be sufficient (a size long is 25" wide) but I have always been happy with these dimensions.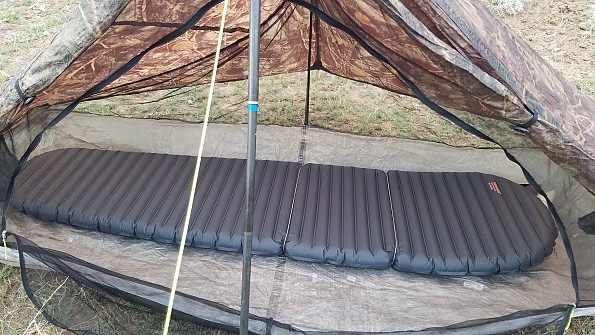 Construction & Durability: The UberLite features horizontal baffles and the standard, dependable Therm-A-Rest twist valve. It is constructed of 15D ripstop nylon, both top and bottom. Aside from the lack of the ThermCapture layer, the Uberlite also shaves weight with this much thinner material...half the denier of the XLite. It is so dubiously thin that it is nearly see-through.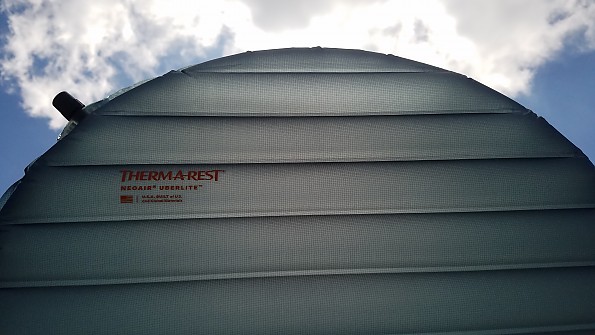 So ultralight and thin, it nearly floats in the air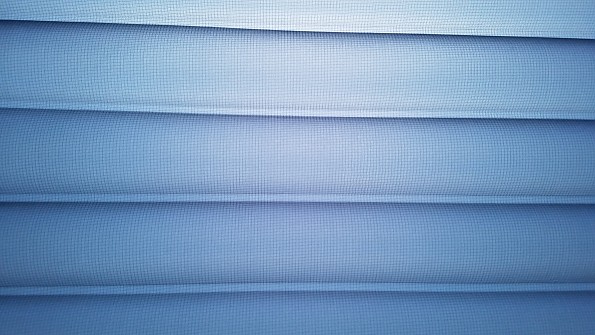 Nearly see-through...but so was my first XLite.

I have my doubts about the durability of this material but then again, I had my doubts about the XLite...which have been thoroughly disproved after years of use/thousands of miles and zero holes. I will also concede that I am very gentle with my gear, generally getting much more than the expected lifespan out of things. I do not use my pads outside my tent (i.e. for glissading, as a chair, packraft, or Frisbee, etc.). And I am careful to use at least one protective layer when sleeping on any surface, even on wooden floorboards, which might have splinters. I do not use a groundsheet for my DCF tent, but I do take the time to find a good spot and clean it of debris and rocks.
I was still uber-paranoid about using the UberLite, especially in deserty, barren, prickly New Mexico. Having just one DCF layer between the pad and the ground did not seem like enough, especially since occasionally sharp things did puncture my worn tent floor. But despite my fears, the UberLite held up to three weeks of constant use and shows no signs of wear. I still somehow doubt that it will demonstrate the longevity of my XLites, but hopefully I will be pleasantly surprised in the long-run.
Value, Best Uses, and Conclusion: The UberLite, in size Regular, costs $10 more than a size regular XLite. Both are substantially more expensive than other similar pads. In addition to Therm-A-Rest's reputation for customer service, innovation, US sourcing, and product warranty/replacement, you are paying for the reduction in weight. Although intuitively, a reduction in materials should result in a reduction in cost. This paradox seems to be the way of things in the Ultralight world.

At virtually the same price-point, I still prefer the versatility that the XLite series offers. I know that they have the durability and warmth to meet all the varied conditions of a long-distance thru-hike, which is my current passion in backpacking.
But if one were simply seeking the lightest, most compact and comfortable pad on the market, the UberLite would be top pick. If a user's applications are limited to mild climates or short-duration trips where the forecast doesn't call for below-freezing temperatures, the UberLite may be a perfect fit.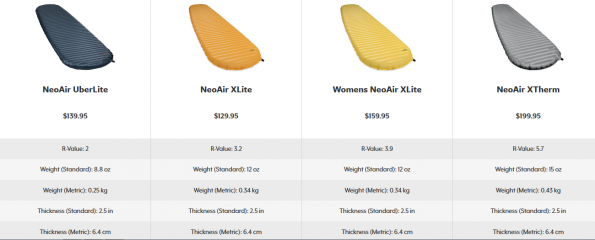 A comparison of all Therm-A-Rest NeoAir products

Thanks to Cascade Designs and Trailspace for the opportunity to test the UberLite. If allowed to continue my testing, I will report back about any more findings, especially with durability.

Background
I first used the UberLite for several 2-3 day backpacking trips in Florida, March/April 2019. It was perfect for these hotter, humid conditions. I then took it along for my thru-hike of the CDT, starting in New Mexico late April 2019. I had to get off trail prematurely for a family emergency but was able to put 18 nights/375 miles on it. Nighttime temps ranged from the 60's to just below freezing and the terrain was quite rugged (bare dirt and stones, scraggly/prickly vegetation, etc).

Although I didn't put as much time on the UberLite as I would have liked (a complete thru-hike), my extensive experience with the XLite series gives me plenty of insight into this product. Thru-hiking a trail like the CDT at a demanding pace (25-30 mile days from the start) also allowed me to evaluate just how well the UberLite contributed to my recovery day after day after day. For the most part, I slept great on it. But during this period, it was pretty easy to conclude that the UberLite is an ideal pad for my fastest and lightest summer exploits. For a multi-variable, multi-season thru-hike, I will stick with the versatility of an XLite.
Source: received for testing via the Trailspace Review Corps (Sample for testing and review provided by Therm-a-Rest)

Sooooo light!!! Not very warm, but also not terribly crinkly loud. Hard to blow up at altitude, kinda a drawback
Pros
Ultralight weight
Packs down tiny
Quieter than Xtherm
Cons
Low R-value
Louder than Prolite
Inflation, esp at higher altitudes, is a bit harder.
Holy moly is this thing shockingly light and tiny. That is so great for solo travelers and ultra light folk. It's amazing. And I'm OK with using a lighter R value with a warmer bag and if needed a Z Lite or emergency blanket under me for cooler hikes/travel.
It takes more to get it inflated, but the weight savings!!! Wow. 

EDIT WITH UPDATES 6/2019: 
Have now used extensively through Ireland, also in Wales, and now in Norway. 
GROUND COLD:
You can REALLY feel the cold coming up. Even in a very warm sleeping bag, and it can make the back ache. In 2 degrees in Ireland with frost on the ground it was quite chilly, but a silver emergency blanket under it really helps!!
So for the weight you can pick up and drop off those light silver blankets for colder weather, and for much colder of course do a double mat as always. For really cold obviously better to bring a warmer Therm-a-Rest. 

BLOWING IT UP:
Consistently takes around 40 to 50 good hard/long blows to blow it up. 
Puts damp in the pad and could cause mold/mildew.
It also made me light headed a few times, especially at altitude (or after a few drinks). BUT if you are smart like me (NOT ULTRALIGHT) and carry a bottle of whiskey, you can just take breaks and have a sip. Blow some more. Sip some more. Makes the time go by
It's light but has drawbacks. Was considering getting a battery blow up machine thing but I haven't yet, part due to European costs. 
I am stuffing it into the sack after getting the air out rather than constantly trying to figure out ways to fold and roll it that isn't putting a hard crease into it. Works great!! Hopefully OK on the bag. Just like you do with a sleeping bag. 
Background
Lots of use now.
Source: received it as a personal gift
Price Paid: $250

Excellent weight, comfort and packed size. Have used on the AT.
The UberLite is excellent. It is so light that I was concerned how well it would hold up, but it has proved to be as durable as other heavier sleeping pads.
I used it on the AT in colder weather and was expecting it to be cold based on the R rating (2.3), but it was actually pretty warm. The weight, pack size, and usability cannot be beat. It has the same thickness as other sleeping pads from Therm-a-Rest, so it is plenty comfortable. 
Source: bought it new

Garbage. DOA.

Cons
Extremely bad quality control
Weak material
Garbage customer service
Brand new, out of the box, my Uberlite leaked 60% overnight on the first night I used it, sleeping on a freshly swept and mopped, perfectly smooth wooden floor. I sent it back and they made me pay for the shipping, then sent the same one back to me patched up, when I had explicitly demanded a brand new one (so I could resell it). So now I'm out whatever loss I will take trying to sell this patched piece of garbage. 
This thing is about as strong as a cheap garbage bag and Therm-a-Rest has shamelessly rude customer service. I am done with them forever.
Go get yourself a Sea to Summit; they are truly much more comfortable, have a lifetime warranty, their valves are superior, and their lamination tech is supposedly far stronger.
I have had three NeoAir Xtherms delaminate and blow up like a balloon within 1-2 years. Great fun when out on a long bike tour, I can tell you. I stuck with them because they have a lifetime warranty, but now that Sea to Summit has the same (and all the other pluses), Therm-a-Rest is dead to me.
This mattress is a joke. 
Sorry this is not a very good review, but it didn't live long enough to do better. I just want to warn people away from this mess.
Background
It didn't even make it through one night, in a house.
Source: bought it new
Price Paid: too much

Your Review
Where to Buy
Help support this site by making your next gear purchase through one of the links above. Click a link, buy what you need, and the seller will contribute a portion of the purchase price to support Trailspace's independent gear reviews.
You May Like
Specs
small
regular
regular wide
large
Price
MSRP: $189.95
Current Retail: $199.95-$259.95
Historic Range: $89.93-$259.95
Reviewers Paid: $250.00

R-Value
2.3

Weight
6 oz / 0.17 kg
8.8 oz / 0.25 kg
11 oz / 0.31 kg
12 oz / 0.34 kg
Width
20 in / 51 cm
20 in / 51 cm
25 in / 64 cm
25 in / 64 cm
Length
47 in / 119 cm
72 in / 183 cm
72 in / 183 cm
77 in / 196 cm
Height/Thickness
2.5 in / 6.4 cm

Packed Dimensions
6 x 3.4 in / 15 x 9 cm
m 6 x 3.6 in / 15 x 9 cm
7.5 x 3.8 in / 15 x 9 cm
7.5 x 3.8 in / 19 x 10 cm
Top and Bottom Fabric
15D Nylon

What's Included
Pump sack, stuff sack, repair kit

Materials
Nylon, Polyurethane

Recently on Trailspace