Therm-a-Rest Vesper 32F/0C Quilt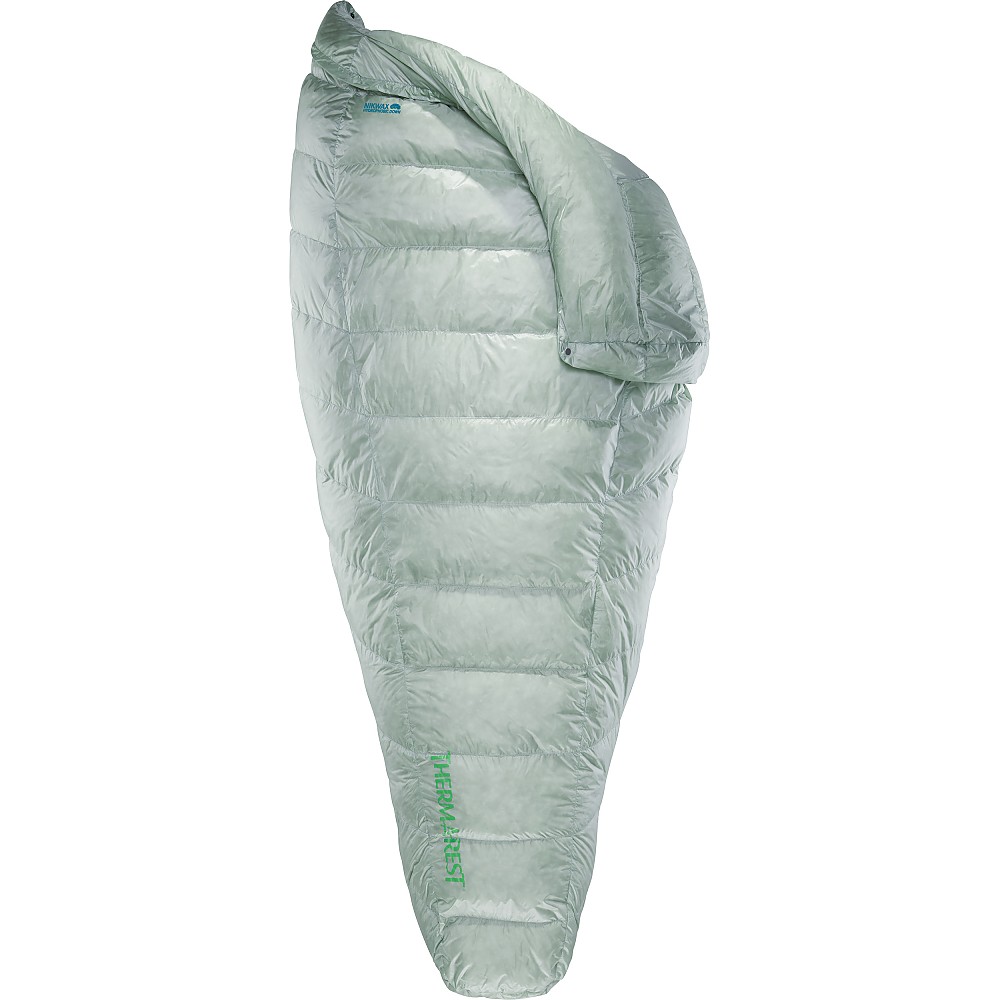 The Therm-A-Rest Vesper 32 Quilt is a good ultralight quilt...if judged on its Comfort temperature rating and not its Lower Limit. As such, it should really be titled the Vesper 41F Quilt. It sports high quality materials and is extremely comfortable in temperate conditions. Breaching the lower 40's, I struggled to keep drafts out, mainly because of the design of the quilt opening and inability to close it sufficiently. The quilt could be improved with some simple modifications of the footbox length/width, shape of the opening, and better pad attachments/closure methods. It serves well as an ultralight and compact summer sleep system for fast packing.
Pros
Quality 900FP hydrophobic down and materials
Supremely comfortable (w/in comfort temp range)
Ultralight and compact
Minimalist features
A great summer quilt
Cons
Cold spots started in the mid to low-40's
Pad attachment system is very lacking
Narrow and short-in-length footbox
U-Shaped opening at footbox allows drafts
Perimeter side baffles under-filled
Potential quality control issue with collar snap and drawstring.
One color, cannot customize size / colors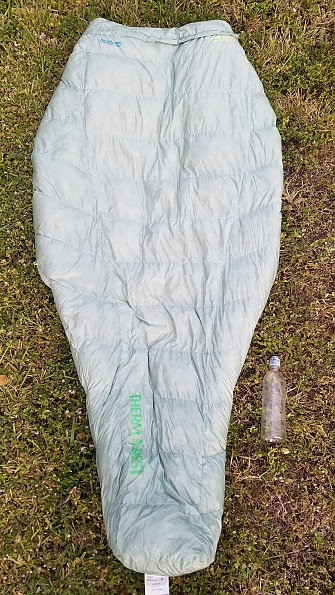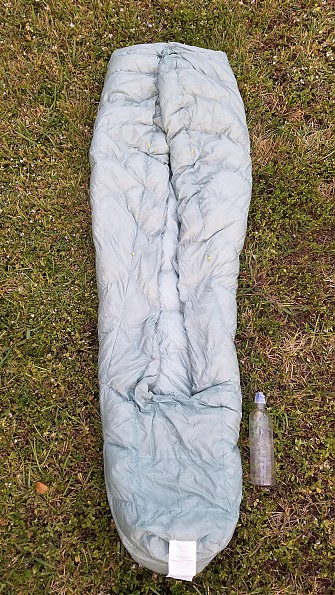 Manufacturer Specs for Regular (Long):

Fits a user's height up to: 72 in / 183 cm (78 in /198 cm)
Weight 15 oz / 0.44 kg (1 lbs 1 oz / 0.49 kg)
Fill weight / Material: 8.5 oz (9.5 oz)* / 900 Fill Goose NHD/RDS (Responsible Down Standard-ensures that down-supply waterfowl are treated humanely)
Width: 58 in / 147 cm (61 in / 155 cm)
Length: 75 in / 191 cm (79 in / 201 cm)
Girth, Shoulder: 58 in / 147 cm (61 in / 155 cm)
Girth, Hip: 51 in / 130 cm (54 in /137 cm)
Girth, Foot box: 37 in / 94 cm (40 in / 102 cm)
Packed dimensions: 5 x 6 in / 13 x 15 cm
Shell fabric:10D Nylon RipStop w/ DWR
Liner fabric: 10D Nylon RipStop **w/ ThermaCapture Lining
Made in China
Storage sack and compression stuff sack included
*As a result of eliminating the ThermaCapture Lining, new quilts have a Fill Weight of 9 oz (10 oz).

**The ThermaCapture Lining is no longer a feature of Vesper quilts.

My Additional Measurements:
Footbox Length: 18 in
Weight of my sample quilt: 15.3 oz
Weight of the compression sack: 1.7 oz
Background
With over 9,000 trail miles and 400+ nights using quilts, I've formed an opinion or two about what makes a good quality, warm, and comfortable quilt. My main two data points are an Enlightened Equipment Revelation 30°F and Katabatic Gear Alsek 22°F. I used the Revelation for thru-hikes of Te Araroa and half of the PCT, as well as several section hikes on the AT and Florida Trail.  I've used the Alsek for thru-hikes of the Colorado Trail, PCT, CDT, and Arizona Trail.

I really enjoy quilts for their non-confining comfort, simplicity, and weight-savings. But quilts can be drafty, have cold spots and lack coverage if not designed and/or fitted well. Alternatively, with extraneous material, a complicated pad attachment system and an over-engineered footbox, the quilt loses some of its advantages over a sleeping bag.
Finding the sweet-spot in quilt design has a lot to do with individual preference, which may not be in-line with my preferences. For further insight into this review, my most important and/or preferred quilt criteria are:
1. An effective pad-attachment or closure system to combat drafts.
2. A simple sewn-closed footbox (as opposed to one that has zippers/snaps/drawstrings and can be opened fully as a blanket). If it's hot, I find it easier to just pull my feet out of the footbox rather than fiddle with the adjustments of a blanket-style quilt. This minimalist design is something quilts, and especially the Vesper, can be very good at.

Features: Having just laid out my two most important criteria in quilt design, I will start by outlining the major features and some relevant findings of the Vesper 32.

900-fill Nikwax Hydrophobic Down and a DWR treated shell (Moisture): This has become a pretty standard feature for most sleep systems and the Vesper has performed consistent with my other quilts/bags that have similar hydrophobic treatments. It resists condensation from my tent walls and dries quickly, though I am always careful to keep it dry inside my pack. H

ydrophobic down simply

provides more of peace-of-mind in humid conditions but is not foolproof.


Box-Baffled construction

 and horizontal baffle orientation: Box-baffles definitely reduce cold spots and are a valued feature of this quilt. I also prefer the horizontal baffles, since I experienced a lot of down-shift with the vertical baffles of a previous quilt. The Vesper has a modified baffle design in that it has perimeter side baffles.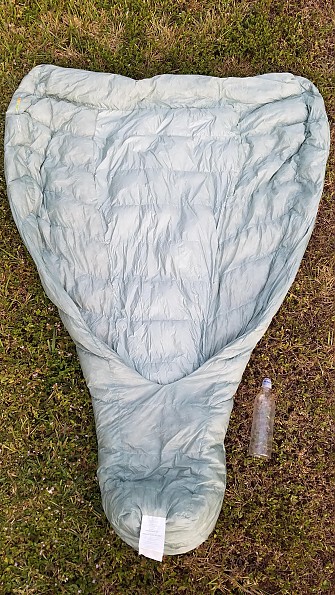 The outer 6" to 12"  of the edge of the quilt consist of separate baffles and a draft collar along the border.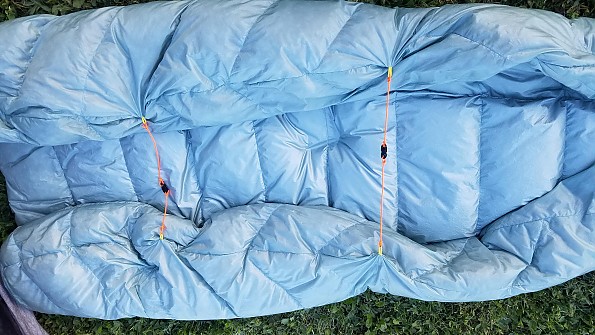 Another view of the side baffles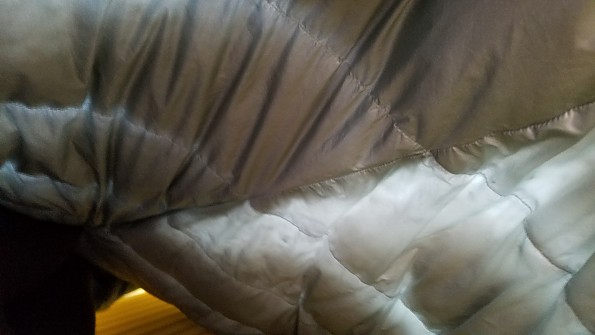 The picture above shows these side baffles and also one of their faults: in my assessment, they are under-filled, as the light is shining through considerably, depicting some of the gaps. The down tends to shift to the ends of these side baffles, but since they are often tucked underneath the user, it's not as much of an issue.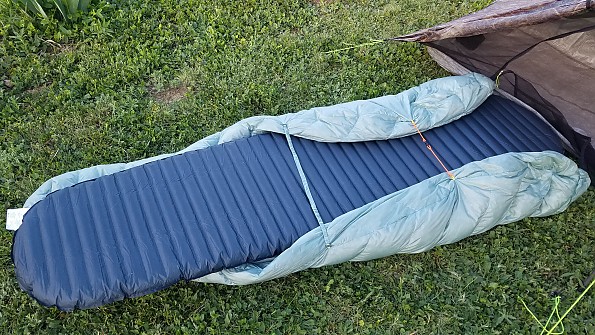 A view of how the side baffles tuck underneath the NeoAir Uberlite Pad

Insulated, adjustable collar with snap closure:

The neck collar is designed with a drawstring, pull-tab, and cord lock that are offset to the side, avoiding interference with the face. This offset is an improvement over my other quilts, which all have centered drawstrings that sometimes flop in my face during use. When pulled tight, the collar helps to seal out drafts. Unfortunately,

I noticed that the drawstring loosened on its own a bit overnight. I think the cord is slightly too small of diameter for the cord lock. 



Another thing that didn't work well is the snap closure. The snap is unobtrusive but so small and recessed that it's hard to close when fumbling around in the dark. Also, in my sample, the snap did not initially stay closed. I had to hit the male side with a hammer to flatten the head a bit, after which it worked as intended. None of these issues were a huge problem but I would like to see better attention given to such details.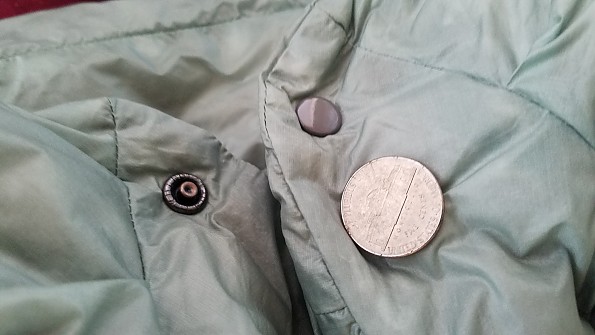 Differential cut sewn footbox: The outer fabric is cut larger to allow lofting even when pressure (from feet) is applied from inside the bag. For back-sleepers, it's a good design. I am not a back-sleeper and still found the footbox comfortable and warm but it does run narrow...those with larger feet might find it a bit tight. Further, I feel that the footbox length is insufficient, as I could feel drafts on my calves (also having to do with the shape of the opening at the footbox). I measured the length of the footbox at 18". For comparison, my Katabatic Gear Alsek measures 25".



In the picture above (source: manufacturer), you can better see the U-shaped opening at the footbox and that there is no way to close it completely. Other quilts have more of a V-shape opening from the footbox. This is where I really struggled with drafts, especially since I frequently sleep on my side and stomach with bent knees.


SynergyLink

 Connectors:

The Vesper quilt comes with 1 bungee-like cord that hooks into small loops on the side of the quilt. The connector (which is not permanently attached, i.e. easy to lose) is meant to go underneath a pad to prevent drafts and keep the quilt in place. There are two pairs of loops (4 total), with one pair near the chest and the other about center on the quilt.

I assumed the quilt was intended to utilize both attachment areas simultaneously and that my sample was missing one of the connectors. But no, Therm-a-Rest includes only one connector intentionally, which I think is rather ridiculous. Most all the other quilts I know of have two areas where the quilt can either be attached to the pad and/or the sides closed together via webbing straps. I feel very strongly that a quilt must have a good system for either closing the opening around your body or your pad, so I rate this as the poorest feature of this quilt.
I found the supplied pad attachment system so insufficient that I made my own cords and clips to better secure the quilt around my pad and/or body.


I will make note of the ThermaCapture lining on my sample, a feature that was discontinued beginning 2019.  Similar to the lining in the popular NeoAir XLite and XTherm series of sleeping pads, this applied layer to the top inner lining was supposed to: "trap radiant body heat and retain warmth without adding bulk or weight." In effect, this layer adds no noticeably different texture,

stiffness,

noise or discomfort to the fabric. It simply looks somewhat metallic.

I can't objectively say that it does what it's supposed to, but

it's a moot point since Therm-a-Rest no longer offers it. They have instead added half an ounce of down to new quilts (as compared to my sample).

Warmth
A major conundrum with this quilt was initially thinking of it as a 32°F quilt, when really it is a 41°F quilt. Therm-a-Rest tries to comply with EN/ISO temperature rating standards. Accordingly, they reportedly test all their sleeping bags and quilts in an onsite cold chamber using objective sensor-rich manikins. You can read more about all this here: https://thermarestblog.com/en-iso-sleeping-bag-ratings/
Quilts cannot receive an EN/ISO rating because they lack a hood and are not fully enclosed, therefore cannot be compared in the same category as sleeping bags. As of yet, there is no standardized test for quilts. Regardless, Therm-a-Rest has developed a similar scale of Comfort and Limit ratings for the Vesper Quilt. The scale clearly states that the comfort rating is 42F/5C and I agree with this assessment. I don't like that the quilt is titled the Vesper 32F/0C. I think it is confusing and a bit disingenuous to title any quilt or sleeping bag based on its lower limit.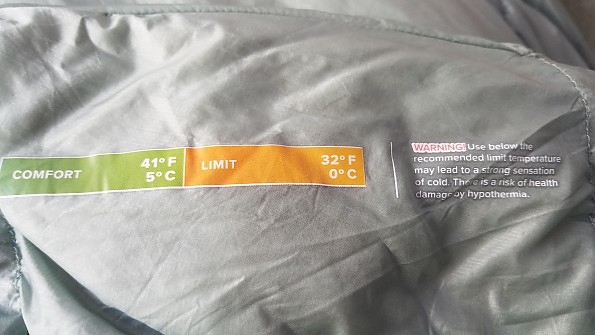 In general, I found that the Vesper kept me comfortably warm into the mid 40's. Anything lower and I had to start working to keep the sides tucked in and could feel drafts and/or cold spots. A combination of the under-filled side baffles and cut of the quilt opening contributed to this.
Fit & Comfort: The Vesper 32 (size regular) offers pretty generous dimensions, save for the footbox, as detailed above. I've provided a comparison chart at the end of the review to see how it stacks up to a few other quilt manufactures that I have had experience with (Katabatic Gear and Enlightened Equipment). My sample was long enough to pull almost over my head  and wide enough to wrap around my body. I am 5'9" and very slim, but by comparing the dimensions to other quilts, the Vesper should be a good fit for many users.
Entry / Exit & Ease of Use: This quilt is a delight to snuggle up with. I can slide my feet in and out of the footbox without effort and it wraps around my body pretty naturally. In fact, I found it so comfortable that I used it for about two months as a comforter on my bed in Colorado. It makes for a wonderful cold-weather blanket.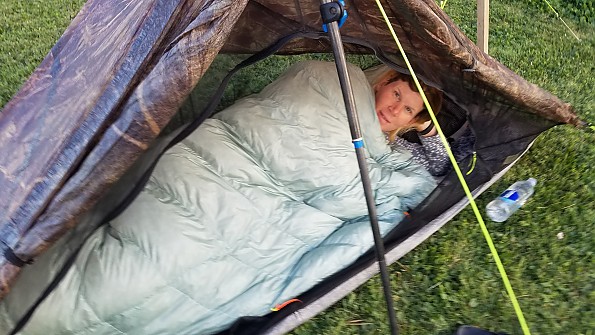 Materials & Packability: This is one of the Vesper's supreme accomplishments. I have never had a bag or quilt that packs into such a small size. I would attribute this to the super-silky 10D nylon shell and ultra-fine 900 FP down. Therm-a-Rest also includes a four-point compression sack that makes it easy to squeeze the quilt into a tiny package.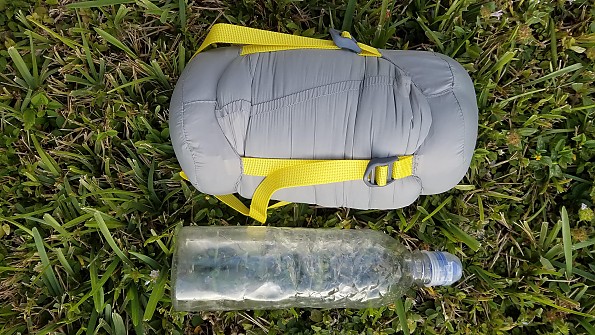 A Smartwater 750 ml bottle for size reference...yes, this quilt is tiny!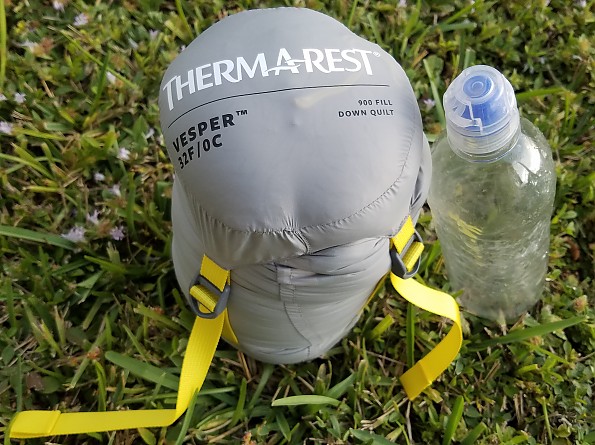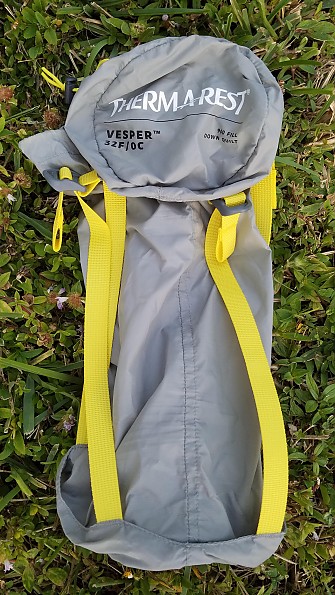 Loft: I am pretty happy with the loft of this quilt. It comes out of its compression sack extremely flat and does take a bit of shaking and fluffing to get it back to its glory. I would not want to arrive late into camp on a cold night and have to wait for the bag to loft/warm-up...best to get a reasonable start on this process if trying to push the quilt to its limits.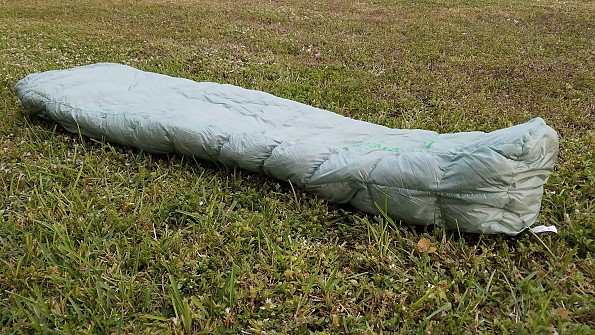 Construction & Durability: The Vesper is made of soft, silky-smooth 10D Ripstop nylon, which feels great against the skin and breathes well. All the stitches are good and straight. It comes in only one color, which I personally don't care for since it shows dirt and stains easily. I would prefer a darker color.
I previously mentioned the issues I had with the snap not staying snapped and the drawsting loosening on its own. I was able to fix the snap but I still think it's too small and of a quality that doesn't match the rest of the quilt. Perhaps the area where it's attached should also be reinforced better.
Below is a comparison chart of similarly rated and constructed quilts by Katabatic Gear and Enlightened Equipment, all size regular/medium. The Vesper seems to occupy a middle ground between 30 and 40 degree quilts:
                              Vesper 32   Chisos 40  Palisade 30  Enigma 40  Enigma 30

Cost (dollars)         320             360           410               315             355

Total weight (oz)   15.3             14.6          17.5             13.4            16.3

Fill (oz)                   8.5               7.1            9.5             8.3             11.1

Length (in)             75                 72            72                72                72

Shoulder (in)          58                 52            52                54                54

Hip (in)                   51                 42            42                ?                  ?

Footbox (in)            37                38            38                40               40

Fbox length (in)      18               18.5          23.5             20               20

Down Fill Power      900             900          900               950             950

Packed size (in)      5x6              5x9         5.5x10            N/A            N/A
Experience
I tested the Therm-a-Rest Vesper quilt on multiple backpacking and kayaking trips in Florida beginning January 2019. I then used it for several backpacking trips in Colorado, April-June 2019. It also served double-duty as a bed comforter for two months. Temperatures across these environments ranged from the 70's to upper 30's degrees F. It rained pretty hard several of these nights, with some condensation and humid conditions.

About: Leah Harman is an avid long-distance thru-hiker. Since 2017 she has completed the Te Araroa, Colorado Trail, Pacific Crest Trail, Continental Divide Trail, and Arizona Trail. When she's at home she volunteers as an activity leader for the Florida Trail Association.
Source: received for testing via the Trailspace Review Corps (Sample for testing and review provided by Therm-a-Rest)

Your Review
Where to Buy
Help support this site by making your next gear purchase through one of the links above. Click a link, buy what you need, and the seller will contribute a portion of the purchase price to support Trailspace's independent gear reviews.
You May Like
Specs
regular
long
Price
Current Retail: $399.95-$429.95
Historic Range: $319.95-$429.95

Recommended Temperature Comfort
41°F / 5°C

Recommended Temperature Limit
32°F / 0°C

Weight
15 oz / 0.44 kg kg
1 lb 1 oz / 0.49 kg
Length
75 in / 191 cm
79 in / 201 cm
Width
58 in / 147 cm
61 in / 155 cm
Fits
72 in / 183 cm
78 in / 198 cm
Fill material
900 Fill Goose Nikwax Hydrophobic Down, RDS

Recently on Trailspace