Outdoor Research Helium Bivy

Top 50 in Bivy Sacks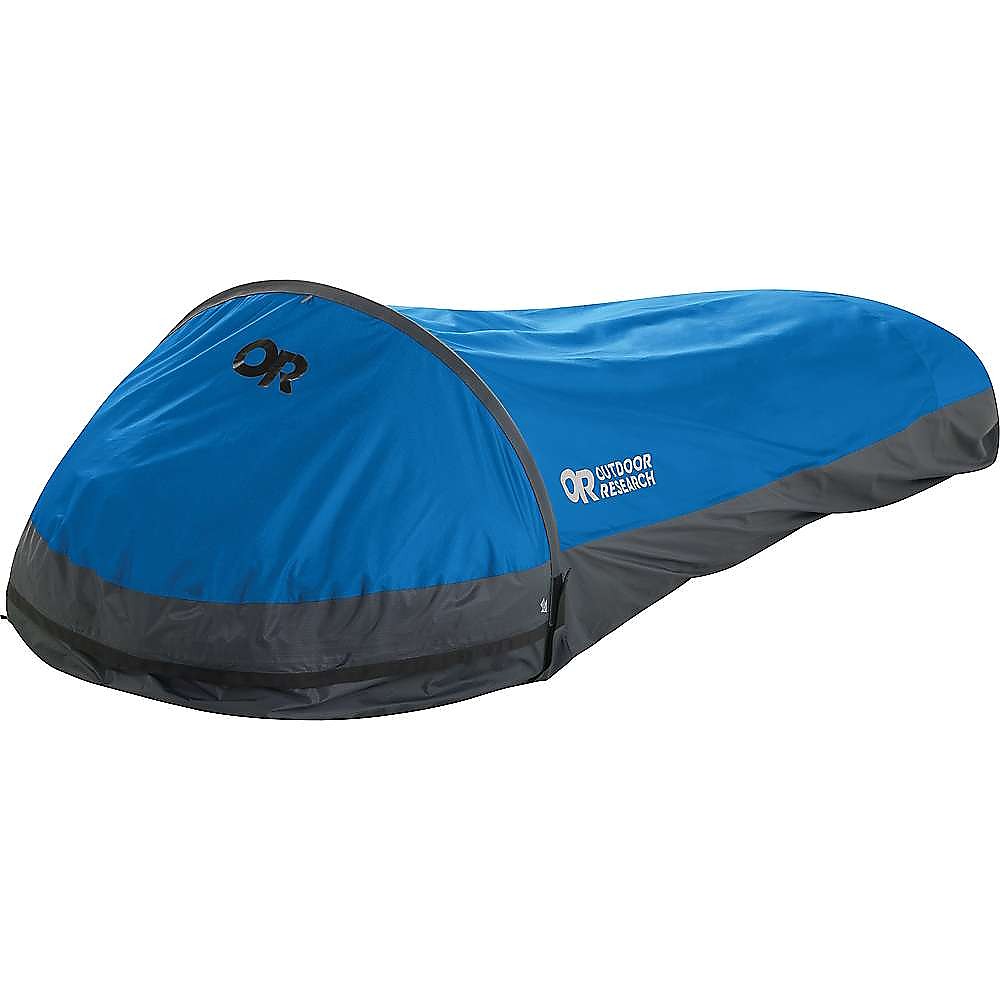 Specs
with pole
without pole
Price
Current Retail: $199.00
Historic Range: $115.93-$199.00
Reviewers Paid: $125.00-$170.00

Weight
16.8 oz / 476 g
14.7 oz / 417 g
Width at top of bivy
26 in

Width at foot of ivy
19 in

Length
82 in

Packed in stuff sack
12.25 x 3.5 in

Fabric
Pertex Shield 2.5L, 100% nylon, 30D ripstop upper / lower 100% nylon, 40D with TPU lamination floor

Reviews
3

reviews

5-star:

1

4-star:

1

3-star:

0

2-star:

0

1-star:

1
Spacious lightweight bivy, waterproof, and breathable with minimal condensation issues.
Pros
Small packed size
Lightweight
Weatherproof
Cons
Mild condensation issues on clear, cool night
Storm flap blocks airflow when not fully closed
I have spent almost two weeks in the Outdoor Research Helium Bivy and found it to be pretty acceptable for my use. I bought it from Massdrop for $148.07, and when received, tried it out on my back lawn without turning off the early morning sprinklers. I slept comfortably all night and did not get wet from the sprinklers, which were on for 20 minutes. 
More recently, I took the bivy on an almost two-week trip to Shasta Trinity National Forest and slept in it almost every night. I was car camping and used it mostly as a bag cover to keep my sleeping pad, pillow, and sleeping bag clean. I would inflate the pad each night, deflate it in the morning, and simply roll up the bivy with everything inside into an old school bedroll. It probably took me less than a minute to set up and break down my sleep system each night and morning, which is exactly what I was going for.
Sometimes I used the bivy with the provided tent pole to keep some room between the bivy material and my sleeping bag and head, and sometimes I did not. One night, I tied the loop over the entry to a tree branch above me. I did not notice a performance difference any which way. The top fabric seemed to breathe very well and I only noticed interior condensation on one occasion (more on that below). 
There is one particular design quirk that seems less than ideal. When the storm flap is closed, there is a clear path from head to toe. However, with the storm flap open in either open air or bug net mode, the storm flap hangs down from the tent pole and effectively blocks air flow from the chest down to the foot box. I have tried a binder clip to hold it up with limited success and am worried about damaging the waterproof fabric on top.
I kept my pad inside the bivy but did not use the bivy's pad straps, nor did I feel after several nights that I needed to do so. I was using a full size Klymit Insulated Static V Ultralight inflatable pad and felt like I had plenty of room. I am 6'1" and 230 pounds. I am a stomach sleeper and had room to sleep with an arm over my head and under my full size pillow, which I also had in the bivy. My arm was still inside the bivy, but off my pad. The bivy would easily accommodate a larger pad.
I did not feel like I could take much gear into the bivy and left my stinky boots outside, as well as some other clothing. There were rain showers one evening before I went to bed, so I put my extra clothing under the bivy to stay dry just in case the showers returned. They did not, and I was comfortable sleeping on my clothes laid flat underneath the bivy. 
I only noticed condensation inside the bivy on one occasion. I was sleeping on a sandy surface with only sparse, low vegetation around. The sky was clear and I believe the temperature got into the low 30s. I do not know what the dew point was. I only noticed a small amount of interior condensation, and I used a synthetic bag (North Face Cat's Meow, long), so it was no problem. There was also frost on the outside of the bivy. It was my last night out, so I simply rolled everything up as usual and aired it out when I got home. I had slept in a wooded area with plenty of tree cover nearby several nights earlier and did not have any interior condensation at that location, but I wanted to stargaze from my sleeping bag on the last night. 
Overall I was pleased with the bivy, but for a small weight penalty of 8 ounces, I am strongly considering purchasing the Miles Gear Uber Bivy for future trips because it is larger and from what I've read has next to zero condensation issues.
The Outdoor Research Helium Bivy is the only bivy that I have ever spent a full night in, and I am happy with its performance. I tried a non-breathable SOL emergency bivy once in my backyard and very quickly got very damp and miserable from my own sweat, so I went inside.
Bottom line on this bivy is that it is fairly spacious for a bivy, it's light, pretty breathable, and waterproof. Not a bad option if you're into bivys. If forced to spend an entire day sheltering inside from rain, I would prefer a tent; however, I don't typically stay inside due to foul weather, so a bivy is no problem for me.
Source: bought it new
Price Paid: $148.07

Great for dry conditions, not great when it rains.
Pros
Lightweight
Easy to set up
Compact
I recently took up bikepacking and due to space limitations purchased the Helium bivy. This bivy checked all of the boxes—lightweight, compact, hoop to keep it off of my face. What this bivy lacks is waterproofness.
The first time I used it a friend joined me with her brand new Helium bivy on a bikepack. It rained on and off for about an hour and I had little puddles of water up by my head. I thought it was just from water leaking in because I didn't have the front closed properly. Fast forward to morning and we both woke up in literal puddles.
Luckily the sun was out and we could dry out our sleeping bags and everything else that was in the bivy sacks. It was only in the mid 40's that night and while I expect some condensation up by my face I didn't expect everything in the bivy to be wet.
I upgraded to the Alpine Bivy and on a multiday backpack a month later had another night of on and off rain. While I stayed 100% dry, my friend with a new Helium bivy woke up in puddles (different friend and different bivy than the first one). We determined that the nylon used on the bottom of the Helium bivy is waterproof and the fabric on the top is not.
Do yourself a favor and upgrade to the Alpine bivy if there is even a remote chance that you might get rained on.
Experience
Several nights of mostly good weather, one night of on and off rain.
Source: bought via a "pro deal"
Price Paid: $125

Needing to minimize backpack weight is no reason to miss out on overnight winter adventures. A quality bivy will do the job nicely, without adding significantly to a backpack burden.
Pros
High-strength construction for a reasonable price
Cons
I haven't tested it in humid conditions, so I cannot comment on any condensation issues.
In a pinch, two people could squeeze inside, but you wouldn't want to do that for multiple nights.
Shelter can be important, especially in winter. The breathable, water-resistant OR Helium Bivy includes a bug net for summer, generous headroom (secured by a nested carbon-fiber hoop), and five points of suspension to secure it against high winds if you need to exit during the night.
Accumulating outside snow can be removed by banging the bivy walls from inside. There's enough room inside to store winter boots.
Since the bivy is so light, I've added five generous MSR Cyclone Tent Stakes whose twisted design makes them very secure.
Combined with a winter-grade sleeping bag and a closed-foam mattress, the OR Helium is all that you need to stay cozy in fiercely-cold conditions. If backpack weight is not an issue, then the bivy adds to the thermal effectiveness of any sleeping bag, even inside another shelter. In that case, the Helium head-room hoop is not needed.
I recommend the OR Helium Bivy highly.
Experience
I've used the OR Helium Bivy multiple times, including a winter night on the summit of an eastern Nevada summit (Peak 9019 in White Pine County) during screaming Jet Stream winds in December, 2017. There was no place to drive tent stakes, so I weighted down the five guy lines with heavy rocks, secured with scaffold knots <http://www.101knots.com/scaffold-knot.html>. In calm conditions, no guy lines are necessary.
Source: bought it new
Price Paid: about $170, but REI is now selling it for $133.93

You May Like
Recently on Trailspace