Sierra Designs Cloud 800/20 Degree


A bag with the magic of 800 fill DriDown for about $100 less than the other bags in the same weight category.
Pros
Pocket for your sleeping pad
No zipper to snag
Foot vent for warmer nights
Cons
Not able to attach to other bags
Sierra Designs Cloud 20
800 fill down
Regular: 1 lb 13 oz
In the mountains you need your gear to be as light as possible and still able to do its job. Being light reduces fatigue and lets you move through hazard zones faster thereby reducing your exposure to risk. In short, light is right.
Another philosophy is summarized by, "pack light, freeze at night," the idea that comfort and good sleep bring safety by reducing fatigue. Also not a bad philosophy.  
So what is a climber/hiker to do? In general, there are three areas where hikers/climbers can make big cuts in their carried weight—pack, shelter, and sleep system. A fourth is you; just lose a few extra belly-pounds, but that isn't as easy as it sounds unfortunately.
To help you on your quest for a light load with gear that still works and doesn't require a trust fund, Sierra Designs brings us the Cloud 20. This bag seems to do a good job of fixing a few common sleeping bag complaints.
Creepy looks come standard
My Momma says that Zippers are from the Devil:
She's right, Bobby Boucher! Sierra Design's idea is to reduce weight in their sleeping bags by removing the zipper completely. And truly, does anyone really like sleeping bag zippers? They ALWAYS snag and catch the lining until the day when they fail altogether and basically turn your bag into a quilt or a prison. Sierra Designs just ditched the zipper and replaced it with a flap you can wrap around yourself.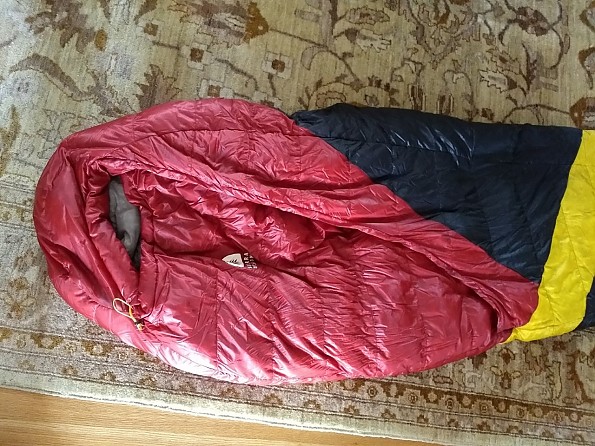 All tucked in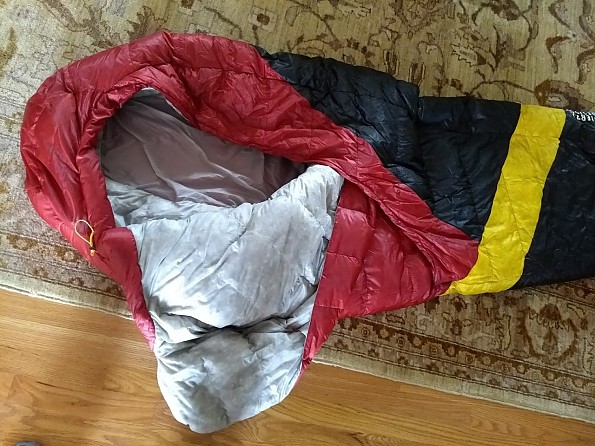 Climb in and wrap up
My bag gets too hot sometimes:
Another headache in sleeping bags in that your warm, cozy feather cocoon becomes stuffy and unbearable on those nights that AREN'T really cold, making you either unzip in the middle of the night (that zipper again) or have to own a quiver of bags for each temp range. Sierra Designs seeks to partially alleviate this with a flap closure and foot vent that allows you to easily bleed-off heat at night without dealing with a zipper.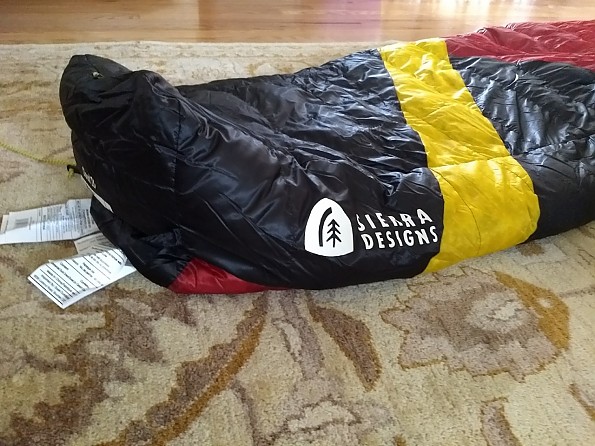 Shaped foot box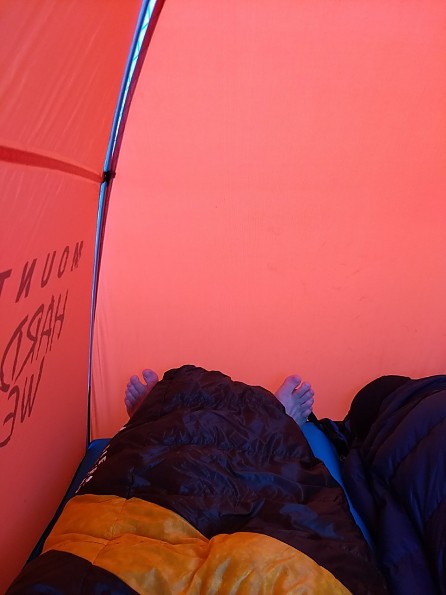 Let your feet out for some air
Shoulder Room:
Either your old bag is too spacious, making you heat up useless air with your body or it's too restrictive and you sleep in a down straight jacket. With the Cloud, the closing flap tucks in as an extra layer under narrow-shouldered people and expands to cover "broader" sleepers. Now you have an adjustable sleeping bag. Sierra Designs says, "you're welcome."
Side Sleepers:
Many bags are useless to side-sleepers because they have a fixed shoulder box shape. With the Cloud the shoulder area can conform to the way you sleep. You can even wrap it up under your head like your favorite blankie from home.
Falling off your pad:
Remember how slick those old inflatable pads were? Remember slipping around on them in the night and ending up freezing on the tent floor while camping on a glacier? I do! The Cloud has a sleeve for your pad to slide into which keeps it where it belongs, even for us insufferable tent-mates who roll around in our sleep (mea culpa). To further reduce weight the Cloud doesn't even have insulation on the underside because we all know that down is useless when it is compressed underneath you.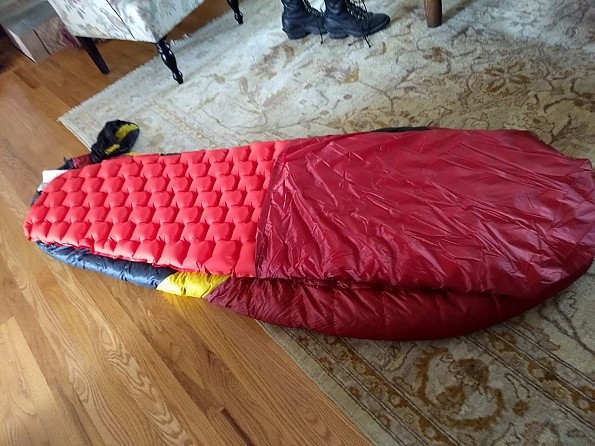 Slide your pad in the pocket and never fall off again
"All is not well on the hippie front…"
As Rainey implied, nothing is perfect. My biggest gripe with the Cloud is that I cannot carry it when I go into the mountains with my wife. I'll explain: Unlike all men and women's REI sleeping bags, the Sierra Designs Cloud cannot zip together with your partner's sleeping bag because, duh, it doesn't have a zipper! My snuggle-loving wife says, "BOOO!"
Those not "blessed" with a snuggle buddy in their tent or who are looking for an excuse to escape their temperature-incompatible significant other, rejoice!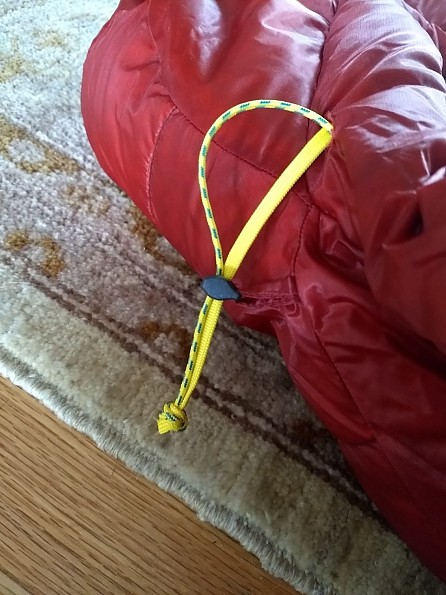 In its storage bag
Price:
Compared to the Feathered Friends Swallow 20 YF ($439), Western Mountaineering UltraLite ($500), and REI Co-op Magma 10 ($349) which all feature similar down power, temperature ratings, and weight, the Cloud 20 ($299) is a fantastic deal. Save that extra scratch for some nicer sunglasses (like the Revant F1), or you could buy me a beer. The options are endless, but buying me a beer is probably the wisest one. 
Packability:
I've included some pictures of this bag in its storage and stuff bags with comparison items. With a compression bag you could get it even smaller if that's your preference.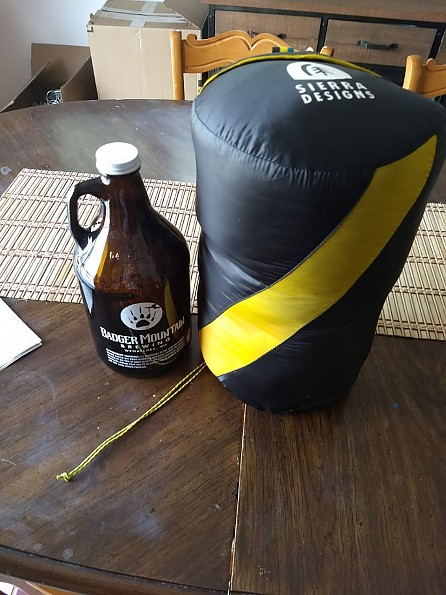 In its stuff sack
Durability:
As a lightweight bag I don't expect to be able to set the Cloud on fire with my stove and still be able to use it years later like I did with my old bag. With the Cloud I can even see down clusters through the fabric of the bag in the right light, which worried me initially. Still though, this bag held up to me airing it out on volcanic lava rock while I broke camp and showed no signs of wear or poor craftsmanship anywhere.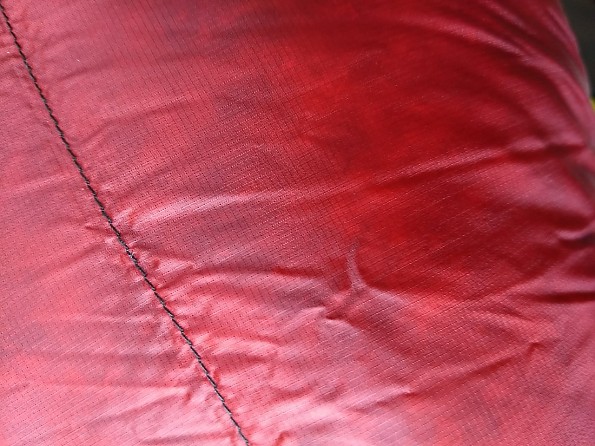 Gossamer thin fabric, be careful!
Water resistance:
Mountaineers and wet-weather backpackers used to fear down insulation because down becomes a useless wad of feathers when wet. DriDown has changed that so that now we can wear our wet clothes in our bags and still stay warm. A little water doesn't hurt these things as much. I've spent more than a few wet nights in tents with DriDown gear and lived to tell the tale without any ill effects. I even enjoyed myself. If you are reluctant to use DriDown, give it a chance. The 1970s were groovy and all, but things have gotten better. At least down insulation has. 
"Your chicken's name was Colin":
Those interested in where the down in your bag was sourced (or Portlandia fans) will rejoice that Sierra Designs lets you know where the hardworking geese who made your bag lived out their final days. I scanned the QR code on my bag and learned that the down in my bag was from a Chinese source. It makes sense, I understand that they eat a lot of goose there and I'm glad they saved the down for my bag.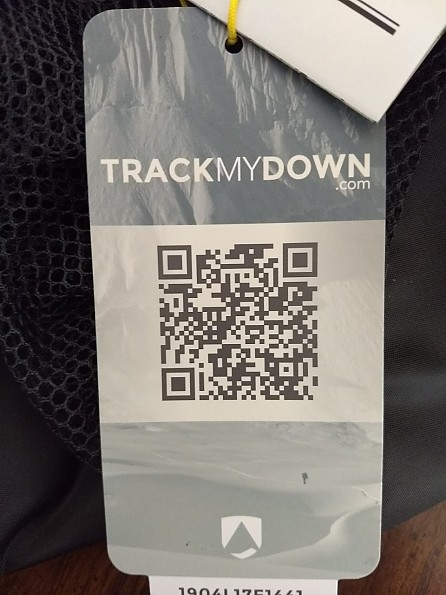 Colin was Chinese, evidently
Test Conditions:
I took my two youngest kids and my oldest one on a weekend summit trip to Mount Adams, a 12,000+ foot mountain in Washington (the state). Unfortunately, or fortunately depending on your take, the weather was fantastic and the trip was epic-free. I slept in the Cloud on my inflatable Therm-a-Rest pad with the tent door open all night. I usually sleep terribly in the mountains; lucky to get two good hours of real sleep. I was plenty warm as the temps barely reached forty degrees at night with no issues with the Cloud at all. I wore nothing to bed but what The Lord blessed me with plus a beanie, and I swear I had the best night of sleep in the mountains ever. I hit the sack at about eight PM and woke at one AM for an alpine start, fresh as a daisy.
Truly unbelievable. The Cloud never once came open as I slept on my side, belly and back. The pouch on the underside of the Cloud held me right on top my pad perfectly. I believe that my great sleep was owed to the Cloud's non-constricting shoulder area and good breathability. 
Other than backcountry testing I was also able to test the Cloud in several backyard campout adventures with the kids which got down to the lower forties.   
07/25/19 update:
I used it on Mount Baker inside a bivy bag with good results. Temps were 35°-ish F.  At the parking lot, where I slept the night before the climb, it was extremely humid and cold and it only took a minute to air out in the morning. At high camp it was nice and dry yet the slight dampness from the bivy bag also went away quickly as I aired the bag out and never effected my sleep.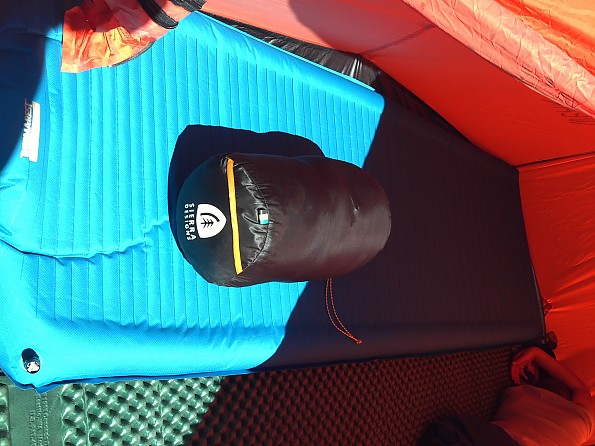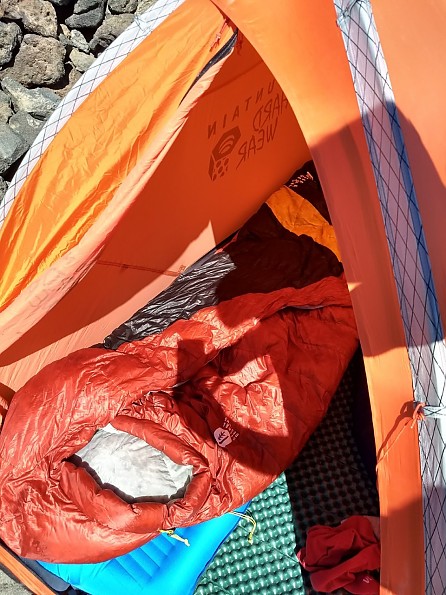 Conclusion:
If you always wanted a lightweight, 800 fill down bag but never thought there would be an affordable one, here it is. If you share any of my frustrations with mummy bags the Cloud may help. If zipping together and snuggling with your tentmate is non-negotiable, well you can keep searching because this isn't your bag. Otherwise I give the Cloud an enthusiastic thumbs-up.



Disclosure: Trailspace received a sample of this product from the brand for field testing and review. The product was assigned by Trailspace to this volunteer Review Corps member.  
Source: received for testing via the Trailspace Review Corps (Sample for testing and review provided by Sierra Designs)

A uniquely designed zipper-less sleeping bag that boosts a much better sleeping experience yet needs to improve on some points.
Pros
No zipper!
Feet vent
Weight
Build quality
Cons
Too wide for me
Down distribution
The Sierra Designs Cloud 20 is an innovative 800 FP Dri-Down filled sleeping bag that weighs around 800 g. It shifts from the conventional mummy shape by losing the zipper (that always get snagged) and having a comforter instead. I chose it for its design (had enough of snagged zippers), weight-to-warmth ratio, and its price point, being on the cheaper end of down sleeping bags.
I used it on several multi-day hikes at temps between 2-10 Celsius, with a Therm-A-Rest Neoair Xlite pad and inside a tent.
Design features: The overall shape is of a mummy bag, but a wide one with much room at the shoulder and waist area. It has an adjustable hood that can be separately adjusted at the upper or lower part using two cords. There's a foot vent at around the calf area that's meant for cooling your feet when it's too warm; it's self-sealing when not used. It has a rectangle area where it lacks down and where your back should rest, as a means to reduce weight of down that will be flattened and ineffective anyway.
It has a mattress sleeve to prevent slipping away from the mattress in the middle of the night.
The main feature is the comforter that stretches over the torso and around the left side, from the top of the shoulder (it has a "shoulder pocket") to the waist. The comforter acts like a blanket you'll have at home, where you can leave one or both arms out, sleep on your side, or even on your stomach.
Design pros and cons: The sleeping bag is much more comfortable than a conventional mummy bag, the comforter does act like a blanket giving versatility to your sleeping positions. But side sleeping is comfortable only on your left side where you can move the comforter out of your nose and mouth; on the right side this is not possible, so you must sleep with your head over the hood.
The hood is fitting ok, but not great, meaning it's too wide and sometimes hard to find the right position to have your head covered.
The pad sleeve is doing a great job keeping you centered on the mattress, but at the same time it prevents placing a pillow under the sleeping bag, thus it must be inside the hood, which takes most of its space.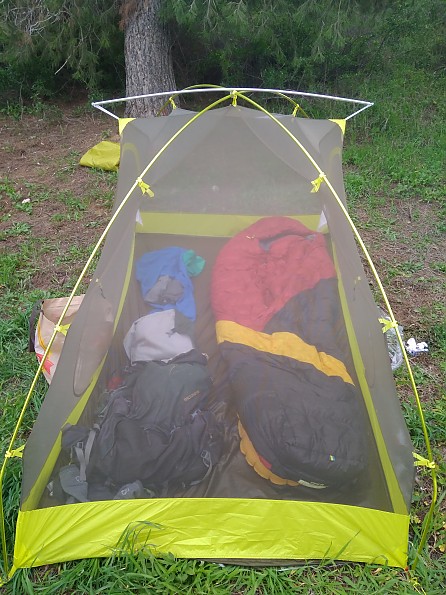 Warmth issues: As I was very pleased with the comfort level of this bag, I was very disappointed with the warmth of it. I always used it in higher temps than the comfort rating and I had many cold nights.
I must first admit that the sleeping bag is too wide for me leaving empty space in it, and I probably should have bought the women's version. I guess that part of how it was designed, was to give you extra room for comfort. Plus, I'm relatively a cold sleeper.
Even though, I think the down distribution in this bag is problematic. On the left side, where the comforter tucks under you, there is the side panel of the sleeping bag, filled with a lot of down. If you use the comforter, there will be a gap between it and the side panel, rendering the side panel useless in keeping you warm, while wasting a lot of down.
On the other hand, the hood, the top of the comforter, and the bottom parts of the side panels, are lacking down. I spent a couple of hours shifting the down from the left side panel to the other areas as much as I could. It helped it to be warmer, yet it was far from being warm enough for its 20 f rating.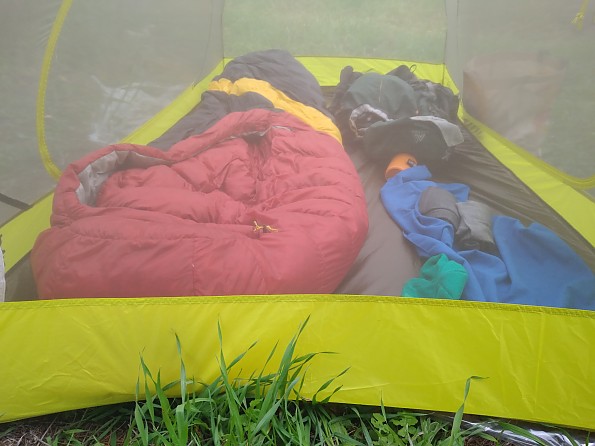 Durability: It's a well-made bag, the fabric is pretty thin and feels gentle, but so far, I had zero issues with it or with the seams. The filling is leaking constantly, but mostly it's just small feathers and down fragments.
Dri-Down and DWR: The area next to my mouth and nose got pretty soaked couple of nights from my breath. I washed the bag once with both Nik-Wax down wash and down proofing. It took two cycles in the drier and four days on the rack for it to completely dry, if it can tell something about water repelling…
Bottom line, I love the concept, and I would much prefer it over a conventional mummy bag, I just wish the bag would be snugger, with more down in vital areas.
Background
I used this bag for the last four years on many multi-day treks and overnight hikes. I am an experienced hikers.
Source: bought it new
Price Paid: 200$

Excellent zipperless women's bag. Truly feels like you're sleeping inside of a nice, warm cloud.
Pros
Ultra soft material
Perfect amount of fill
Slot for air mattress to fit into to keep sleeping bag in place
Zipperless
Hood stays on head
Cons
Opening in footbox (personal dislike, maybe a plus for some)
Ugly color combination
No down in the upper back section of bag since this is where your air mattress is supposed to go.
I finally got to try this bag out this past weekend on the Buffalo River Trail in Arkansas.  The temperatures at night ranged from around 45-55° so I wasn't truly able to test the warmth of the bag. I found no drafts in the bag, except if you don't put your feet in the right way, they slide out of the footbox in the slot.
The length was perfect for me (5'6") and it fits like a standard mummy bag. I do like the shape of the hood and found that it stayed around my head all night. This bag has a slot on the back to insert your air mattress. I used a Therm-a-Rest NeoAir and it fit perfectly while still allowing access to the valve if you want to add/remove air.  
Getting in and out of the bag is super easy since there's no zipper to fiddle with! I also found that the part of the bag that folds over you like a blanket stays nicely in place and is easy enough to throw off if you get too warm.  
The bag packs down into about the standard size of a down mummy bag, but fluffs up quickly after being taken out of the bag. However, there is no down at all in the upper back section of the bag where the air mattress is inserted. This could be a problem for people who are using a closed cell foam pad that doesn't fit inside the bag.
I found that the bag dries very quickly because it has DriDown technology. Mine dried within an hour after rubbing on the very wet side of my dewy tent. Overall, I would highly recommend this bag.  
Background
I have only used this bag for three nights so far. The conditions were fair (no rain). This is my second Sierra Designs sleeping bag and I am a dedicated customer!
Source: bought it new
Price Paid: $200

One of the best option for a warm and light sleeping bag.
Pros
Super light and compacts down to nothing
Zipperless design is very comfortable and roomy
Cons
Has to be used with a Therm-a-Rest or similar type of under mat as there is no down under your back.
I was really skeptical with the zipper-less design of the bag but it proved to be a non-issue. It's quite a warm bag but I'm generally a warm sleeper so I may not the be the best gauge for that, but it seems to do the job well in that regard.
The fit is excellent with lots of room to move about. I would classify it as a wider than normal mummy bag. I'm 6' tall and the fit is perfect. The added foot vents are a nice touch when you need to cool off a bit but don't want to fully get outside the bag.
Because of the zipper-less design, the entry is a little tight. But once you've got your legs in the bag it works just fine.
There's very little moisture resistance on the bag itself but the down in the bag is a DriDown so it's treated with a waterproof barrier that repels water if it does get wet.
It packs down really small. Still amazed something the size of a large water bottle is actually your sleeping bag.
The best features for me in this bag is the zipper-less design, foot vents and small size.
The construction is well made although the fabric is lightweight so you'll have to be a bit carefully with handling. Unless you are really rough on your gear there's no reason this bag won't last for years to come.
Easy to use and regulate temperature. Most comfortable sleeping bag experience yet. Temp rating seems accurate and materials are top quality.
Source: bought it new
Price Paid: $350

Your Review
Where to Buy
Help support this site by making your next gear purchase through one of the links above. Click a link, buy what you need, and the seller will contribute a portion of the purchase price to support Trailspace's independent gear reviews.
You May Like
Specs
Men's
regular
long
Price
MSRP: $319.95
Current Retail: $199.95-$339.95
Historic Range: $199.49-$399.95
Reviewers Paid: $200.00-$350.00

EN Limit Temp Rating
15F / -10C

EN Comfort Temp Rating
26F / -3C

Fill Weight
14.8 oz / 419 g
16.4 oz / 465 g
Minimum Weight
1 lb 15 oz / .88 kg
2 lbs 1 oz / .94 kg
Sleeping Pad Sleeve Circ
45.5 in / 115.6 cm
55.5 in / 141 cm
Fits Sleeping Pad
20 x 2.5 in / 51 x 6.4 cm
25 x 2.5 in / 64 x 6.4 cm
Fits Up To
6' 0" / 183 cm
6' 6" / 198 cm
Length
78" / 198 cm
84" / 213 cm
Shoulder Circ
60 in / 152 cm
62 in / 157 cm
Hip Circ
58 in / 147 cm
60" / 152 cm
Footbox Circ
40 in / 102 cm
42 in / 107 cm
Mesh Storage Bag
20 x 12 in / 51 x 31 cm

Stuff Sack
15 x 7.5 in / 38 x 19 cm

Women's
Price
MSRP: $339.95
Current Retail: $209.95
Historic Range: $209.95-$369.95
Reviewers Paid: $200.00

EN Limit Temp Rating
9F / -13C

EN Comfort Temp Rating
21F / -6C

Fill Weight
20.46 oz / .58 kg

Minimum Weight
2 lb 4 oz / 1.03 kg

Sleeping Pad Sleeve Circ
45.5 in / 115.6 cm

Fits Sleeping Pad
: 20 x 2.5 in / 51 x 6.4 cm

Fits Up To
5' 8" / 173 cm

Length
74 in / 188 cm

Shoulder Circ
59 in / 150 cm

Hip Circ
58 in / 147 cm

Footbox Circ
39 in / 99 cm

Mesh Storage Bag
20 x 12 in / 51 x 31 cm

Stuff Sack
15 x 7.5 in / 38 x 19 cm

Recently on Trailspace