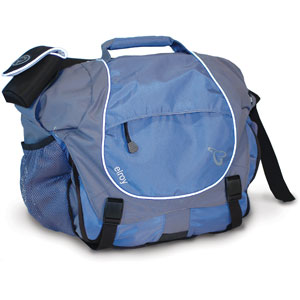 A few years back Osprey set the goal of building a fully-functional pack from as many recycled materials as possible. After more than two years of sourcing materials and refining design, the result is the ReSource Series, a collection of four daypacks and two courier bags built almost entirely from recycled materials.
Recycle Your Old Pack With The Mountain Fund
If you have an old daypack or backpack you no longer need, consider donating it to the Mountain Fund through Osprey's "Triple-R Offer – Recycle and Redeem for Reuse."
Starting March 1, 2007, the Mountain Fund, a group that works to bring health care, human rights, responsible tourism, and environmental progress to mountain communities around the world, will route donated packs for reuse by a variety of organizations including Empowering Women of Nepal, The Alpine Fund, and Big City Mountaineers. As a thank you, donors will receive a 10 percent refund from Osprey when they purchase a new Osprey pack from an Osprey retailer.
For details visit an Osprey dealer (call ahead to find out if they're accepting pack donations), www.ospreypacks.com, or www.mountainfund.org.
"Osprey has always been dedicated to sustainable business practices. But we felt we weren't truly 'walking the walk' until we backed up our environmental integrity with product that reflects that focus," said Gareth Martins, Osprey marketing and PR manager, of the new series.
The packs and courier bags in Osprey's ReSource Series, available for the fall of 2007, are made from a minimum of 70 percent recycled materials by content, 80 percent by weight. The materials include:
100% recycled PET (made from recycled soda bottles) main body fabric

100% recycled PET binding tape

100% recycled PET webbing

100% recycled PET mesh pockets

Recycled buckles – reground from buckle scrap

60% recycled spacer mesh
The only components not made from recycled materials are the packs' piping and zippers ("a near miss," said Martins of the zippers).
The packs' other environmental features include their choice of colors, Glacier (blue), Panda (black), Redwood (rust red), and Tundra (green), which reflect things that need saving, and information about the recycled components imprinted inside each pack.
Osprey didn't make any sacrifices to quality or price to produce the ReSource Series, says Martins. Making the recycled daypacks costs Osprey about the same as previous daypack models. "Consumers aren't paying a premium" for recycled content, he said.
While Osprey's ReSource Series packs are designed primarily for urban outings, expect to see similar recycled materials and technology work their way into Osprey's more technical backpacks.
"Ultimately we want to evolve the concept into our entire line," said Martins. Daypacks were the best place to start, due to their less technical design and use. With the launch of the ReSource Series, a completely recycled trekking or climbing pack may not be far behind.
The Osprey ReSource Series
Revo
1,300 cubic inches ($59)
With internal laptop sleeve and internal front panel organization, the Revo daypack offers single-zip front panel access and pass-through access to an internal pocket.
Recycled Pack Offerings Begin to Grow
Osprey has taken a giant step toward more environmental packs with the introduction of its ReSource Series, but they're not the only ones moving in this direction.
Mountainsmith introduced recycled versions of its popular Day and Tour lumbar packs in 2007. The Day (Recycled) and Tour (Recycled) use recycled fabrics (450d PET recycled Velocity body fabric and 150d PET recycled rip stop lining) and are made with fabric woven from threads produced from 100-percent recycled plastic beverage bottles. Each pack reuses roughly four bottles.
In July of 2007, Keen will introduce a collection of multipurpose Hybrid.Transport daypacks and computer and urban bags. The 13 bags and packs will feature 100-percent recycled aluminum hardware made from discarded aluminum shoe molds. Excess rubber trimmed from Keen outsoles during production will be recycled into protective cushioning features used on the bags.
Cypher
1,600 cubic inches ($84)
The Cypher daypack features an internal music pouch with wire ports, zippered top-entry laptop access, and inner panel organization pocket with main body pass-through access.
React
1,700 cubic inches ($74)
The React daypack features a laptop sleeve, internal front panel organization, single-zip main panel access, and pass-through access to an internal organization pocket.
Circuit
1,900 cubic inches ($99)
The Circuit daypack has zippered top-entry laptop access, internal music pouch with wire ports, large front pocket with organizer, and front zippered slash pocket.
Astro
1,000 cubic inches ($84)
The low-profile Astro courier bag offers top laptop access, front archway pocket with organizers, internal front panel mesh pocket, and a cell phone pouch. Safety lights can be clipped on.
Elroy
1,500 cubic inches ($99)
A laptop-carrying courier, the Elroy has top laptop access, front archway pocket with organizers, zippered expandable bellows front pocket, a cell phone pouch, and safety light clip-ins.