Primus Grows 100% Fuel Efficiency Program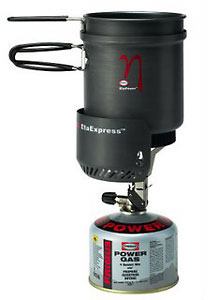 Primus, manufacturer of the hyper-efficient line of EtaPower backcountry stoves, set the gold standard for stove efficiency last fall by introducing the first ever 100% fuel efficient cook system.
Twice as efficient as average backcountry stoves, all EtaPower stoves utilize up to 80% of the heat generated when cooking. To compensate for the lost 20%, Primus forged a partnership with international carbon offset group BaumInvest and purchased carbon offsets for every EtaPower MultiFuel stove sold. Starting in 2008, the award-winning Primus EtaPower EasyFuel and EtaExpress stoves will join the EtaPower MultiFuel in the offset program.
"A camp stove is an essential piece of equipment for any outdoor enthusiast, and we have been working to make the EtaPower line of stoves as low impact as possible," said John Smithbaker, president of North American Gear, U.S. importer of Primus. "Until the day when we can create a 100% efficient stove, offsetting the small amount of unused fuel is the most environmentally responsible action we can take."
Primus EtaPower stoves utilize a proprietary heat exchanger system to achieve such a high level of fuel efficiency. Standard equipment on all EtaPower systems, the heat exchanger doubles fuel efficiency when compared to the average stove, allowing outdoor enthusiasts to pack half as much fuel into the backcountry while lowering greenhouse gas emissions.
The partnership between Primus and the German-based BaumInvest will fund an ecologically sound and socially responsible reforestation project in Costa Rica. In addition to planting over 1,100 acres of Teak and other native hardwoods, BaumInvest is also working with local farmers to develop sustainable agricultural practices and helping to maintain a bio-diverse nature preserve.
Primus is a Swedish innovator of multi-fuel and hyper-efficient camp stoves, lanterns, cookware and headlamps. Imported to the United States by North American Gear, Primus has been outfitting worldwide wilderness expeditions for over 100 years and continues to innovate and develop some of the finest outdoor gear available.
ABOUT PRIMUS: An outdoor gear innovator for more than 100 years, Primus creates premium backcountry equipment for true outdoor enthusiasts. The Primus collection includes stoves, lanterns, cookware and headlamps.