Jennifer Pharr Davis, current holder of the women's speed record for fastest thru-hike of the Appalachian Trail (57 days, 8 hours), is back on the A.T., hoping to make history by hiking away with the overall speed record.
Last week, Davis set off from Mount Katahdin, Maine, headed toward Springer Mountain, Georgia. Her goal: hike the entire 2,180 miles faster than the current overall speed record of 47 days, 13 hours, and 31 minutes.
Davis has trail support from legendary ultra runner and former A.T. and Pacific Crest Trail speed record holder David Horton, as well as veteran A.T. expert Warren Doyle and Davis's husband, Brew Davis.
Trailspace caught up with Davis just before she hit the trail this month.

Are you originally from North Carolina?
Yes, from western North Carolina.
The big question, why do you want to speed hike the A.T.?
It was a natural progression to get back to the Appalachian Trail and go for the overall record. I've hiked over 9,000 miles of long distance trails on six different continents and I had 6,000 miles of traditional backpacking before I ever tried a trail record.
When I started I was a total novice and I was naive and made every mistake in the book. But after 5,000 miles, I had really fell in love with backpacking and had become more confident. I've always played sports and been an athlete and love the idea of pushing my limits and so I thought, since I love the trail and feel confident out there, why don't I try to go for a trail record. I started on the Long Trail (Vermont), which is 272 miles, and wanted to see how quickly I could do it without any support and if I liked trying for trail records. And I finished! And I fell in love with being as efficient as possible. And that's truly what a trail record is. It's not necessarily about going fast or running all day, it's waking up very early and hiking all day and not taking any breaks.
After I decided this is something I want to do, then I tried it the next summer on the Appalachian Trail. In 2008, my husband supported me and that was a really cool and fun experience and we both thought that would be the one time we did the Appalachian Trail in that manner. But there was a lot of talk and I started thinking about the trip and where I could have gone faster or done it better. And from that point on I've thought, "I want to do it again, I want to go back."
It's been a gut instinct telling me I want to do the trail again, so for the past two years we've been talking about it and planning for it. Both my husband and I hope to have a lifelong relationship with the trail. Go out and section hike if we have a family, and when we retire travel around and hike some more. I think one of the qualities of a good hiker is to travel the trail in many different ways. This is a great and different way to experience the trails that I love.
What long distance trails have you hiked in the past?
I've done the Appalachian Trail twice. Once as a traditional thru-hike in 2005 and then I set the women's record with my husband's help in 2008. I've also thru-hiked the entire Pacific Crest Trail and the Long Trail in Vermont. My husband and I have done the Colorado Trail together. I've done several long distance trails near western North Carolina. And then I've hiked and traveled on six continents, so I've been able to do some really great trails in Europe and Australia. I've been to Kilimanjaro and the Inca Trail to Machu Picchu and some great things internationally as well.
Do you recall when you first learned of the A.T.?
I grew up about an hour and half away from the trail and I remember hearing about it on and off and it never really struck me as something I would do. It sounded more legendary or mythical. It wasn't until college when my best friend decided that she was interested in hiking the A.T.
So I went to a bookstore and started looking at A.T. books that I was going to buy for her. As soon as I picked them up, I couldn't put them down. So I wrapped these books and gave them to her and as soon as she opened them I was so excited because I said, "And I'm going to hike it with you!" And at that point she was like, "Oh, I'm over it." She bailed about a week or two after having the idea, but I was pumped.
I didn't really have a lot of backpacking experience, even to the day I started the A.T. for the first time, but I knew I wanted to be outdoors and it was a time that I wanted to figure out what I wanted to do with my life. So it was something in my mind that would buy me some time to figure out life.
I don't think any of my expectations in 2005 were met—not in a bad way. But I thought it would be an adventure and I thought it would be very healing and very fun. And the A.T. broke me! It was the hardest thing I've ever done.
What do your family and friends think about this?
This is my eighth summer in a row of just disappearing, so everyone knows, "OK, Jen's going to be gone for a few months." I've set this standard that I need to go into the woods every year.
My family is more divided. My dad has been very supportive of my hiking. My mom has never fully embraced my time on the trail, and my brothers are back and forth. So it's a little of a mixed bag. But I appreciate the fact that it helps keep me balanced and realize that people do still worry about me. It helps me be more responsible and diminish their fears.
Will you have any days off?
Hopefully no, unless I'm injured or sick and I HAVE to. But the goal is to get up every morning and hike all day.
What's the record you are trying to beat?
The overall speed record for the Appalachian Trail was set by Andrew Thompson in 2005 and is 47 days, 13 hours, and 31 minutes.
What's really cool is when I was thru-hiking in 2005, I very vividly remember meeting Andrew and passing him while he was trying to set the overall record. He's an amazing athlete and hiker and an outstanding person. He's been nothing but supportive and helpful to me and my past record and this upcoming record.
How does a traditional long distance hike compare to a speed hike?
My first thru-hike was more emotional than any hike I've ever done. Speed hiking is physically more demanding than any traditional thru-hike.
How does speed hiking and thru-hiking differ in regards to physical aspects of building friendships or seeing wildlife?
It's not better, it's not worse. My first thru-hike on the A.T., I was on the trail for almost five months and I never saw a single bear. The second time in 2008 I set the women's record and hiked it in 57 days, but I saw 30 bears!
I wasn't making new friends on the trail per se, but a lot of the friends I made in 2005 came out and helped or supported me in 2008. While I didn't make new relationships, I felt I was able to strengthen old ones. It's also a priceless experience and adventure to share with my husband.
What's the pace really? A fast walk, a jog, or a run?
Ideally if there is a general downhill, I would LOVE to run it. But your body is so tired; it just can't transition to a run from a hike. And sometimes it's less efficient to run and takes more energy.
How many miles per day?
Maybe a hair under 46 miles a day. I'm not looking to blow the record out of the water. But, I'll have to night hike a little more and maybe wake up an hour or two early. I know if I put one foot in front of the other, I can make my miles for the day.
Highlights of Jen's A.T. Gear
What gear is Jennifer Pharr Davis using on her A.T. speed record attempt? Here are some highlights: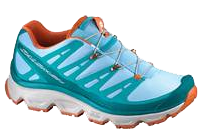 How have you been preparing physically for this?
I learned in 2008 how to train better. The last time, I was training on roads and focusing on running and mileage. After learning that you really don't run that much, I've been training this time exclusively on trails and finding the most strenuous climbs around Asheville and just going up and down and up and down. Training the hiking and climbing muscles will hopefully be beneficial for this summer.
What logistics were involved?
Our gear and plan is pretty dialed in. However we had a wrench thrown at us when my husband tore his ACL and is in the recovery process now. The last time in 2008, I felt I was never limited to stopping at roads because he would hike in on the trail with me until it was dusk and then he would hike back to the car the next morning, and I would keep going. But he can't do that this year.
So, if possible, I will try to end my day near a road so we can still be together and have the support vehicle. But it just doesn't make sense to end my day at 4 p.m. or 5 p.m., so there will be times, like a traditional backpack, where I will put my pack on with sleeping bag and keep going on my own.
How do you handle nutrition? How do you get the calories you need? What do you eat?
Thankfully, I have a cousin who is a nutritionist, so she worked out a plan for me. That is one of the biggest challenges, to get in as many calories as you can. It's challenging to eat 6,000 or 7,000 calories a day, especially in the summer when it's very hot and you don't want to eat. So I have to be conscious of snacking at least every hour or two and when I get to a road, I'll try to eat as much as I can at the car and then keep going.
Food is just fuel on the trail. You have to keep eating if you want to keep going. Sometimes my husband will bring me a treat like a smoothie or ice cream or something I can chug like chocolate milk. It's nice with the support that I can have a banana every day, which I would never carry in my backpack.
How are you handling hydration? What are you using to carry water?
I have a Salomon running pack, but I really like water bottles because I want to get my water off the trail as much as possible so I'm not carrying the weight. So the water bottles are easy to take out and fill up at a stream.
Are you filtering?
It depends on the source, but I have purification if I need to use it.
How are you taking care of your feet?
Oh my gosh, feet are so important! That was a big lesson I learned on my first thru-hike. I had improper socks and wet feet, and the beginning stages of trench foot. My feet were white and crumbly and had the most putrid smell I have ever experienced. I learned a lot about proper socks and footwear.
But the nature of the A.T. is that you are going to have wet feet. I have lightweight and breathable Salomon shoes that are specific for people who want to hike fast. And they dry quickly. I always wear moisture-wicking socks and dump some Gold Bond powder in there too.
What are you sleeping in?
A freestanding, lightweight two-person tent is what we'll be using most of the trip for protection for the bugs. I'm sure every night I'll be out within about 10 minutes.
How will you deal with sleep deprivation?
I think that is one of the hardest challenges for me. Talking with past record holders it seems they don't need as much sleep as I do. I know my body recovers when I sleep. Just as important as food is, so is giving my body seven or eight hours to rest and recover before starting the next day.
Because I really value sleep, I'm going to try to limit any off-trail activity as much as possible. Which means there might be a shower five minutes off the trail, but by the time to drive there and shower and come back, the whole thing will take 30 minutes. This time I'd rather sleep than shower, and that's hard for me to say because I LOVE showers.
How do you stay motivated? Do you use an iPod? Do you reward yourself with treats?
I've never used an iPod and certainly don't feel a need to. I feel like the trail has its own music and sounds that I enjoy listening to. And this is really what I love. If I didn't want to, I wouldn't be out there every day. And because I love it, it keeps me motivated. And I think my husband does a great job at trying to surprise me with special treats and surprises along the way.
If he hadn't hurt himself, would your husband want to do this with you?
He has no interest in endurance hiking. He is a traditional backpacker. He wants time to read, and cook at night, and take lots of breaks. And it's great. And I enjoy that too.
It's a great illustration because a lot of people like to tell me that with speed hiking, I can't see the trail or enjoy the trail like you can with traditional backpacking. And my husband is a great example of someone who is a traditional backpacker that understands that I see just as much, if not more, I enjoy the trail the same amount that I do on a traditional backpack, and that I just love being outdoors.
The trail is out there for anyone who respects nature, respects others, respects themselves, and is willing to abide by the rules of the trail, and I have every right to travel this trail in whatever method I choose and enjoy.
Any hikes you and your husband have planned in the near future?
We are really thinking about kids and a family, but as soon as he hurt his knee, he said "I want one more summer!" So next summer he's going to plan several adventures for us. He has his eyes on some trails in Europe right now.
We have a list at home, usually on our refrigerator, that lists trails we want to do, trails with kids, trails for when we retire. Hopefully it's trails for the next 40 to 50 years that we want to do or will be able to do. So really this is a lifestyle and hopefully we'll be able to enjoy it for a long long time.
Having done the A.T. several times, is there a section you find the hardest? Easiest? Or most/least favorite?
It's cool doing it more than once and that would have sounded crazy to me the first time I was on the A.T., because I thought to myself, "this is so hard, I can't ever imagine people wanting to do it more than once."
But at the same time, the trail changes so much. Not only does the trail change, but you change and as you hike it's a way to relive most memories and that's very motivating and at the same time making new memories. So it's rewarding for me to hike the trail multiple times.
That said, southern Maine is in my opinion the hardest section of the trail and I'm always a little anxious about all of New Hampshire and Maine because it's so strenuous and several exposed sections where weather can cause problems. So it's the reason I go north to south to get those two states over with and know that terrain is behind you.
It's hard to pick a favorite section of the trail, but I really love Grayson Highlands State Park in southwest Virginia. It's beautiful terrain, exposed, and there are wild ponies that live within the park. So I can get majorly delayed there. And what girl doesn't love wild ponies?!
Do you carry a camera? What do you physically have on you during the day?
It really depends because the distance between roads can be four to 40 miles. So if it's a longer stretch, I'm going to carry more, but the standard day pack contents would be a raincoat, some first aid, a cell phone, snacks, water, and that's basically it. I will carry my camera if it's a really scenic section. I love sharing my story and photos. But it's also nice to have your own journey and not worry about sharing it while you are out there and just taking it all in. So I try to strike a balance there.
What's next? Any other life goals?
This doesn't seem strange to us, it's just a lifestyle. It feels very natural to me that we are going to the A.T. this summer and see how quickly I can hike it. To other people, that may seem extreme, but this is what I do.
At home, I'm lucky enough to have my own business where I write, and speak, and guide. I enjoy helping others get outside for the first time. I have an adventure memoir out about my first hike on the Appalachian Trail and I think that book has messages for hikers and for everyone, so I hope to promote that and continue to write as well.
Davis recently published the memoir Becoming Odyssa, sharing an intimate look at how thru-hiking can help shape a person in many ways. The book details how Davis, as an inexperienced hiker fresh out of college, tackled a steep learning curve on the Appalachian Trail in 2005, learning about herself and falling in love with the sport along the way.
Davis recently wrote two guidebooks, Best Hikes Near Charlotte and Best Easy Day Hikes Charlotte. She is the owner of Blue Ridge Hiking Company, which offers coaching, guiding, and public speaking services. @JenPharrDavis
Record Update: On Sunday, August 31, at 3:26 p.m. (EST), after 46 days, 11 hours, and 20 minutes on the Appalachian Trail, Jennifer Pharr Davis hiked away with the overall speed record. When she reached the top of Georgia's Springer Mountain she became the fastest person (male or female) ever to thru-hike the 2,181-mile Appalachian Trail. Andrew Thompson set the previous overall record of 47 days, 13 hours, and 31 minutes in 2005.
Davis set out from Maine's Mount Katahdin on June 15 and hiked and ran an average of 45 miles a day every day for more than six weeks. Davis had trail support from legendary ultra-runner and former AT and Pacific Crest Trail speed record holder David Horton, veteran AT expert Warren Doyle, and her husband, Brew Davis.