Companies offer a plethora of new hiking and backpacking packs. Apparel not only keeps you warm and dry, but can also cool you down. Trekking poles get lighter and more compact.
Here are a few highlights of 2013 hiking and backpacking gear that debuts at the Outdoor Retailer trade show this week.
Packs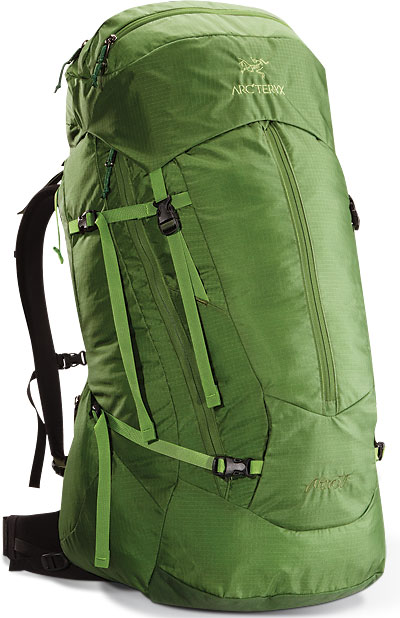 Arc'teryx
Arc'teryx is adding nine new volumes to its popular Altra trekking and hiking pack line (current volumes are 62L, 65L, 75L). Sized for men and women to comfortably carry heavier loads, with space efficient compartments and one-handed timesaving features, the new Altras are the lightest weight, fully-featured bags in their class, says Arc'teryx.


Gregory
After more than 30 years designing backpacks, Gregory brings its expertise to the kids. The Wander, Gregory's first youth pack, offers broad adjustability for years of on-trail use. The adjustable suspension extends from 13 to 20 inches, and an adjustable waistbelt starts at 24 inches. Available in 50- and 70-liter volumes, the packs carry up to 35 pounds and feature a U-Zip front panel, large zippered front pocket, side stash pocket, security pocket under top lid, and hydration reservoir sleeve with pass-through port.
"Everyone from Boy Scouts to active youths can use a pack for a weekend trip," said Cory Lowe for Gregory. Since many kids don't have small, ultralight sleeping bags and other gear, a larger volume pack with adjustable suspension to grow meets a niche not currently being met, says Lowe.
Gregory also is introducing two new backpacking lines. The lightweight Contour (men's) and Cairn (women's) feature the Trail Smart packing system with three distinct packing zones. Available January 2013.

Platypus
Built around the Platypus Big Zip SL reservoir, Platypus's new pack series are based on activity. In the X.T. (Cross Trail) series, the waterproof Sprinter XT 25.0 (right) and Sprinter XT 35 both include a 3.0L Big Zip SL.
The panel-loading Sprinter XT 25.0 (2 lb 5 oz, $139.95) opens wide for easy access, and features padded mesh suspension and external attachments for a helmet, ice axe, trekking poles, and more. The top-loading Sprinter XT 35 (2 lb 10 oz, $159.95) can handle extra gear for more technical day-use and ultralight overnights.
For riders, Platypus offers the minimalist XC (Cross Country) and AM (All-Mountain) bike series. All available January 2013.
Clothing

Columbia and Mountain Hardwear
Instead of taking off clothes to keep cool, how about putting on a layer? Columbia and sister company Mountain Hardwear are introducing sweat-activated cooling technology in their Omni-Freeze Zero (Columbia) and Cool.Q Zero (Mountain Hardwear) apparel for spring 2013.
Tiny circles in the fabric are filled with a lightweight, sweat-activated cooling agent that lowers the overall temperature of the fabric, accelerates wicking, and helps your body minimize heat. Columbia's Freeze Degree 1/2 Zip (women's, above left) retails for $75. Mountain Hardwear's Chiller Long Sleeve Shirt (women's, above right) is wrinkle-resistant, quick-drying, durable, and retails at $100.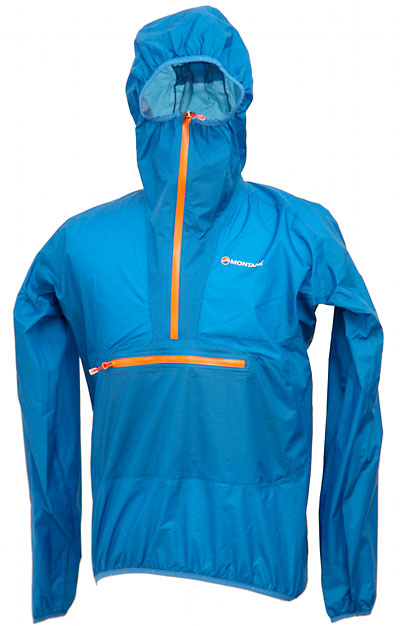 Montane
Montane expands (or contracts?) its Minimus Jacket with the Minimus Smock ($200). The 5-ounce shell of waterproof Pertex Shield+ has microtaped seams, pullover style, a half-length YKK Aqua Guard zip, and a front bib pocket. Made for fast and light aficionados, the Minimus Smock (above) promises to go unnoticed in your pack when not in use.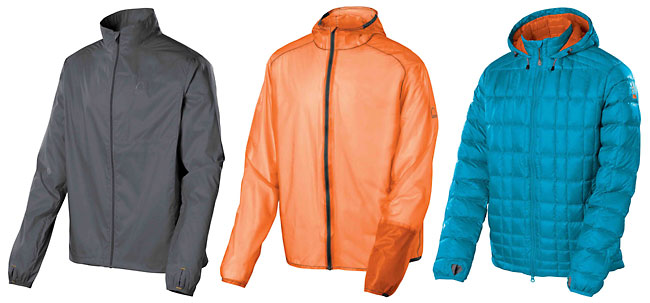 Sierra Designs
With three pieces in its Cloud Layering System (above), Sierra Designs separates your windproof layer from your waterproof-breathable layer, while promising warmth, weather protection, and versatility, all in a 22-ounce package. When on the go, start out with the Cloud Windshell (6 oz, $119) made with 100-percent polyester with two-way mechanical stretch. Add the 800-fill DriDown Cloud Puffy (12 oz, $249) when you stop moving. If it rains, add the two-layer waterproof-breathable Cloud Airshell (4 oz, $125), which packs down to the size of a few energy bars.

Trekking Poles
Black Diamond
Black Diamond introduces the women's Ultra Mountain FL trekking poles (right). The stainless steel, four-season Ultra Mountain FL utilizes Black Diamond's Z-pole technology to fold up small. Desinged specifically for women, the pole's length adjustment is adapted to average women's heights.
The Ultra Mountain FL was one of ten GOLD award winners at the OutDoor Show in Germany in July, where judges said: "It is completely adjustable and exhibits high stability and light weight. The wrist strap is one of the most comfortable straps currently on the market."

Komperdell
Black Diamond's not the only one with fancy fold-up poles. Komperdell's new foldable Carbon Ultralite trekking poles (above) start at at 5.9 ounces and fold down to less than 16 inches for easy stowing. They're constructed of carbon for super light performance in a small package. A compact version packs down even smaller.
For even more new and noteworthy outdoor gear and apparel, follow our complete Outdoor Retailer coverage.