Anatomy of a Mummy Bag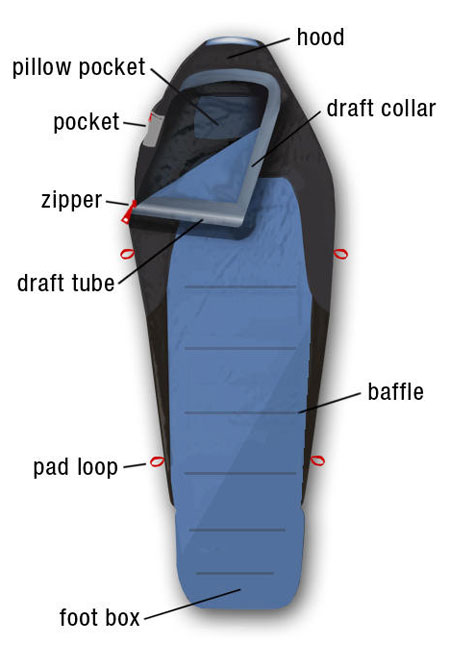 Even a seemingly simple piece of gear like a sleeping bag can have a confusing number of parts, features, and terms.
Here are the basic parts of a typical mummy bag:
Insulation
Insulation: The material inside the sleeping bag, either down or synthetic, that traps your heat to keep you warm. Some bags have differential fill, where more insulation is used on the top and less (or none) is used on the bottom where it is compressed by your body.
Down Fill: The soft, tiny feathers from the underside of a goose or, less commonly, a duck. Higher grades of goose down have more and larger down clusters, more loft, and better insulating properties.
Synthetic Fill: A synthetic material, like polyester, that has been formed into a thin fiber. Synthetic insulation comes in two varieties: continuous filament is one long strand, sometimes with a hollow core; short staples are chopped up pieces.
Fill Power: Used to rate down, fill measures how many cubic inches are displaced by a given ounce of down (in3/oz). Fill powers range up to 900, with higher fills insulating better for the same weight.
Parts and Features
Baffles: The internal pockets of insulation that prevent the insulation (in this case, usually down), from shifting, clumping, and developing cold spots. Sewn (or stitch) through and box are examples of baffle techniques.
Layers: Construction method using two offset layers of synthetic insulation. The top layer is sewn to the shell and the bottom layer to the lining.
Shingles: Construction method using overlapping sheets or pieces of insulation stitched to the bag's shell and lining. Typically used with synthetic insulation.
Shell: The exterior shell keeps the insulation close to your body, and provides a little insulation on its own. Some shells are made of water-resistant materials and some with waterproof-breathable membranes.
Lining: Usually made of a softer material than the external shell, the interior lining is designed to feel soft and wick moisture away.
Hood: An insulated hood prevents heat loss from your head, and keeps warm air from escaping the rest of the bag.
Pillow Pocket: Give you space to stuff extra clothes or a camp pillow.
Hood, Chest, or Stash Pockets: A watch pocket in the hood stows your watch close to your ear for alpine starts. A chest pocket for your iPod will let you fall asleep to your favorite tunes.
Draft Collar: An insulated collar, tightened by a cinch cord near your neck and shoulders, that allows you to close the hood opening to a minimum. Prevents heat from escaping and cold air from entering.
Draft Tube: A thick tube of insulation along the zipper that prevents warm air from escaping and prevents cold drafts from entering.
Zippers: Come in different lengths. A full-length zipper can help regulate your temperature if you start to sweat, a half-length zipper may save some weight, and no zipper may be ideal if you're an ultralighter. Zipper should be anti-snag. Many bags give you a choice between a left- or right-side zipper. A right- and a left-zippered bag with compatible zippers may be zipped together.
Zipper Pulls: Winter bags often feature long cords on the zippers, for easier use with gloves. Some bags have glow-in-the-dark zipper pulls for easier nocturnal exits.
Pad Loops: Connect your sleeping bag to your sleeping pad, holding the pad in place and preventing the bag from sliding off the pad.
Foot Box: The space at the foot of the bag. Some bags offer venting from the foot box. In winter, extra space in the foot box can be used to store hot water bottles, extra clothing, and boots or boot liners.
Hang Loops: Permit the bag to be hung to dry to maintain its loft.
(Illustration by Sarah Lampe. Reporting by Heather Sable and Seth Levy.)