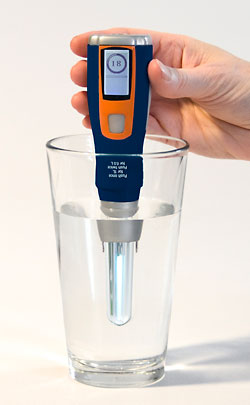 When was the last time your water purifier smiled at you?
Probably never. The folks at Hydro-Photon are aiming to change that with the introduction of the SteriPEN Journey, an ultraviolet water purifier that smiles when you use it correctly.
The SteriPEN Journey's LCD display will not only display a smiley face when you've finished purifying your water, it will frown if you remove the device from the water too soon. It will also tell you how much water you're purifying, how long until it's done, and whether the battery needs replacing.
In many ways the Journey is a hybrid of SteriPEN's existing products, the Classic and Adventurer. The Journey combines the form factor of the Classic – allowing easy mating with a variety of water bottles – with the feedback of the Adventurer, but with a more informative interface. (The LCD replaces the Adventurer's blinking lights.)
The Journey doesn't really do anything that the previous models didn't do, but it provides much clearer feedback about the purification process. This should make it easier to use and lead to fewer user errors.
The SteriPEN Journey will be available in April with an MSRP of $129.95.