Love the Jetboil PCS personal cooking system, but want to stand out from the crowd? The new Flash PCS version will come in four colors—black, gold, purple, and blue—and has several new features that reportedly increase the PCS's performance and ease of use, along with adding some bling.
The new Jetboil Flash will feature: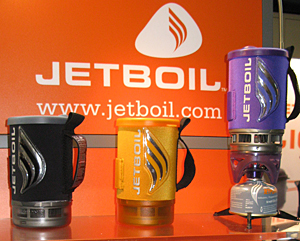 thermochromic technology on the PCS cup, that fancy talk means the decorative wave on the outside of the cup changes colors as contents inside heat up (check it out in the video below),
and a redesigned 1-liter cooking pot that includes a translucent lid to track cooking progress while preventing hot liquid from boiling over.
Ashley Gonnella presented the new Flash PCS to us today, and Lisa Eaton of Jetboil gave us a demonstration in thermochromism:
The Flash canister stove cooking system will be available for fall 2009 and will retail for $99.95.