Outdoor Retailer: Outdoor trend alert
Outdoor Retailer draws to a close today. While our coverage directly from the show will wind down, we'll be turning our attention back to bringing you backcountry gear reviews and informative gear and outdoor skill articles, some of which will be based on what we've seen this past week. In the meantime, here are a few observations from walking the Outdoor Retailer show floor.
1. Baselayers: You already knew they mattered. Now there's no excuse for not wearing decent ones. It seems like everyone has a line (or five) of baselayers. Cloudveil introduced their first baselayers at the show, joining the ranks of PolarMax, Smartwool, Patagonia, Columbia, Ibex, Sherpa Adventure Gear, Duofold, Champion, The North Face, and too many others to mention.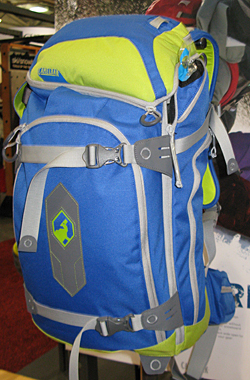 2. Socks: Maybe it's because we wear socks every day, even if we're not in the backcountry. Or maybe it's because socks are relatively cheap compared to most outdoor gear, but there is a veritable technical sock explosion going on (Smartwool, Point6, Teko, Goodhew, Darn Tough, Thorlos, Bridgedale, Fox River, Lorpen, Swiftwick...). Merino wool seems to be the favored material, but I also saw socks made from bamboo, lambswool, alpaca, and recycled poly, among others.
3. Zone/core comfort. Whatever it was called, there was an emphasis on core or zone comfort. What does that mean? Companies like GoLite, Mountain Hardwear, and Sierra Designs use different materials in different body zonal areas for better temperature control and movement. For example, a piece might have insulation or a heavier fabric in your core area, and a thin, stretchy material from arm pits down your sides, where you're likely to heat up and sweat and not want to be restricted.
4. Aluminum: While aluminum water bottles got a bad rap last year for previously having liners made with BPA, aluminum is making a resurgence in unexpected places with its promise to reflect back users' body heat and increase warmth. It can be found on sleeping pads and in the very shiny liners of mid layers, shells, and even hats from Columbia. The Everest-bound Champion Super Suit, also includes a metallicized foil membrane.
5. Oh, and be warned, the '80s are coming back in a variety of clothing and pack styles and color combos, like in CamelBak's Pit Boss shown here. Cue up the Van Halen.