Outdoor Retailer: Packs from Sierra Designs, Granite Gear
The dozens of packs I saw at Outdoor Retailer Summer Market last week are mostly a blur this week. I do recall a nifty Granite Gear model built to wrap around a bear canister (see below), but today it's obvious I missed the most interesting pack news at OR: Sierra Designs' "Fulcrum Suspension" for its new line of day and overnight packs.
Even if I'd seen these packs, I could've easily glossed over their significance amid a thousand competing claims for innovative designs. Check out these images and see what you think: The picture at right is the new Fulcrum frame -- a single aluminum stay attached to a plastic shoulder piece at the top and a hip piece at the bottom (with a little swivel for more mobility). The middle picture shows thick pads that create a gap presumably big enough to ventilate the middle of the back.
The fact that I could see the stay told me "heck, this is an external-frame pack." But it still has the narrow, back-hugging profile of an internal-frame pack.
Could this be the pack that blends the breathability of an external frame with the load stability of an internal? I won't draw too many conclusions on a pack I didn't even see with my own eyes, much less strap on my back to get a feel for it. On paper (or pixels), however, the potential is intriguing.
Sierra Designs has been mostly missing from the pack market since the 1970s (it did offer a few hydration and hip packs awhile back), so the company's re-emergence is notable news as well. A quick look at the new packs, which will show up in stores in spring 2011:
Herald 30, Rejoice 30: Fulcrum frame applied to 30-liter day packs. Rejoice has women's-specific fit.
Revival 50, 65: Men's version in 50 and 65 liters for overnighters to weeklong outings. Includes trekking pole holders, hydration pocket, integrated bottle opener, and a variety of pockets for small items
Facts on the new line:
| | | | | |
| --- | --- | --- | --- | --- |
| Pack | Torso fit range | Weight | Volume | MSRP |
| Revival 50 S/M | 16-18.5" | 3 lbs, 13 oz. | 50 liters / 2950 cubic inches | $199.95 |
| Revival 50 M/L | 18-20.5" | 3 lbs, 14 oz. | 50 liters / 3100 cubic inches | $199.95 |
| Revival 65 S/M | 16-18.5" | 3 lbs, 15 oz. | 65 liters / 3800 cubic inches | $239.95 |
| Revival 65 M/L | 18-20.5" | 4 lbs | 65 liters / 3950 cubic inches | $239.95 |
| Jubilee 50 | 14.5-17" | 3 lbs, 11 oz. | 50 liters / 3000 cubic inches | $199.95 |
| Jubilee 65 | 14.5-17" | 3 lbs, 13 oz. | 65 liters / 3850 cubic inches | $239.95 |
| Herald 30 S/M | 16-18.5" | 3 lbs, 1 oz. | 30 liters / 1750 cubic inches | $159.95 |
| Herald 30 M/L | 18-20.5" | 3 lbs, 2 oz. | 30 liters / 1850 cubic inches | $159.95 |
| Rejoice 30 | 14-17.5" | 3 lbs | 30 liters / 1800 cubic inches | $159.95 |
These seem a bit heavy for the volume, but Sierra Designs does call them "midweight" packs.
Granite Gear Nimbus Core pack
At Winter OR 2010, Granite Gear unveiled its line of Bear Hugs stuff sacks, designed to help backpackers elegantly cram stuff around their bear canisters, which are inherently unwieldy. Next spring GG will take that idea to its logical extreme: a pack that wraps around a bear canister.
The Nimbus Core looks a bit like it has a missile silo in the middle, where the bear canister goes. Lateral compartments can be pulled snug against the can, and another cinch strap closes the top area.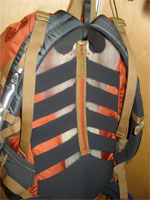 The Granite Gear Nimbus Core weighs 3 pounds, 12 ounces and will retail for $259.95. It will come in regular and short-torso sizes. As Granite Gear's publicity materials note, this pack's core need not be reserved only for a bear canister. Anything big and bulky you might want to carry along (whether it's a wet tent or watermelon) could be stowed in there.
The Nimbus Core uses a new Granite Gear new suspension system combining the "Advection" back panel and the "Topoflex" frame sheet (pictured at right). Topoflex employs a single pivot at the shoulder and hip belt attachment points, while Advection is essentially a foam grille designed to enhance air flow between the back and the frame sheet.
Other new GG packs for 2011:
Nimbus Trace 62: This pack upgrades the Nimbus Ozone with stretch-woven upper side zipper pockets and a floating/removable lid, giving the option of slicing off a few ounces of your load. It uses the new Advection/Topoflex suspension. 62 liters / 3800 cubic inches. 4 pounds (3 pounds 7 ounces without lid). $259.95.
Blaze AC 60, Blaze AC 60 KI: These are lidless lightweight packs built with long-haul hikers in mind ("KI" designates the women's model). LineLoc compression system helps balance the load. 60 liters / 3660 cubic inches. 2 pounds 14 ounces (regular torso; short length available). $199.95.
###
Of course there are hundreds more packs in the pipeline for 2011, and just about all the brands are nipping ounces, tweaking attachments, and fine-tuning suspensions to make next year's models a bit sexier than this year's. With any luck I'll get a chance to preview more of them in the coming months.