An Introduction to Lightweight Backpacking
Is your backpack so heavy that you need help lifting it off the ground? Do you let out a cougar scream when you finally get it onto your back, like the guy below?
If so, perhaps it's time to learn about lightweight backpacking and how to reduce the weight of your pack to a more comfortable 10 to 15 percent of your body weight. Carrying a 50 pound pack on overnight hiking and camping trips is unnecessary and can be avoided with a little knowledge and planning.
Lightweight backpacking isn't a new idea, but it has gone mainstream as more women, families, and aging boomers take up hiking and camping. What's driving this shift to lighter weight gear? New fabric and insulation technologies certainly play a role, but the main reasons are quite simple. People want to be more comfortable when they're backpacking, they want to spend more time seeing the sights, and they want to avoid getting injured from carrying too much weight.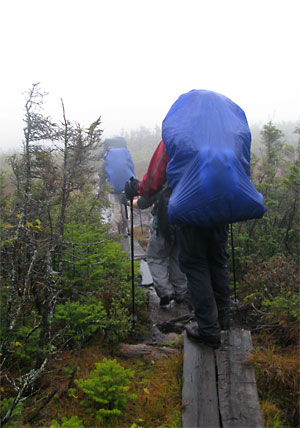 In response, many gear manufacturers including Osprey, Big Agnes, Therm-a-Rest, and REI are selling new gear that is dramatically lighter than their old products. For example, multi-day backpacks that weigh under three pounds, single person tents that weigh under three pounds, inflatable sleeping pads under one pound, and sleeping bag manufacturers are selling more ultralight quilts and summer-weight sleeping bags than ever before.
The best way to start reducing your load is to weigh your backpack, your sleeping bag, and your tent on a digital scale. These items, often called The Big Three, are usually the heaviest pieces of gear you carry. If any of them weigh more than three pounds, you should try to find a lighter weight alternative. Getting each of them under three pounds will have an immediate impact on your gear weight and comfort level.
But going lightweight isn't just about gear replacement. There are a lot of choices you can make about what you bring or don't bring on a trip that can dramatically reduce your pack weight and make the entire experience more enjoyable.
In the coming weeks, I'll be writing a series of posts here on Trailspace about the principles of lightweight backpacking and the pros and cons of different types of gear that are commonly chosen by lightweight backpackers. I'll show you all kinds of gear you may have never considered using before like hammocks, tarp tents, sleeping quilts, and frameless backpacks. I'll show you how to stop carrying clothing on trips that you never use, how to eat well but carry a lighter stove and less fuel, and how you can still be comfortable and bring along luxury items to enhance your outdoor experience.
We'll discuss:
lightweight backpacking for kids and families
Get ready to ask questions, share your own lightweight tips, and lighten your load.
Philip Werner is the author of SectionHiker.com, a blog about lightweight backpacking and hiking. A popular speaker, Philip gives frequent backpacking talks and gear demonstrations across New England. In addition, he is a Long Trail mentor for the Green Mountain Club, a trail adopter in the White Mountain National Forest, and a lightweight backpacking evangelist for Gossamer Gear.