Lightweight Backpacking: Sleeping Bag Makeover
Introduction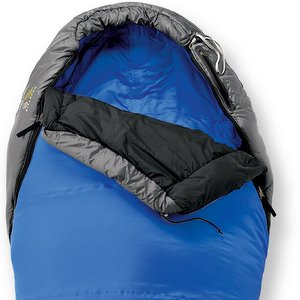 In last week's post, Lightweight Backpacking: Shelter Makeover, I explained several ways to reduce the weight of your existing tent and what to look for when purchasing a new lightweight tent. I also introduced several shelters that are lighter weight alternatives to double-walled tents including tarp tents, hammocks, and tarps.
In this post I focus on three-season sleeping bags and how to buy one under the 3 pound weight limit we set previously for The Big Three. I introduce some important considerations to be aware of before you begin evaluating different sleeping bag designs. After that I evaluate the strengths and weaknesses of different sleeping bag designs commonly used by lightweight backpackers and recommend several popular down and synthetic options for each.
Weigh Your Gear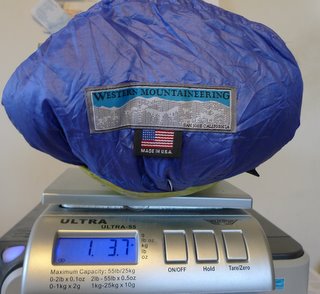 Weigh your sleeping bag, sleeping pad, pillow, down booties, sleeping balaclava, including stuff sacks, and any other comfort or insulation items you bring for sleeping outdoors, on a digital kitchen or postal scale. Although this post is about sleeping bags, you want to know exactly much the individual items in your sleep system weigh.
Weighing your gear is one of the most important steps you can take to lighten your pack. It will change the way you evaluate new gear purchases, help you identify items that can be replaced with lighter weight alternatives, and help you understand the benefit of using the gear you already carry for multiple purposes.
A word of warning: don't trust manufacturer weight specifications or the retailer specs that you read on the web. As listed, their weights can be incomplete, confusing, misleading, or just plain wrong, particularly when it comes to sleeping bags which come in different lengths and sizes for men and women. It's best to weigh your gear yourself.
Up Front Considerations
If your sleeping bag weighs more than the 3 pounds, I'd recommend replacing it with a lighter weight alternative. Before you start searching for a replacement, here are some tradeoffs and tips to save money and weight, and increase your comfort level.
Temperature Range
For three-season camping, it's normal for backpackers to use a 15 or 20 degree (F) sleeping bag, or about 10 degrees below the lowest temperature they expect to encounter. This provides a bit of protection against overly optimistic manufacturer temperature ratings and individual metabolic differences such as whether you're a warm sleeper or a cool one.
Depending on when and where you backpack, this may be too conservative. If you only sleep outside between the end of May and mid September, you may be able to buy a less expensive 30- or 40-degree sleeping bag weighs 50 to 100 percent less than a 15- or 20-degree bag.
For cooler weather, you can augment a lighter bag's insulation by wearing insulated camp clothes in your sleeping bag to boost its warmth. You'll be much more comfortable the rest of the backpacking season when the weather is warmer and you'll save money and reduce weight by using your clothes.
Temperature Ratings
The temperature ratings cited by many sleeping bag manufacturers can vary widely and there is no predictable correlation between different amounts of fill, features, and sizing.
While some sleeping bag manufacturers in the United States are adopting the new EN 13537 temperature rating standard for testing sleeping bag temperature ratings, adoption has been virtually non-existent with smaller manufacturers who make fewer sleeping bags and cannot accommodate the added cost of testing at an independent lab. The situation is even more problematic if you are interested in purchasing an ultralight alternative such as a sleeping quilt where no independent temperature rating standards exist.
Your best defense is to select bags from quality manufacturers that are used widely by the lightweight backpacking community and whose temperature ratings have been validated by the community at large.
Down vs. Synthetic Insulation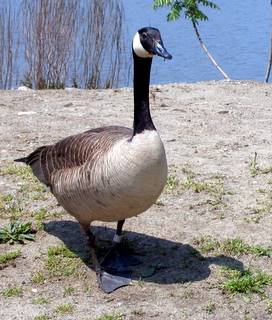 Despite significant advances in synthetic fill technology, goose down is still the lightest, warmest, and most compressible sleeping bag insulation available. Unfortunately, down loses its insulation value when it gets wet, making it best for use in drier climates.
Among down bags, those with a fill power rating of 800 or higher are significantly lighter and more compressible than bags with lower fill power rating ratings such as 650. They are also much more expensive.
To prevent down insulation from getting wet, some manufacturers offer sleeping bags with waterproof shells. Unfortunately, these trap moisture from perspiration inside the bag and degrade the insulation as the down becomes damp. A better alternative is to buy a bag with a very lightweight microfiber shell that has an excellent DWR coating, so that it is breathable and highly water repellent.
Down insulation is not always the best choice, depending on the climate or the length of your outings. If you hike in very hot and humid weather, or for days or weeks on end, buying a sleeping bag with synthetic fill makes a lot of sense because it will keep you warmer than down when damp. Synthetic sleeping bags that are rated for warmer temperatures can also be stuffed quite compactly, offsetting the volume penalty of synthetic fill over goose down.
However, down is far more durable than synthetic insulation when compressed frequently, as is the norm for sleeping bags. High fill power down bags can retain their resiliency and loft for 20 years, despite being frequently stuffed, while synthetic fills break down with five or six years of use.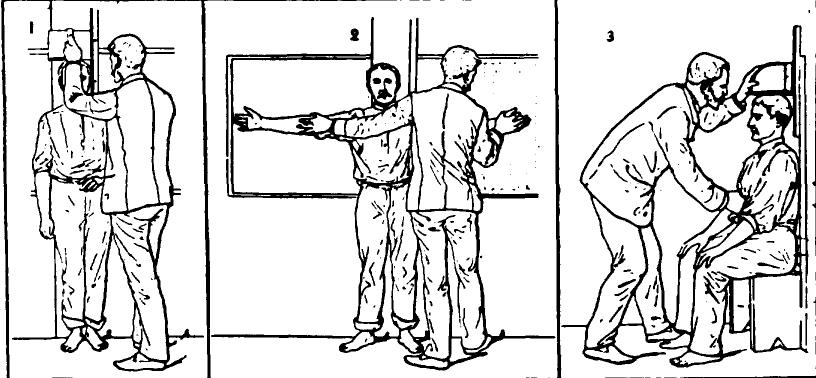 Sizing and Fit
Sleeping bags should fit close to the shoulders, hips, and feet to minimize the amount of air that your body needs to heat up. This is an easy thing to overlook when fitting a new bag, but it's one of the most effective ways to get the most warmth out of your insulation. Plan to leave enough extra room inside a bag to wear an insulated jacket or pants if you plan to augment its temperature range with additional clothing while sleeping.
Depending on your height and weight, finding a well fitting bag can be a bit of a challenge so take your time in choosing one and make sure you try on a bag before purchasing it or that it is returnable to the retailer of it doesn't fit well.
Some manufacturers, including Western Mountaineering, provide sleeping bags in a number of different lengths and widths to help you get an excellent fit. Pay close attention to the bag weight and girth specifications and how they change between models. Also, consider using a bag specifically sized for men or women if it more closely fits your needs.
Sleeping Bag Styles
Most lightweight backpackers purchase mummy style sleeping bags or ultralight quilts. Like all gear, these have their pros and cons depending on your shape, warmth, and comfort needs.
Some hikers also use top bags, like those manufactured by Big Agnes, which have no back insulation, but include a separate sleeve to hold a sleeping bag, and are quite similar to quilts in many respects. Others use semi-rectangular bags without a hood, or wearable sleeping bags that come with sleeves or leggings and can double as insulated camp clothing. I do not cover these below because their availability is quite limited, but they may be worth considering.
Mummy Style Sleeping Bags
Mummy style sleeping bags with integrated hoods are excellent for sleeping in cold weather because they prevent hot air from escaping from your bag at night when you move around and their wrap-around design prevents drafts from chilling you.
The chief downside of mummy bags is that they can be difficult to vent in warmer weather. Many manufacturers include half zippers, three-quarter zippers, full zippers, and even foot box zippers to help vent extra heat. These all add a bit of weight to a mummy bag; you also need to watch for zippers that snag and are not well insulated against unwanted heat loss.
Western Mountaineering sleeping bags are considered a top choice for 850 plus fill power down bags that are lightweight, have good breathable shell fabrics, and are true to their temperature ratings.
For example, the 32-degree Western Mountaineering Summerlite, (MSRP $315) weighs just 1 pound 3 ounces and the 20-degree Western Mountaineering Ultralite (MSRP $385) weighs 1 pound 13 ounces.
Another high fill goose down bag worth considering is the innovative Montbell Spiral Down Hugger #3 (MSRP $259) Rated at 30 degrees, it uses an elastic body hugging shell fabric that gently conforms to one's body and eliminates extra air space in the bag. It is also great for side sleepers and people who move around at night because it changes shape with them.
Montbell also makes a 30-degree synthetic sleeping bag called the Super Spiral Burrow #3 (MSRP $149) that weighs 2 pounds 8 ounces and uses the same elastic body hugging shell fabric used in their down bags. The 15-degree Mountain Hardwear Ultralamina 15 (MSRP $205) is another lightweight synthetic bag weighing 2 pounds 14 ounces.
Ultralight Quilts
Quilts do not have back insulation and are designed to drape sleepers lying on a sleeping pad. They address the issue that sleeping bag insulation has little value if you lie on top of it, as it cannot trap warm air when compressed. Quilts provide a solution to the venting issues experienced by some mummy bag users because they can be easily adjusted for different temperatures. They are also an excellent alternative for side sleepers because they don't have attached hoods.
Quilts typically have a sewn in foot box that surrounds your feet. Most have some sort of strap system to secure them to a sleeping pad, and a draft collar around the shoulder or neck to keep warm air from escaping when you move around in your sleep. Quilt users often augment the insulation in a quilt with warm headgear in colder weather.
If you've never seen an ultralight quilt, here's a product tour that demonstrates the Katabatic Gear Palisade 30°F (MSRP $330), a 17.5-ounce quilt filled with 850 goose down.
As with mummy bags, the amount of body heat required to heat the unused air in a quilt is a function of its girth, and manufacturers size quilts in different widths to accommodate slender and wider people.
Quilts are available using high fill power down as well as synthetic insulation. In addition to the Palisade, Katabatic Gear makes a 15-degree down quilt called the Sawatch (MSRP $370) that weighs 1 pound 8 ounces. Nunatak Gear is another well respected down quilt manufacturer that makes quilts using 800 fill power down. They make the 32-degree Arc Specialist (MSRP $395) that weighs 1 pound and the 20-degree Arc Alpinist (MSRP $426), which weighs 1 pound 4 ounces.
Quilts made with synthetic insulation are far more affordable than one made using goose down. Some notable examples include the GoLite RS 3-Season Quilt (MSRP $150) rated for 25 degrees and weighing 2 pounds 10 ounces. Enlightened Equipment also makes a quilt called the Prodigy that is insulated with Climashield APEX synthetic insulation and is available in 25-degree and 15-degree insulation weights. The Prodigy 25 weighs 1 pound 9 ounces and has an MSRP of $175, while the Prodigy 15 weighs 1 pound 14 ounces and has an MSRP of $205.
Conclusion
There are a lot of different options and strategies available if you want to reduce the weight and packed size of your sleeping bag. All of them have their own strengths and weaknesses depending on weather conditions, expense, and your own personal preferences.
If you're interested in trying the different sleeping bags or quilts I've described here, the best thing to do is to buy them from a retailer with a liberal return policy and return them if they don't work for you. Trying on quilts is more difficult because most of them are manufactured by tiny companies. In this case, the best thing to do is to learn as much as you can about sleeping quilts or try to find a friend who uses one already and will let you borrow theirs for a night to try.
If you have any questions or comments, please post them below.
In my next post, I'll examine the ways in which you can reduce the weight of your backpack.
Philip's Recommended Sleeping Bag and Quilt Manufacturers
See Also:
Sleeping Bag Shapes, Sizes, Fits
Gear Explained: Synthetic Insulation and Down Insulation
Sleeping Bag Construction: Baffles, Layers, and Shingles
Philip Werner is the author of SectionHiker.com, a blog about lightweight backpacking and hiking. A popular speaker, Philip gives frequent backpacking talks and gear demonstrations across New England. In addition, he is a Long Trail mentor for the Green Mountain Club, a trail adopter in the White Mountain National Forest, and a lightweight backpacking evangelist for Gossamer Gear.