Lightweight Backpacking: Shelter Makeover
Introduction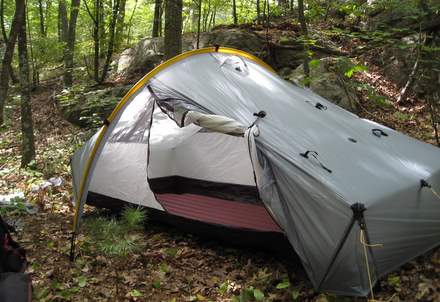 In my last post about lightweight backpacking, I introduced the benefits of reducing the weight of your gear list and how it can increase your enjoyment and comfort level on backpacking trips.
I also introduced The Big Three, which refers to the three heaviest items on your gear list: your tent, sleeping bag, and backpack.
In the coming weeks, I'll be writing a series of posts that explain how you can reduce the weight of these items by modifying them or replacing them so that they each weigh less than 3 pounds. Doing this often yields the best bang for the buck in terms of immediate weight reduction.
In this post, I focus on backpacking tents, including how you can reduce the weight of your current tent and what to look for in a new tent if you decide to replace it. I also introduce some ultralight shelter options that are commonly used by lightweight backpackers, but that you may be less familiar with.
Weighing Your Gear
I strongly encourage you to weigh your tent, tent poles, tent states, guy lines, and tent footprint on a digital kitchen or package scale. You want to know exactly how much each of these individual components weighs when it's in your backpack.
A word of warning: don't trust manufacturer gear weights. As listed, their specifications can be incomplete, confusing, misleading, or just plain wrong. It's best to weigh your gear yourself.
Weighing your gear is one of the most important steps you can take to lighten your pack. It will change the way you evaluate new gear purchases, highlight items that you can gradually replace with lighter weight alternatives, and help you see the benefit of eliminating non-essential items when you pack for a trip.
Lightening Your Tent
If your current tent weighs over 3 pounds, there are a few ways you can lighten it up without replacing it. For example, if you use a footprint, leave it at home. Unless you have a very old worn-out tent, your tent floor is sufficiently waterproof already.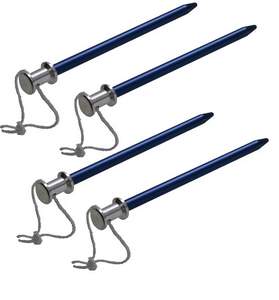 Next, some tents can be held up with trekking poles instead of the tent poles supplied by the manufacturer. If you hike with trekking poles, using existing gear is a great way to save even more pack weight.
Finally, if your tent comes with heavy steel tent stakes, replace them with lighter weight stakes like Easton's 6-inch aluminum stakes, which weigh 0.35 ounces each.
Is it really worth it? Trust me, the ounces add up quickly when you repeat this process for every item in your pack, from your first aid kit to your cook set. Let your digital scale be your guide.
What if multiple people share a tent? If two people are sharing a tent, you still want to shoot for a tent that weighs less than 3 pounds because you are still likely to sleep in it alone when your regular partner doesn't accompany you. For three people or more, keep the total weight of your tent under 2 pounds per person, and split the tent components up so that everyone in your group is carrying their fair share.
Replacing Your Tent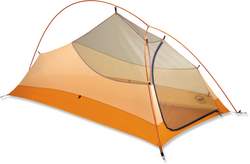 If the steps already described don't reduce the weight of your current tent under 3 pounds, consider buying a lighter tent. Here are some important features to look for in a replacement. These suggestions apply to double-walled tents which have an outer rain fly and an inner tent with no-see-um mosquito netting for ventilation.
Lightweight Fabrics
Most mainstream camping tents on the market today are overbuilt with heavy-duty fabrics because consumers equate value with weight. They're designed for use in campgrounds and car camping, not for carrying in a backpack. If you look at the specifications for these tents, you'll see they're made using urethane-coated nylon. Urethane coatings add a significant amount of additional weight to tents.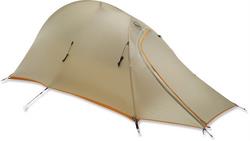 Instead, look for tents made with silicone-impregnated nylon, also called silnylon. This material is waterproof but much lighter. For example, the LightHeart Gear LightHeart Solo Tent (MSRP $245) is made with silnylon fabric and only weighs 1 pound 13 ounces. For two people, the Big Sky International Mirage 2P (MSRP $329.95) is also made using silnylon and weighs 2 pounds 11 ounces.
Less Interior Space
While tents with a lot of floor space and headroom are great for campground camping, they're overkill for backpacking. If you hike to exhaustion most days and go to sleep when the sun sets, carrying a tent with extra interior space will just weigh you down.
Smaller volume tents can be just as comfortable for sleeping, but are lighter because they're made with less fabric. A good example is the Big Agnes Fly Creek UL1 (MSRP $299.95), which weighs 2 pounds 3 ounces. Although it's made with urethane-coated fabric, it's relatively lightweight because it has a small interior. For two people, I recommend taking a look at the Big Agnes Fly Creek UL2 (MSRP $349.95), which weighs 2 pounds 10 ounces.
Ultralight Camping Shelters
While getting the weight of a double-walled tent down to 3 pounds can have quite an impact on your comfort level, you can experience even greater weight savings by switching to an ultralight camping shelter such as a hammock, a tarp tent, or a standalone tarp. These shelters are used by many lightweight backpackers because they weigh 2 pounds or less and take up far less space in your backpack.
Saving extra weight like this also means you can bring along some additional luxury items on trips that you might not otherwise have room for or want to carry. You don't have to be an ultralight backpacker with a 10-pound gear list to use one of these ultralight camping shelters.
Let's take a look at the pros and cons of each of these different shelter types.
Tarp Tents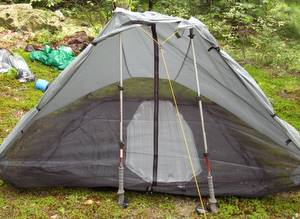 Tarp tents are single walled tents that have all of the features of a double-walled tent, without a separate rain fly. They tend to run between 1 pound and 2.5 pounds in weight and are the best choice to dramatically cut the weight of your shelter without having to learn new skills or change the way you camp today.
For example, the one-person Six Moon Designs Lunar Solo Tarp Tent (MSRP $235) weighs 1 pound 7 ounces, and the two-person Tarptent Squall 2 (MSRP $235) weighs 2 pounds 2 ounces. Both of these tents are made using silnylon and can be set up using trekking poles instead of tent poles to save weight.
The reason double-walled tents have an external rain fly is to trap moisture which condenses inside your tent at night and keep it from making your gear wet. This moisture, called internal condensation, is created when you exhale moist air at night and travels through the no-see-um mosquito netting on the walls of the inner tent. If the rain fly is left open at night, this moisture is vented outside the tent. Otherwise it collects inside the fly, but is kept away from your gear inside the inner tent.
Tarp tents are built slightly differently. They have a distinct bathtub floor made out of silnylon that is shaped like the top of a shoebox. A single layer tarp covers the bathtub floor to keep rain out but is wider than the floor so that rain flows off to the sides. No-see-um netting connects the bathtub floor to the outer tarp and ensures that there is always a way for internal condensation to flow outside the tent and keep the inside dry. This design works remarkably well in all weather conditions and saves a substantial amount of weight because much less fabric is used.
The only downside of a tarp tent is that they can be a bit cooler than a double-walled tent because they are so well ventilated. This temperature difference is barely perceptible in most conditions, but can be quite welcome in hot weather.
Hammocks
If you're used to sleeping on the ground, sleeping in a hammock can take a little getting used to. They can be very comfortable though and many hikers really like them. There are two parts to a hammock, the hammock itself, which is suspended between two trees, and a rain fly which is suspended above it.
Hammocks can be ideal camping shelters because you can pitch them just about anywhere as long as you have two trees to hang them from. It doesn't matter if there are rocks or puddles or roots on the ground below you.
They also have a lower impact than tents since you don't have to clear a tent site of debris and you are not lying on the ground and compressing the soil.
Hammocks tend to run between 1.5 pounds and 2.5. pounds in weight, but compress smaller than a double-walled tent in your backpack because they have less fabric and don't require tent poles. They also eliminate the need to carry a sleeping pad.
For example, Hennessy Hammock's Ultralight Asym Classic (MSRP $199.95) weighs 1 pound 15 ounces and includes no-see-um mosquito netting, a detachable rain fly, and webbing straps that let you hang the hammock from a tree without hurting the bark. Another popular hammock model is the Warbonnet Blackbird 1.1 Hammock, which weighs 1 pound 11 ounces, including a 7.5-ounce rain fly.
The main disadvantage of hammocks is that they require extra insulation for your back when temperatures drop below 50 degrees, but hammock makers sell additional quilts and insulating pads you can hang under a hammock to insulate your back. Hammocks are a perfectly viable way to reduce your shelter weight, especially if you camp during the warmer parts of the year when extra insulation is not required.
Tarps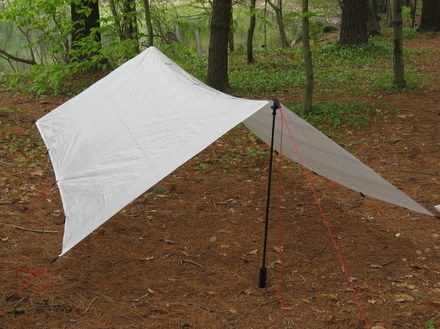 The lightest and most packable ultralight shelter is a tarp. These come in a variety of shapes and sizes, but are basically just pieces of waterproof fabric that you sleep under.
They are very similar to tarp tents except they don't come with a bathtub floor or no-see-um mosquito netting. Most people who use them bring some sort of bug net to hang over their faces at night and lightweight plastic or Tyvek sheeting to sleep on if the ground is wet.
Most ultralight tarps weigh less than a pound, but many are available that weigh even less. Some economical examples are the Equinox Globe Spinner Ultralite 8 x 10 Tarp (MSRP $80), which weighs 13.9 ounces and the two-person Mountain Laurel Designs Grace Duo Tarp (MSRP $150, in silnylon), which weighs 13 ounces.
Tarps are easy to pitch using trekking poles or they can be tied between two trees. They have excellent ventilation, which eliminates internal condensation, and they can be pitched close to the ground in storm mode to block out strong winds or heavy rain.
There are many different ways to pitch tarps and many kinds of specialized tarp shapes that can be used in different weather conditions. Learning when to use them and how to tie the specialized knots for pitching them requires more advanced campsite selection skills and a fair amount of practice.
Conclusion
As you can see, there are a lot of different options and techniques available if you want to reduce the weight and packed size of your tent or camping shelter. All of them have their own strengths and weaknesses depending on the weather conditions, terrain, expense, and your own personal preferences.
If you're interested in trying a different tent or one of the ultralight shelters I've described here, the best thing to do is to borrow one from a friend and try it out a few times before you spend a lot of money. You also can often find used tents or shelters online for significantly less cost if you can't wait and want to start experimenting today.
If you have any questions or comments, please post them below.
In my next post, I'll examine the ways in which you can reduce the weight of three-season sleeping bags.
Philip's Recommended Lightweight Shelter Manufacturers
Gossamer Gear (Full disclosure: I'm a backpacking evangelist for Gossamer Gear.)
Philip Werner is the author of SectionHiker.com, a blog about lightweight backpacking and hiking. A popular speaker, Philip gives frequent backpacking talks and gear demonstrations across New England. In addition, he is a Long Trail mentor for the Green Mountain Club, a trail adopter in the White Mountain National Forest, and a lightweight backpacking evangelist for Gossamer Gear.