Meet Bigger Al, Trailspace's Reviewer of the Month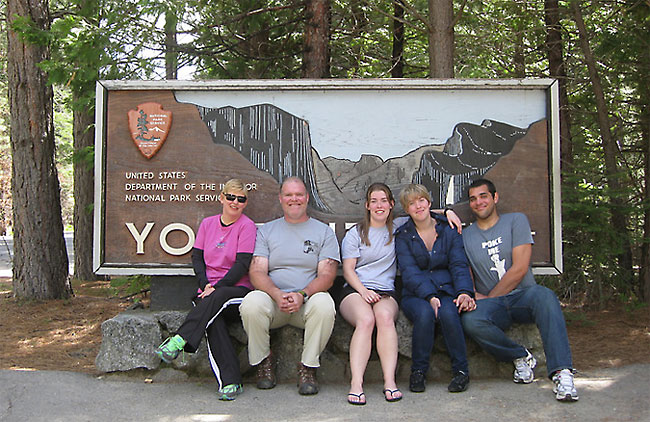 Congratulations to community member Bigger Al! Al's review of the Starbucks VIA Ready Brew was voted March's most helpful review by the Trailspace community.
"I'm a recovering coffee snob who, in previous years, would have rather drank mud from a puddle than instant coffee of any brand. Those days are over," said Al of the Starbucks VIA.
Congratulations, Al! You win a goodie pack of gear from Innate, Nature's Coffee Kettle, ProBar, and Trailspace for your most recent effort.*
Write your own helpful gear review and you could be next month's most helpful reviewer.
Meet Bigger Al
How did you get started exploring outdoors? Any favorite stories, memories?
I've been in the outdoors literally my entire 48 years. I was raised in a rural community on 15 acres of mostly mixed conifer forested land. My younger brother and I spent our days bushwacking, climbing trees, fishing, and generally doing what young boys do given space and time to roam. It was a great way to grow up.
My dad has always been a hunter and fisherman, and he drug us along with either poles or guns. We learned to camp, hike (miles and miles and miles...) and survive in the wild. I get my love of being outside from him, and I consider it to be the greatest gift that he's given me.
What do you enjoy doing outdoors?
My wife Holly and I started our oldest daughter on the outdoor path when she was less than a year old. We took her on a three-day camping trip to Sequoia National Park, which is also where we got married. We try to go down there once every year to 18 months, and both of our girls have grown up hiking the trails there.
While I dearly love hiking of any kind, my very favorite time to be on the trail is with any or all of the family. We've never had a huge vacation budget, and our recreation time has always been spent in tents and sleeping bags.
A neat little story: a couple of years ago the girls and I were driving back from a day trip to Truckee, down SR-20. We passed White Cloud Campground, and the smoke from the campfires naturally filled the car. It was funny to hear all three of us inhale deeply and sigh.
My oldest leaned forward from the back seat and said, "Thanks, Dad."
"For what?" I asked.
"For taking us camping and hiking while we were growing up. I'm going to treasure those memories forever."
I couldn't speak for a couple of miles. I'm a very lucky guy.
Why were you motivated to review the Starbucks VIA?
Anything you'd like to share about testing/reviewing it?
What motivated me to review the Starbucks VIA Instant Coffee? I was very impressed with it.
My wife works in a high-end local kitchen store, and as such we've been lucky enough to try all manner of coffee making equipment. Some, like the Aeropress, brew an outstanding cup, and others were just so-so.
The common thread with all of the coffee stuff is bulk, and that's where the Via shines. It tastes better than any instant coffee I've ever tried, and better than some home brews, and you can fit a week's worth for two people into a single titanium mug. Can't beat that!
What are your favorite pieces of outdoor equipment? Why?
Our favorite pieces of outdoor gear are our REI Taj 3 tent and our Big Agnes sleeping bags (Ethel 0° and Summit Park 15).
My wife and I started motorcycle camping about 20 years ago, and it didn't take long to figure out that the big, bulky Coleman stuff that we had for camping with the kids wasn't going to fit on an old BMW motorcycle, especially since we were two-up.
Add to that the fact that I'm 6'2" and 265 pounds, and space was at a premium.
We shopped mostly by price, and ended up with some reasonable stuff, but never really got good rest with what was available on a small budget.
After wearing out a Coleman 7'x9' tent, I took my REI dividend and bought the Taj as a birthday present to myself. That was in October 2005, and it's been simply fantastic ever since. I reviewed the Taj 3 on Trailspace.
Being as large as I am, the typical mummy bag/Therm-a-Rest pad combo really doesn't work. I woke up most mornings on the cold, cold ground with my pad either on top of me or crammed against a tent wall. Sleeping cold and waking up sore sucks, plain and simple.
Some friends recommended the Big Agnes bags to us. I damned near choked when I saw the prices, but good sense prevailed and I bought one each for my wife and I. We now sleep better in the tent than we do at home thanks to the BA system. True genius!
Tell us about your favorite outdoor destinations.
My favorite outdoor areas are all in the Sierra Nevada mountains. Of course, Sequoia National Park is very near and dear due to family history and the stunning beauty.
Yosemite too has been a great place for us to take the kids. And my wife and I simply love Death Valley in winter.
I'm fortunate enough to work in the mountains some of the time, and I have quite a few areas that allow me the opportunity to eat my lunch while looking over vistas of granite, pine, cedar, waterfalls, and snow-capped peaks. Not too shabby.
My wife and I are considering a move from California to either Idaho or Colorado in the next few years, and we're going to take the motorcycles on a three-week trip through those areas in July and August. We're going to spend some time in Glacier, Yellowstone, Grand Teton, and Rocky Mountain National Parks as well.
I've been using Trailspace quite a bit over the past few months to research different stuff in an attempt to make our loads more compact. I'm a gear whore, and also a chronic overpacker. The user reviews on Trailspace are extremely helpful in guiding me to things that will help alleviate my issues.
Anything else you'd like to share with the Trailspace community?
What I'd like the members of Trailspace to know is how grateful I am to be a part of such a vibrant, thriving community of like-minded individuals who are eager to share their experiences and opinions.
Let me thank all of the great people at Trailspace for giving us a place to research, learn, share, and interact on outdoor products. There are other sites on the web that give reviews and such, but Trailspace is truly a community, and feels so every time I need information.
I have learned so much in my time here, and again I'd like to thank the staff of Trailspace for this incredible site!!
Where does your username come from?
My user name comes from another forum. I've been called Big Al all of my life, but that was already taken by someone else, so a bit of one-upmanship got me to Bigger Al.
---
Great job, Al!

*Besides Trailspace glory and appreciation, Al gets a goodie pack with an Innate Aqueduct Water Transporter, a Nature's Coffee Kettle Mountain Blueberry Organic Coffee pack, a selection of tasty ProBars, a Trailspace-Ibex Zepher Skull Cap, a Trailspace pint glass (for après-backcountry use), and Trailspace stickers.

Wondering how you can be as lucky as Al? Write a great gear review of your own. Next month the Trailspace community will recognize another reviewer (who'll win some prizes), and it could be you and your gear review.
Help recognize the best reviews on Trailspace by clicking that up arrow whenever you read a truly helpful review. You'll not only recognize good reviewers, you'll help highlight the best reviews of products for other members looking for outdoor equipment.