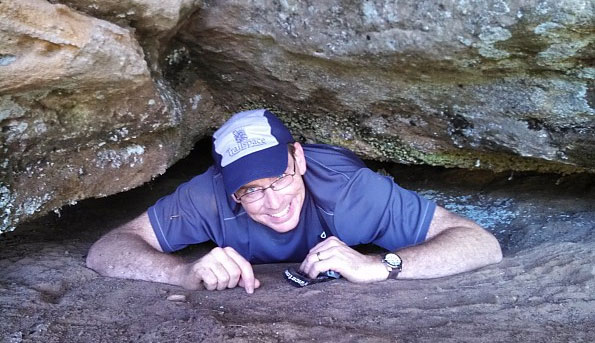 Congratulations to community member G00SE (aka Jeffery Gosnell), Trailspace's newest Reviewer of the Month!
Each month we recognize and get to know a different member of the Trailspace community. This month it's Illinois caver, backpacker, and hanger Jeffery, who prefers to sleep suspended in one of his cherished hammocks, except when he's deep underground, exploring the subterranean backcountry. In his day job, Jeffery runs a ropes course.
Congratulations, Jeffery, and thanks for sharing your experience and helpful gear reviews with us. For your contributions, you win a goodie pack from Sweetspot, A3, Injinji, Kind, Larabar, and Trailspace.*
Join the Trailspace community in recognizing other helpful reviewers by voting up the reviews you find most useful. Write your own helpful gear reviews and you could be our next Reviewer of the Month.

---

Meet Jeffery/G00SE
How did you get started exploring outdoors? Any favorite stories or memories?
I grew up family camping, but got away from it with an undergraduate degree in Urban Missions. Sixteen years ago, I was unexpectedly hired as summer camp director for a rescue mission in Peoria, Ill. I knew nothing about running a summer camp, but I had years of experience working with urban youth on the streets of Chicago.
It's really an amazing experience to take kids out of low-income housing projects and transplant them into the woods, but I was suddenly expected to be the "expert" on all things outdoors. I had to learn how to be a canoeing instructor, plant and animal identifier, trail maintainer, and more.
One of the scariest and coolest moments for some kids was to take them out into a big field to sleep under the stars. We would spread out massive 30-foot by 30-foot tarps. We'd have 60-plus kids and their counselors all camping in a field, seeing stars one can't see in a city.
Reluctantly, restructuring at the mission moved me out of that work. For the last seven years, I've been the Director of Adventure Education at Illinois's largest conference center. I manage one of the coolest high ropes courses in North America, and I do low ropes team building with groups ranging from junior students to Fortune 500 execs.
What do you enjoy doing outdoors?
Caving, backpacking, camping. Once a year, I get a chance to go snowshoeing near Boulder, Colo. I love that town.
What's your perfect outdoor day?
A bad day outdoors is better than a good day indoors. I've already told my wife that once this harsh winter is over, I'm never coming back inside again. Fortunately, my job gives me more days outdoors than indoors.
What are your favorite pieces of outdoor equipment? Why?
This Christmas my wife gave me a four-season DangerBird hammock by DreamHammock. It's the most comfortable thing I've ever slept in (review coming soon!). I would hang it in my bedroom and never sleep in a bed again if she would let me.
Have any stories to share about your favorite (or least favorite) gear?
Testing the Selk'Bag for Trailspace's Review Corps was an exercise in humiliation. I honestly thought the Trailspace staff was hazing me. My wife called it my "snuggie."
One weekend, I was suppose to camp and cave with a group of people I had never met before. In the end, I left the Selk'Bag at home—I didn't want these people to think I was crazy.
Tell us about your favorite outdoor places.
Sullivan Cave in Indiana is one of the hardest caves I've done, and I've visited it more than any other cave.
I actually call the cave "Mistress Sullivan," and I jokingly say that "she" will punish you mercilessly, yet reward you amply if you take her abuse.
Describe your proudest and/or hardest outdoor moment.
My proudest and hardest outdoor moment is recorded in my Sullivan Cave trip report.
Any outdoor goals you want to share?
As many on Trailspace know, I intend to thru hike the Appalachian Trail in 2023, when the kids are grown and the house is paid off. I test every piece of equipment on the basis of whether or not it will work for me on the AT.
Any outdoor regrets?
No regrets, but I once won a Campmor T-shirt with this contest entry: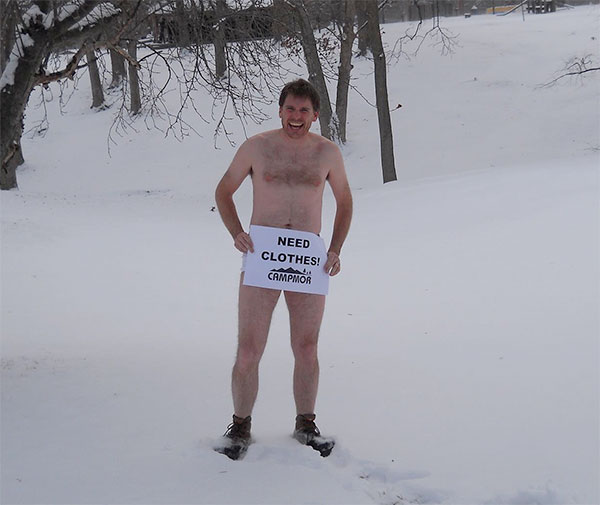 What motivated you to share your outdoor gear reviews with the Trailspace community?
I've been visiting Trailspace to check on gear reviews for several years. In January 2013, Trailspace was having what I consider to be the best review contest to date. It was a $500 gift card to Backcountry.com. Surprisingly, I won!
After that, I felt a sort of obligation to give back as a way of saying "thank you." So I started reviewing gear.
The thing is, you guys at Trailspace keep giving me more stuff, which makes me feel more obligated. It's a sick circle...I hope it lasts!
Where does your username come from?
I was hiking on Isle Royale with an AT thru-hiker named "Caterpillar." He insisted I needed a trail name, and he called me "Goose." The funny thing is, Goose is a family nickname. I know lots of Gosnells who grew up being called Goose. I'm told Gosnell means "field of geese" in Gaelic.
By the way, if you notice, my username looks like its all caps. That's because someone else on Trailspace had already grabbed the name "Goose." So the "oo" in my username are actually zeros. I had to capitalize the other letters to make it look even, otherwise it would be g00se.
What would Trailspace members be surprised to learn about you?
I'm really big into community theater. I've played principal characters in several musicals in the past few years, including Lumier in Beauty and the Beast (third from right below) and Captain von Trapp in The Sound of Music.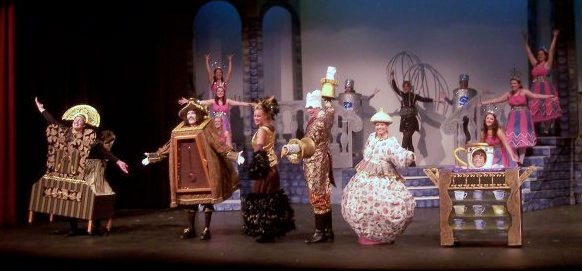 Anything else you'd like to share with the Trailspace community?
One of the coolest things about being a part of Trailspace is the chance to meet other members. I've camped with Pillowthread, HornedRimHiker, and Joseph Renow. I hope for a chance to meet others on the trail as well.
---
Great job, G00SE!
*Besides Trailspace appreciation, G00SE wins a goodie pack with a Sweetspot chair, plus Injinji Performance Crew Socks; a variety of A3, Kind, and Larabar bars; and a Trailspace-Ibex Zepher Skull Cap, Pint Glass (for après-backcountry use), and stickers.
Wondering how you can be as lucky as G00SE? Write some great gear reviews of your own. Next month we'll recognize another reviewer (who'll win a great prize), and it could be you!
Help recognize the best reviews on Trailspace by clicking that up arrow whenever you read a truly helpful review. You'll not only recognize good reviewers, you'll help highlight the best reviews of products for other members looking for outdoor equipment.