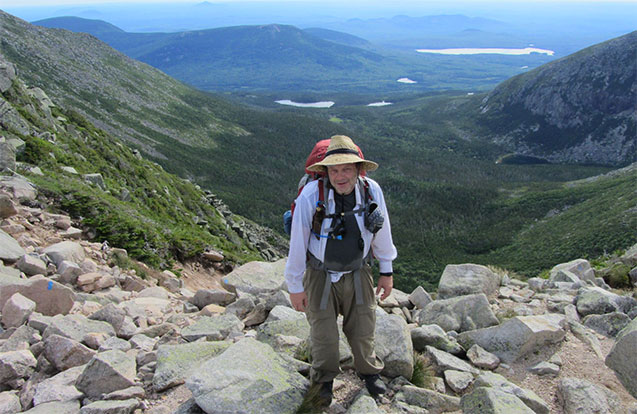 Congratulations to community member LoneStranger, Trailspace's newest Reviewer of the Month!
Each month we recognize and get to know a different member of the Trailspace community. This month it's John, a Maine-based backcountry aficionado and cyclist who likes "walking to the empty places where the people aren't," like the top of the Saddle Trail in Maine's Baxter State Park above.

Congratulations, John, and thanks for sharing your experience and helpful gear reviews with us. For your contributions, you win this month's featured Reviewer of the Month prize: a pair of Topo Athletic MT (Mountain Trainer) shoes for trail running, light hiking, and approaches ($100 value). Plus, you get a goodie pack from A3, Clif, Innate, Kind, Larabar, and Trailspace.*
Join the Trailspace community in recognizing other helpful reviewers by voting up the reviews you find most useful. Write your own helpful gear reviews and you could be our next Reviewer of the Month.
---
Tell us a little about yourself.
I grew up on a small farm in Wisconsin before moving to California where I spent about 25 years in Orange County. I had some great times surfing in the morning and driving a taxi at night before settling down to 18 years of computer work.
When that ended I decided it was about time to have a life. So I got married, moved to Maine, bought a house, and had a baby, though Mrs. Stranger did the heavy lifting on that last one. Now I raise my daughter full time, which doesn't pay well, but is much more appreciated than anything else I've accomplished in life.
How did you get started exploring outdoors?
Hanging out in the woods was just something we did as kids since we didn't have to leave the farm to do it. Camping generally wasn't something I was excited about until taking some trips with a school group. A trip to the Porcupine Mountains (Upper Peninsula of Michigan) showed me that heading down a trail was more my style.
Another trip to the Apostle Islands (Lake Superior) showed me that the farther away you get the better it gets. Just after high school graduation I had a chance to visit the Cloud Peak Wilderness in the Bighorn Mountains of Wyoming, which pretty much sealed the deal on me being a lifelong seeker of empty places.
What do you like to do outdoors?
I just really like to get out there, so if I get the chance I'm usually game for most sorts of adventure. Since moving to Maine I have rediscovered my love of road cycling and really enjoy finding empty roads where I have to fear the hills more than the traffic. Maine definitely has some hills to be feared.
That same sense of getting away from the distractions generally drives my backcountry adventures as well. I prefer to avoid the well-traveled trails and am willing to hike beyond my comfort zone if that is what it takes to get away from the crowds.
My favorite days are ones where I meet few if any folks on the trail and camp in peace listening to the wind rather than human voices. I do enjoy trips with family and friends as well, but those trips are about being social and tend to be less peaceful. My name that I use here on the site (LoneStranger) comes from that appreciation for traveling alone.
Do you have any outdoor plans/goals/dreams you want to share?
My main goal is to get out as often as I can for as long as I can, but this year we are really trying to get out as a family. We just picked up a new backpack for Mrs. Stranger and our daughter is really excited about going camping again. She just turned three and this will be her fourth camping season. She loves it out there as much as I do.
The other big thing on the horizon is a little toddle on the Long Trail I have planned for September. I'd planned on waiting until my wife and I could do it together, but she insisted I should just go now and we'll do it together when we can.
Going solo means I can do it on my own terms and I'm intending on staying on trail the whole time with no resupply. My plan also calls for avoiding the shelter crowds by camping alone as much as possible. Working out nutrition spreadsheets along with gear spreadsheets has made planning for this trip look very serious, but really I am just looking forward to a long walk in the woods by myself.
What motivated you to share your reviews with Trailspace?
Whenever I'm shopping for something I depend heavily on reviews to make informed choices. Real reviews by real people are so much more valuable than professional writers reviewing for a magazine or folks shilling on Amazon. Since I was getting the benefits of these reviews I thought it was time I gave something back.
I waited a while before posting a lot of reviews because I think knowing something about a reviewer gives context to what they say. From my trip reports and forum posts people can get an idea of where I roam and how I use my gear.
---
Great job, John!
*Besides Trailspace appreciation, John wins a pair of MT (Mountain Trainer) trail running shoes, thanks to Topo Athletic, plus a goodie pack with A3, Clif, and Kind bars; an Innate Motus 3 water bottle; and a Trailspace Trail Runner Cap and stickers.
Wondering how you can be as lucky as John? Write some great gear reviews of your own. Next month we'll recognize another reviewer (who'll win a great prize), and it could be you!
Help recognize the best reviews on Trailspace by clicking that up arrow whenever you read a truly helpful review. You'll not only recognize good reviewers, you'll help highlight the best reviews of products for other members looking for outdoor equipment.