LoneStranger
TOP 10 REVIEWER
REVIEW CORPS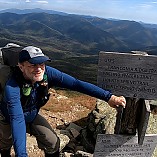 I am a:
person who likes getting out
Location
: Maine
Website:
http://lesstraveledby.net
Activities
Hiking
Backpacking
Snowshoeing

Canoeing
Fishing

Vitals
| | |
| --- | --- |
| Height | 67 inches |
| Weight | 200 lbs |
| Torso Length | 21" |
| Boot/Shoe Size | 11-13 wide |
I like walking to the empty places where the people aren't.
Raised on a small farm in WI then spent most of my life in Southern California before moving to Maine some years back.  Backpacking is a primary focus these days though I have cycled and surfed intensively at times and still like to ride a road bike when I can.
From early experiences in the Porcupine Mts of Upper MI and the Bighorns of WY through the years spent out west camping mountains, desert and beaches and now exploring the trails of ME and NH my favorite times are the quiet moments when "civilization" can be left behind.  I don't mind company on these adventures, but I do find the sound of the breeze easier to hear when I go alone.
Some trips now include my wife and young daughter so I'm getting to know the joys of carrying heavy loads and shorter, slower days on the trail.  As she grows so will our adventures, but even now it is a great way to spend family time together without the distractions of video screens.
Gear Reviews (120)
Forums
LoneStranger has started 138 forum threads (including 56 trip reports) and participated in 1,128 discussions. View all »