Congratulations to John, also known as LoneStranger, our newest Reviewer of the Month.
John, who lives in Midcoast Maine, has been a Trailspace member since 2013 and "likes walking to the empty places where the people aren't." He's also a volunteer member of our Review Corps gear testing program.
Some of John's most recent reviews include of the UCO A-45 Comfort-Fit Headlamp, the Oboz Bridger Mid BDry Insulated boots, the Ternua Loughor Jacket, and Yaktrax Hand Warmers.
Members like John are essential to the Trailspace community. In thanks for his contributions, John wins a 10 Essentials prize pack worth more than $300.
He, and every 2016 Reviewer of the Month, will receive examples of each of the 10 Essentials of outdoor gear, thanks to Adventure Medical Kits, Arc'teryx, Brunton, Good To-Go, Light My Fire, Mountaineers Books, Potable Aqua, Sawyer, The TentLab, UCO, and Ultimate Survival Technologies (check out the prizes below or see "The Year of Essential Outdoor Gear" for more info).
---

Please tell us a little about yourself.
Born in Wisconsin, I was raised on a small dairy farm in a place where cows outnumbered people many times over. College in Green Bay and some time in Milwaukee led me to believe I preferred the company of people, so while on a visit to California I refused to go home since there seemed to be a lot of people there.
I stayed there for decades until I got tired of so many people and moved with my then recent bride to Maine where we intended to live in the woods. A daughter snuck up on us so we opted to live closer to civilization, but we spend as much time in the woods as we can.
What do you like to do outdoors?
Be. There is just something about the light and the air that makes me happy to be outside. Simply existing and taking in the moments does my head and my heart good. Growing up on the farm we spent a lot of time outside. Later I was heavily into cycling and surfing, both of which kept me out under the sky. Rain or shine I am just happier out there.
While I'm out there these days I like to hike and backpack. We get out as a family whenever we can in all four seasons. Day hikes are frequent and if there is snow we snowshoe in winter. We took our daughter on her first camping trip at six months and she did her first backcountry backpacking trip three years later.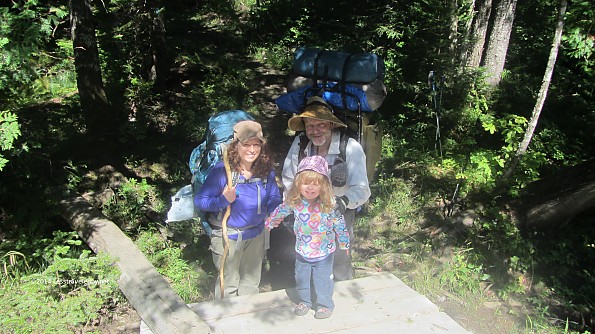 Now in her third year on trail she just returned from a four-day trip and was upset when we didn't want to stop for a hike on the way home! The family doesn't come along on winter campouts yet, but I have a feeling they might in a few years.
On solo trips I seem to try to cram in as many miles as I can in order to get as much out of my limited available time. This has led me to become interested in longer distance hiking and I'm now exploring my limits as far as how far and how long I can go, but in my own way.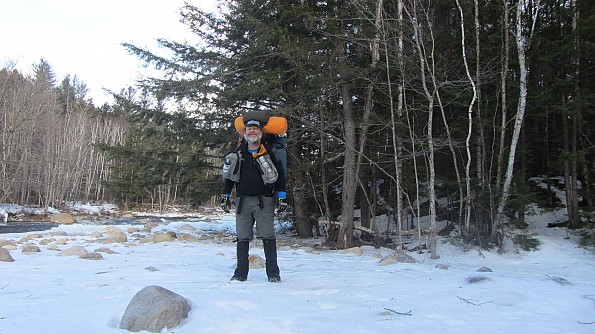 Any favorite stories?
So many good times over the years, but this one always makes me laugh...I was camped in a narrow canyon north of Santa Barbara with my eldest brother. Our intention was to stay a week in that spot, day hiking some and mostly sitting in the shade eating and drinking. It was a bit breezy as evening came on so we opted to skip the fire that night.
Then the sundowners hit! If you've never experienced this weather phenomenon it is a bit hard to imagine. High pressure inland is pushing against the normal onshore flow which causes tremendous blasts of air in both directions punctuated by moments of dead calm. You can hear the roar for a while before it hits and then it just stops only to come back up the canyon the other way.
We'd experienced this before and knew to make sure our tents were well weighted down with water jugs and rocks. We were laughing nervously about how strong this event was when suddenly in the midst of a roaring blast there was a new sound; Loud and thunderous on the ridge above us there came the rhythmic crashing of trees as some great beast pushed toward us. My brain scrambled for some explanation for what was happening as the ground shook with each approaching step and shouted to my brother the first thing it could find, "Dinosaur!"
It was a giant old live oak crashing down and taking out other trees on the way. Still, for that one moment, at least in my mind, dinosaurs again walked the earth. We spent the night terrified in our tents, instinctively putting our arms up to catch falling trees with each roar of wind before loading up in the morning and heading to the coast for the rest of the week where we knew there'd be no trees to fall on us.
Describe your happiest moment outdoors.
The day I proposed to my wife in Grand Teton National Park stands out. We hiked to where we had a great view of the lake below, seeing elk along the way. Later we had a frigid swim in glacier fed waters followed by shrimp marinara with tortellini I prepared over the camp stove. I've summited difficult peaks and survived floods, but I don't think I've ever had a happier time outdoors than that.
What would be your dream outdoor adventure?
I would love to do a very long adventure with my wife. We've talked about doing the Long Trail (Vermont) together, but so far we haven't found anyone willing to babysit for a month. Pretty sure that our daughter will insist on coming along once her legs get a little longer, so we'd better hurry if we're going to try to make this dream come true.
What's your most essential piece of outdoor gear? Why?
The Seek Outside Unaweep pack I had built last year. An aspiring Ultra Loader couldn't ask for much more. Heavy loads ride extremely well with the weight transferred primarily to the hips. Smaller loads ride close to the spine thanks to very functional compression straps. I haven't put on any of my other packs since this was delivered.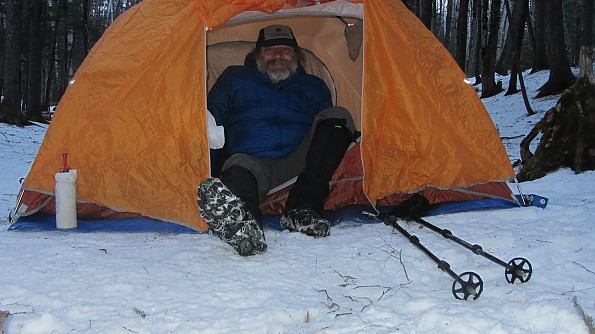 What's your favorite piece of outdoor gear? Why?
A pair of alpaca socks my wife bought me a couple of years ago. These incredibly thick, soft socks are only used for sleeping on cold winter trips and never worn without an inner sock to protect them from my feet. There is just so much happiness in putting these on and knowing that it may be sub zero outside, but under my quilt the toes are going to be cozy.
What's in your backpack right now?
I just put the Unaweep and the Aarn Balance Packs in the backyard to air out after getting back from a hot, sweaty Appalachian Trail section, so they are empty right now. We'll be headed up to Baxter State Park in a couple of days for another family outing so they won't be empty long. Bug nets for the lean-to, towels for swimming and a lot of good food will be loaded up tomorrow. Gear doesn't get much chance to rest between trips around here this time of year.
What's the best outdoor or gear advice you've been given or heard?
"No breaka you leg, no breaka you neck, no fall offa the mountain" is something my daughter used to advise before every trip and still sometimes does. We've since translated it into Latin in hopes of having a family summit flag printed up as "Non irritum pede, Non frangere collum tuum, Non cadunt in montem" sounds more important, but you have to admit it is good advice in any language.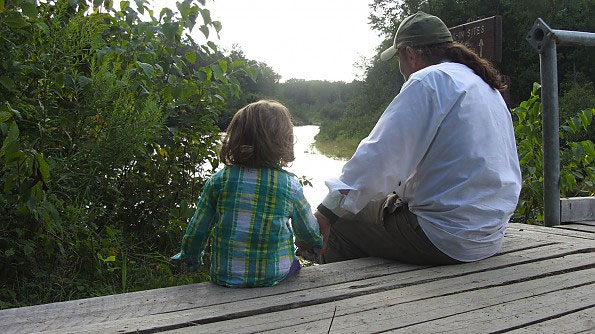 What's your favorite book (outdoors or not)?
Outdoors: My Side of the Mountain (Jean Craighead George)
Not: Catch 22 (Joseph Heller) or Cat's Cradle (Kurt Vonnegut), depending on which I've reread most recently.
What's your favorite quote? Where does your username come from?
These two go together:
"The man who goes alone can start today; but he who travels with another must wait until that other is ready, and it may be a long time before they get off." —Thoreau
As nice as it is to have company on trail at times, I'd rather go alone now than wait for it. My trail name comes from this propensity to walk alone. I do go with other folks and enjoy it greatly, but there is also a special clarity of mind that only comes from spending days without seeing another person. With no distractions to hide behind a person can learn a lot about themselves. I guess that is why most folks bring people, dogs, music, or whatever they can to keep from meeting themselves out there. Pity.
What would Trailspace members be surprised to learn about you?
As a young man I was well on my way to an appointment to West Point. Thankfully a medical issue was discovered which disqualified me, because in retrospect that probably would not have led to the great life I have today.
Anything else you'd like to share with the Trailspace community?
I want to say thanks to everyone who makes this place what it is. Reading and posting here helps keep me out of trouble when I can't get out on trail. Just wish more folks would post trip reports because it is always nice to see new places and happy faces.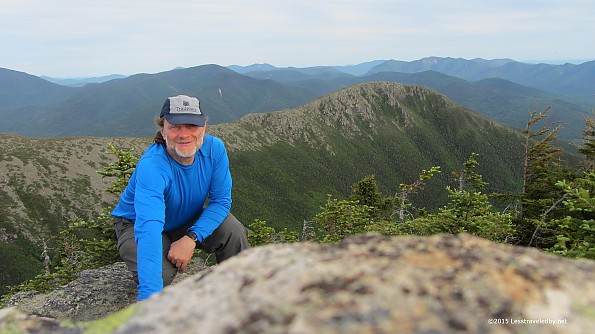 ---
The Year of Essential Gear
To celebrate the classic 10 Essentials of outdoor gear, we're giving all of our 2016 Reviewers of the Month, like John, the following prize pack ($300+ value). For more on the 10 Essential prizes read "The Year of Essential Outdoor Gear.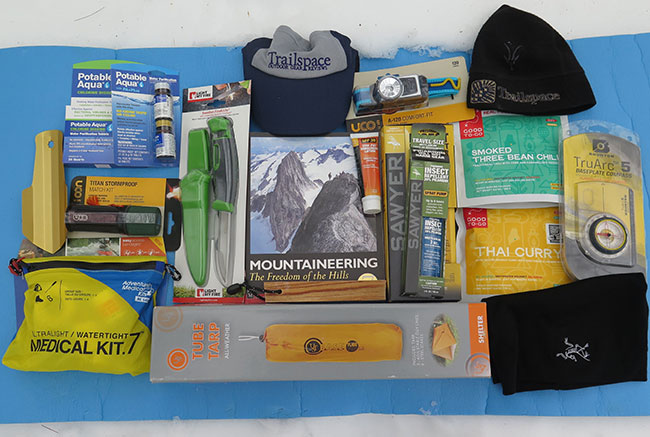 #1 Navigation


#2 Sun (and Bug) Protection


#3 Insulation

#4 Illumination


#5 First-Aid Supplies


#6 Fire

#7 Repair Kit and Tools

#8 Nutrition


#9 Hydration


#10 Emergency Shelter


#11 Know-How