Hyperlite Mountain Gear Versa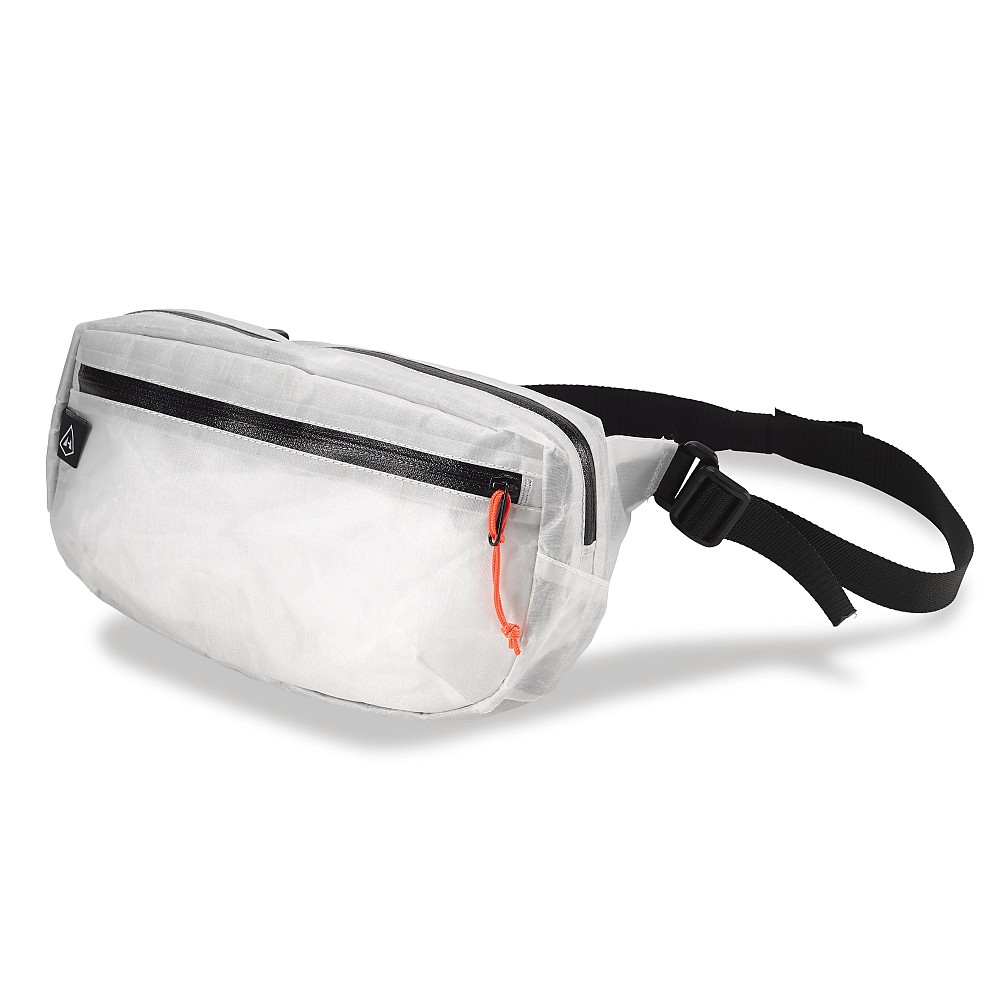 Versatility is implied in the name for good reason. HMG refers to the Versa as a Fanny Pack and Pack Accessory with suggested uses far beyond just strapping it around your waist. Wearing it around the chest, like a bandolier, or attached to your pack are just a few of the options. Light at just over 4 ounces with strap and under 3 ounces with strap removed, it makes a nice addition to a pack or great standalone space for shorter adventures. Perfect for carrying items you want easy access to like electronics, first aid, and snacks.
Pros
Many different ways to use
Multiple zippered compartments
Exterior stash pocket
Belt can be removed
Water resistant material and zippers
Cons
Big investment for small pack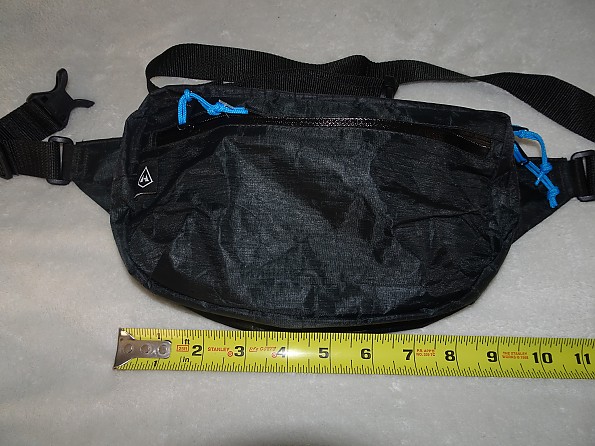 Updated Oct 27, 2020 after extended testing.

Hyperlite Mountain Gear has made a name for themselves over the years with their UL packs and shelters. Folks have come to expect innovation in materials and design as well as ultra light performance. As cutting-edge makers of outdoor gear it makes perfect sense that they would take on the old school "fanny pack" and do their thing. The end result is the aptly named Versa which starts with a traditional look, but lends itself to much more in the way of utility. I've had a couple of months of cold weather testing to get to know this thing so far and here are my early impressions.


Specs:
Weight: 0.18 lbs | 2.91 oz | 83g (without waist strap)
Dimensions: 2.25" (H) x 6" (W) x 9" (L) | 5.7cm" (H) x 15.24cm (W) x 23cm (L)
Volume: 137.3 cu. in. | 2.25 liters
Materials:
Body: DCH50 (Black) – 3.5 oz/yd2 Dyneema Composite Fabric Hybrid
Back Panel: Spacer Mesh
Internal Divider: Mesh
Waist Strap: 1" Webbing (adjustable up to 52" circumference)
Zipper: #3 YKK
Construction & Features: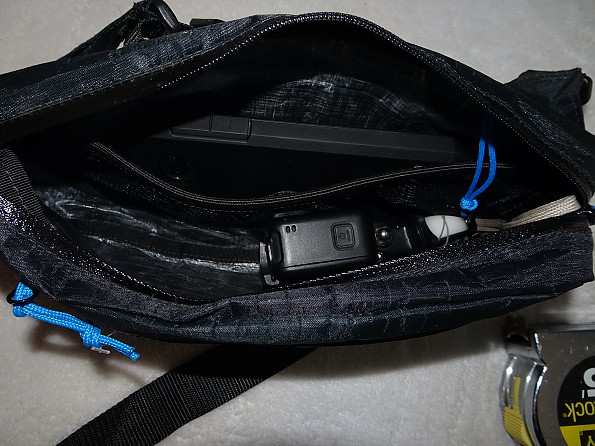 HMG took the same Dyneema, the DCH50 they use on some of their packs, to create the body of the Versa. Zippers are water resistant YYK to compliment the fabric's ability to resist moisture. The primary compartment has a netted divider to help keep things organized and a double pull zipper for easy access. There is a clip hook inside this main compartment for keys, GPS, or other items to be secured.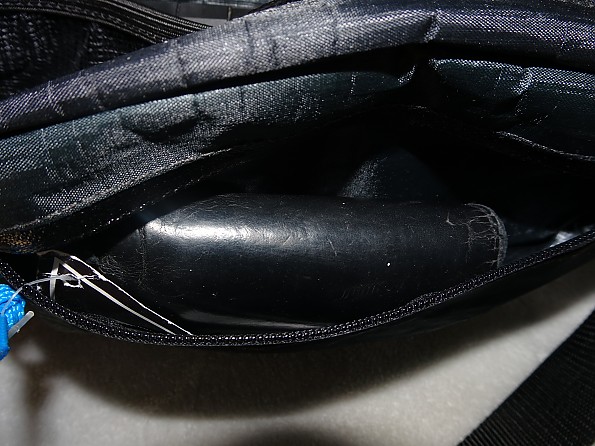 Another smaller zippered compartment is found on the front of the pack. While this pouch is the right size for a standard 9-inch map the opening is an inch shorter. If you don't like squishing your maps a bit to get them in and out keep them in the main pouch which has a wider opening. This spot is easy to get at so is great for lip balm, sunscreen, or cash.
Update Oct 2020:

Zippers have been used and abused, exposed to dirt, dust, rain, snow, ice and sweat over hundreds of trail miles. They remain solid in terms of function, waterproof and moderately easy to pull from all sorts of positions. The waterproofing adds some resistance, yet I find yanking it open easy while I'm wearing it or when I'm in camp.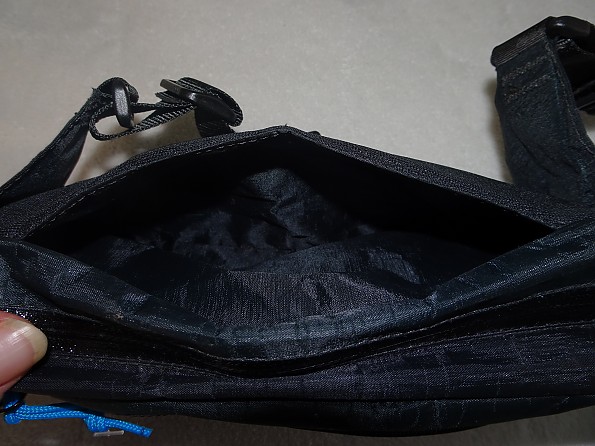 Finally there is a stash pocket stitched to the exterior of the pouch where it rides against the body. Open on both sides and the top makes it a great place for hats, gloves, buffs, and the like, whether wet or dry. Swapping layers on the fly is a great way to manage body temps in the cold. This made for a nice place to stick items or grab them when needed.
Besides the pouch, HMG put some thought into the belt system as well. The Versa comes with a 1-inch wide, buckled strap that expands to 52 inches around. That means it can be used by those who need a lot of room for body or winter clothing. It also means that it isn't limited to use as a fanny pack. The next section will show you some options I found useful.
Water Resistance:
HMG only makes claims of water resistance rather than saying the Versa is waterproof because the seams are not water tight. The Dyneema material is 100 percent waterproof and the YYK zippers are highly water resistant AquaGuard with the polyurethane coating to keep water at bay. That leaves the seams as a possible entry point.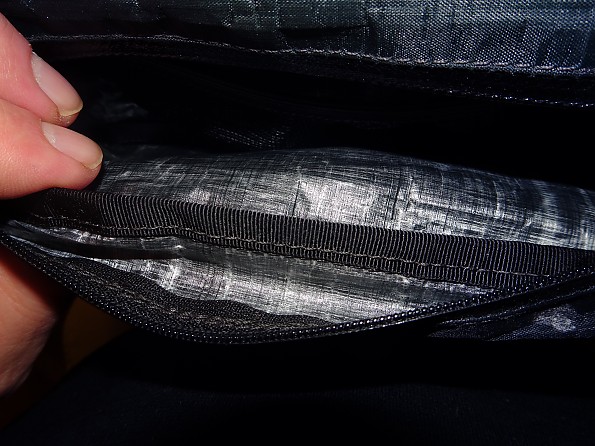 Using a bound seam tucked towards the interior means that even the weakest point is still very well protected. Once we have some rain I'll do some toilet paper testing to see how it holds up. Look for that in my final review because so far its been all snow and I've had no problems.
Update Oct 2020:

HMG may not claim the Versa is waterproof, but I wouldn't argue with them if they did. My primary use has been hanging it off my pack straps as a chest pack. In that position it is exposed to rain, which we have had little of this year. It also is in just the right spot to catch the sweat dripping off the end of my Trailspace hat. No matter how the outside got soaked, the inside of the Versa remained dry until I opened the zipper. I still bagged my electronics inside to be safe, but this thing is definitely a great place to store electronics.
Use: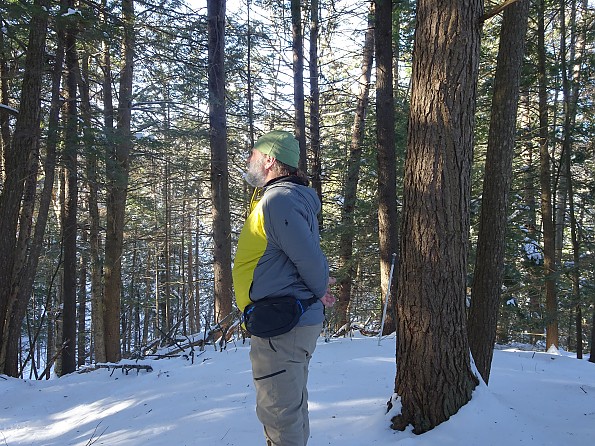 Let's take a look at the various ways I found to wear this pack, starting with the obvious fanny pack positions.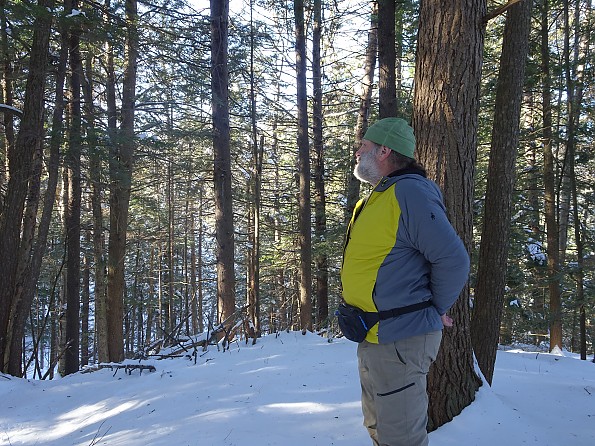 In all of the waist positions, side, front, and rear the Versa rode naturally against the body. You can see well in this second pic how it flattens when mostly empty. This keeps it from getting in the way unnecessarily.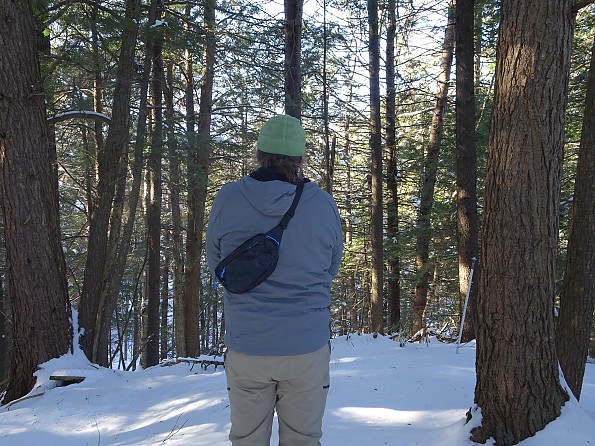 That extra long strap allowed for some other ways of carrying this pack. A bandolier approach worked well while snowshoeing as it let the jacket vent naturally.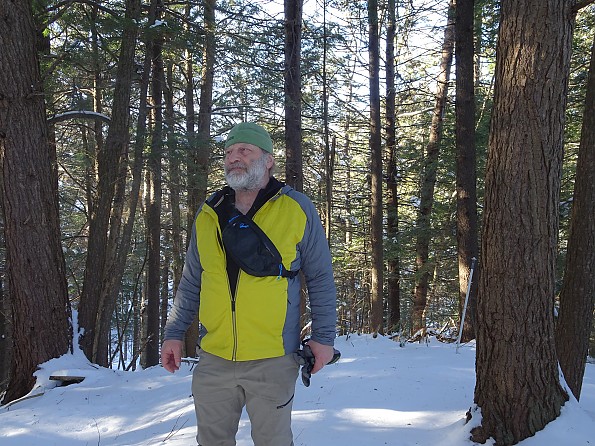 It could be worn in front as well or carried in the rear and then spun around to access. Given how well this worked for snowshoeing I'm thinking runners might find this a nice addition to a hydration vest. Ski touring would be another activity where some bonus external storage might come in handy. Even with heavier items like my inReach and cameras the Versa seemed to ride well against my body without flopping around or bouncing up and down.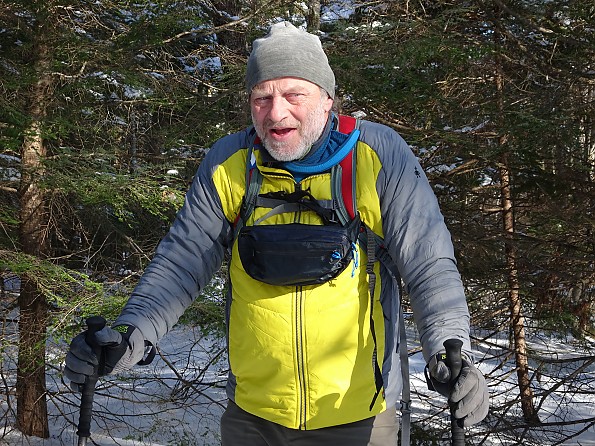 Despite all of those other applications this is the one I found myself using most. By shortening the strap I was able to attach the Versa across my chest while wearing other packs. So far I've tested this with the Six Moon Designs Minimalist, the Cotopaxi Luzon 18, and the Seek Outside Unaweep 6300, three very different packs. I found it easy to adjust the strap so that the Versa rode comfortably in this position no matter which pack I was carrying.
Update Oct 2020:

This continues to be my primary use for the Versa. I've used it alone as a fanny pack a few times to carry cameras when going for a bag of water or something, but generally I like having it on my chest. So easy to access and unlike hip belt pockets I can see what I'm doing.

In terms of versatility there are still a few things I should mention. The waist strap is designed so that it can be removed, leaving behind short wings with empty buckle attachments on the end. You can use a different belt or other method to attach the Versa to body or pack. Here you can see it with the belt pieces removed.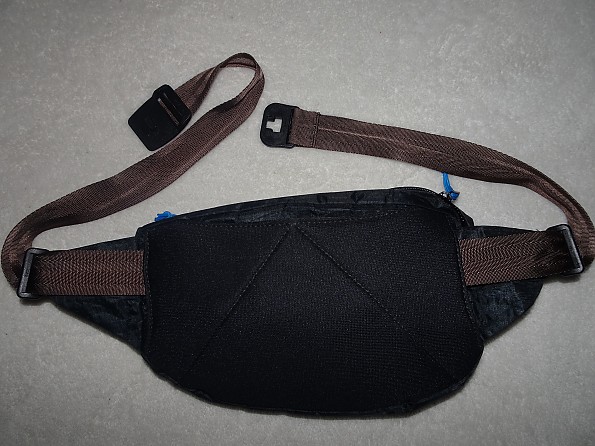 Here you can see it with a 1.5-inch belt from my Outdoor Research Equinox Convert Pants. The Versa could be attached to a pack strap or daisy chain as desired without carrying the original, long strap. If a 2-inch belt or even larger is desired it can be threaded through the sides of the stash pocket without using the buckles. You can see how the belt passes through the stash pocket in the picture above.
As I mentioned at the start, it is called a Fanny Pack, but it really is a utility pouch that lets you decide how you want to use it. Attaching it where you can reach it easily is what the versatility allows you to do and that makes it useful.
Testing Conditions: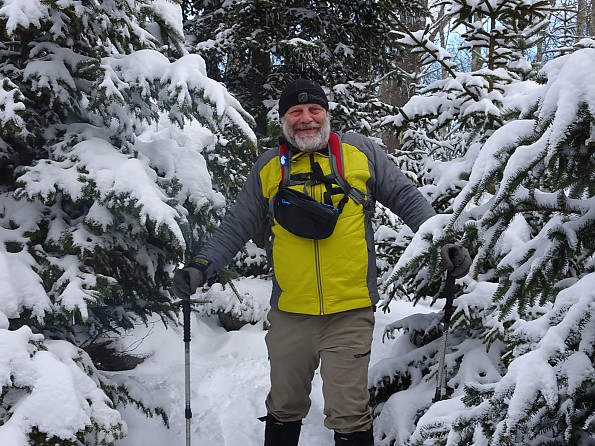 I've been using the HMG Versa for about two and a half months now, primarily on snowshoe adventures. We've been making the most of the snow we've gotten and have been out almost daily during that time. All use has been cold weather, so no rain exposure, but lots of snow. It also came along with me on a two-night January Baldpate Adventure where I used it on trail during the day and slept with it next to me at night to keep my electronics warm.
Update Oct 2020:

I've now been using the HMG Versa for almost an entire year. It has become a standard item on most any day hike and all overnights. It has been used in all sorts of weather on family Baxter trips and a solo Cohos Trail hike. This year we did some family peak bagging day hikes too, so this thing really saw a lot of trail miles.
Early Conclusions:
Since this is one of our new, initial impression reviews I can only tell you what I've learned so far. If you check back in a few months when I do my final review we'll have a better idea of how well the Versa held up over time. Maybe we'll even see some rain, but I suppose I could wear it in the shower if necessary, heh.
For now I will say that I am impressed with how much thought Hyperlite Mountain Gear put into what most folks would consider to be a standard item. The effort in the design phase is what allows the Versa to be...well...versatile. I'm the sort who has to swallow hard when looking at that $70USD price, but this is such a useful product it's hard to deny its worth.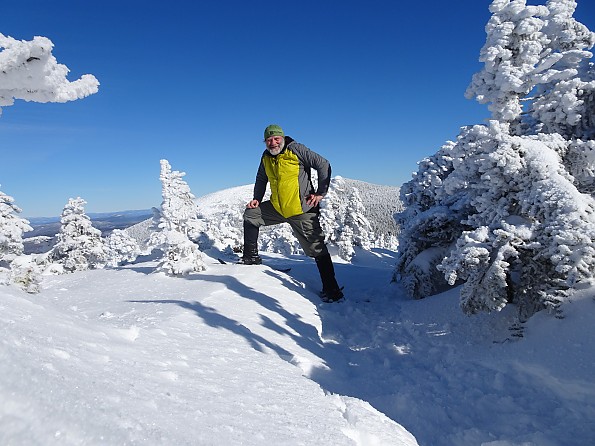 You can't see the Versa in this pic on top of West Baldpate because the camera is sitting on it.
It makes a great place to carry electronics or snacks on trail or an easily removable way to carry valuables like money or snacks when used with bigger packs. It doesn't really make sense to me as a way to carry water as a bottle of any size would prevent me from carrying all the other things I use it for, but pretty much anything else you want easy access to is a candidate to ride in the Versa. I also found it perfect for sleeping with my electronics in cold weather. The pouch rode out the night next to me in both tent and hammock, keeping batteries and sensitive equipment snugly warm.
I can see this being a nice addition to my distance pack setup as well. For an extra few ounces I can add a lot of easy access storage space to my pack, yet disconnect it and take it with me even if I have to leave my stinky pack outside. That makes it a great place for valuables.
So far it is holding up to abuse very well with no signs of damage or even wear. Like I said, check back later because I will probably come up with a few more ways to use the Versa by then.
Update Oct 2020:

Looking back at what I had to say early on I see my first impressions were pretty accurate. The Versa has taken a lot of abuse and is still fully functional. I have used it on distance hikes and loved the size to utility ratio. It doesn't cover much of my abdomen, yet I can stuff a lot of things I want access to in there. This let me cram less stuff into the vest harness of the Six Moon Designs Minimalist  making it even more comfortable on trail.

Electronics are my primary load I find because that is what I want to protect and want access to. Camera, phone and headlamp usually ride in there, but I've been known to toss a mini Snickers or two in there when I know an afternoon climb is on the itin.

Over all I am impressed with how functional and durable the HMG Versa has turned out to be in the long run. It has been a great tool for organizing and protecting stuff I use every day. Other folks will likely use it differently, but I think most anyone would find it useful.
Experience
The Versa has been tested extensively for over 11 months in all four seasons. I seem to recall I had a fanny pack on my surf trip to Costa Rica back in the '90s, but that is the last one I recall owning.
Source: received for testing via the Trailspace Review Corps (Sample for testing and review provided by Hyperlite Mountain Gear)

Your Review
Where to Buy
Help support this site by making your next gear purchase through one of the links above. Click a link, buy what you need, and the seller will contribute a portion of the purchase price to support Trailspace's independent gear reviews.
You May Like
Specs
Price
MSRP: $70.00
Current Retail: $79.00
Historic Range: $70.00-$79.00

Weight
2.91 oz / 83 g

Volume
137.3 cu in / 2.25 L

Dimensions
2.25 x 6 x 9 in / 5.7 x 15.24 x 23 cm

Materials
Body: DCH50 (Black) – 3.5 oz/yd2 Dyneema Composite Fabric Hybrid
Back Panel: Spacer Mesh
Internal Divider: Mesh
Waist Strap: 1" Webbing, adjustable up to 52" circumference
Zipper: #3 YKK