Congratulations to Kali (Second Gear) Trailspace's newest Reviewer of the Month!
Each month we recognize and get to know a different member of the Trailspace community. This month it's Kali, a backpacker, snowshoer, English teacher, gardener, and church musician from Washington state.
Congratulations, Kali! Thanks for sharing your helpful reviews with us since 2006, including your most recent ones of the Patagonia Nano-Air Hoody and the Big Agnes Late Lunch Vest.

For her contributions, Kali wins this month's featured Reviewer of the Month prize, a pair of TOPO Athletic Oterro trail shoes ($100 value) to explore the Pacific Northwest trails.
Plus, we're sending her a pack of goodies including Point6 compression socks, an L.L. Bean Pathfinder LED Cap, PrimaLoft neck warmer, Mountain House meal, Stoneridge Orchards dried cherries, energy bars and chews from Clif, GoMacro, and Honey Stinger, and a Trailspace Trail Runner Cap.*
---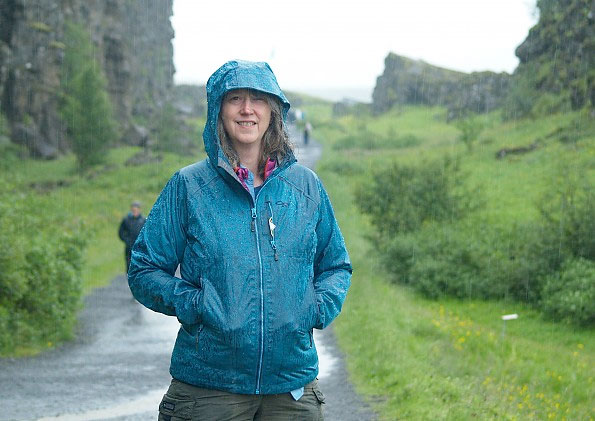 Meet Kali
Tell us a little about yourself.
The outdoors has factored into all of my adult major life decisions, from where to live to what car I drive. In fact, the second date my husband and I had was a day hike to Chinook Pass and Boulder Cave (about an hour and a half from Yakima, Wash.).
In time, my husband and I have raised our kids in the outdoors. They started day hiking while in diapers and a kid pack; my eldest daughter spent her first night in a tent when she was just four months old on Mt. Saint Helens. We started the kids backpacking as soon as my youngest could carry his own clothes and portion of the tent.
I have been an educator for 30 years. I've taught third graders to adults. Currently, I am in my 19th year at my current school, where I teach mostly sophomore English, but I've taught loads of other courses here, too.
I love working in my garden, going on mission trips, playing my instruments, hanging out with my family and friends, and of course, living/playing/being in the great out of doors by hiking, backpacking, snowshoeing, bike riding, or canoeing.
What do you like to do outdoors?
My favorite is going on five-plus day backpack trips, but I will take day hikes, snowshoe outings, bike rides, and canoe trips whenever I can get them. Any day spent outside is still better than the best day of work, right?
How did you get started exploring outdoors?
I grew up in small towns in eastern Washington, and I was forever out gallivanting in the rolling wheat fields when I was young. My family used to car camp, and then RV'd. I would hike and explore when we were out. I have always loved being out. And over time, my love of the outdoors and adventure fueled my current pursuits.
Any favorite stories?
One event that I get teased about the most is a backpack trip my family and I took to Enchanted Valley in the Olympics (a must-do trip, btw!). A mama bear and her cub were local denizens of the valley, and they lived cooperatively with their human neighbors.
One afternoon, we enjoyed watching mama graze and her cub cavort around the campground. Later, my husband, eldest daughter, and I took a little tour up the valley to see a micro-avalanche-induced blow down.
I was on hyper-alert because the mama bear was out and about, so I was being extra careful. When walking back to the campground, a rustling noise came from the bushes. I about jumped out of my skin— and I have not been allowed to forget how the killer bunny hopped out of tall grass...
What is your favorite outdoor place?
Oh my gosh, how do I pick one? I live on the doorstep of two mountain ranges! But honestly, Mount Rainier is irresistible. I get up to "The Mountain" as often as I can manage.
However, while not technically favorites, two unique trips I hope to do again are the 130-mile Kettle Valley Rails-to-Trails bike trip from Midway to Penticton Alberta, Canada, and the 150-mile canoe trip along The Breaks, the only wild place left on the Missouri River in Montana.
Describe your happiest moment outdoors (and/or proudest or hardest).
The happiest and most centered I ever feel is when I am staying at one of those epic campsites with expansive views. I feel more at peace at those places than anywhere else, ever.
I have suffered through downpours, rain-outs, storms, and giardia, but the hardest outdoor day was when I was on a 50-mile canoe trip on Ross Lake in the north Cascades with my best friend. Forest fires in Canada left a lot of smoke in the area, and the smoke really began to impact the weather with all of the particulates. We were dodging severe afternoon thunderstorms, and then on our second to the last day, a small weather system blew in. We were battling whitecaps in 30 mph head winds in a 17-foot Wenonah.
At one point, after about five or six hours of intense paddling, I looked over at the shore and saw we were literally getting pushed backward and losing ground. I was in the front seat, and I took hours of being wet with the waves slapping me all day long in the 62-degree temperature. It took us ultimately eight or nine hours to go six miles, which usually takes us an hour or two of comfortable paddling. I don't think I have EVER been SO tired after a day of being out.
Do you have any outdoor regrets?
I deeply regret that I didn't pursue backpacking when I was MUCH younger!
Do you have any outdoor plans/goals/dreams you want to share?
I am currently piecemeal-ing the Pacific Crest Trail in Washington (I have a 130-mile section I am doing this summer), and my goal is to do the entire PCT after I retire.
If it ever works out, I would love to do all the long trails in the U.S. I am hoping to do a cross-country horse trip in Iceland one day… and maybe do an Alps tour, visit Patagonia, take a bike tour of Ireland (guess I need to live to be about 120, and stay really, really fit for a LONG time...).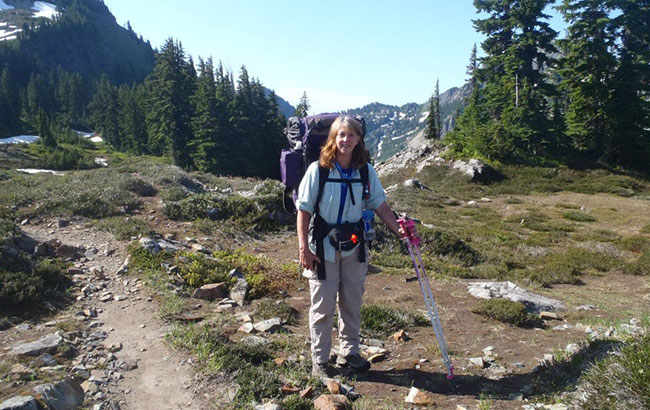 Describe your ideal day outdoors.
Honestly, living here in the Pacific Northwest, our summer weather is typically really moderate and dry. The temps rarely get too hot, and we get long summer evenings. Just being out on great summer days is GREAT, as long as the mosquitoes and biting flies are manageable!
What motivated you to share your reviews with Trailspace?
I am an AVID researcher. I will research something to bits to learn everything I can before I make an investment. I stumbled on Trailspace in 2006 doing research on gear.
After reading reviews from real people, doing real trips, having real experiences, I figured that I could add my own two cents' worth. As a writer and teacher, it made sense to use my skills in a pursuit that I just adore. Reviewing was just a really natural fit.
What's your favorite piece of outdoor gear? Why?
I have a discontinued Mini Buck multi-tool (which has been reviewed!) that my husband got me for Christmas several years ago. It weighs just an ounce, and I have used the pliers for everything from a cookpot handle to gear repair to pulling off a toenail (disinfected, first, of course). I NEVER go on even a day hike without it! It has literally saved outings for me.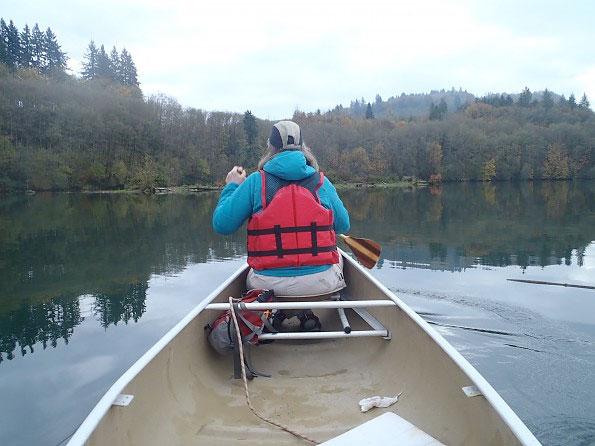 Got any good, bad, funny, or epic gear stories?
When my kids were in junior and senior high, our youth pastor took the youth group kids out backpacking. He always asked me and my friend to lead the girls, and he took the boys. One year my nephew wanted to go when he and my son were about 13. I had all of my husband's gear, so I lent him the equipment.
Four days later, we all met back at the church bus, where he ran up to me frantic and angry. "You forgot to pack my sleeping bag!" My son groused about how his 6'4" cousin tried to share his sleeping bag, and he had to listen to the rustling of a Mylar blanket for three nights. I calmly walked over to his backpack and unzipped the bottom compartment zipper which he had left untouched for four days...
What's in your backpack right now?
Right now I have my winter day hike/snowshoeing pack put together. I carry a hardware baggie (with the Mini-Buck!) of repair supplies, extra wool socks, extra pair of light gloves, hand warmers, down puffy coat, Mylar bivy bag, fire-starter, matches, lighter, sometimes an alcohol stove and fuel, and 2'x5' piece of thin furniture foam.
It's waterproof and adds a little heat insulation. It's great to sit on, and it's big enough that I can use it inside the bivy bag if I get into trouble. And I always take extra bars and water.
Who or what has been the biggest influence on your life?
Wow...this is a really tough, complicated question. The simplest answer is probably my dad, and his subsequent death when I was 12. I was really driven to do something meaningful with the Social Security money that I received. I'd like to think he'd be pretty pleased that I went into education, and my career choice has led to where I am today.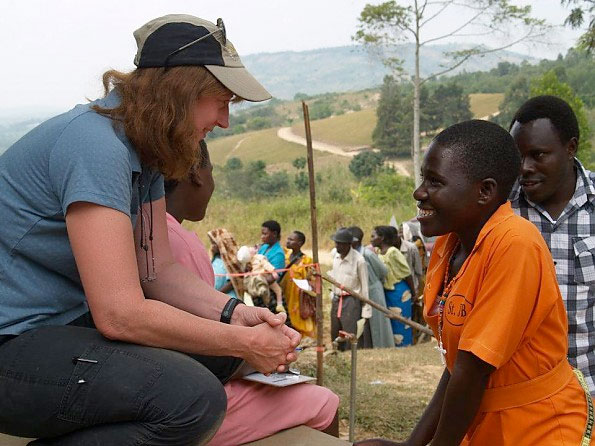 What's your favorite book?
Lord of the Rings! I started my outdoor life following a bunch of hobbits around Middle Earth.
What's your favorite quote?
"I get dirty on the outside to scrub myself on the inside."
My best friend and I were getting our packs on to start a 60-mile trip on Mount Rainier. A solo hiker was doing his last minute prep, and we started chatting. He was an Iraq War vet home on leave. He said he just needed to get out to clear his head and clean his soul. His quote put to words what the out of doors has done for me my entire life.
Where does your username (Second Gear) come from?
Its history is two-fold: I don't hike very fast, but I can go allll day, and I love the hunt for bargains in the second-hand stores for great gear at good prices—Hence, Second Gear. A double pun suits an English teacher, to boot.
What would Trailspace members be surprised to learn about you?
Twenty years ago, I was 100 pounds overweight. Ironically, I have always been active, but life happened. A friend who knew how much I loved the outdoors offered to teach me how to go backpacking. So, I started training, and lost 40 pounds then. Since then, I have lost the whole 100, and have kept up hiking, losing weight, and improving my health and well being.
Anything else you'd like to share with the Trailspace community?
Between helping out the youth group with leading backpack trips and taking newbies out on adventures, I have gotten to expose many people to experiencing what "out there" has to offer.
Very few things have been as rewarding as teaching others about how to carry and use gear, to let nature set the schedule, to stargaze in the wilderness, to the more practical side of being out (like pooping in the woods...). I love it when I get the WOW factor from them.
---
Congratulations and thank you, Kali!
* Besides Trailspace appreciation, Kali wins this month's featured Reviewer of the Month prize, a pair of Oterro trail shoes ($100 value), thanks to TOPO Athletic.
Plus, we're sending her a pack of goodies including Point6 compression socks, an L.L. Bean Pathfinder LED Cap, a PrimaLoft neck warmer, a Mountain House Spaghetti with Meat Sauce Pro-Pak meal, Stoneridge Orchards dried cherries in chocolate, energy bars and chews from Clif, GoMacro, and Honey Stinger, and a Trailspace Trail Runner Cap and stickers.*
Join the Trailspace community in recognizing other helpful reviewers by voting up the reviews you find most useful.
Write your own helpful gear reviews and you could be our next Reviewer of the Month.
Wide photo captions: 1) Kali in the rain on the Mid-Atlantic Ridge in Iceland, 2014. 2) On the Pacific Crest Trail between Snoqualmie and Stevens passes in Washington. 3) Canoeing on Lake Mayfield in Washington. 4) Volunteering at a clinic on a medical mission trip in Kabingo, Uganda.