Congratulations to DLK37086, Trailspace's newest Reviewer of the Month.
Each month we recognize and get to know a different member of the Trailspace community. This month it's DLK37086, a hiker, backpacker, father, and former Army member in Middle Tennessee, who likes to "just be outdoors." (We hear you, DLK37086.)
Congratulations and thanks to DLK37086 for sharing his 17 gear reviews with us, including ones of his Deuter DreamLite 500 sleeping bag, Jetboil Maintenance Kit, NEMO Cosmo Pillowtop sleeping pad, and REI Crestrail 48 pack.
Saying he already has more than enough stuff and "has been very blessed," DLK37086 graciously declined any outdoor gear prizes.
For his contributions, we're sending him our sincere appreciation for his recent contributions to the community. Thank you!
---
Meet DLK37086
What's your name and where do you live?
My name is DLK37086 and I live in Middle Tennessee.
No, I'm not a robot. No, that's not my real name. It's my Trailspace user name. Yes, people actually do live in Middle Tennessee.
Please tell us a little about yourself.
First of all, I hate talking about myself. I'm just a normal, average nobody. I grew up in central Wisconsin. When I was 17, I decided to give up computer programming and join the military. That was one of the best decisions of my life. Instead of sitting in front of a computer all day in some cubicle, I got to do things that were way more fun...jump out of airplanes, blow stuff up, and learn how to kill people. And I was outside most of the time. How cool is that?!
While in the Army, I was stationed at Fort Benning, Ga. I served as a rifleman in the 10th Mountain Division, and as a 60 gunner assistant, rifleman, and finally a SAW gunner, in the 3rd Ranger Battalion.
After a tad more than four years in Georgia, I moved to Middle Tennessee, and have been here ever since. Lord willing, I don't intend to leave here. I like it.
I have a 15-year-old daughter that, like most kids, thinks that money is in endless supply and the world revolves around her. When I'm not dealing with her, I stay pretty busy. I work a full-time job from 6 a.m. to 6 p.m. with an hour drive each way. I also do automotive work for people, and go to church, and attend Middle Tennessee School of Preaching and Biblical Studies part-time.
Most of my remaining free time is spent poring over maps, researching gear, reading specs and reviews, planning trips, packing for trips, and cleaning gear after trips. Hmm...now that I have written that and thought about it, I think I will spend less time planning, packing, and cleaning so I can stay out longer.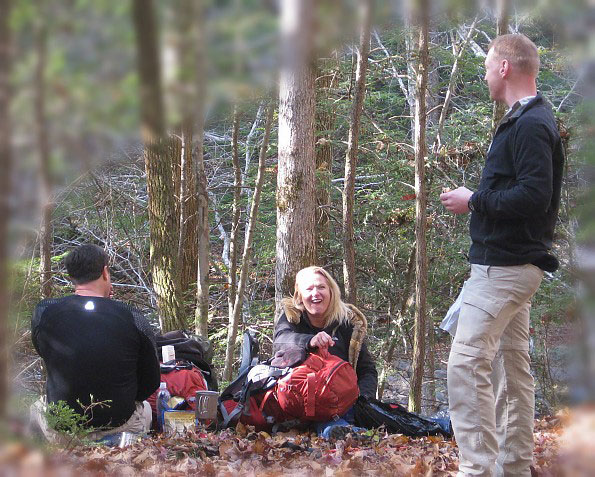 What do you like to do outdoors?
I like to just be outdoors. It's not what I am doing or where I am that matters. It's just being out there. Admittedly, I prefer hiking, camping, and backpacking. I used to fish, hunt, metal detect, and geocache, among other things. After a while, I decided I had too many hobbies, and too much stuff to go along with those hobbies.
How did you get started exploring outdoors?
I'm not really sure how or when I got started outdoors, but I do remember that when my brother and I were young, if we weren't doing chores mom would kick us out of the house. She wanted us playing outside instead of in the house.
There was a large field behind our house, and not far from that was Springville Pond, which was fed by a creek at one end and dammed at a road at the other. I spent a lot of time in that field, that pond, the creek, and the woods surrounding them all.
I have years of memories of doing anything and everything outdoors...building forts, playing ball, fishing, hunting, ice skating, skiing, skateboarding, riding bikes, swimming, climbing trees, wandering in creeks, running wild, and generally exploring.
It's a shame that our kids today are so attached to electronic toys that many never do any of those things. But it isn't our kids' faults. It's our faults! We're the parents who keep buying them all that stuff because we actually think that it shows them we love them. So sad.
What's your favorite outdoor place?
Any place without roads, buildings, vehicles, billboards, power lines, etc., that has trees and dirt and water. And preferably as few people as possible.
Do you have any outdoor regrets?
Yup, not being out long enough or often enough.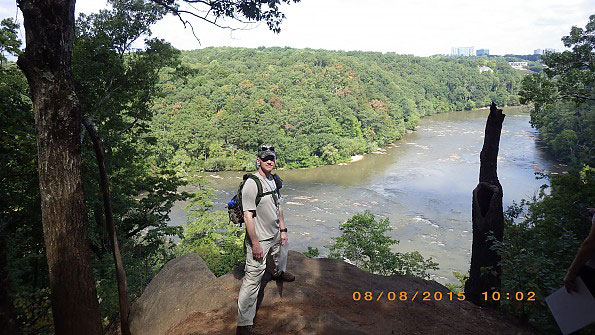 Describe your ideal day outdoors.
I know that a lot of people think their ideal day outdoors would be on some epic, grand "adventure of a lifetime" in some famous or exotic location. That's not me. I guess it all boils down to why you are getting out there. To me, getting out there is the whole point and is reason enough.
I would rather have a "lifetime of adventures" than a handful of "adventures of a lifetime."
—DLK37086
With that in mind, every trip and every day outdoors is an ideal day and a grand adventure of a lifetime, no matter how big or small that adventure is. Even a short trip to a local state park or recreation area can be a grand adventure, and is an ideal day outdoors. And those short trips can happen more often due to time and money.
I would rather have a "lifetime of adventures" than a handful of "adventures of a lifetime."
And that's my quote. Some day it will be famous. Remember you heard it here first!
What motivated you to share your reviews with Trailspace?
I was laid up with a back injury and off work for five and a half weeks. I couldn't do much, so I decided to write some reviews. It was fun for a minute, and helped pass the time. I am typically way too busy to be sitting in front of the stupid computer. I'd much rather spend my free time doing than writing about doing.
What's your favorite piece of outdoor gear? Why?
My Asolo PowerMatic 250 boots. They have been on every outdoor trip since the day after I purchased them in April of 2010, and have never failed me. The two layers of the sole are just starting to separate on one boot, but considering the years and miles, I am not complaining.
Got any interesting gear stories?
Not really. I have been very blessed in that I have had no serious gear issues. Oddly, everything seems to go pretty smoothly when I am out. Of course, now that I have said that...
What's in your backpack right now?
Believe it or not—nothing! I don't keep my stuff packed between trips. Each trip is unique, and I don't pack until after I have decided where I am going, how long I will be out, group size, weather, and menu. Only then will I decide which pack, tent, sleeping bag, liner, pad, first aid kit, water filter, cooking gear, and clothing to use.
The only exception to this is in the spring and summer months, when the days are longer. Then I keep my daypack stocked and ready to go in my truck, so I can hit the trails at Long Hunter State Park on my way home from work.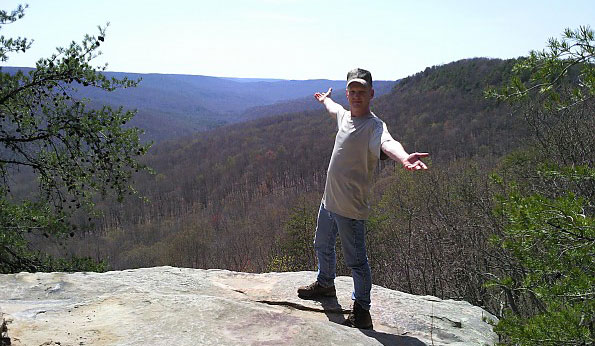 What's your favorite book?
The Bible. Seriously. What else matters?
What's your favorite quote?
Wow, that's a tough one. There are so many. Instead of the obvious, like outdoorsy ones, ones from the Bible, or all of the overused ones from famous world leaders, how about this;
"Nothing is impossible, the word itself says 'I'm possible.' For attractive lips, speak words of kindness. For lovely eyes, seek out the good in people. For a slim figure, share your food with the hungry. For poise, walk with the knowledge that you will never walk alone. People, even more than things, have to be restored, renewed, revived, reclaimed, and redeemed. Never throw out anyone."
Who said all that? Audrey Hepburn was often quoted sharing those words from her favorite poem, "Time-Tested Beauty Tips" by Sam Levenson. Amazing woman, she was.
What would Trailspace members be surprised to learn about you?
I'm sure they would be surprised to learn many things. We all have our quirks, differences, and idiosyncrasies. But off the top of my head I can think of the following:
I don't watch television. I would rather do anything—or even nothing—than sit on my backside in front of an EIR (Electronic Intelligence Reducer).
I don't have, nor do I want, a "smart phone" and I don't do Facebook, Twitter, Pinterest, or any other social media. I'm too busy having a life. And I like reality. "Virtual" reality is not reality. "Virtual" means "almost" or "nearly." If more sheeple (no, that is not a typo) would pull their noses out of the "virtual world," they would be able to notice, and appreciate, the real world all around them.
I don't sleep in my bed at home. Seriously. I am either on the couch, the floor, at my desk, or outside. Of course, I prefer to be outside, and if I'm not able to go on a trip, I will throw up a tent in the yard and sleep in it.
Anything else you'd like to share with the Trailspace community?
Get out there! Put your phone away and just go. I promise that you will not die without your phone, computer, or television. Mankind has been on this Earth for thousands of years without any of that stuff, and not only did they survive, but they actually flourished.
---
Thanks again to DLK37086.
Join the Trailspace community in recognizing other helpful reviewers by voting up the reviews you find most useful. Write your own helpful gear reviews and you could be one of our next Reviewers of the Month.
Captions for wide photos above:
DLK37086, on right, on a group backpacking trip at Fall Creek Falls State Park in Tennessee in November 2014.
On a "Backcountry Navigation with Map and Compass" REI Outdoor School course in the Whitewater Creek area/East Palisades Unit,

Chattahoochee River National Recreation Area

, Atlanta, Ga.
First backpacking trip as a civilian at Martha's Pretty Point, Virgin Falls State Natural Area in Tennessee in April 2010.