Congratulations to our two winners of Kahtoola crampons and traction devices worth $300!
Matt Williams of California had his Marmot PreCip Jacket review randomly selected, and Andrew Stanner of Australia had his Macpac Olympus tent review randomly selected. Members submitted 241 outdoor gear reviews during the contest period, February 1-28. Congratulations, Matt and Andrew!
We love to learn more about our members, and since we such great info and pictures from both Kahtoola winners, we're publishing a profile of each. Get to know Matt below and Andrew in a separate blog.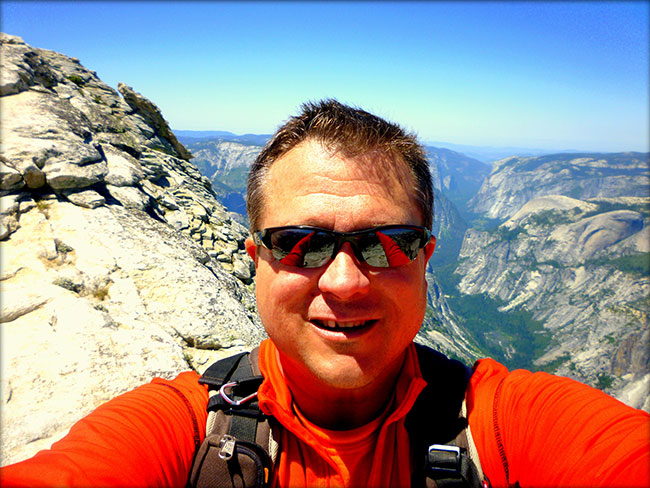 Meet Matt
"Wahoo!" said our first winner, Matt Williams, on learning he'd won the Kahtoola prize.
Matt is a police captain Monday through Friday, but a mountaineer on Saturday and Sunday "and any other days I can." He lives in California, only 45 minutes from Yosemite, and his home range and playground is the High Sierra.
He shared the following thoughts with us.

Matt on Falling in Love with the Mountains:
I fell in love with the mountains as a teen after being taken on a trip to Yosemite. A thoughtful family friend took me on a getaway after seeing that I was going through my first teenage heartbreak and thought a trip to the wilderness would be good for clearing the mind.
I remember staring at some of the peaks in the high country while we were fishing and I just felt compelled to climb them. The lady who took me on the trip noticed this and when I told her I wanted to climb them she said, "Well, let's go."
We stashed our fishing poles and made our way up a pretty high peak that day. When she couldn't go any further she encouraged me to go further up if I wanted to.
That day forever changed my life and I'll never forget this kind soul, Mrs. Patty Jackson. After that I spent every bit of free time I had up in the mountains, taking hiking trips into the backcountry in the summer and the winter as well. On graduation night, when all of the kids were out drinking, my buddy and I spent it climbing the cables of Half Dome instead.
On Becoming an Airborne Ranger and Mountaineer:
I enlisted in the U.S. Army on my 18th birthday and decided to become an Airborne Ranger, thinking that I would get plenty of chances to do my favorite things; being in the outdoors while carrying a backpack.
Well, I got my wish. I was stationed at Fort Lewis, Washington, which happens to be pretty close to Mount Rainier. The close proximity to Mount Rainier and having some experienced mountaineers who took me under their wing in my Ranger unit gave me the opportunity to start honing my glacier and ice climbing skills.
By the end of my four-year tour I was leading teams of Rangers on climbs of Rainier on a regular basis.
On Family Climbing and Skiing Trips:
I ended up moving back home to California and I'm fortunate to reside within 45 minutes of Yosemite. I had to drop out of the whole climbing and mountaineering scene for about 20-something years while life happened (kids, work, family, paying bills, etc.).
Now that my kids are well on their way to being grownups and my career is on track I've been able to start dedicating some time to climbing and mountaineering again.
I've taken my kids on some of these trips, such as our recent climbing trip up Casaval Ridge on Mount Shasta and backcountry ski trips in Yosemite. Our Glacier Point ski tour was the first for my son. It's a 20-mile round trip, but totally worth the effort.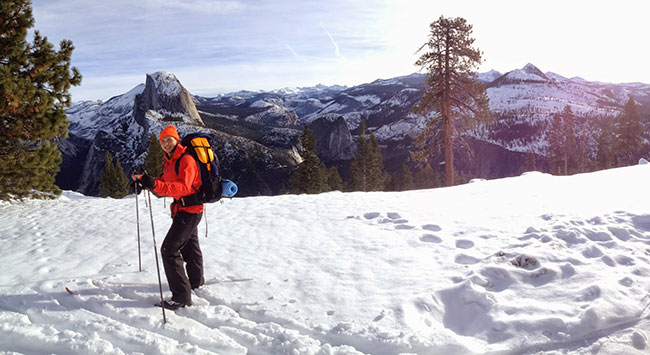 We planned an 80-mile loop through northern Yosemite while the kids were on summer break from college, but I ended up doing the trip solo when they had to drop out because of work (ah, the W word).
We were able to make a trip together recently, doing the Northern Loop in Mount Rainier National Park with my son and his girlfriend (check out Matt's YouTube video). We were able to do the west ridge of Mount Conness recently too.
Looking Ahead:
My future plans include skiing the Haute Route in the Alps, skiing the Haute Route in the Sierra, climbing the Tetons, climbing Hornli Ridge on the Matterhorn, and too much other stuff to list.
I took a photo of three skiers while skiing in the backcountry because these guys were in their 60s. My wife always gives me grief and says, "You're too old to be doing this sort of stuff."
I came home with the photo (below) and told her, "These guys are still doing it, so I can too."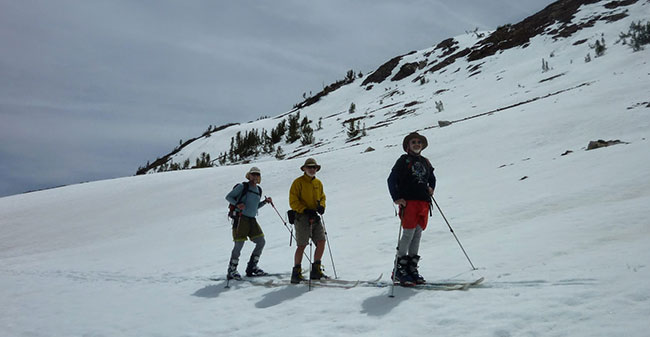 ---
The Kahtoola Prizes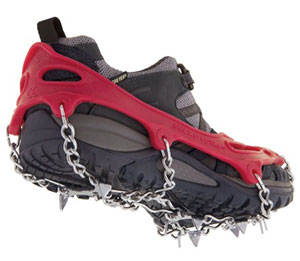 As one of our lucky prizewinners, Matt wins the following Kahtoola products to take on icy trails, streets, and winter peaks ($300+ value per winner):
Congratulations, Matt!