Congratulations, Kevin, Our Black Diamond Gear Winner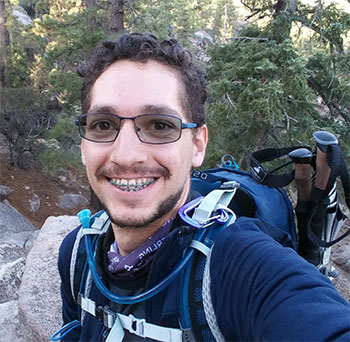 Congratulations to Kevin Calendris, a rock climber from Los Angeles and our winner of a Black Diamond prize package worth $575.
Kevin won a Mercury 65 backpack, Alpine Carbon Cork trekking poles, Revolt headlamp, Apollo lantern, and Flat Bill Trucker Hat, thanks to Black Diamond.
His review of his Scarpa Force V rock shoes ("for those looking to increase their performance without getting aggressive") was randomly selected from the 239 outdoor gear reviews submitted by Trailspace members June 9 through July 9.
"Oh wow, I did not expect this at all! Thanks so much," said Kevin on learning he won.
We asked him to introduce himself:
"I'm an LA native whose family has always been kinda outdoorsy, but as someone who works in IT I never really was that physically active until last year when my friend and I decided to start hiking more and also start rock climbing.
Since then I've fallen in love with the sport, the puzzle of the climb, the way I can express myself in doing the climb my own way, and meeting so many awesome like-minded people of all different backgrounds.
Currently I host weekly gym meetups and monthly outdoor meetups, and I'm planning to keep progressing in my climbing hoping to eventually become a rock guide one day."
Black Diamond Prizes
Kevin won $575 worth of new outdoor gear, thanks to the generous folks at Black Diamond. His prize includes:
Congratulations, Kevin! We hope you enjoy your Black Diamond prize package on your climbs and upcoming hikes.
Finally, thanks to everyone who shared their helpful gear reviews during this contest period. Each of you helps make Trailspace the best community and resource for finding and selecting gear for human-powered backcountry recreation.