Congratulations to Troy from Austin, Texas, winner of our Therm-a-Rest sleep system giveaway.
Troy won a Parsec down sleeping bag, NeoAir XLite Max SV mattress, and Air Head pillow ($600+ total value), thanks to the generous folks at Therm-a-Rest.
Troy's review of his Injinji Performance Mini-Crew Sock ("comfortable, durable") was randomly selected from the 192 outdoor gear reviews submitted by Trailspace members June 8-July 8. Seventeen of those were written by Troy!
Meet Troy

On hearing he was our Therm-a-Rest winner, Troy said, "I'm so thankful for the prize, but also for the platform that Trailspace provides to share gear information." Thank you, Troy!
We asked Troy to introduce himself to the Trailspace community:
I think that I am a pretty ordinary person, but I know that I have had extraordinary opportunities in my life. I'm a Native Texan, which means that I am honest, gentlemanly, strong willed, and adventurous. I was born and raised in Texas and now call Austin, Texas, my home. My passions include hiking, backpacking, fishing, photography, and adventure travel.
My love for the outdoors began with fishing trips with my dad, cub scouts as a kid, and weekend camping trips with friends. I've been fortunate to have hiked some amazing trails such as the Inca Trail, Kilimanjaro, The W in Patagonia, the John Muir Trail, and El Camino de Santiago. However, I get just as much enjoyment day hiking a local trail in Austin called the River Place Trail. I enjoy organizing outings for my friends and some local hiking groups in Austin because I love to share my passion for the outdoors and encourage others to get outside.
I write an adventure travel blog called TheAdventureBegins.tv to share my personal stories. I enjoy writing and reading gear reviews on Trailspace because the writing is from people's personal experience with gear and the outdoors. Thanks to Trailspace for creating a platform and community for hikers by hikers. See ya on the trails!
Therm-a-Rest Prizes
Troy will receive all of the following, a $600+ total value, thanks to Therm-a-Rest:
New for 2018, the Parsec 20 sleeping bag is engineered for fast and light adventures. It's filled with 800-fill Nikwax Hydrophobic Down, which dries three times faster than untreated down, and weighs one pound 15 ounces ($399.95).
The NeoAir XLite Max SV sleeping pad offers ultralight, packable three-season comfort and packability with the convenience of Therm-a-Rest's SpeedValve design for fast and easy inflation and deflation. It has an R-value of 3.2, weighs one pound ($189.95).
The Air Head Pillow combines air and open cell foam technology to help you drift off anywhere. It's made with an inflatable, baffled core for a stable, compressible foundation and a soft layer of open cell foam on top ($34.95).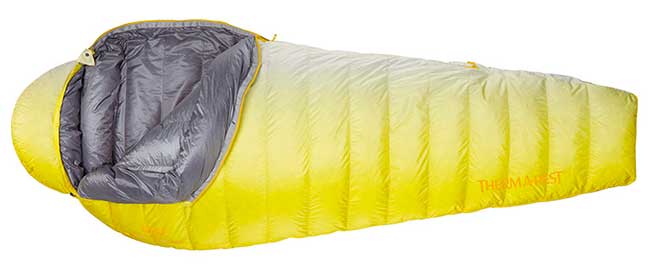 Congratulations, Troy! Enjoy your new Therm-a-Rest gear on your adventures near and far.
Finally, thanks to everyone who shared helpful gear reviews. Each of you helps make Trailspace the best community and resource for finding and selecting gear for human-powered backcountry recreation.