Congratulations to Teri Anderson of Gilbert, Arizona, our newest Reviewer of the Month! Teri has been a member of Trailspace since 2016 and has reviewed her Klymit Ultralight V sleeping pad, Big Agnes Copper Spur UL2 tent, and Swing Trek Swing Umbrella, among other gear.
In thanks for her contributions, Teri wins a $300 prize pack from AlpineAire, Black Diamond, EMS, Katadyn, Klean Kanteen, and Sea to Summit. Check out her prizes and get to know Teri below.
---
Please tell us a little about yourself.
I'm an HR manager for a small military contractor. I have three grown children. I've been very active outdoors my entire life. I'm also a coach for Special Olympics.
How did you become a Trailspace community member?
I found Trailspace when researching backpacking gear, when I first started a few years ago.
What led you to start reviewing your gear on Trailspace?
The input from users was very helpful to me, so I wanted to share my experiences as well, as I started learning more about gear.
What do you do when you're not at Trailspace.com?
I am constantly planning my next section of the Arizona Trail and next adventure! I do extensive research with everything I do—scouring maps, weather reports, gear reviews, and other expert advice.
How do you spend your time outdoors?
I do just about everything outdoors—skiing (water and snow), kayaking, hiking, backpacking, mountain biking, road biking, hunting, recreational shooting, swimming, rock climbing, camping, riding my dirt bike, etc. etc. etc. I'm currently section hiking the Arizona Trail, and have completed 19 of 43 sections. I also LOVE geocaching!
[Editor's Note: The Arizona National Scenic Trail stretches 800 miles across the length of the state.]
When and how were you introduced to the outdoors?
My parents raised four kids on a small single income. Our recreation was always outdoors—camping, riding bikes, exploring. I had never stayed in a hotel until I was an adult! We camped or stayed in a tent trailer everywhere we went.
What's a typical outing for you?
Any time I have unplanned time available, I plan something outdoors. My husband joins for camping and kayaking, but I mountain bike and backpack without him. My backpacking is completely solo.
Do you prefer to go out solo or with a partner?
As noted above, I prefer solo. I plan to complete the entire Arizona Trail northbound solo. However rock climbing is always with my son.
What's your favorite outdoor place?
Watson Lake near Prescott, Arizona. I park my trailer there and hike, kayak, and ride my mountain bike all day every day while there.
Describe your happiest moment outdoors.
It will be when I finish the AZT! And then it will hopefully be the first of many.
What is your dream outdoor adventure?
To hike in other countries. I've had my eye on Peru!
Any plans on your horizon?
To finish the Arizona Trail by this time next year.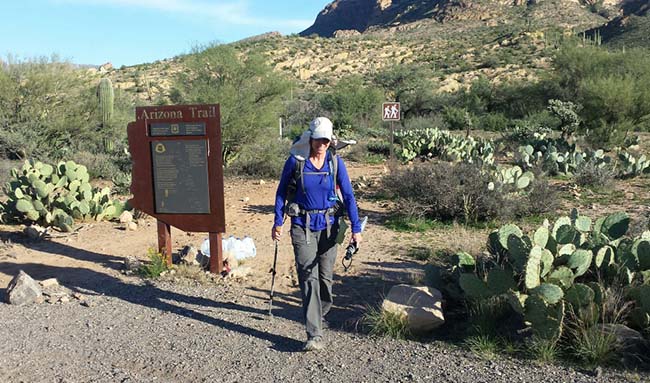 Teri finishing sections 16 and 17 of the AZT. "Cold beer waiting and clean clothes for me!"

Do you have any outdoor goals?
Above! Then I'll start the Grand Enchantment Trail next.
[Editor's Note: The Grand Enchantment Trail is a 770-mile wilderness trekking route beginning in the Sonoran Desert near Phoenix, Ariz., and ending near Albuquerque, N.M.]
Do you have any outdoor regrets? Fears? Mistakes?
I once camped near a wash when in a canyon, and had a freak storm hit when there was only a 10 percent chance of rain. A flash flood came within feet of my tent. Thankfully, it was one small raincloud that dumped on me, then moved on for a clear night.
Do you have a piece of outdoor gear you consider essential?
My trekking umbrella. It's essential for hiking in Arizona. It protects from sun as well as rain, and helps to reduce sweating. This helps to conserve water consumption when desert hiking.
Do you have a favorite piece of outdoor gear? What? Why?
I LOVE my Big Agnes Copper Spur UL2 tent. It's light, super roomy, and easy to set up and take down.
What's in your backpack right now?
Everything to hit the trail. List is too long!
What's the best outdoor or gear advice you've been given or heard?
The switch to trail runners from hiking boots was the best advice. I never have blisters now and my feet stay comfy and dry. And to carry a satellite tracker so my husband can always see where I am, and we can communicate if there's no cell signal.
What advice would you give other gear reviewers?
Thoroughly research gear and pricing before buying something. Prices vary WIDELY and you can almost always find it on sale somewhere.
What advice would you give other outdoor enthusiasts?
Same as above. I have a separate email address just for subscribing to newsletters and sales flyers from all vendors, to take advantage of sales and discounts. I've never paid full price for anything.
Do you have any gear regrets?
Not so far! It's all trial and error, so some things work better than others for sure.
What's the one quality you feel best describes you?
Loyal
How would others describe you?
As very active and hard working
Can you tell us more about your experience with Special Olympics?
I have been coaching Special Olympics track, swimming, basketball, and bocce ball for a little over five years now. It is the most rewarding thing I have ever done. Watching the athletes gain confidence through sports is incredible!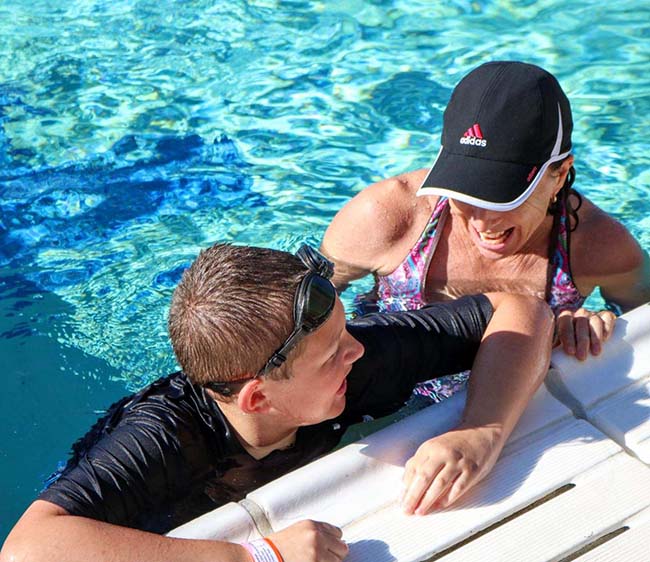 Teri coaching Special Olympics swimming.
Anything else you'd like to share with the Trailspace community?
Please wear sun protection at all times!
My cousin died of melanoma when he was only 32 years old, I have had two large skin cancers cut out of my face, and my parents have had these same issues as well. I always wear a draped hat, long sleeves, pants, and an umbrella to protect from the sun, as well as sunscreen.
Finally, I'm grateful for Trailspace to help me make informed decisions!
---
Reviewer of the Month Prizes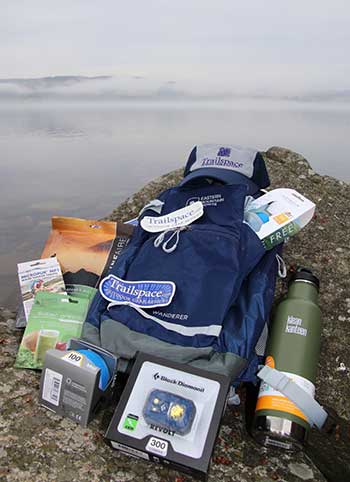 Congratulations, Teri!
In thanks for her contributions, we're giving Teri more than $300 worth of gear, thanks to these generous brands: