ALPS Mountaineering Tasmanian 2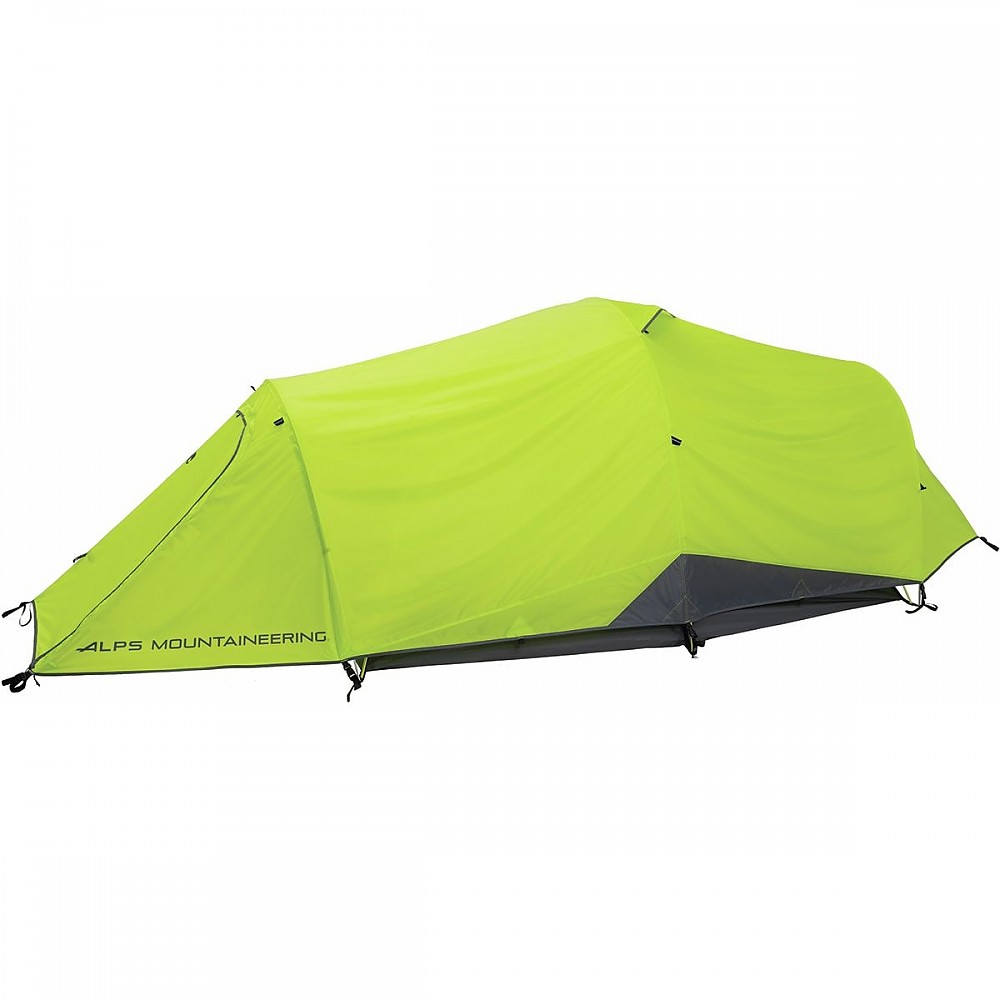 Well made, good quality for the price, but those tent poles need a rethink.
Cons
Poles make setup a pain in the wind.
I bought this tent from the REI outlet online (now "the garage"). I actually got this tent sort of accidentally. I already had a four-season, three-person tent, which is an REI Mountain 3. My Kelty Flight 2 finally died and I was looking for a replacement. REI advertised this as a three-season tent rather than a four-season and put it on a pretty nice sale, so I grabbed it. I was pleasantly surprised upon actually getting it.
As soon as I got this thing I set it up in the yard for practice and also to let it air out. Wouldn't you know it, a storm blew in about 30 minutes later so it got tested the first day it was in my possession.
Size: This tent is pretty darn large for what it is. Much larger than my REI Mountain 3 in terms of height. The vestibules are comparatively huge. There's no need to get on your hands and knees to get into the tent the way there is with the REI tent.
For comparison's sake the Mountain 3 is 42.4 square feet inside with 13.5 square feet of vestibule space. The Tasmanian is 43.5 square feet inside with 21 square feet of vestibule space. That might not seem like a big difference, but with the height difference the Tasmanian feels much larger and is easier to move around inside of.
I've slept three people and a 100lb dog in the Mountain 3 or two people with two dogs 80-100 lbs each with no problem. This tent would be even easier.
Rain/Wind: This tent stood up well to a storm that was driving rain sideways and packing 40mph winds. It wasn't in a super exposed area, but it did very well. I cannot comment on standing water but most people go out of their way to avoid pitching their tent in places that would have standing water. As for snow, it does well.
Weight: Like the Mountain 3 this is a pretty serious tent. If you're using it in the winter, you'll appreciate what you've got. If you don't really intend to do any winter camping, get a three-season tent. That four-season awesomeness comes at a cost in terms of weight.
A serious winter storm-proof tent is not going to come in at the weight of an ultra-lite backpacking tent. The Mountain 3 weighed in at 8lbs 13 oz while the Tasmanian comes in at 8lbs 10oz.
Poles: The tent itself uses an ingenious double Y poll system that is both easy to setup and intuitive even if you've never set up a tent before. The rainfly on the other hand is a different story. Both poles for it must be threaded through sleeves in the underside of the fly. This means two things: you'll want to pack your tent accordingly and be aware that setting this thing up by yourself in the wind is going to be a serious challenge.
The top clip on the tent which links the main pole set to the cross pole is kind of a pain when it's new. It locks like a cheap carabiner so it must be squeezed to allow it to open/close to the locked position. Not a huge deal to me, but doing it for the first time in the dark or trying to deal with it in the wind while not stepping all over your tent could be an issue. Try it out before you end up in the boonies with a storm bearing down on you.
Rainfly: Once the poles are in it it's pretty nice, though it does have to be turned over to attach to the tent. ALPS really needs to rethink the way they attach the fly to the poles. The way it attaches to the actual tent with clips is quite nice. It's a welcome change from having to attach them to my pole ends with the Mountain 3.
Guy outs: This tent has six guy outs, three per side. I feel it could use another two to four guy outs on the fly. My Mountain 3 has four per side plus a few more on the ends. When that tent is guyed out properly you feel like you're in a bomb shelter.
Floor: Like nearly all tents, it doesn't come with a footprint but they're $20. I'd buy one and use it. It's far better to ruin a $20 footprint than rip/cut/poke a hole in the floor of your tent.
Inside: This tent has a lot of storage pockets and a gear loft. The Mountain 3 has a gear loft and a few pockets. If you want more you can buy ones that clip into the inside of the tent. No need for such an extra expense with the Tasmanian.
With this tent, if you don't have enough pockets you have too much gear! On top of that the height inside makes the tent more comfortable to move around in and makes it feel a heck of a lot bigger. While the floor space may not be much larger than the Mountain 3 the inside FEELS like it's a lot bigger (because in cubic feet it is).
Overall/Comparison: Great tent. The only downfalls I would give it are a lack of guylines and its height. While use has shown it has enough guylines I still wish it had more in strategic locations. The tent's height makes it more comfortable, but also initially made me nervous about how well it would do in high winds during a serious storm. These concerns have proven to be unfounded.
The lack of guy lines similarly made me nervous until those fears proved to be unfounded as well (I still want more of them though). When properly set up the Mountain 3 (and Mountain 2 to be honest) feels rock solid, I mean completely bomb-proof in serious blizzard conditions. The rainfly is tight like a drum and I can personally attest that it will survive winds in excess of 60mph and heavy snowfall (18" overnight) in pretty darn open conditions. The Tasmanian seems to be on par with that level of "stormproofiness".
The Tasmanian has a lot of nice features for its price point and is well built. I know it will take 40mph winds and driving rain like nothing happened. The interior poles on the rainfly are a drag, but overall the tent is very nice. I'll take both on my next trip and alternate nights in each before I update this review to compare them better.
Overall, the tent holds up to heavy use quite well, but darned if that fly doesn't bother me a ton. Once it's on, it can be tightened down to being like a drum, but getting it on when bad weather is on your heels is a HUGE pain in the rear.
Source: bought it new
Price Paid: $240

So far we have only set up the tent in the backyard in nice spring weather. First impressions are that the tent quality is very good for the price. The large vestibule gives a neat front porch feel to it. It is very spacious inside for two, and there are gear pockets all around the interior just above the floor. The fabric color is relaxing.
Pros
Price-to-quality ratio
Color is relaxing
Once set up, structure seems very strong
Cons
Numerous zippers on doors and vents—many possible failure points
Fly is cumbersome to set up, especially if windy
We just received this tent and will be updating this review once we use it a few times.
First impressions were that this is a well constructed tent with the basic features needed in a 4-season tent. It has solid walls except for the two doors on the ends and two vents in the top, all that can be covered by solid panels by zipping the panels closed.
The fly has two vents above the interior wall's vents, and there are zippers to allow you to adjust the fly vents from inside the tent. The large vestibule has two zippers and forms a kind of front porch, which we thought was very nice. The smaller vestibule has one zipper and looks like it would serve better as a storage area than an entrance you would want to use.
The doors are small and low compared to the tent ceiling. This is good design as it means in winter less warm air will escape when the door is opened. It does require stooping to get in and out though.
Comments on other sites claim the rain fly poles are difficult to use. It is an unusual setup in which the fly has pole sleeves on the *inside* of the fly. The poles need to be inserted into those sleeves, then the fly turned over and placed over the tent. We had a little trouble getting the first pole through, but the second was no problem.
Taking the poles out, we again had trouble with the first one, but figured it out quickly so the second one was easy. Will be interesting to see if this is more difficult when the weather is cold. Setting up in strong winds could also be tricky because the fly could act like a sail once the poles are in the sleeves.
Tent stakes are three-ribbed metal pegs with small notches at the top instead of hooks. They work fine in soft soil but would probably be challenging in hard soil, possibly useless in snow.
Source: bought it new
Price Paid: $150

Great option at this price point. Squat down instead of crawling under the vestibule and loads of interior volume.
Pros
Dry and warm
Height
Weight
Cons
Sleeves for rainfly poles
I have used it in summer and cold winter camping for 1.5 years. Easy access to the vents from inside allows the condensation to be managed. I love the height as I can sit in my REI Flex Lite Chair and not touch the ceiling and I'm 6'-3".
The rainfly poles work much more easily in their sleeves over time, but you do have to make sure to orient it properly with the vents. When using the larger vestibule end, I can squat down and unzip the tent door while under cover.
This is especially nice on a rainy day. You don't have to get your clothes wet or dirtier just before entering. The doors stay covered by the fly, even when the vestibules are open. 
Source: bought it new

Nice first four-season winter camping tent.
Pros
Well designed for winter camping
2 doors, 2 vestibules, strong alum poles
Inexpensive, good first winter tent
Cons
Not an expedition tent
Floor is not ripstop nylon, get the footprint


Material [fly] 75D 185T polyester taffeta,

PU coating (1500mm),

[walls] 75D 185T polyester taffeta,

40D nylon no-see-um mesh on top and windows,

[floor] 75D 185T polyester taffeta, Need footprint

PU coating (3000mm)

Capacity 2-person (1 comfortable for WINTER CAMPING)

Season 4-season

Wall Type double-wall

Freestanding yes

Poles 7000-series aluminum (8.5mm)

Pole Attachment clips

Number of Doors 2

Number of Vestibules 2

Vestibule Space 13 sq ft

Ventilation mesh windows

Seams [floor, fly] fully taped - Seal them to be sure

Gear Loft yes, included

Interior Height 3 ft 10 inches (5' 9 in - does not hit the gear loft or lantern)

Floor Dimensions 62 x 92 in

Floor Space 34.5 sq ft

Packed Size 6.5 x 19 in

Trail Weight 7 lb (what's trail weight?)

Packed Weight 7 lb 7 oz

Recommended Use alpine, base camp, camping, winter camping

Manufacturer Warranty lifetime
Familiarity: I've used winter camping
Burnt orange 4-season, 2-person tent.
7 pounds is average for a 4-season tent this size.
Available from: $175- $225. (Oct 2016) Get it with free shipping. This is not the least expensive 4-season tent double wall, but it provides more than adequate features for the price.
There is a 3-person model that fits 2 people with all of the winter gear, 1 comfortably.

Features
The two-piece tent base and fly comes together with clips. The fly has narrow sleeves that form the front and back. You need to insert the aluminum poles into these narrow sleeves. There are velcro tabs for extra wind strength. Lots of reinforced tie outs. Fly reaches the ground all around.
There is about 3 inches of ventilation space between the tent mesh and the fly so you don't get wind blockage. This provides good ventilation. Four sectioned aluminum poles all come with bungee cord inside the poles.
I snore, so this two-person tent is really just a one-person tent.
"Set it up waaay over there" I'm told.
I wonder why?

Winter
Wicked good for camping in the snow. I like to blend in to the surroundings when camping so I prefer subdued tent colors when not camping in winter. I don't like to advertise — campsite here. In the winter, the opposite is true.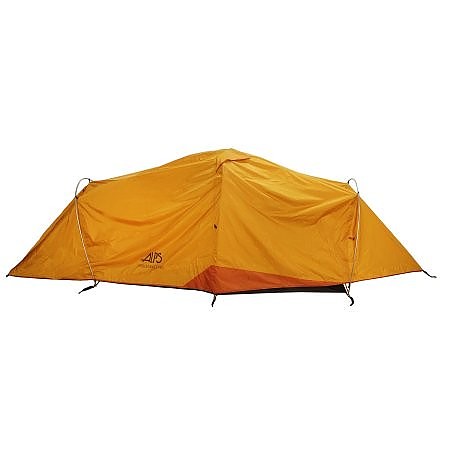 Footprint
Buy the footprint. The tent floor that comes with the tent is not ripstop nylon.
Seam Sealer
Seal all of the "factory sealed and taped" seams when you first get the tent to be 100% sure there are no leaks when you first set up in the snow. I like to use Coghlan's seam sealer (Coleman's is OK on sale). I use it on seams inside the tent and fly bottom. It's like a rolling on antiperspirant. Two light coats are better than a thick coat.
Tyvek
Don't bother buying the cheap TYVEK sheets sold on ebay. They crinkle and make too much noise on the snow when you are trying to sleep. I don't know, but I've been told that you can't wash Tyvek.
Customize
Customize your Tasmanian 2 or Tasmanian 3 tent by adding six 3/4 inch plastic web female buckles at 6 places piggybacking with 3/4 in web strapping to the tent fly straps so there are now two buckles at each place on the fly. Now both the tent and the footprint all snap together. Saves time when you setup or tear down in the dark when its snowing or even worse, snizzling.
2 Vestibules
It's hard to see in the picture above, the back vestibule is smaller than the front vestibule. If you are careful, you can arrange your coffee pot / kitchen out back here, provided that the snow is deep enough, so that you can make coffee right from your sleeping bag out the rear door under the open back vestibule.  When there is not enough snow then you can use your sled for a kitchen and if a storm blows in just move your sled/kitchen under the vestibule and use the rear door for exit.
Parking
Finding a parking spot — You need a long narrow space to set up this tent. The tent is kinda long when set up correctly. This orange cocoon measures 13 feet (about 4 M). No trouble finding a spot in winter. Just look up and make sure nothing is gonna fall on you. Widow makers are bad.
I like to use plastic grocery bags filled with snow, buried and tamped down real good for anchoring the tent's reflective guy lines. Easy enough to dig out when you tear down. Leave no trace.
Ventilation
Tent comes with good vents. I like to face the main door opening south. Doors have mesh no see um windows. Zippers work with mittens on. There are two snorkle openings at the top that can be opened. You use the tent's Velcroed tabs to keep them pried open. Use these when there's no snow or rain and a light breeze.
Properly guyed out, the tent holds up really good in high winds. Too much ventilation then. The tent is warmer than outside when it's set up right. Of course, there is still a little frost / condensation on the mesh top when you wake up in the morning.
Depends on the temperature — a mini snowstorm occurs when it's 10°F or less.
Gear Loft - Storage
Tent comes with a gear loft. Drying out gloves. Tabs for hanging a lamp. Tabs for clothes line. Lots of mesh gear pouches on the sides (glasses, phones, etc.).
Setup
10 minutes in the snow in the dark.
Another 5 minutes to set up plastic bag dead mans for the guy lines when there's no trees handy.
The main aluminum pole has two 3-way connectors that are really stronger than they look. The center clip has a binder — looks like a huge paper clip that holds the two main poles together where they cross — a challenge to connect with mittens on. I wish ALPS makes a change here.
Comparison Shopping
Compare this tent with the Snugpak Bunker.
The Bunker is heavier and more expensive. It has no footprint nor vestibules, so you need tarps or you get to deal with lots of moisture.
The Mountain Hardwear Trango 2 tent has some better features, unfortunately, it costs three times as much.
The Hilleberg Kaitum 2 and Kaitum 2 GT tents have some better features, unfortunately, they cost six times as much.
Source: bought it new
Price Paid: $170 with free shipping (sale)

Your Review
Where to Buy
Help support this site by making your next gear purchase through one of the links above. Click a link, buy what you need, and the seller will contribute a portion of the purchase price to support Trailspace's independent gear reviews.
You May Like
Specs
Price
Current Retail: $174.98-$299.99
Historic Range: $121.73-$349.99
Reviewers Paid: $150.00-$240.00

Recently on Trailspace