Arc'teryx Atom SL Hoody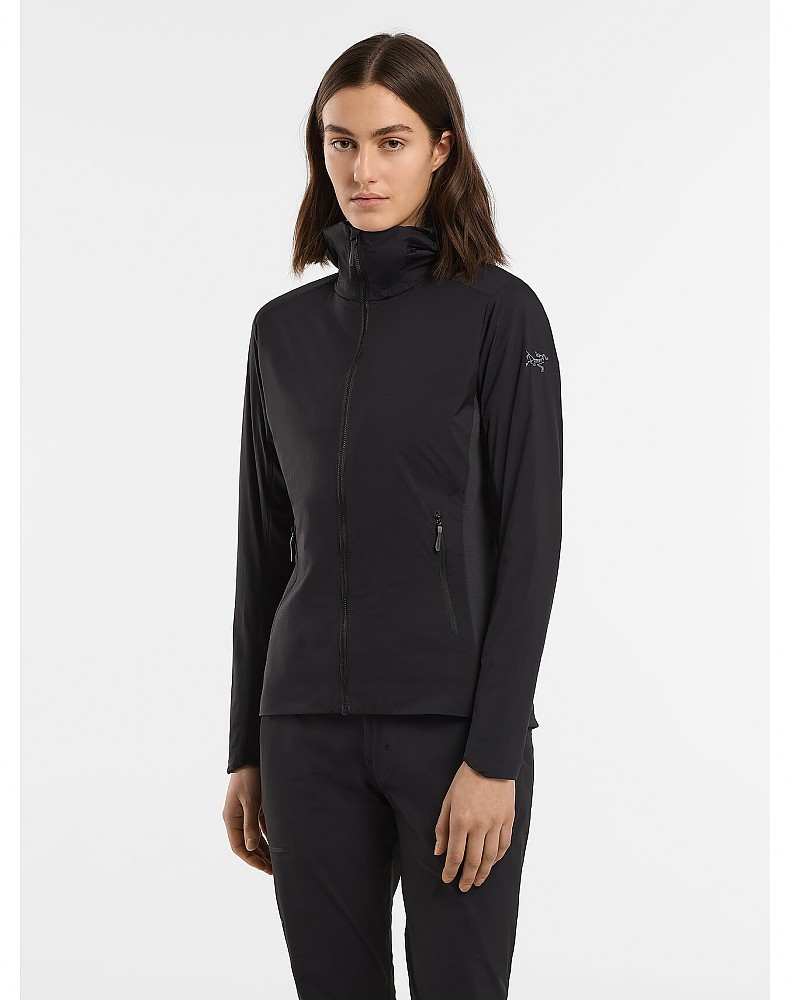 Version reviewed: Atom SL Hoody
The Arc'teryx Atom SL Hoody is a lightly insulated, shoulder season jacket with hood to get you through those cooler fall or spring days. It is breathable and water resistant enough to be a part of your gear throughout the summer too. The Atom SL Hoody is a versatile outer layer which I'd recommend for a variety of activities during three-season use.
Pros
Breathable fabric/design
Jacket moves well with my body during dynamic activities
Stretchable fleece side panels
Versatile jacket for multiple uses
Well-made and fitting hood design
Generous external, side pocket size
Cons
Expensive
Thinner fabric shell
Lightweight (non-insulated) hood annoyingly whips in the wind
Background & Testing Conditions
I am 5'9", 160 lbs, with an athletic frame with 40" chest and 31" sleeve length. I received a size medium spring 2016 Arc'teryx Atom SL Hoody for testing, in color genepi green (more like a yellow).
I've tested it primarily in Florida, but also in North Carolina between mid-October through January. Temperatures varied between the 40s to low-70s F, with the majority of my usage being when temps were in the mid-50s to low-70s. Testing included multiple activities such as backpacking, day hikes, and running, as well as urban uses such as geocaching and casual wear.
[click any image to enlarge]
Manufacturer's Claims & Consumer Considerations
The Atom SL Hoody is described as "…the new Atom SL Hoody blends lightweight compressibility with thermal efficiency to create the ultimate summer insulation layer…extremely versatile, compact, lightweight, and wind resistant."
With these claims I will specifically address:
Thermal regulation during mid to high output activities
Best temp ranges and uses/activities/conditions
Wind and water resistance
How well it works with other layers and how well it moves with my body
Packability and other unique features
One of the closest comps I have is my Helly Hansen Odin Minimalist Jacket, a rain shell that breathes well and weighs less than 6 ounces. In addition, the Atom SL Hoody also has features I'd compare to mid-weight layers such as my Vargo Bedrock 1/4 Zip. The breathability, wind and water resistance, and insulation of both of these pieces seem like they were fused together and the Atom SL Hoody was created. The hoody is more of a light DWR coated wind shell than a Gore-Tex fabric.
Fit/Comfort
Based upon manufacturer's specs and my size, the hoody fit very well. It is described as a trim fit by Arc'teryx. I agree, but there is still more room in the hoody for me to "fill it out" some more. The Atom SL Hoody also has a 26.2-inch drop hem (i.e. the waist hem is lower in the back, covering more of your backside than front). This offset can be seen in the pics below.
Also note that the insulation is solely located in the torso. The sleeves and hood have no insulation. The hood (and entire external shell) is a single layer of 20D nylon (more under "Material & Functionality"), but the sleeves do have an inner mesh lining.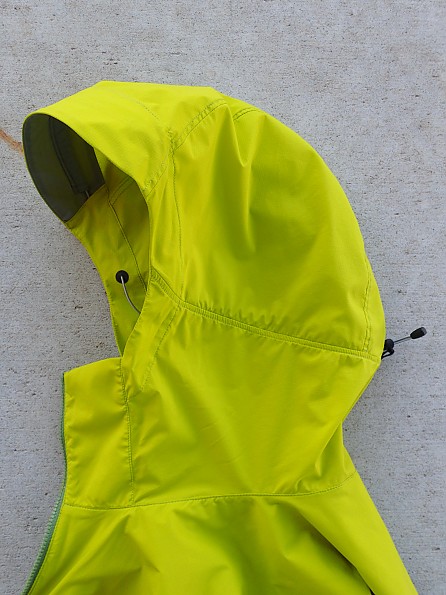 Additional material (gray) provides more support for brim of hood.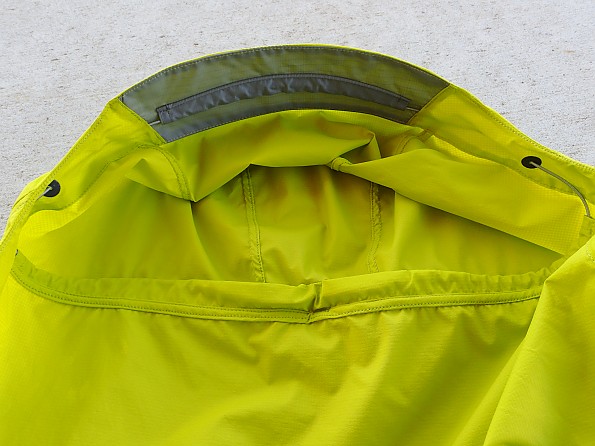 A bit of protection on the main YKK zipper so you don't pinch your neck skin.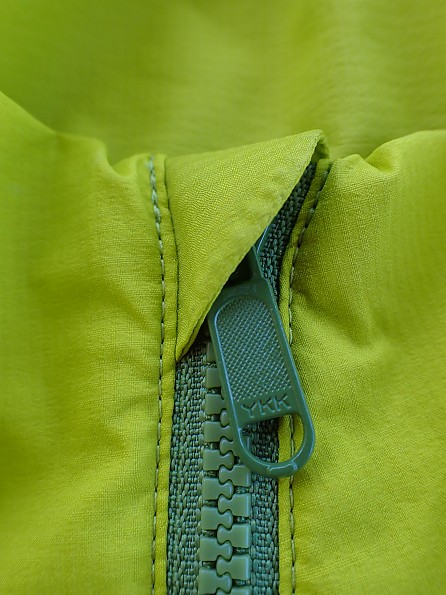 There are only two external pockets (no inner pockets) on the Atom SL Hoody.  Each side pocket can be zipped shut. They are located slightly higher on my torso than other jackets, but it hasn't been a problem for me.
Even with my hipbelt cinched, the entire side pockets can be accessed. Also, there is plenty of room below the hipbelt so that the jacket doesn't accidentally ride up.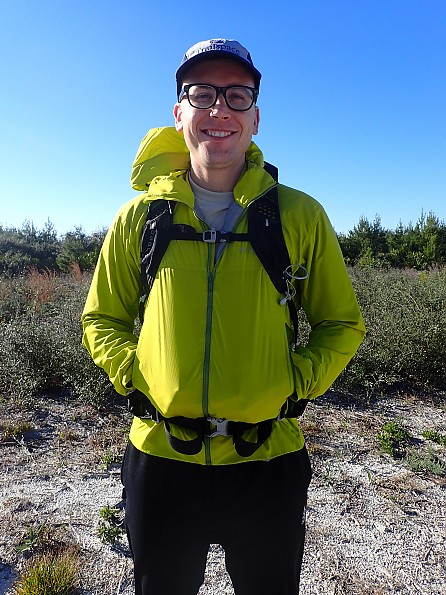 Below is a pic of a side, zippered pocket. Each pocket is generous in size. The zipper opening is 6" and the pocket is 12" high and 8" wide.
The sizing chart for Arc'teryx, trim fit tops can be found here.
Adjustability
As is typically found in jackets, there is a toggle adjustment located on the inside of the jacket for the waist as well as one in the back of the hood.  With my 32-inch waist, I didn't feel any need to adjust the waist, nor did I feel the need to do so when layering or while wearing a pack. I didn't feel encumbered when wearing the hoody. The waist and hip area wasn't too baggy and when playing disc golf the hoody moved naturally with my body.
One thing I like about the hood is that when I moved my head within the hood, the hood moved with me. I feel this is due to the hoody being thinner fabric than other jackets or rain shells, plus the well placed hood adjustment when slightly cinched. I've had other jackets that the hood remained stationary and my head moved within, which meant I would need to move my whole upper body if I wanted to look from side to side.
On the downside is that the hood, being only a single layer of fabric, would sometimes act like a sail and pop open with the wind or just whip around like a flag in a storm. On runs, especially wind runs, it was tough at times to hear what my wife was saying and she was right next to me. This can be solved by tucking the hood into the jacket, essentially making it a hoodless jacket. Other than tucking the hood under, there is no way to pack down or roll up the hood when not in use.
You can see in this pic how a light wind can move the hood around.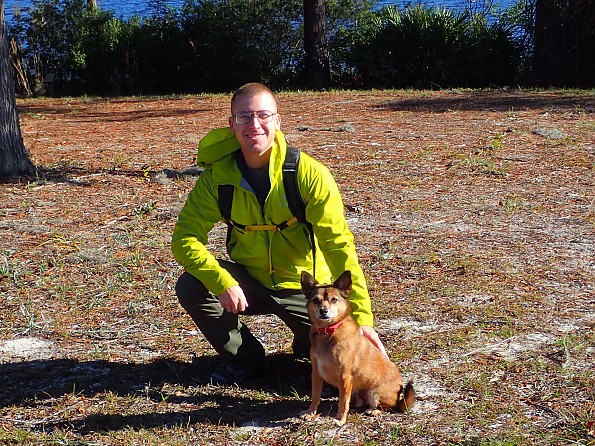 Material & Functionality
While the external shell material feels relatively thin, I have not noticed any signs of wear or areas which seem to be more susceptible to stress. The shell is stated as being Tyono 20 (20D nylon), but compared to my Hubba Hubba 20D tub floor, it feels like it has to be less, maybe 15D. Nevertheless, the four months of trail time that I've had rubbing against brush and wearing a pack constantly haven't shown any discernible wear.
The stretchable, side fleece panels help to absorb a lot of the push and pull during vigorous activities. This reminds me of bungee cord that is added to guy out lines on a tarp, existing to take in and let out slack when needed.
The Atom SL Hoody packs to slightly smaller than a 1L Nalgene bottle. There is no self-contained stuff pocket or sack with the hoody.
Breathability
During testing, I wore the hoody two to three times per week during evening runs or weekend morning runs, typically four miles around my neighborhood on base. I wanted to assess the breathability during high-energy output activities. Most of the time it was between 60-70 degrees. My wife thought I was a bit crazy running "with a jacket!!" on, but I felt surprisingly comfortable. It was sun protection, but lightweight and air circulated easily.
Mostly I ran with the main zipper unzipped about 6 to 7 inches, just enough so air could flow. Though it's a lightweight fabric, the unzipped collar didn't flop around or cause any annoyance. I was protected from the blistering Florida sun, but still stayed didn't overheat. A few times though it was a bit windy and in the low to mid-50s. At that time I zipped the main zipper all the way up; I felt fine without overheating my upper torso.
Keep in mind, this is more of a light wind shell with insulation and not a full on Gore-Tex rain shell. Because of this and the fleece side panels, I could get away with wearing it during warmer temps and would still be comfortable. When thinking, "why not just use a long-sleeve shirt?" I would answer that I find this replacing my long-sleeve shirts. I love lightweight, long-sleeve 1/4 shirts, but I have been using my hoody more and more often in lieu of them.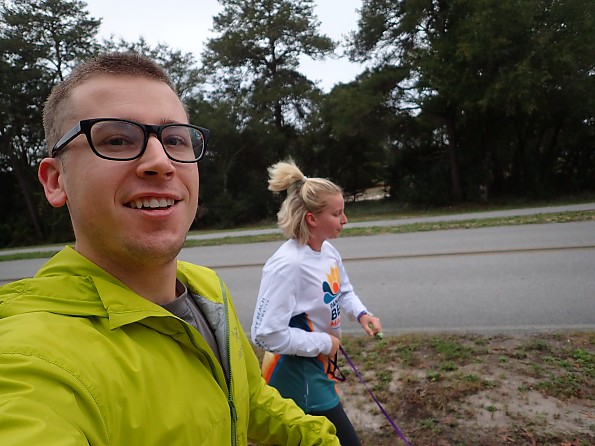 Arc'teryx states that the side panels are Polygiene antimicrobial. I don't know if this had any impact on the reduced stench (keep in mind these side panels run along the armpit) or if it is the shell fabric altogether, but compared to other layers, I seemed to be able to stretch my use out longer before I needed to wash it.
Notice the soft fleece in the right picture. The image is of the inside of the hoody, between pockets of insulation.
Warmth & Layering
The main claim for the Atom SL Hoody is that it is a summer insulation hoody. It seems like an oxymoron to think this, but I think the actual expectations should be more far reaching. The wind resistance combined with 40g Coreloft insulation made it versatile for many temps; any layer that cuts the wind, will likely be adding several degrees of warmth. Medium winds in the mid-40s seemed to be the peak of its performance, temps below that I felt a chill through to the layers beneath.
Anything above the mid-50s and I was just wearing a single T-shirt underneath comfortably. Below that, I began to layer. In the pic below I'm wearing the Vargo Slag shirt and lightweight Terramar Helix Half-Zip. Both are relatively thin layers, but when used with the hoody, the wind wasn't a factor. The temp in this pic, not considering a light wind, was 47 degrees and I was extremely comfortable.
The side mesh panels definitely help the breathability of the hoody, but I didn't feel like it hampered any of the wind resistance. The fleece lines the body at a point where it is snug so the body can dissipate heat, but didn't really let any draft in. With arms at one's side or with shoulder straps on, most of the fleece was covered or pointed inward and away from direct wind.
Features
No Slip Zip is described as "a series of speed bumps keeping the main zipper from self-opening." This feature is located near the collar, but I would prefer if it ran the total length of the main zipper. See the video below for further explanation.
The shell has a DWR treatment. The water resistance on this is very high. I've had no saturation when it comes to constant light rain, but over time in heavier rains I did have an issue (see pics below). For those trips where a rain shower may pop up, the Atom SL Hoody is a great option. I like it in that it is very strong in its water resistance, yet can be worn for other uses such as for insulation or sun protection.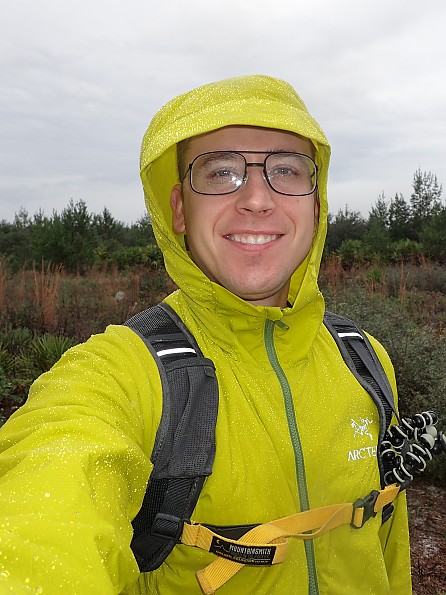 Arc'teryx also notes the unique cuff design as a special feature. As seen in the pics above, the sleeve fabric covers the upper hand, nearly to the knuckle, while the bottom of the sleeve stops at the wrist. With the fleece lining all the way to the wrist, it also allows you to roll the sleeves up and have it remain pretty stationary on your forearms.
Final Consideration
Features are great, but a big thing for me is price and the question of "cost vs. benefit?" always arises. With a brand like Arc'teryx, it's generally expected that the cost may be higher. At release this hoody is $229. Pretty staggering considering this may be described as an upscale wind breaker.
I've owned an Arc'teryx cardigan since 2009 and have worn it constantly. Quality was top notch, but at the same time I questioned whether or not I could get the same product for a fraction of the price without sacrificing quality. A tough consideration, but I've laid out my experiences and the jacket's features and the rest is up to you to decide!
Recommended Uses
Summer: I'd recommend during cooler morning and evening activities from running to relaxing around the campsite after a long day. I'd consider this to be a replacement for a long-sleeve shirt. I found myself putting this on immediately after waking up to 50 degree mornings, then shedding the layer as the day about heat up into the 70s. At the same time, when worn during the day, the hoody is very light and breathable yet also provides protection from the sun. As soon as the sun goes down, I usually put it back on. 
Spring & Fall: With temps in the 40s-60s and the occasional rain shower, the Atom SL Hoody really shines. During activities like running or bike riding, especially in the upper-40s and lower-50s, the hoody retains a lot of body heat but can be vented by unzipping the main zipper. Running with the hoody zipped all the way up was too warm for me during temps above the mid-50s. Once in the 40s, you'll likely layer if you want to feel comfortable doing non-vigorous activity. Medium wind below the mid-40s is where the performance begins to lack.
When thinking about all of these possible three-season uses, it makes the value seem like a better bang for the buck. Like the comparison gear I thought of when reviewing, you may find the Atom SL Hoody replacing several pieces of gear. With multiple uses from aerobic to anaerobic, the features and freedom of movement which the hoody allows will let you explore anytime when temps are between the 40s to the low-70s.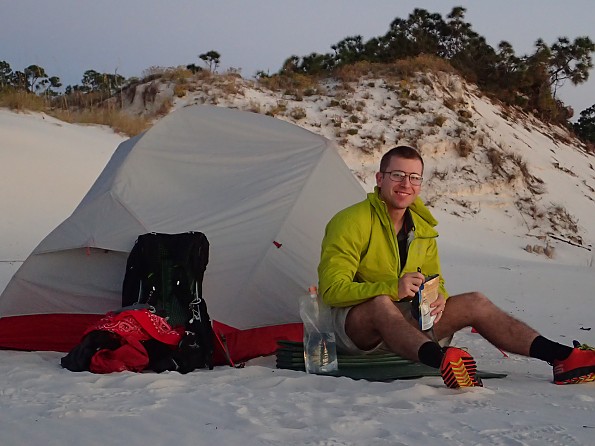 Conclusion
With its cousin, the Atom LT Vest, being very popular, I wouldn't be surprised to see this version also rising to the top. The Arc'teryx Atom SL Hoody's comfort and versatility make it highly useful for all sorts of activities, though its price point cannot be ignored. I feel that Arc'teryx has met its own claims and created a great product. Because of this I have rated the Atom SL Hoody 5/5. I've thoroughly enjoyed testing this hoody and would definitely recommend it.
I'd like to thank Arc'teryx and Trailspace for the opportunity to test this product. 
Source: received for testing via the Trailspace Review Corps (Sample provided by Arc'teryx for testing and review)

Version reviewed: Atom SL Hoody
Total agreement, guys.
Pros
Typical thoughtful high quality construction Arc'teryx is loved for
Lighter than a soft whisper
Fit and function, style and feel are superb of course
Cons
The only cons are if you expect more of it than it's designed to be. It won't save you in a blizzard probably.
I bought the Carbon Copy color. I have the LT as well, also beloved.
This extremely well thought out jacket is as light as a hummingbird's feather. The hood with toggle cord in the rear tightens down perfectly to shield your face with the lower face and throat lovingly protected as well by the full zip front.
The tailored cuffs fit so well, great to have nothing to fasten there. The lightest weight insulation on the front and back is nearly imperceptible, but clearly does a terrific job of maintaining body heat. The side wind permeable panels help vent any excessive body heat.
I'm so happy with this product. 
Source: bought it new
Price Paid: $229

Your Review
Where to Buy
Help support this site by making your next gear purchase through one of the links above. Click a link, buy what you need, and the seller will contribute a portion of the purchase price to support Trailspace's independent gear reviews.
You May Like
The Atom Lightweight was previously the Atom SL
Specs
Price
MSRP: $230.00
Current Retail: $184.93-$230.00
Historic Range: $45.98-$230.00
Reviewers Paid: $229.00

Size
XS, S, M, L, XL, XXL

Weight
269g / 9.5 oz

Fit
Fitted

Activity
Hiking / Ice Climbing / Alpine Climbing / Ski/Snowboard