Big Agnes Lost Ranger 15°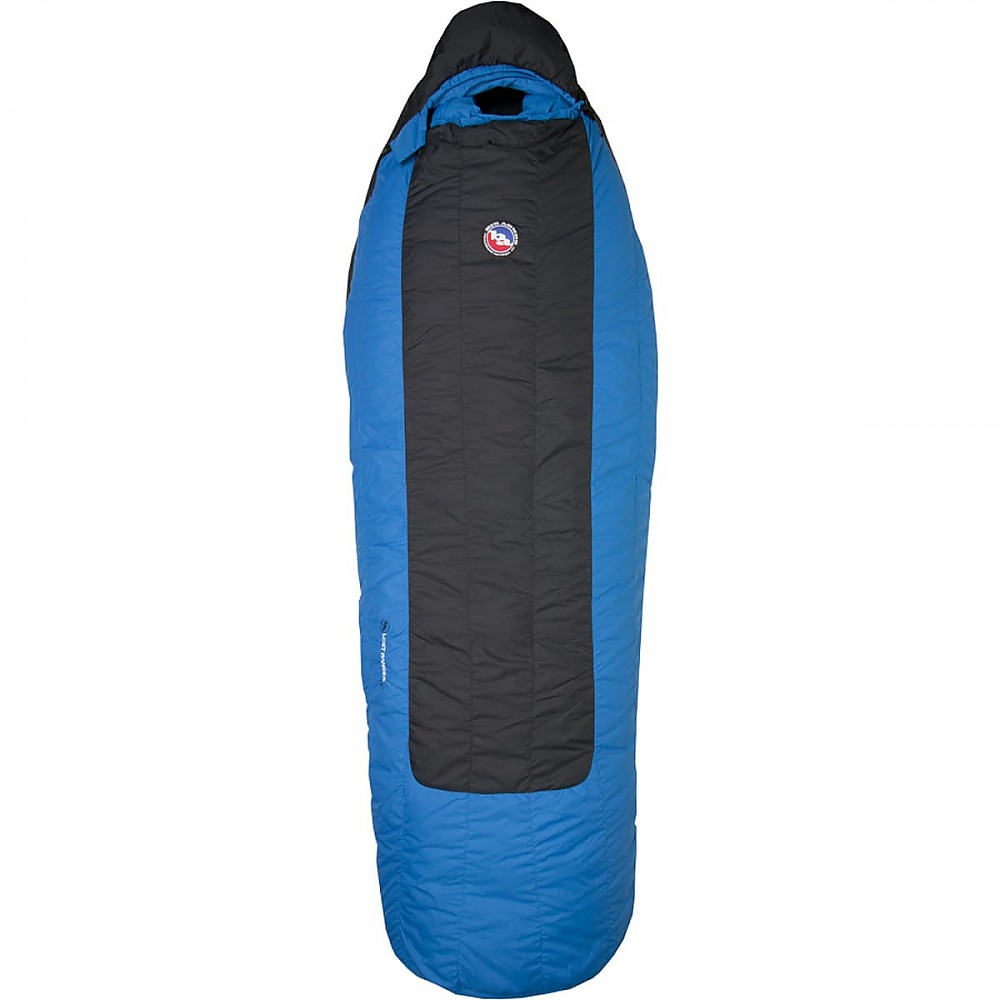 This review is for the older semi-rectangular model. Really comfortable. The comfort level is around 35°-40° F.


Pros
Lightweight
Compressible
Can roll in the bag
Cons
Cold spots
Does not meet temp rating
This bag uses the integrated Big Agnes pad system. The bag relies on the pad for the insulation on the bottom. This reduces weight and eliminates down where it would otherwise be compressed and lose its insulating value.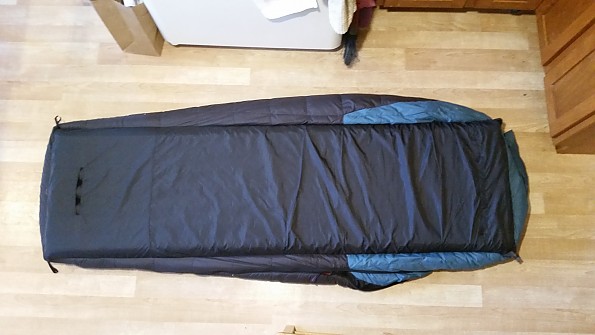 Warmth: Having slept in this bag in temps down to 15°F and up to 40°F now, I can say that the bag's comfort rating with a base layer (fleece 1/4 zip and light pants) on is around 35-40°. This is a bit too far from the advertised 15°F mark for me. I usually give a bag a 15°F  gratuity over its rating as a general guideline for comfort. This means the bag should have a comfort rating of 30°F. It doesn't.
I can't say that the bag loses heat from any one source or outlet. It just seems as though the entire bag doesn't stay as warm as expected.
Specs say that the bag is 650 fill goose down. 
Because the foot box is flat, if you sleep on your back with your feet upright, you become cold where your toes compress the down. Even with socks on, this was the case when temps were 32-35°F in Moab. 
One night, while in Bryce, we backcountry hiked and I used this bag in conjunction with a military bivy shell, insulated Big Agnes integrated pad, and a foam pad under that. That set up was sufficiently warm at 32°F.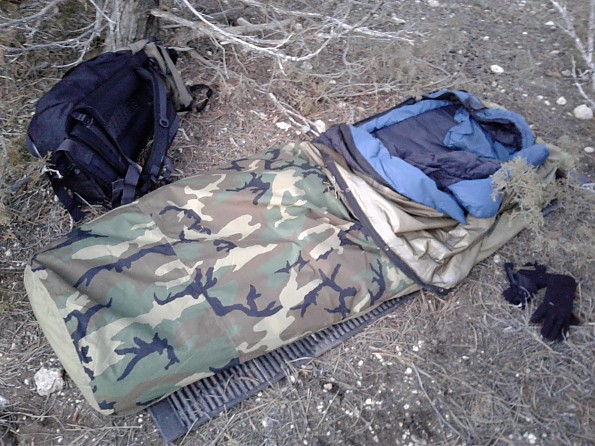 Bag with military bivy and extra foam pad 


A couple of days later, I slept in the back of my vehicle with the bag and integrated pad with base layer. I was slightly cold in the morning at 34°F. 
After a few more outings of testing, I found the sweet spot to be around 30° with pants, wool socks, and puffer. 
Never mind that the bag does not match its temp value. Read on.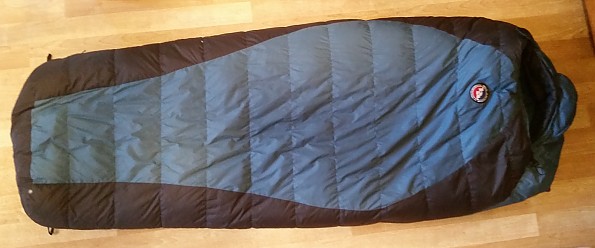 Nearly full rectangular shape leaves ample room for restless leg syndrome

Fit and Comfort: This bag scores huge points with me in the weight-to-comfort ratio. If you can get your mind to erase the supposed 15° rating and think of the bag as a 25-30°F bag, you will LOVE it. It is amazingly comfortable. I can roll freely in it, sleep on my side, and stretch out my legs in it. 
The hood leaves ample room on the interior so if you do sleep on your side, there is a big gap next to your face for breathing. The yoke collar doesn't stop all the heat from escaping, but it keeps the hood pocket separate from the body cavity to lock in enough warmth.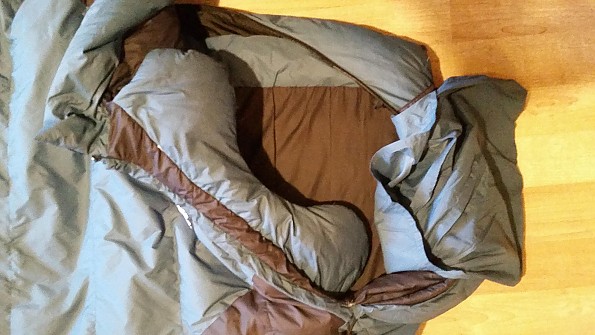 The hood also has a pillow insert so your pillow doesn't swim around in the middle of the night. Boy, BA likes to keep things stationary.


Mine is the regular length so I'm pushing the limit at 5'11" (It fits up to 5'10"). 
Entry/Exit: It's fairly easy to get into and out of the bag. The zipper sticks about as much as you'd expect from most modern bags. 
Moisture: The bag's specs read that its surface is treated to repel water. I haven't taken it swimming yet but the bag has stayed dry in a tent, truck, and bivy. 
Packability: The bag packs down quite well. In my compression sack, the bag alone cinches down to approximately 8 x 7 inches. Nowadays, I leave the integrated pad in the bag deflated and roll it up into a medium compression sack to eliminate the step of inserting the pad later. 
Loft. The bag puffs up quite easily after unpacking. about 3 inches or so of loft on top. 
Ease of use: I really like how the zipper is contoured. It follows the side of the bag and curves with the hood to narrow the hood opening.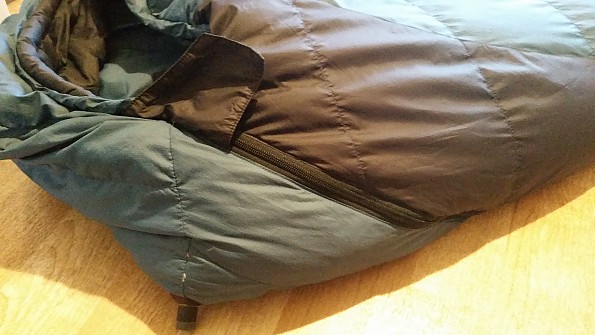 Features: I was initially worried that the bag would lose heat where the integrated pad and the down top meet. The down is actually staggered and extends below where the pad and top meet. The bag does not lose heat from the sides. The bag also has a small slit on the bottom sleeve where you can insert your hand to help pull the pad through.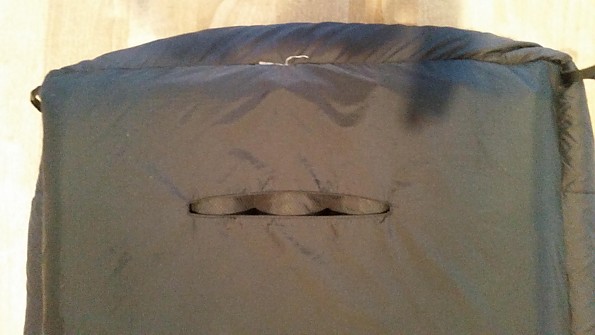 Conditions: I picked the bag up late fall and have been using it for about 6 months now. Things have held up well. I've used the bag in the Utah desert, Utah high country in a bivy, on a couch in Colorado, in the Badlands in the back of a truck, and on several outings in MN with snow on and off of the ground in tents. All trips were between late fall and early spring.
The most challenging sleep in this bag was in the desert. I was sweating when I went to bed and had to unzip the side all of the way down. I woke up in the middle of the night freezing. I don't know how you western folk deal with your sleeping bags in those extreme changes between night and day. 
Source: bought it used
Price Paid: $80 for the bag and pad together

This is indeed a 15° sleeping bag when used with an appropriate R-Value pad.
Pros
Roomy enough for all sleeping positions
Warm when used with the right R-Value pad
Packs small
Cons
Bellow effect when you move your legs can pull in cold air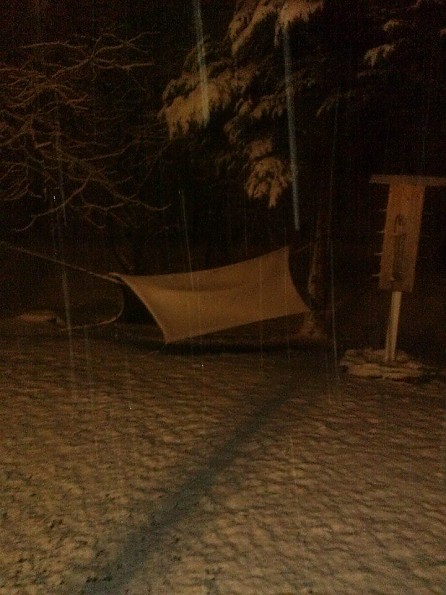 I have read a lot of very favorable and very negative reviews on the Big Agnes Lost Ranger with very little in-between. I found it odd that a piece of equipment would be judged at such extremes, so I decided to pick one up and see what all the hype was about.
To try and remove the heavy bias that this item seems to draw, I set up this little experiment to see just how this bag worked. Because sleeping comfort is such a personal thing, I will try and provide as much information here as possible so that you can make your own informed decision.
I used the Lost Ranger sleeping bag on a day that met the lower limit of the bag's recommended temperature and a high R-value sleeping mat (R-Value 8) as per the manufacturer's recommendation. To insure I wasn't gaining heat from an enclosed space, I used a hammock to perform the test in. I also wore a medium weight base layer and socks to provide a good surface to measure temperature that was not skin. The hammock was open and the sleeping bag top was fully exposed.
Weather Report: Temp: 20° F Precipitation: 10% Wind: 0-5 mph Humidity 71% Conditions: Cloudy with light snow
Equipment:
Big Agnes Lost Ranger 15 Degree sleeping bag

Exped Downmat 9 Sleeping Pad: R-Value: 8
REI Medium weight base layer
ENO hammock
Test conditions: Inside "Body" temperatures taken from three locations (center of chest, center of body and center of left thigh) using an infrared thermometer and then averaged. Inside "Foot" readings were taken from the top of the arch of each foot and averaged. Outside body and foot readings were taken from the same approximate locations on top of the bag.
Temperatures at start of test:
Temperatures at 1 min:
Outside of sleeping bag, body 22° F

Outside of sleeping bag, foot 17° F

Inside of sleeping bag, body 70° F

Inside of sleeping bag, foot 54° F

Base layer liner 75° F
Temperatures at 10 min:
Outside of sleeping bag, body 24° F

Outside of sleeping bag, foot 17° F

Inside of sleeping bag, body 77° F

Inside of sleeping bag, foot 65° F

Base layer liner 80° F
Temperatures at 20 min:
Outside of sleeping bag, body 25° F

Outside of sleeping bag, foot 17° F

Inside of sleeping bag, body 78° F

Inside of sleeping bag, foot 70° F

Base layer liner 86° F
Summary: As you can see from the numbers, the sleeping bag and pad were working at their designed levels and keeping me comfortable with a base layer temperature of over 80° F after 10 minutes.
I did note two things that may be giving the Lost Ranger some of its bag reputation. 1) It did seem to take longer for the Lost Ranger to warm up as compared to mummy bags. I'm guessing that this is because of the extra air volume that comes with the boxy cut.
2) The foot area does tend to run a little colder, but not remarkably more than any other sleeping bag I have used. So, in closing, I would like to say that this is indeed a 15° sleeping bag when used with an appropriate R-Value pad and proper base layers.
Some items that I would like to note: Like most Big Agnes sleeping bags, there is ample room in there to move around, which is also ample room to lose you heat! After the 20-minute test was over, I tried laying in some different sleeping positions to take advantage of the roomy bag and I noticed that every time I lifted/moved my legs, I would pull cold air in like a bellow. With that said, this might not be a good system for you if you are a restless sleeper.
Also, I noticed that the neck baffle doesn't work as well if you are laying on your side. Another note for my fellow hammock campers. Like all down bags, they lose their warmth if the air is compressed out of them. I found that the standard 20 inch wide pad that the Lost Ranger uses will hold the skin of a hammock away from the legs and hips, but it will not for the upper arms and shoulders. Be prepared for this if you're going into low temperatures in a hammock!
While this test/review isn't comprehensive, I did apply somewhat of a scientific approach and tried to give you something better than "this is great" or "this sucks".
Stay Warm,
JR
UPDATE: The next day's weather provided me with an opportunity to take this bag below the recommended temperature, and since I already had everything out from the last test, I decided to give it a run. This was a last minute decision and I was working within the confines of my wife's good graces, so there isn't as much data available :) I used the same set up as last time only I didn't bother with the hammock, just a tarp on the ground to keep me from direct contact with the snow. I let the bag sit outside for 10 minutes to let it get down to the ambient temperature.
Weather Report:
Temp: 12° F ("Real Feel" Temp -5° F)
Precipitation: 20%
Wind: 10-15 mph
Humidity 44%
Conditions: Night, light snow with gusty wind
Ground temperature: 3° F
Temperatures at 10 min:
Outside of sleeping bag, body 21° F
Outside of sleeping bag, foot 9° F
Base layer liner, Body 85° F
Base layer liner, Foot 77° F
Note: Initially getting into the bag was shockingly cold and I did shiver a little while the bag warmed. This may account for the relatively high base layer temps.  
Temperatures at 20 min:
Outside of sleeping bag, body 22° F
Outside of sleeping bag, foot 7° F
Base layer liner, Body 78° F
Base layer liner, Foot 72° F
Note: After 20 min's, I believe that I had "cooled" to a resting temp that would be close to sleeping temps.
Summary: Taking this bag below the recommended temperatures did leave me "feeling" cooler and put me just outside of my comfort zone. This made me mindful of every little action that could draw in cold air and forced me to assume the mummy position to maintain a good seal on the neck baffle (which was critical! More on that later).
In the end, the numbers show us that my base layer temp were on par with the 15° F test (above) and although I feel that my body was working harder to maintain these temps, I was barely outside of the comfort zone, but well within the safety zone.
Notes: Do not hide inside the bag if your face gets cold!!! Yes, there is plenty of room to do this, and it may seem like a good idea, but you lose all of you heat very quickly if you do it!  To take my temperatures and notes, I tried to slide down into the bag, leaving the face opening exposed. This was a big mistake as I could feel the cold air flowing into the bag through the hole.
On that note, the bag has a very wide face opening. Insure that you tighten the pullcord appropriately and put the neck baffle in place. The neck baffle is absolutely critical when you head down into the lower temps! This may force you to sleep on your back to get a good seal. Also the attached pad/bag combo creates something of a bellow effect that you need to be mindful of. Every time you move, you will pull cold air into the bag and push warm air out.  
Recommendations: If you are headed out in the extreme range of this bag, take a good neck gator/Buff and a sleeping bag liner with you. These will help with the cold air that comes in with movement.
JR
Source: bought it new
Price Paid: $199 on Sale

If you are like me, a bigger guy, who likes to sleep on his side, yet stay warm and be comfy all night, then you will love the Big Agnes Lost Ranger 15. I have gone through a few sleeping bags in my life. Before backpacking I was drawn to square bags because I had a lot more room to move around, I wasn't worried about bulk since I wasn't lugging it along the trail and warmth never seemed to be an issue. But things changed once I discovered backpacking.
Pros
Warmth
Packable
Very light for its size.
Cons
There are lighter bags this size
Occasional zipper snag
When I started backpacking I read that I needed a mummy sleeping bag, a pack, a pad, and a tent. Those were the main 4 things I needed for a night in the back country. From there I didn't do much research and bought things mainly based on what I could afford. 
I ended up with some off brand sleeping bag from eBay, which did the job, but could have been better. The best thing it did for me however was open my eyes about sleeping bags and what I really needed and wanted.  In the end I wish I did more research so I didn't buy that first bag.  But hey, at least I have extras for my friends who want to come along.
One of the first things I was looking for in a new bag was more space. While many have more width around the shoulders not many are as wide as the Big Agnes modified mummy shape. In short it is a more squared off mummy bag which gives you more room in the foot box and shoulder area. This was great as I could now roll around a lot more in my sleeping bag and was a lot more comfortable at night. I am 5'11" and went for the regular sized bag and it was the perfect size. If you are in the 6' range, go for the long. 
Another factor in choosing this sleeping bag was weight. While it isn't the lightest sleeping bag at 2lbs 14oz, it wasn't too bad considering the extra room. Big Agnes does that by adding a sleeve pad on the bottom side of the bag in place of the filling. When in your bag laying on your pad, you are squishing all the filling so it doesn't loft up and keep you warm anyway. Instead you rely on your insulated mattress pad to keep your backside warm.  A nice little bonus is you don't slip off your pad at night. This bag is also 650 fill goose down, which is lighter than synthetic fill. 
Keeping me warm at night was also of utmost importance. The bag itself is rated to 15 degrees. But as many people will tell you add about 10 degrees to that if you are a guy and 15 to 20 if you are a woman as the lowest temperature you would expect to be warm at in this bag. So in this case I figured the bag would keep me warm down to 25 degrees. Again, this is with an insulated mattress pad. 
I have taken this down to the mid 20's and have been plenty warm in it. I don't think I would test it in much colder weather though. Another thing to think about, this bag is bigger inside which means there is more space to for your body to keep warm and an greater chance for cold spots. For me this hasn't been an issue, however after doing some research, it has been an issue for some. 
There are other features on the bag I like too. The zipper is a nice burly zipper YKK #8 zipper which doesn't get caught often. I have had issues with the zipper catching, but not as many as other sleeping bags I have had. There is a draft collar to keep cold air from blowing down your bag from the hood. It has a pillow pocket in the hood so it won't slip out of your bag. A draft tube along the zipper keeps cold air from coming in between the teeth of the zipper. It also comes with both a stuff sack and a big cotton storage sack for when it isn't in use.   
If you are wondering, this bag does have its weak points.  The cons about this bag are, for the price you can find a lighter bag, but not with as much room. The zipper still snags even though it is a nice YKK zipper. The stuff sack is a basic sack with a toggle and draw cord. So if you are looking to really cinch down your bag, you will have to buy a different stuff sack.  ou can only use square sleeping pad for the sleeve in the bag, so you can't cut more weight using a mummy shape pad. 
With all that said, I still think this is a great bag for the money and if I was in the market for another bag, this would be at the top of my list. Big Agnes did come out with another bag that piques my interest though, the Mystic SL.  The SL is for super light and they achieve this by using 850 power fill goose down which drops the weight of the bag 10oz to a scant 2lbs 4 oz, while retaining the same shape and extra space I have grown to love from the Lost Ranger. But costing $160 more, I think I am okay with the extra 10 oz. 
Of course on the other end of the spectrum is the Encampment 15. Same dimensions as the Lost Ranger and Mystic, but with synthetic fill.  This bag weighs in at 3lbs 4oz but is $80 less. Might be an option for those on a budget, or for those who have a chance of getting wet since down doesn't keep you warm when wet, but synthetic does. 
Either way you go what I have stated above, along with Big Agnes quality I am sure you will enjoy any of those bags.
Source: bought it new
Price Paid: $159

Great bag and a great price, but not a 15 degree bag for us! (Roxy Ann included)
Pros
Lightweight
Low cost
Integrated pad
Cons
Not as warm as rating
Must use integrated pad
Temperature ratings are very personal and depend a lot on how much a heat a person produces and puts off generally; also what state of rest a person is in when they use the sleeping bag, and how much they've had to eat can play a role in sleeping comfort when you are required to make your own heat.
I have used this bag and its accomplice the Roxy Ann (my gf has) for over two years and probably 50+ nights (100 nights cumulatively). I sleep warm, she is very cold. If temps are below freezing, she is almost always throwing a warm water bottle by her feet when she goes to sleep or she is miserable. I am comfortable down to the high to mid 20s. But then, I too become cold. Take it with a grain of salt, but I think 15 degree is a stretch.
Durability has been no concern with neither bag failing or having an issue. Zipper catches the material, but has since day 1. Sometimes we zip them together, another plus, but only when the weather is warmer, as they lose a lot of heat out of the top. Together things are roomy, and you can really stretch out. 
Lightweight for the $. 
Experience
Have used the Lost Ranger and the Roxy Ann for approximately 100+ nights.
Source: bought it new
Price Paid: ~$250

I bought this bag because I'd always wanted a down bag and was intrigued by the Big Agnes sleeping pad system. Spent five nights in it where the temps got into the upper 20s lower 30s. I know temperature ratings are not a precise science, however, I would rate this bag more as a 30-35 degree and up bag. I did get cold even with long johns, poly pro layer, and a wool cap.
I did like the roominess and that I wasn't "Mummified" into the bag. I'm a side sleeper and didn't really have any problems rolling and turning. The drawcords on the hood were a bit uncomfortable on my face when snugged up tight. The integrated pad worked nice. I never slid off once. Very comfortable on the ground to lay on.
My biggest gripe is I've had the zipper snag about once a use. I've tried to be careful with the zip. Overall a decent bag. If down bags weren't so expensive I'd like to buy/try some others to compare.
Design: semi-mummy
Fill: 650 down
Temperature Rating: 15 degrees F (I'd rate it more like 30 degrees F)
Weight: 3 lbs and change
Price Paid: $209

This sleeping bag is light and versatile. It is useful in warm to cold weather.
Pros
Light
Very compactable
Warm
Cons
Needs sleeping pad/air mattress due to integrated system
This bag has performed well over the last year. I am a Scout leader and use it every month. During the hot summer months I sleep mostly on top of it.
Recently I took it on a week long trek in the mountains. With the DownTek down in it, it stayed warm when ground moisture got one side of it wet. The bag dried quickly draped on top of the tent. It is very compressible making more space for things like food in the pack.
The neck baffles do a great job of eliminating drafts, while the hood cinches down comfortably to keep the head warm. I got the long to make sure I had enough space. I am 6ft.
I have never had a cold night in this bag even in the camping in 10 degree winter. I have paired it with the BA Insulated Air Core air mattress. The integrated pocket for the sleeping pad keeps me from sliding off the pad when sleeping on a slope. It also keeps me on the pad as I roll, as I am both a back and side sleeper. The zipper does catch the inner baffle some if I don't keep a finger along there to keep it clear.
It is in the $250 range and worth it. I have recommended it other scouters looking for a light and warm bag. 
Source: bought it new
Price Paid: $180 on sale

This bag has down on top only with a sleeve beneath for pad. Never roll off again and lighter weight. Quality construction.
Pros
Quality construction
Good zipper
Light weight
Sleeve for pad
We own two Lost Ranger bags that zip together. Have owned several other bags but none compare.
Source: bought it new

Excellent 4-season bag that lives up to its ratings.
Pros
Lightweight
Very packable
Pad doesn't slip out
Great for tossing and turning
Works with my NeoAir
Cons
Zipper sometimes snags on wind baffle
I have been backpacking 10,000'+ over 45 years in the California High Sierras with the last 30 in down mummy bags. This is the first packable bag that I have found to be warm while allowing me to toss and turn without slipping off of the pad.
Coupled with my NeoAir (which is lighter than my BA pad), I am sleeping more comfortably than ever. I just leave the NeoAir in the bag and compress it all. So far it has worked very well. I have been warm when sleeping with temps in the teens; I use a 3lb 7oz Big Agnes tent which helps a lot.
I especially like the pillow pocket where I can stuff my soft things to use as a pillow without it getting away from me in the night as with other bags. The hood is great — just limits my tossing a bit.
Because of the large top, entry and exit are very easy and I can easily roll over.
I have used this bag for twelve week-long 10,000'+ trips, having purchased it used on EBay for $130 three years ago.
Source: bought it used
Price Paid: $130

Let me start by saying, Big Agnes makes some seriously tough products. I bought this bag three years ago now and have used it every chance I've had since purchase.
The bag itself is of unique (to BA) design. There is not down fill in the "back" portion of the bag. Rather, there is a pocket for an air pad of your choice (does not have to be a mattress from BA. ie; Thermarest, etc). This makes for a lighter packweight on those long, rigorous trails or thru-hikes. In that aspect, its a benefit, when it comes to keeping warm true to its rating, it can become its downfall.
I tried Thermarest, BA air mattress, and a few others, but none seemed to fully fill the mattress pocket to keep cold air out UNTIL I got my BA Insul Core mattress. Finally, the bag not only keeps me warm in its intended 20F but even kept me warm (with no additional liner) at a very cold 8F!! It's great! To anyone buying this bag, keep in mind it is down, so moisture can be an issue.
The bag's skin is water repellent but that doesn't mean water can't seep through and soak you. With proper mattress, freezing cold is no issue. And because of the design, you save weight. On warm summer nights you can ditch the pad altogether! 
All in all, this was a great purchase. Very much worth the money. Hope this helps you with your purchase.
Design: Mummy, Long
Fill: 650 fd
Temperature Rating: 20F
Weight: Manf 3lb2oz, Act. 2lb 14oz
Price Paid: $139

Bought this bag from Lees Adventure Sports in Kalamazoo. Used it in the fall and winter in Manisttee, Michigan; very warm bag on cold nights slept with a fleece liner. Also invested in the BA insulated sleeping pad.
I'm a big guy, 6'3 and I had plenty of room to roll around in. Very impressed with the quality.
Price Paid: $200

When discussing down sleeping bags, it's always worthy to mention that each of us sleeps at different temperatures. I sleep hot and always have. Others sleep cooler and require more insulation.
For me, this bag rocks. I extend its season easily using a military gore-tex bivy cover I got on Ebay for $25. The bivy easily adds another 10 to 15 degrees and I've slept comfortably in my bag to just above zero.
It's also important to note that a significant amount of heat loss occurs through your head, face and neck at night in the cold. The bag works to correct this with neck baffles, but you should always consider adding a balaclava or stocking cap when sleeping in immediate cold. I also add a layer of polypropylene in extremely cold weather because with the Gore-Tex bivy, you need all the help you can get to wick moisture away. Nowadays, learn to sleep smart and include this bag or one like it in your plans.
Everything the marketing says about this bag is true - you can turn over easily in it and it is fairly wide for big chested men. I would have included a gear pocket for things like lip protection and eye glasses but overall, I really like what Big Agnes has done!
Design: Rectangular
Fill: 650
Temperature Rating: +5
Price Paid: $100 on Ebay inc shipping!

I am using a Lost Ranger 15 on my hike of the PCT and when used in tandem with my Big Agnes sleeping pad I have found it to be very comfortable and it seems to live up to its 15 degree rating. It's lightweight and compresses nicely into my Granite Gear stuff sack.
Pros
Packability and weight are great.
I like the color.
The price was right.
Cons
I do have problems with the zipper.
I'm not impressed with the neck baffels
I am using a Lost Ranger 15 on my hike of the Pacific Crest Trail. I was told I should have at least a 20 degree sleeping bag, but I settled on the Lost Ranger because of weight and the cost. I find it to be roomy and not confining and I like the way it packs into the stuff sack.
Source: bought it new
Price Paid: I bought it on sale for $181.97

This bad boy does it all for me. Roomiest 'mummy' type bag I've ever experienced!
Pros
Warm...down to 10 degrees without liner
Comfortable...has room for your feet!
Built-in sleeve for the pad
Big across the shoulders for a 6'l/200 pound dude
Cons
Left hand zipper on this one? But hey...
Great sleeping bag. Your pad fits into a sleeve on the 'bottom' of the bag so you can't roll off of it in the middle of the night. Super comfortable! If it gets cold there's a hood that you can crank down on your noggin.
Like I said, I've had it out in 10 degrees/on snow...don't know if it's rated that low...and that was without a liner...with the liner I wouldn't hesitate to give 0 a try...but that's me.
I've got llamas carrying my gear, so this one might be a bit heavy...but I recommend it without hesitation. Don't know why I'd ever buy another bag!
Source: bought it new
Price Paid: don't remember...old person's memory syndrome

Very comfortable sleeping bag. I like not rolling off the pad.

I used it in the Adirondacks on a cold Columbus Day weekend (temps in the low 20's) along with a lightweight down sleeping bag liner from Western Mountaineering. I tend to sleep pretty warm, and with the liner I slept very (but not overly) warm; bottom line, even for a warm sleeper like me, I am not sure about the 15 degree rating...

One thing to note about the Big Agnes system: I was using the bag in a lean-to. Because the pad slips right into a sleeve on the bottom of the bag, it was a bit more of a pain the butt to roll it up in the morning, so I didn't. That turned out to be a little unfortunate when the snow blew straight sideways into the lean-to -- I came back to find a fair amount of snow on the bag.

Moral of the story -- be less lazy than I was, or throw the bag/pad combo in the back of a lean-to along the rear wall.
Design: semi-mummy
Fill: 650 down
Temperature Rating: putatively 15 degrees F

I got this bag last week and used it for the first time this weekend. Everything I read about the bag is true:
- Big Agnes makes the most comfortable bags on the planet. The sleeping pad sleeve (coupled with the Insulated Air Core pad) changes camping for me. I've never slept better while camping.
- The small pillow sleeve is genius. I stuffed my fleece in there and had a perfect pillow, that didn't keep falling out of my bag.
- The bag is definitely not a 15 degree bag. As others have mentioned, add 15 degrees to Big Agnes ratings. This is a 30 degree bag (which I'm fine with, because I'm not a winter camper). It got into the mid 40's on my trip and I was actually a little warm in the bag (had to unzip it).
- I love that I can stuff the sleeping bag and pad together into the sleeping bag bag. Works great. Packs tight.
Fill: 600 fill down
Temperature Rating: 15 degrees (but really a 30 degree bag)
Weight: 3 lbs
Price Paid: $117

This has become my new favorite bag. I have a few down bags and they are the only type I use for backpacking, but this one truly stands out. The concept of the pad sliding into the bottom of the bag is not only a great idea, but very functional. Several reviews said it is like sleeping in your own bed. While that is a slight overstatement, it is close to the truth. This bag is not only comfortable, but roomy. I bought two, so could zip together with my wife. Works great.
I did buy the 15 degree pad and was impressed with the comfort. It did take a little effort to blow up, but the plus side is a thicker pad that you can truly lay comfortably on your side. I am really surprised that more sleeping bags do not come with this type of an option. No more sliding off the slick pads... Worth every penny!
Design: Rectangular
Fill: 650 fill down
Temperature Rating: 15 degree
Price Paid: $199

Plan to take it on the AT in the spring.For use in spring and fall. I DO recommend this product.
Pros
Fairly lightweight
Very comfortable
Compacts well
Treated down
Sleeping pad slides in the bottom
I'm 6'2" and 215# and purchased the Long bag.
I have slept in the bag just below freezing. Stayed toasty and warm wearing long underwear.
It's packable and easy to get in and out of. I move around a lot...no problem.
Love the Air Pad in the bottom sleeve as it keeps me and the bag on the pad and off the ground.  
Source: bought it new
Price Paid: Under $200 on sale at REI

I am shorter than six foot tall but have very broad shoulders, so the room this bag provides is perfect for me. However, it wasn't perfect for staying warm on a night that approached the temp. rating. I would say this is a 30 degree bag, and I sleep warm. Bottom line, a great bag but add 15 degrees to temp rating.
Design: semi-rectangular
Fill: 650 fill down
Temperature Rating: 15 degrees farenheight
Weight: 14 oz
Price Paid: $200

Excellent, light, warm, but when coupled with the Big Agnes Air Core sleeping pad, my toes end up getting a bit crunched (could surely use some extra room down there).
Price Paid: $150-ish?

I recently overnighted in an AT shelter using this bag and insulated Big Agnes inflatable pad. The shelter floor was wood planking and I used a nylon bag cover to protect the sleeping bag from dirt, etc. The temp got down to 28 degrees F ( according to my small thermometer)and I froze in that bag!
I was pleased in the roominess but what is that worth if you are freezing!!? I even got up in the middle of the night and put my silk bag liner in but to no avail. The pad was also very cold to the touch.
This bag is rated by Big Agnes at 15 degrees--maybe they mean centigrade and not farenheit! I would not recommend this bag to anyone who plans on doing any cold weather camping.
Price Paid: $160

Your Review
Where to Buy
Help support this site by making your next gear purchase through one of the links above. Click a link, buy what you need, and the seller will contribute a portion of the purchase price to support Trailspace's independent gear reviews.
You May Like
Specs
regular
long
Price
MSRP: $259.95
Historic Range: $111.73-$379.95
Reviewers Paid: $80.00-$250.00

Weight
2 lb 14 oz / 1300 g
3 lb 4 oz / 1500 g
Fill weight
14.5 oz / 411 g
1 lb 1.5 oz / 496 g
Temperature rating
15 F / -9.4 C

Fill
650 fill down

Shape
rectangular

Max user height
5 ft 10 in / 180 cm
6 ft 6 in / 200 cm
Shoulder girth
70 in / 180 cm
73 in / 190 cm
Hip girth
66 in / 170 cm
69 in / 180 cm
Foot girth
54 in / 140 cm
55 in / 140 cm