Marmot Strato Pillow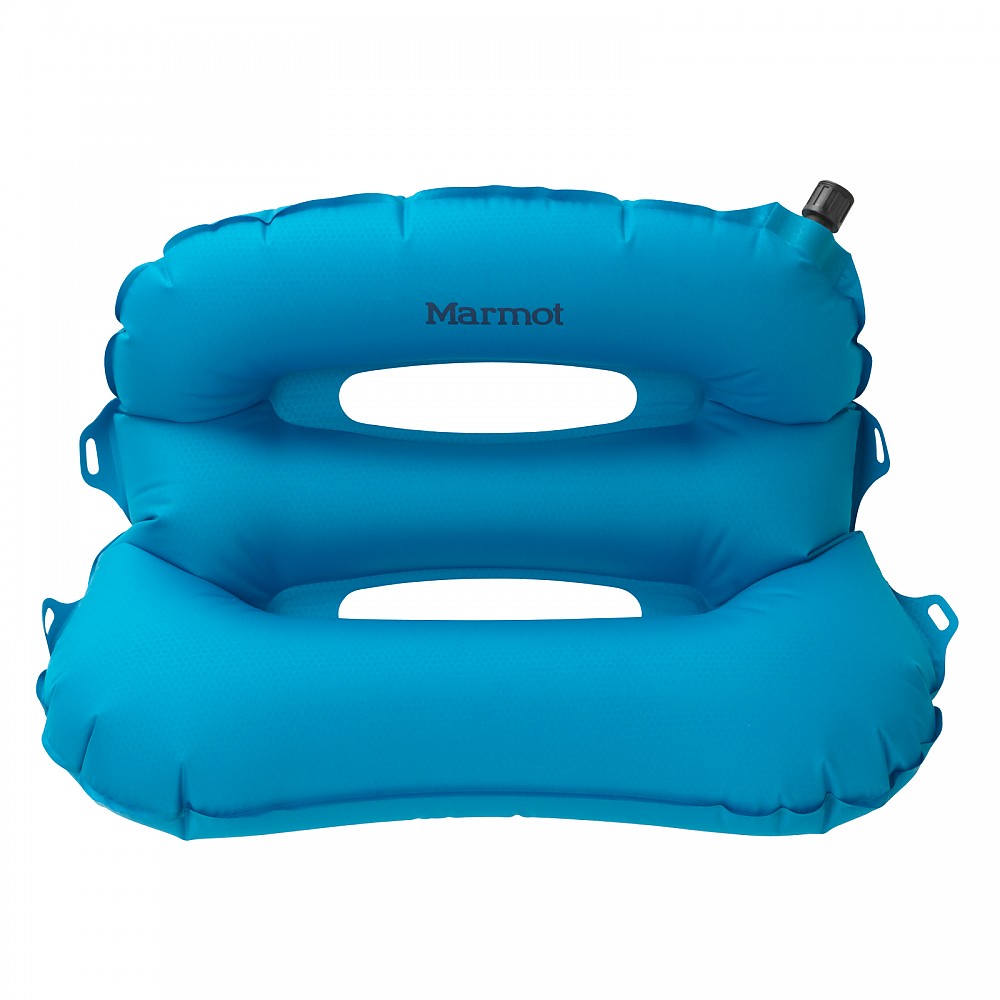 The Marmot Strato Pillow strikes a good balance between minimalism, comfort, and versatility.
Pros
One of the lightest inflatable pillows at 1.4 oz
Works well when combined with a stuff sack and extra clothes but can also stand alone
Durable
Cons
A very minimalist pillow
Not made with the most plush surface material
Relatively expensive
Background: I've used a variety of inflatable pillows over the years, as well as pillows fashioned out of excess gear (the stuff-sack pillow method). While such an ultralight solution can suffice for a few nights, a long-distance trail of hundreds to thousands of miles requires days and months of restorative sleep. 
My backpacking style focuses on lightweight, minimal gear with a priority given to some comforts. As such, I enjoy having a full length inflatable air mattress and a dedicated pillow...worth the weight and space to routinely get the rest I need. I also tend to carry so few extra clothes that on cold nights, I'm wearing everything that could otherwise be made into a pillow.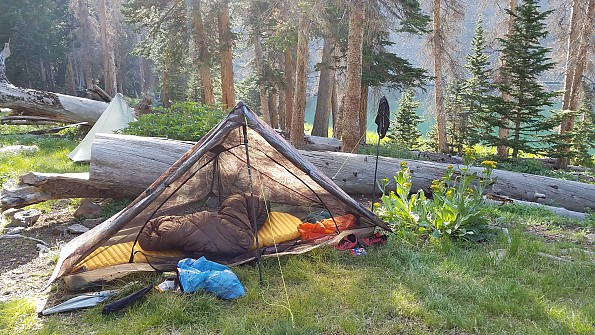 I used to thru-hike with a (relatively) heavy inflatable, the Klymit X large pillow. It's very comfortable but a bit overkill. I also have a Trekology Aluft 1 and a Klymit X (smaller version of the large). I started with an Exped pillow, which was one of the first inflatables to incorporate baffles but was subject to "blowing out" when the glue holding the baffle gave way. Fortunately, this hasn't been an issue for any of my newer inflatables.
Attracted by the minimal weight, I decided to try the Marmot Strato on a whim and it's worked out very well.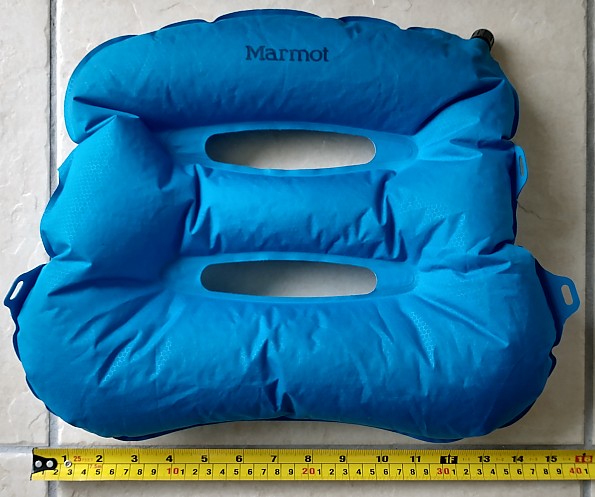 Features: The Marmot Strato Pillow tackles baffle design with a different approach. Its unique cut-outs serve to give it shape/definition, reduce weight, and aren't subject to coming undone easily, as the edges are permanently welded. The pillow measures about 14x12x2"  when inflated and compresses into a small package...much smaller than a baseball. It comes with a stuff sack, which I never use and therefore didn't picture. It does not come with a patch kit but I haven't yet needed one.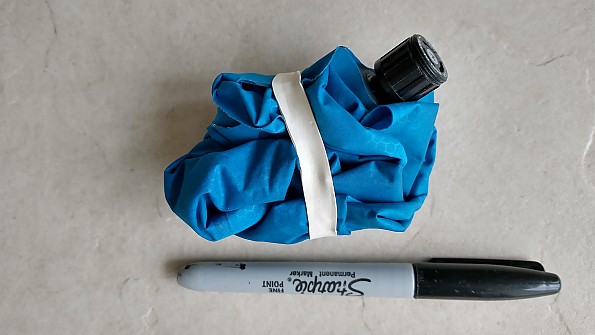 The sides of the pillow include 4 tie-out points for attaching to a pad or pack. I haven't used these but it's nice to have the option. My preferred technique is to place my empty pack and whatever other soft items I'm not wearing/using at the head of my mattress, stacking the pillow on top this pile. Often I stick the pillow inside my down puffy in order to improve the comfort/snuggle-factor against my face. I much prefer the texture and feel of the supple Klymit X Large pillow material to the Strato's stiffer nylon but it's not the worst. A merino buff makes for a really nice liner, as well.
I've experimented with just about every variation/combination of pillow, extra clothing and my Exped stuff sack for a plush place to lay my head. I've found a number of combinations that work, resulting in a pretty thick pillow. But at the end of a long day, when it's cold and I'm wearing just about everything I'm carrying to bed, it's good to know that having just the pillow under my head and nothing else will still lead to some good zzzz's. This pillow serves as a crucial building-block to my sleep system.
I really like that the Strato pillow weighs half that of most inflatable pillows (1.4 oz), owing to its "missing" pieces. I had my doubts that such a minimalist pillow with holes could work.  I tried a similarly designed sleeping mattress (the Klymit Inertia X Frame) which did not suit me, since I predominately sleep on my sides. But surprisingly, my head doesn't bottom out or sink through the holes of this pillow at all. In fact, the unique shape creates a cradling effect, causing the pillow to bend comfortably around my head. It can be flipped on either end, allowing for a versatile fit since one end is thicker than the other. I've slept on it just about every way...it just depends how I'm feeling on any given night and the conditions of my pitch.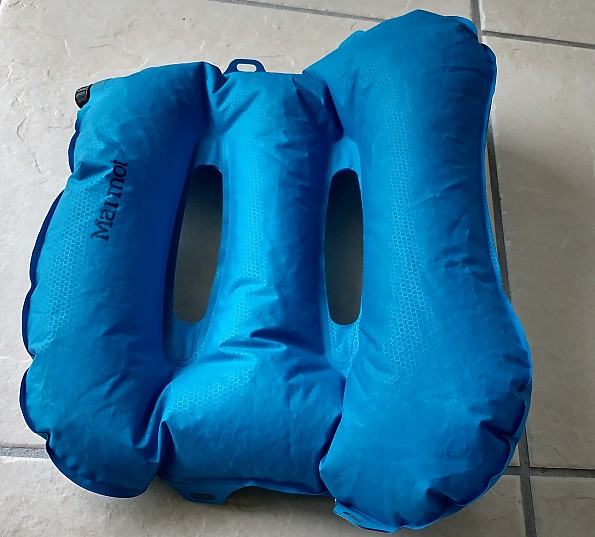 Ease of Use: The Strato pillow can be fully inflated by just 2 breaths, so it takes almost no time or effort whatsoever. The 1/4 twist-n-pull/push valve can be a little finicky and is probably my least favorite feature. It's still fully functional after a lot of use and has never leaked, so I can't knock it too hard. It just feels a little difficult to release sometimes, especially when my hands are cold. Once in the open position, it's easy to pass air in and out. Deflation is as simple as inflation. Air doesn't get trapped by the baffles like it does in other pillow designs.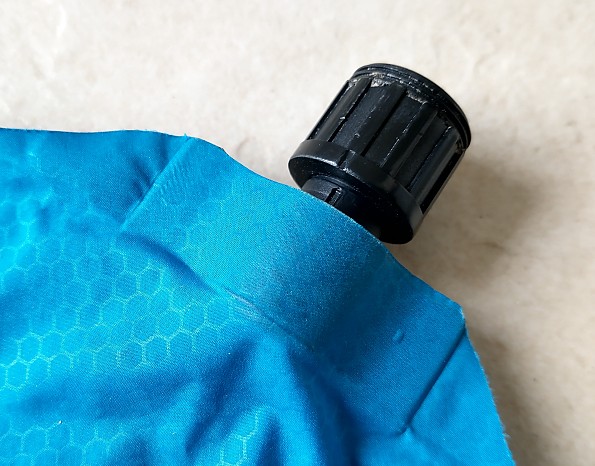 Construction & Durability: I began using this pillow about a month into the Continental Divide Trail and have since had it along with me on the Arizona Trail, Long Trail, and Grand Enchantment Trail. It's survived several years and well over 4000 miles of use with no leaks. I'd say that's pretty darned solid for an inflatable pillow. I didn't even realize how much use it had seen until I crunched the numbers for this review. The miles add up quickly from thru-hiking, so I guess it still seems "new" to me for this reason.
I should mention that I don't ever sit on my pillow or use it outside my tent (for example: sitting up against a tree at camp). For these purposes, I use a foam sit pad (Therm-a-Rest Z-Seat), which doubles as my pack's frame, a wind screen, and extra insulation under my mattress on really cold nights.
I periodically wash the pillow with detergent/hand soap/shampoo and leave the valve open to air-out. It permanently smells like the outdoors/campfire but is otherwise perfectly serviceable. It's set to travel down the AT with me next.
Conclusion: While The Strato pillow seems like a piece of gear that probably won't work for everyone, I think it's worth a try. It's a bit pricier than some inflatable pillows but only in the order of $10-$15. Find it on sale and enjoy a bit of ultralight comfort.
Update: While researching information for this review, I found the Strato pillow on sale through the Marmot website and decided to order a second. I just received it and was surprised to find that it came with an updated valve. I haven't had a chance to test it, but I do think this is an improvement, as it has a check-stop and a larger opening. No more twist valve, which could be finicky, as I noted above.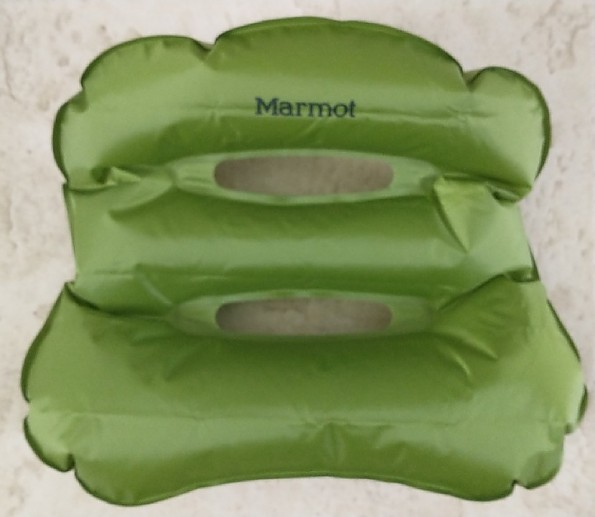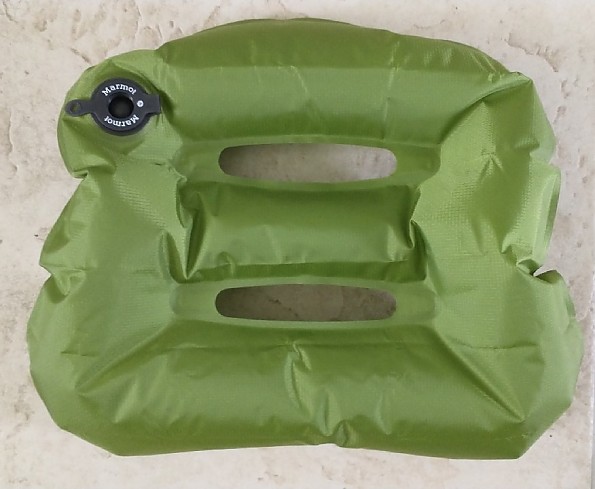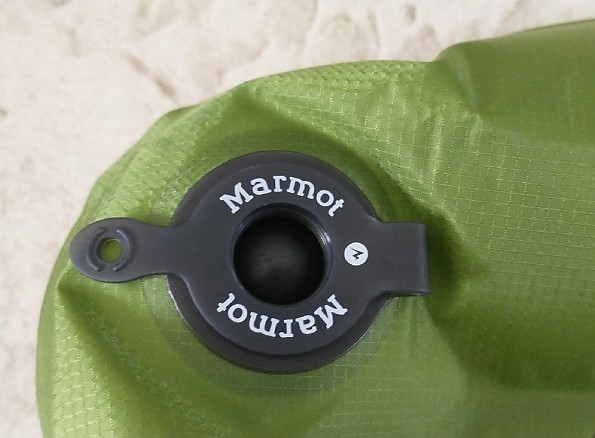 The color is green (I prefer the blue but no big deal) and the material feels more slippery and like ripstop nylon, than the previous version. I don't think I like this material as much but it's a pretty slight difference...we'll see how it does in the field. Also, the pad-attachment tie points have been eliminated from this newer version (I've never used them before). It weighs the same as the original. I'll take it on the AT to see how it stacks up to my original pillow.
Source: bought it new
Price Paid: $25

Your Review
Where to Buy
Help support this site by making your next gear purchase through one of the links above. Click a link, buy what you need, and the seller will contribute a portion of the purchase price to support Trailspace's independent gear reviews.
You May Like
Specs
Price
MSRP: $35.00
Historic Range: $17.95-$35.00
Reviewers Paid: $25.00

Product Weight
1.4 oz / 40 g

Main Fabric
30d 100% Polyester Ripstop

Packed Size
2 x 3.5 x 3.5 in / 5 x 9 x 9.5 cm

Recently on Trailspace