Therm-a-Rest Down Pillow

Top 25 in Pillows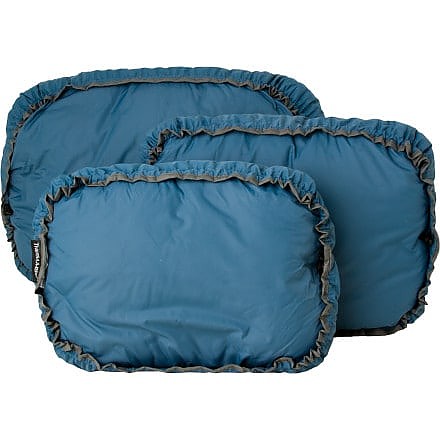 With a Goldilocks [and the Three Bears] mindset, I found that Therm-a-Rest's Compressible Foam Pillow was too much loft for me.

I bought their down pillow, and — by itself — it doesn't have enough loft for me.

However, by either folding the pillow in half (and doubling it up on itself) or stuffing the cinch-able back side with clothing, I find this adjustable pillow to be the best one for me.

Or, as Goldilocks would say herself, "Just right!"
Pros
Highly packable and compressible
Drawcord cinch makes level of loft fully adjustable
Who can argue with a color like a sports car red?
Cons
VERY compressible, almost to a fault
Down by nature isn't ideal for wet/damp weather
Works best when stuffed with non-included clothing
Therm-a-Rest Down Pillow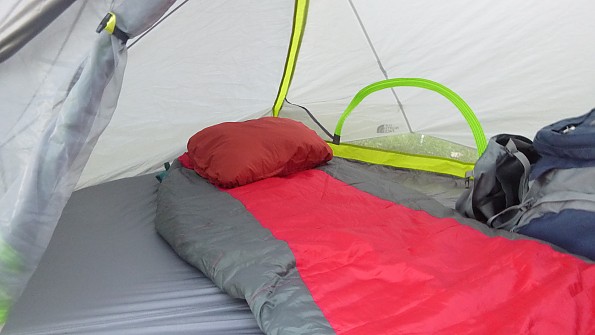 SIZE
Medium, 19" X 14"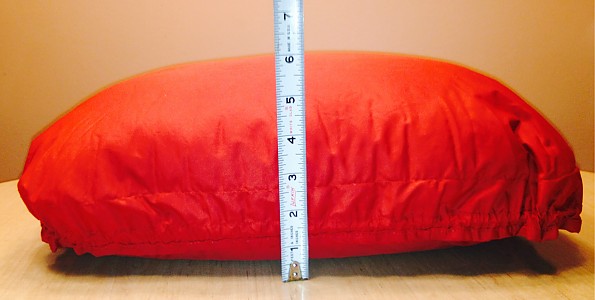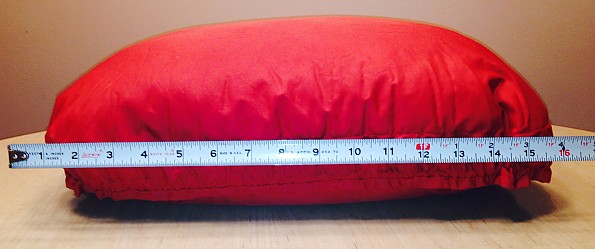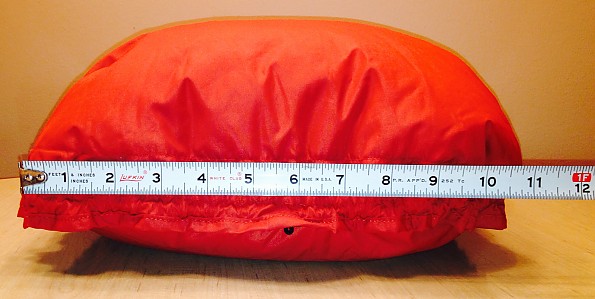 WEIGHT
5.6 oz
MATERIALS
Pillowcase: Polyester Microfiber
Fill: 650-Fill Goosedown
"Compressible" can be a pretty loose term.
Some folks think - so long as it fits in the pack - it's "compressible."
My first camping pillow was also a Therm-a-Rest, but it was made from the foam scraps they make their self-inflating sleeping pads from. It was too large, too heavy, and had too much loft - normally things you look for when shopping for a pillow, but in this case, all those things were hell on my pack and my neck.
Down, by nature, is lightweight and HIGHLY compressible. When I saw that T-a-R offered a down compressible pillow, I decided to pick one up if for no other reason than testing how "compressible" it was.
Down also isn't something you ever want to get caught in the rain. If you're making camp someplace wet or with a lot of moisture in the air, it probably isn't the best idea to bring this pillow along. You're gonna have a bad time. 
This pillow fits just fine in my pack. Now, because I want this pillow to last as long as it possibly can, it's usually one of the last things to go in my pack, and kept up at the very top. That said, it takes up a negligible amount of room when stored there: if I'm REALLY running short on space, I don't mind compressing it a bit more than I'm used to. Don't worry. Fluff it up once you reach camp, and it's back to its original form in a few minutes flat.
Now, there are four ways this pillow can be used.
OPEN/UNFOLDED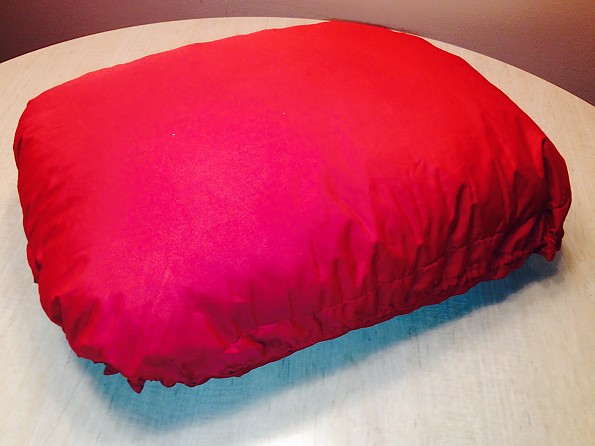 Alright. Wanted a grapefruit or some head-shaped melon, but the best my kitchen could do was a large jar of pasta sauce to simulate the weight a head would place on this.
With that said?
MANGIA!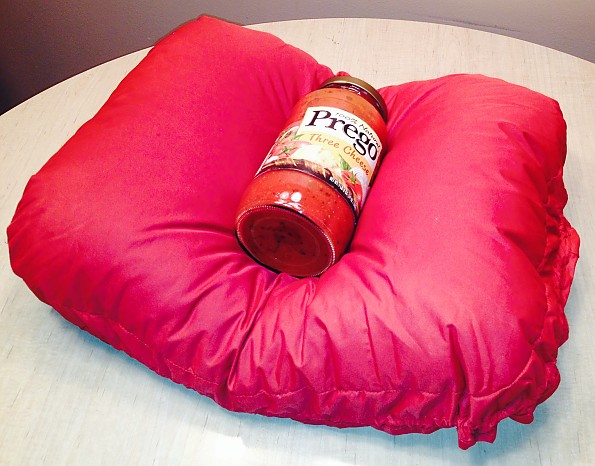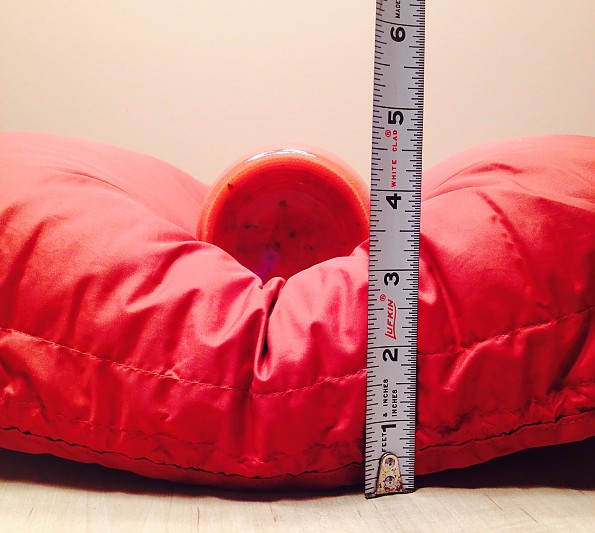 Pull the draw cord out completely, fluff the pillow, and allow a few minutes for the down to re-expand the pillow back to its full size. While this configuration allows the most surface area, it also offers the least amount of loft. Come to think of it, I don't think I've ever managed to spend a full night's sleep with the pillow in this "traditional" configuration. If you're using this pillow in a hammock (like I now do), the weight of your head will flatten it like a pancake. The same goes if you're using it on the ground in a tent (which I have), but the compressibility works against it especially when used in a hammock: your head pushes the pillow down while the hammock is pulling up against it.
OPEN/FOLDED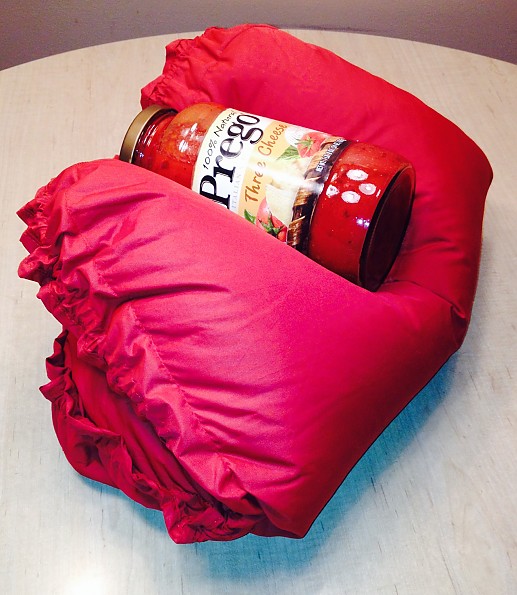 While decreasing the usable surface area by half, this doubles the amount of loft you receive from the pillow (without stuffing it). This also retains a traditional, rectangular pillow shape and keeps the fill relatively well distributed and evenly spread. While this level of loft works for me, as I've mentioned, it comes at the price of losing half of the surface area. 
CINCHED/UNSTUFFED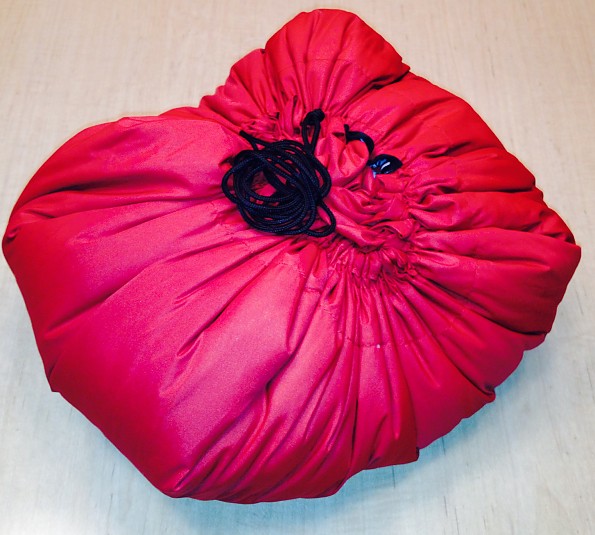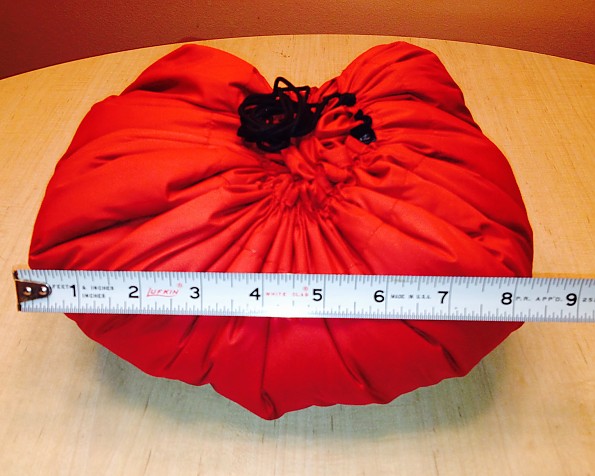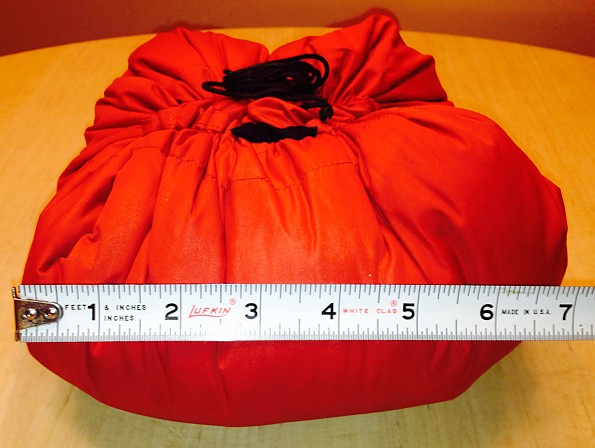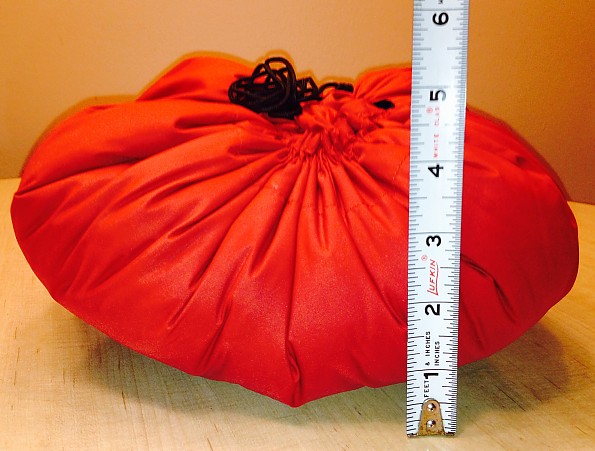 If origami and the general chore of folding things has never been for you, tighten the cinch on the pillow to gather it toward the center. While this does increase the loft, it forms the rectangular pillow into an unevenly-filled, rock-like lump, and I can't possibly imagine how comfortable it would be trying to sleep on it like this. 
CINCHED/STUFFED
The best possible way to use this pillow.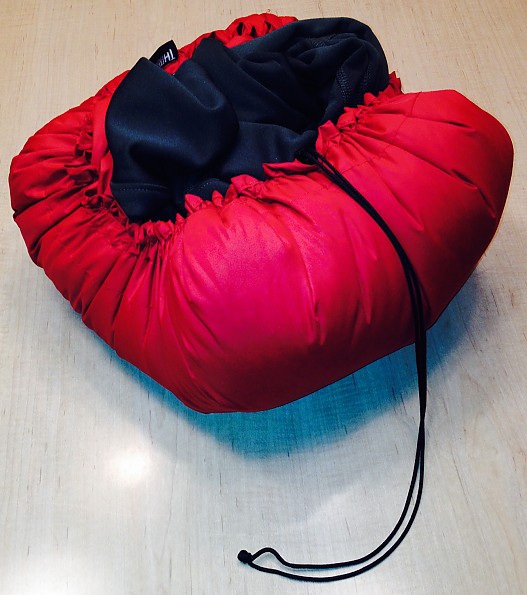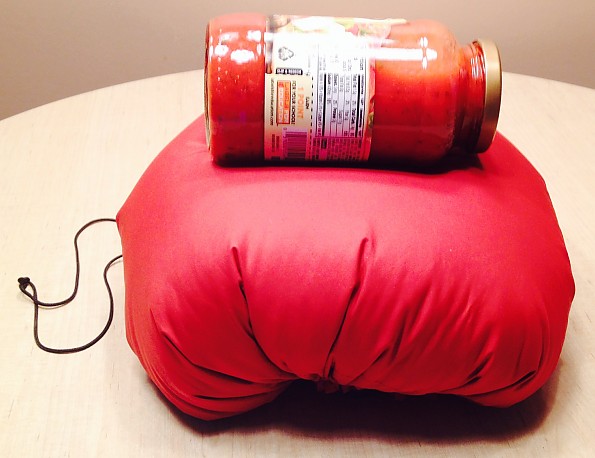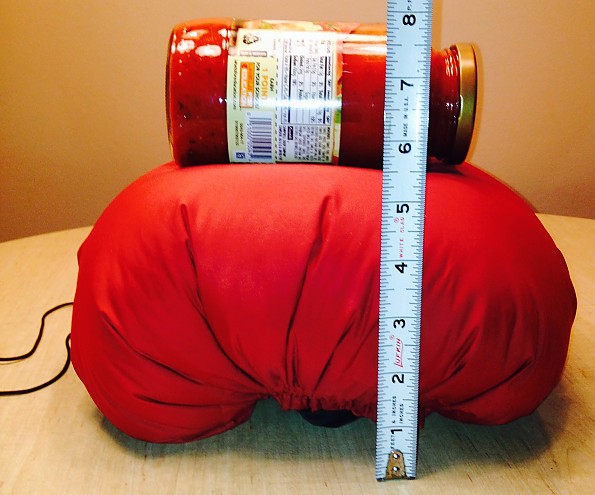 Take a spare fleece, socks, tee - whatever's lying around and you're not wearing - stuff it into the back side of this pillow, and tighten the cinch down around it. In this case, a TNF Icecap Fleece gets the job done.
Using this configuration gives you more loft while maintaining almost the full surface area of the pillow. You can stuff it with a tee, or you can stuff an entire jacket in there. The best part about this is that your filling material doesn't need to be soft: whatever you put inside will be surrounded by the down pillow and never will your face come in contact with whatever additional filling material you use. Mind you, you can't put rocks inside it and expect it to still be a soft pillow, but you get the idea.
This is my favorite configuration and not only does it make this pillow work for me, but I can lend it to a friend who sleeps completely differently than I do, and he'll be able to adjust it to his liking. It's almost a "universal" pillow in that way, and I really can't begrudge that great a feature.
What it lacks in straight-from-the-factory loft, it more than makes up for in its versatility. 
TESTING CONDITIONS
I've used this pillow the last few months and have taken it with me in temps ranging from the lower 30's up into the mid 70's. The pillow hasn't ever "overheated" on me and forced me to flip it over in search of a cooler side. Being a side or stomach sleeper, my mouth usually lines-up with the outside edge of the pillow, and I've kept comfortable that way. Much the same, it hasn't ever proven uncomfortably cool. Then again, can't say I've ever had a problem with a pillow being too cool. Ever.
On a section-hike of the Shawnee National Forest, I spent an entire day hiking in the rain and the first night sleeping through it. I made sure to keep the pillow cinched-up inside a plastic garbage compactor bag inside my pack. Which, yeah, sure, got me through the day.
At night? I used a dry bag and stuffed this pillow inside it: it had the two-fold bonus of A.) being waterproof, and B.) being VERY adjustable when it came to loft. Between the cinch cord on the pillow and the amount of air I kept inside the dry bag, it made for a very comfortable night's rest.
TESTING LOCATIONS
Shawnee National Forest (Southern IL), River-to-River Trail
Weldon Springs State Park (Clinton, IL), Salt Creek Backpack Trail
Forest Glen Preserve (Westville, IL), River Ridge Backpack Trail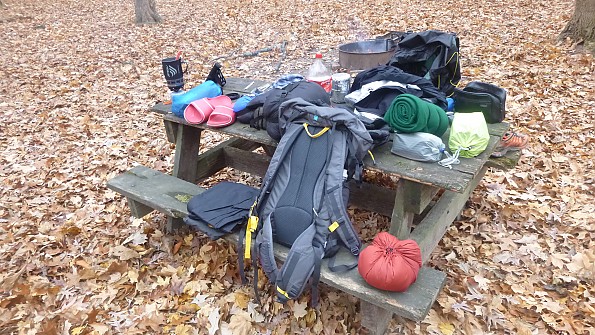 Source: bought it new
Price Paid: $44.95

Comfortable and warm, but very thin. Best when used in conjunction with an air pillow.
Pros
Light
Stuffs well
Comfortable
Fits over other pillows.
I've used this pillow on over 50 trips now, and it's still in great shape. I never used a pillow when camping prior to owning this one, with the exception of a one time use of a cheap air pillow once that was absolutely terrible.
When I met my now wife, she needed more comfort in the tent. We have down pillows on our bed so I bought two of these in size Medium and two Therm-a-rest seat pads to use as fillers. At first we were in love with this concept, the seat pad adds just enough height and loft to the pillow and is extremely nice to have as a knee pad when packing or a lightweight seat wherever you are.
Over time, however, my wife began to bring along a synthetic pillow which she stuffed inside this one. And now we have each started using a Nemo Fillo for a base pillow... but still wrap them in these!! (This is an expensive setup, but a dream.)
Use:
The drawstring is functional, doesn't snag, and keeps whatever you stuff inside of it in place. I don't use this to pack the pillow, as it seems to put a lot of extra stress on the edge seams, and doesn't pack the pillow down very small.
Instead I fold the pillow in one direction, and then roll it across the other — packs smaller than a coffee cup and still has some give to it this way. The pillow seems to build up a similar funk to my sleeping bag in time, but is easier to wash than a down bag because it isn't quilted.
Weight:
This weighs so little and takes such a small space in my pack that I always pack it. I picked up a small waterproof stuff sack to keep the pillows dry at first, but now shove the pillow into a S2S dry compression sack with my sleeping bag. I have to remember to check that it's there when I pack up because it makes that small of an impact on pack size.
When Wet:
I haven't gotten this wet in the field yet. I keep it in a dry bag of sorts at all times... because, down. But when I have washed it, it dries out fairly quickly. The outside fabric cleans up easily also.
Other uses?
It's nice on road trips... really fills the gap between a window and the seatbelt, and is easier to manage than a full size pillow.  

Source: bought it new
Price Paid: $25

The Therm-a-Rest Down Pillow is a useful addition to a luxurious sleep system as long as the user has the right expectations. When paired with an inflatable pillow or clothing, it adds a significant measure of comfort
Pros
It adds a layer of softness to an inflatable pillow
Works well with an inflatable pillow and clothing
Cons
Lacks enough loft to work well on its own
It could be too bulky for a UL backpacker
The Therm-a-Rest Down Pillow is a versatile down shell that can be wrapped around an inflatable pillow or clothing to provide a good night's sleep. The pillow is stuffed with 650 Fill Hydrophobic down and has a cinchable cord that contains the inner padding of the user's choice.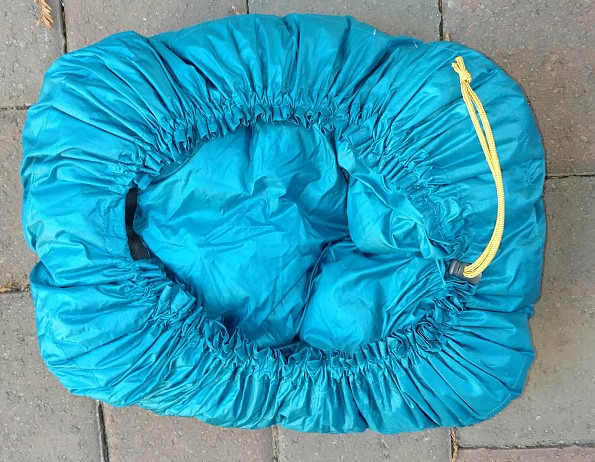 I readily admit that a pillow is a luxury I choose to carry. When I started backpacking many years ago, I quickly realized that a good night's sleep was critical to my enjoyment of the backcountry. Stuffing a Therm-a-Rest Trekker pillowcase with clothing was soft against my skin and comfortable as long as I had plenty of clothes to spare in a temperate climate. My pillowcase is at least 15 years old and still going strong.
As I reduced my clothing to lighten my load, I sometimes found that I was wearing everything I had with me on cold nights. That didn't leave anything left over to use as pillow stuffing. I solved that problem with a small, inflatable pillow that I slipped inside the trusty pillowcase. When I saw the Therm-a-Rest Down Pillow, I knew that it would add a touch of luxury to my sleep system, which already included two Therm-a-Rest products: the Trekker Pillowcase and the NeoAir XLite. 
Field Test
The down pillow is lightweight, weighing just four ounces, but is fairly bulky for this light backpacker. It can be stuffed into a small stuff sack but it's still one more item to pack. I brought it on an overnight trip to Point Reyes National Seashore when I had plenty of space, but for longer trips, I kept discarding it. However, I found that it made a luxurious sleeping experience for the car-camping nights that often precede a backcountry trip.
On one of these, I stayed in a rustic cabin with wooden bunks before a trip to Yosemite, while another time, I stayed in a campground at Lake Almanor prior to backpacking at Lassen National Park. I tried stuffing clothing in the down pillow but found that the hard bulk of the fabric was not as comfortable as the inflatable pillow.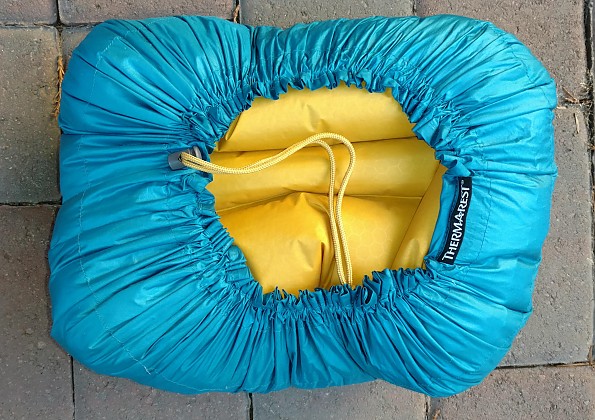 The Therm-a-Rest Down Pillow looks like a small down bag when turned upside down with the cinchable cord visible. The best way to use it is to stuff something inside. The way this worked for me was to place the down pillow upside down with the cord extended all the way. I placed the inflatable pillow on top of the down. I then rolled the edges of the down pillow over the inflatable pillow and pulled gently on the cinch cord to secure the down pillow.
My Exped UL inflatable pillow, partially inflated, was the perfect size for the interior space of the down pillow. It was heavenly to have the extra layer of down and the polyester fabric lining was soft against my skin. I often don't sleep well in noisy campgrounds, but the extra comfort helped the quality of my slumber greatly.
Backpackers who have a hard time getting a good night's sleep and desire a comfortable pillow would likely find the size and weight of the down and inflatable pillow combination to be acceptable, while ultralight backpackers might find it too bulky. It's ideal for car campers as well as travelers who dread the flat, hard, or overstuffed synthetic pillows found in some hotels.
The manufacturer suggests that the down pillow can be used on its own, but I doubt that most people would find that it provides adequate support.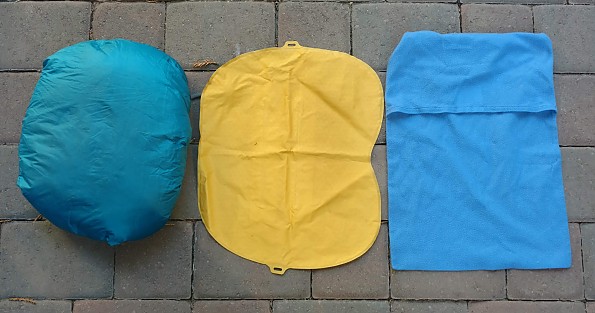 The Therm-a-Rest Down Pillow is a useful addition to a luxurious sleep system as long as the user has the right expectations. When paired with an inflatable pillow or clothing, it adds a significant measure of comfort that could mean the difference between a good night's sleep and insomnia. It's ideal for short trips, car camping, and travel. It could be useful for backpackers seeking that extra measure of comfort even on a longer trip.
Source: tested or reviewed it for the manufacturer (I kept the product after testing.)

Disclosure: The reviewer received a sample of this product from the brand or its representatives in exchange for a review.
Your Review
Where to Buy
Help support this site by making your next gear purchase through one of the links above. Click a link, buy what you need, and the seller will contribute a portion of the purchase price to support Trailspace's independent gear reviews.
You May Like
Specs
Price
Historic Range: $17.83-$59.95
Reviewers Paid: $25.00-$44.95

Recently on Trailspace