From fuel-efficient stoves to emergency shelters to versatile headlamps, outdoor companies have been busy designing and refining new equipment to make your backcountry campsite warmer, lighter, safer, and more comfortable.
Here are a few highlights of winter and spring 2013 gear that make their debuts at the Outdoor Retailer trade show next week.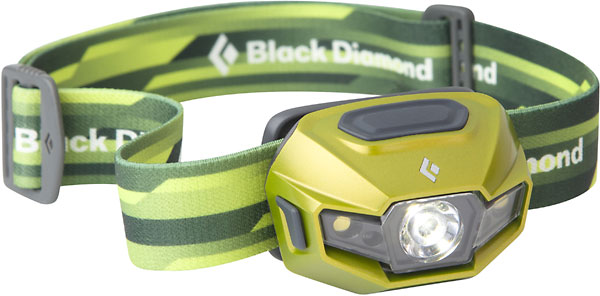 Black Diamond's 110-lumen ReVolt headlamp is a rechargeable headlamp that can be powered by either three Black Diamond NiMH AAA or three standard alkaline batteries. The ReVolt automatically detects which batteries are loaded, and rechargeables can be recharged via a USB cable. The ReVolt features one TriplePower LED, two SinglePower LEDs, two SinglePower red LEDs, and a battery level/charge status indicator. Settings include full strength in proximity and distance modes, dimming, strobe, red night vision and lock mode. It's protected against splashing or sprayed water from any angle (IPX 4). Specs: 3.4 oz (with batteries), $59.95.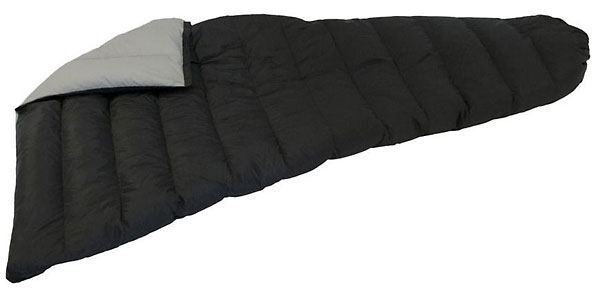 ENO introduces the down Blaze under quilt and Ignitor top quilt for warm hammock camping in colder temps. The Blaze is made with 750 fill down, a DWR ripstop nylon shell, and nylon taffeta liner. Specs: 25‐30°F, 80 x 40 in, 24 oz, $299.95. The Ignitor (above) is made with 650 fill down, a down‐filled draft collar, a DWR ripstop nylon shell, and nylon taffeta liner. Its convertible footbox can be opened like a blanket or closed up to the knee. Specs: 35‐45°F, 48 x 74 in, 23 oz, $229.95.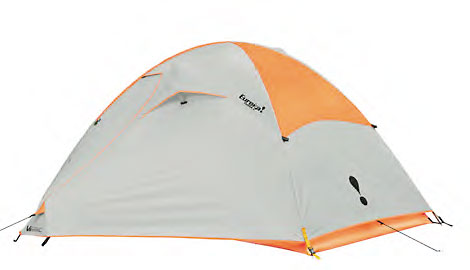 For novice to advanced campers, Eureka! introduces 11 budget-friendly backpacking tents, including the Taron two-pole aluminum dome tent with fly pole. The Taron, available in 2- and 3-person models, features front and rear (3-person model) vestibules, interior wall and side pockets, and a gear loft. Taron 2: 7'4" x 4'2", 4 lb 14 oz, $159.99; Taron 3: 7'4" x 5'6", 6 lb 4 oz, $199.99.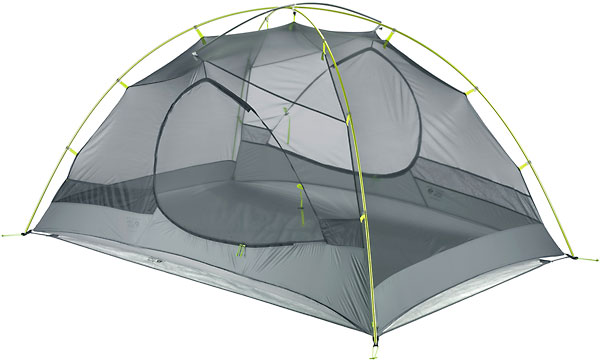 Mountain Hardwear adds a DryPitch system to its freestanding Skyledge 3 DP tent (above). The DryPitch lets you pitch the fly first and then set up the canopy beneath it and out of the rain. The 3-in-1 pitching system allows the tent to be pitched three ways: fly only, canopy only, or fly plus canopy (4 lb 2 oz, $550). Mountain Hardwear also introduces the Hoop Dreams 4 lightweight teepee-type shelter ($250) and the Nothing But Net 4 mesh fabric shelter, which can be used on its own or with the Hoop Dreams 4 or Hoopla 4 ($200).
MSR expands its Reactor stove line with 1.0L and 2.5L models to compliment the original 1.7L Reactor. The Reactor's patent-pending design shields the burner from wind and has precision pressure regulation for high-altitude and cold weather performance.
For soloists or duos, the 1.0L Reactor has a 3.5 minute boil time (1L). Weight: 14.7 oz (minimum), 15.3 oz (packaged), $169.95. Designed for groups of two to four, the 2.5 L Reactor has a 3 minute boil time. The wider pot is good for snow-melting and expedition use. Weight: 20.7 oz (minimum), 21.4 oz (packaged), $199.95.
MSR also adds a 1-ounce hanging kit ($29.95) and Reactor coffee press kits for the 1.0L and 1.7 L stoves (1.9 oz and 2.3 oz, $19.95 and $22.95) Available January 2013.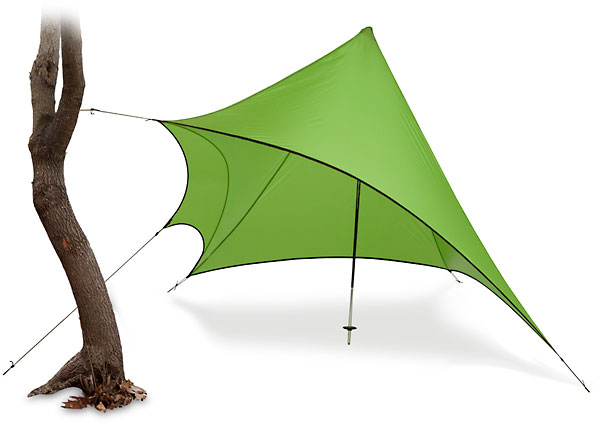 NEMO's Hunker 2P is a multi-functional, backup tarp you can set up either with a trekking pole or hung from a tree for use as an emergency shelter, open air shelter, or separate kitchen or gear shed. Made from 20D waterproof ripstop nylon, the Hunker can be pitched as a pyramid or lean-to. Weight: 7.5 oz. Dimensions: 72" x 78" x 50" tall in lean-to configuration, 67" x 93" x 39" in pyramid. $129.95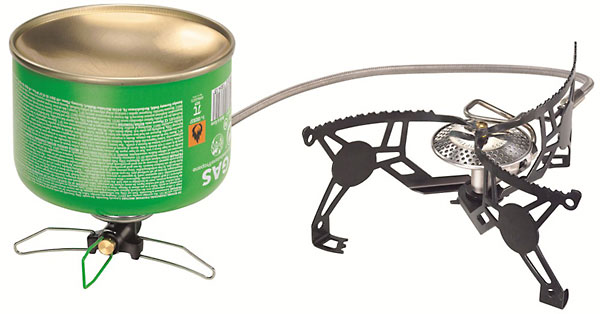 Optimus's four-season, remote canister Vega stove can be run in traditional upright mode, for optimal efficiency and flame control, or inverted to deliver liquid gas directly to the burner, improving cold-weather and low-fuel performance. The Vega can support large pots for group use, is compatible with bake ovens, and fits in a one-liter pot. Boil time (1L) is 4.5 minutes (6.3 oz, $95).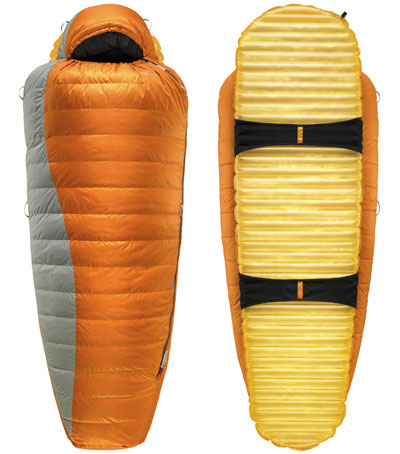 Therm-a-Rest enters the sleeping bag market with seven down and synthetic bags and blankets to match up with its sleeping pads. The bags sports SynergyLink mattress connectors, compatible with up to 25-inch-wide sleeping pads.
The 2013 line includes three 750+ fill down bags: the three-season Antares 20°F (1 lb 15 oz, $349.95, above), mid-winter Altair 0°F (2 lb 7 oz, $459.95), and minimalist, hoodless Navis 25/45°F (1 lb 5 oz, $249.95), for use with a down jacket. Therm-a-Rest reports the 700+ fill Alpine Blanket 35°F has been updated (1 lb 9 oz, $249.95) .
The synthetic bags and blankets feature Therm-a-Rest's proprietary EraLoft insulation, which uses three distinct fibers. They include the summer Regulus Blanket 40°F (2 lb 2 oz, $149.95), three-season Saros 20°F (2 lb 15 oz, $189.95), and Centari 0°F (3 lb 15 oz, $209.95). Available January 2013.
Wetterlings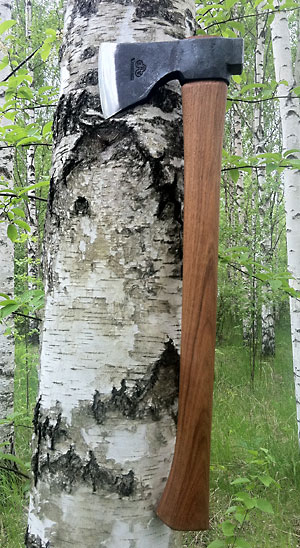 Survivorman Les Stroud has partnered with Wetterlings, the oldest axe factory in Sweden at 130+ years, to release the Bushman Axe line of hand-forged axes. "The legendary reputation of Swedish axes has never been lost on me" said Stroud. "I have used them through all of my adventures and travels in the wilderness." The Bushman by Survivorman Les Stroud can be used as an axe or hammer. It has a wedge shaped head made of Swedish carbon alloy steel, a long, broad blade, and an American hickory handle. No specs available yet, as Stroud is doing final testing, but it will be available November 2012.
For even more backcountry camping gear, check out "A Flood of Water-Repellent Down for Sleeping Bags." Then stay tuned for our complete Outdoor Retailer coverage.