Success! I've made it to Outdoor Retailer and boy have the folks at Cascade Designs been busy. MSR has a whopping 13 new tents for 2008, as well as a few redesigns. They've added two new Expedition tents, four Fast & Light tents, and are introducing the Venture base/car camping category, which includes seven tents.
There's a lot there, but here's what caught my eye first:
The E-Wing, a 6-ounce, emergency wing that comes factory stuffed into a soda can. You'll never get it back inside, but can pack it back into another stuff sack should you take it out. It's designed as an emergency shelter you can use with two trekking poles, but I'm sure some hardcore souls will find more regular use for it. Floor area 44 square feet, $79.95

MSR has HP (high performance) versions of the popular Hubba and Hubba Hubba tents. The Hubba HP and Hubba Hubba HP weigh even less than the updated regular versions and are stronger with a more technical fabric, which also makes them warmer (less mesh) for use in the shoulder seasons. They also added gear lofts. $349.95, $449.95

The Expedition Series has a new single wall (DragonTail, 2P, 4 lbs. 6 oz., $449.95) and a new double wall tent (Asgard, 2-3P, 7 lbs. 6 oz, $549.95). The hooped DragonTail is designed for alpine ascents and has a vented air tunnel on top for ventilation to reduce condensation. The Asgard uses a new BowFrame technology for added strength in nasty weather.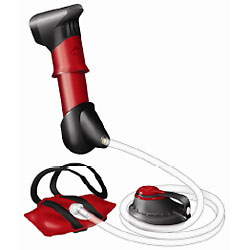 MSR also is introducing the 7.8 ounce Hyperflow Microfilter, which they're calling "the smallest, lightest, highest-flow filter available." It has a flow rate of 2.75 liters per minute. It's pretty small, very fast, and nifty. One caveat though, due to its hollow fiber technology it's only good for three-season use; freezing will break it. Beware airplane cargo holds too, a bit of a dilemma. There also are some new gravity filter systems from MSR (AutoFlow Gravity Filter) and Platypus (CleanStream).