It's the morning of day four, the last of Outdoor Retailer Summer Market. Things are quieting down as booths get packed up and attendees cruise the Salt Palace hoping for freebies and deals on gear that companies don't want to bother shipping back home. I'm headed back for one last marathon day of walking the show in the hopes of discovering some new gear and gear companies that I've missed while rushing from booth to booth the first few days.
Here's some of what I saw and liked yesterday: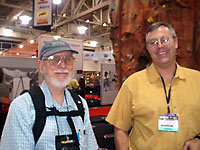 And lastly, I got the chance to visit and have dinner with Bill S and Brian in SLC while here, which was fun. It's so nice to meet some fellow Trailspace community members in person.