While I briefly mentioned the Primus EtaPower MF (multi-fuel) backpacking stove on Day 3 of OR, here's some more information about it and the new integrated canister EtaExpress for all the stove gearheads.
Primus EtaPower MF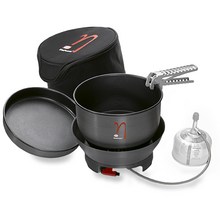 Unlike many stoves that call themselves "multi" or "all-fuel," but really only burn liquid fuels, the EtaPower MF is an actual multi-fuel backpacking stove that will burn any available fuel—butane, propane, diesel, paraffin, or aviation fuel. According to Primus, the EtaPower MF "blends the most fuel-efficient stove design in the world with the convenience of omnivorous multi-fuel technology." Primus claims its ETA burner design is twice as efficient as average stoves, allowing for faster boiling times, less fuel consumption, a lower total weight, and a more environmentally friendly stove.
The EtaPower MF has a piezo ignitor and comes with a burner stand, windscreen, 2.1 liter EtaPower pot with heat exchanger, and .35 L fuel bottle that nests inside; additional accessories include a frying pan, handle, and bag that doubles as pot insulation. If you don't need the multi-fuel option, Primus already has the EtaPower EF (easy fuel) out for $80 less. Can't wait till 2008? You can watch Primus's online video about EtaPower stoves.
EtaPower MF Specs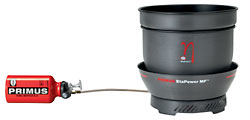 Weights:
EtaPower MF stove, screen, and hose: 13.4 oz (385 g)
1.7 L pot: 7.7 oz (220 g)
.35 L fuel bottle: 2.6 oz (75 g)
Pot gripper handle: 1.6 oz (45 g)
Ergo pump: 3.7 oz (105 g)
BTUs: 1500 to 2000 per hour
Boil time: 2.5 to 3.5 minutes
Packed Dimensions: 8.3 x 8.3 x 5.5" (210 x 210 x 135 mm)
Availability: around January 15, 2008
MSRP: $190
Primus EtaExpress
Built on the same heat exchanger foundation as the EtaPower, the EtaExpress is a compact, 14.7 oz, integrated canister version, designed for the solo traveler. It consists of a lightweight stove (2.9 oz) with piezo ignitor that mounts directly to an LP gas canister, a clip-on wind screen for fuel efficiency, and 1 L pot with fry pan lid. A heat exchanger mounted directly to the pot keeps the flame focused where it's needed, reducing heat loss, maximizing fuel efficiency and lowering boil times. The stove and a 230 g LP gas canister store in the 1 L pot for transport.
EtaExpress Specs
Weights:
EtaExpress stove: 2.9 oz (82 g)
1 L pot w/ fry pan lid: 10.4 oz (295 g)
BTUs: 8500 per hour
Boil time: 3.15 minutes
Packed Dimensions: 4.5 x 5.9" (115 diameter x 140 mm tall)
Availability: around January 15, 2008
MSRP: $89