Outdoor Retailer: All Mountain Demo Day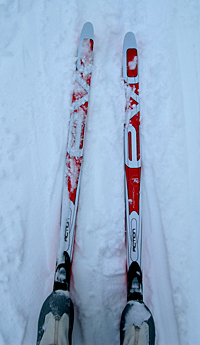 Spending the day at Snowbasin Resort (home of the swankiest base lodge and ski resort bathrooms I've ever seen) is a pleasant, relaxing prelude to Outdoor Retailer's indoor, occasionally harried, four-day pace. My personal highlight of today's All Mountain Demo day was the skiing.
Rossignol
I had a fantastic time cross-country skiing on Rossignol's Evo Positrack skis and boots. I originally wanted to test their Backcountry models, but no boots available were small enough for me. However, the Evo Positracks and the snow conditions treated me extremely well over several kilometers of trails.
I kept thinking, I could go back and try something new, but the snow was so nice and the trails and skis fun, so I just kept skiing and skiing and skiing, till it was time for lunch. It was great.
Leki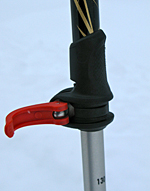 Before my ski, I ran over to the Leki booth and grabbed a pair of Aergon Ultralight ski poles with the new Speedlock mechanism. Now, I have to fess up and say that in the past, whenever anyone in the Trailspace forums asked for trekking pole recommendations I heartily suggested Black Diamond's for their Flick-lock mechanism alone. I have been quite happy with my BD models.
However, the new Leki Speedlock (available for spring 2010) was extremely easy to use and secure, even with gloves on. It was smooth and easy to operate. It didn't feel heavy or clunky. I was very impressed. While I can't say how it will fare over time and in all conditions, my initial impression of the Speedlock is extremely positive, and I happily would have taken these lightweight Leki poles home with me in a second (I gave them back as promised though).
Mountain Hardwear

At the Mountain Hardwear booth I checked out two things:
1. Gloves, because I am forever seeking the perfect glove system(s). There I was introduced to the Pistolero, a new men's work glove for Fall 2010. It's a very flexible, dexterous, waterproof model for cold-weather backcountry sports. According to Mountain Hardwear, the OutDry laminate technology bonds the waterproof/ breathable membrane directly to the shell. I tried the Pistoleros on and they felt quite nimble, more so than any waterproof model I've ever tried. I'm curious to see how they fare against the waterproof test.
The Pistolero is made from goatskin leather. It will be available in sizes XS to XL, weigh 5 ounces, and retail for $100.
2. Heated clothing. This winter, Mountain Hardwear introduced the men's Refugium and women's Radiance heated jackets that use the Ardica Moshi Power System to heat, power, and charge. A lithium battery pack, which will be moved down to the lower back for 2010's models, heats three core heating-coiled areas: upper back and both kidneys. The jackets have three heat settings for 2, 4, or 8+ hours of warmth. A USB cable in the pocket lets you power handheld electronics like GPS receivers, cell phones, and MP3 players.
For winter 2010-11, Mountain Hardwear is adding softshell vests with light insulation to the heated lineup: the Enyo for women and Sveda for men.
I tried on the women's Radiance Jacket. Not only does it heat your core, the pockets act as handwarmers, though I am unsure how I feel about walking around with a USB cable attached to me. Mountain Hardwear says women seem to be drawn to the warmth, men to the power. The vests are expected to retail for $225. Battery packs are separate.
Columbia
Continuing the heated technology trend, Columbia was exhibiting some heated casual winter boots—the Bugathermo (men's) and the Snow Hottie (women's)—that use Columbia's own patent-pending technology. I'm told a future generation also will have USB capabilities, though I don't know where exactly that would fit on a boot.
Clif
Oh, and by the way, warmed up Clif bars are way better than cold, frozen ones—especially when they're Crunchy Peanut Butter flavor.
Also, the people manning the Clif Bar booth may be the friendliest ones I've met at OR, and that's saying something. They made me feel like I was doing them a favor by taking home seconds (and thirds) of their Clif Shot Bloks and Roks. Happy to oblige, Clif!