If you've followed our Outdoor Retailer coverage, you already know the show abounds with enough models, styles, and price points of outdoor gear to equip every flavor of outdoors guy or gal. Here are a few more highlights from January's OR.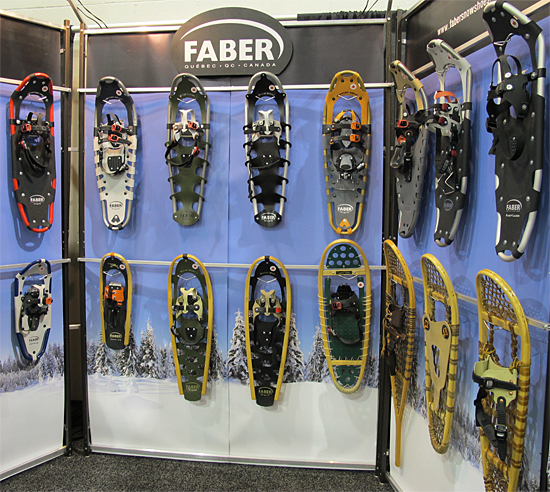 The Faber family has been making snowshoes in Canada since 1870, and the array of snowshoes displayed at the Faber booth stopped me in my tracks. Current Faber snowshoes range from traditional wood laced with rawhide (bottom right) to hybrid (bottom) to aluminum and plastic (top). Models range from an ash racing shoe to an aluminum bear paw, to the North Lander and North Hiker, the newest shoes (under the Faber sign) whose decks thread onto the frame (no rivets needed).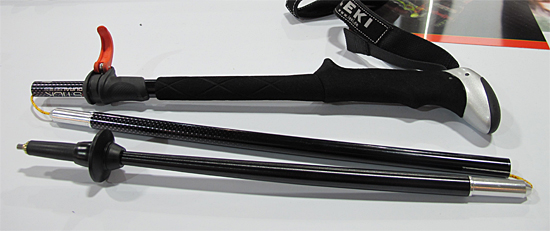 Speed climber Ueli Steck has been busy. He helped Wenger develop a special edition climbing knife, and Leki a foldable, minimalist trekking pole. The Micro Stick is a four-section pole (the top section has the fourth section nested inside) for fast and light hiking and approaches.
Steck's main criteria for the single pole included: a minimum pack size (15.4 in / 39 cm), low weight (8.8 oz / 250 g), fast and easy handling, and high stability and reliability. The Micro Stick uses Leki's SpeedLock System and comes in three fixed lengths: 110, 120, and 130 cm. Available this summer for $149.

Because a tool's only good if you carry it, the designers at PocketToolX wanted a multi-functional tool that could still fit in a pocket . At less than two ounces, the Piranha multi-tool is sized to be carried every day and boasts 20 functions in a single piece of surgical stainless steel. The Piranha weighs 1.9 ounces (54 g) and retails for $49 to $59, depending on finish. No worries if you forget it's in your pocket; it's TSA-compliant. There's also a Mako bike tool ($69) and a Brewzer beverage tool ($19-$29).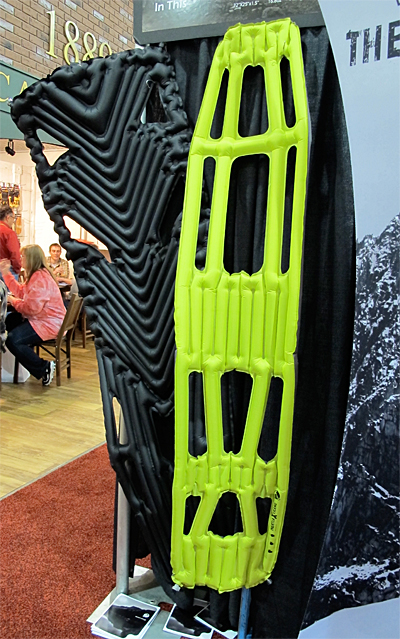 Klymit introduced the Inertia XL, a big brother version of its minimalist pad, for winter 2011. Like the original Inertia X-Frame, Klymit says the pad's loft pockets allow a sleeping bag's insulation to expand into the gaps. The full-size Inertia XL (above, black) weighs 17 ounces (411 g), inflates to 25 by 76 inches, and rolls up to the size of a 16-ounce water bottle. Like the original (above, green), it can be inflated with air for three-season use or topped off with Argon gas for greater insulation in winter. ($149.99)
Moving in the other direction, NEMO went smaller for spring 2011 with its ultralight Zor camp pad. The Zor Standard (20 x 72 in) weighs in at 14 ounces (405 g) and costs $89.95. The Zor Short (20 x 48 in) weighs in at 10 ounces (285 g) and costs $79.95.
In other gear news, SteriPen will be launching a new Freedom UV water treatment device in July.