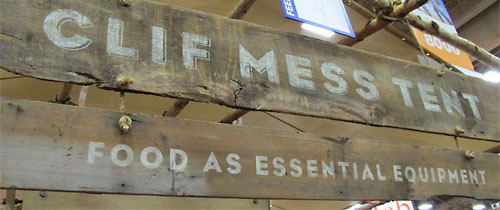 Clif's right. Food is essential whether you're thru hiking, climbing, or wandering for miles inside a convention hall. When time is short and energy is flagging, I've been known to swing by the Clif or Honey Stinger booths at Outdoor Retailer for a sample (aka taste testing and product research).
However, to expand your outdoor taste horizons, below we've highlighted some foods you may not have heard of or tried, yet.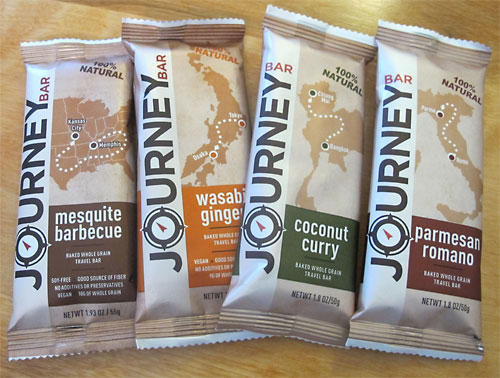 I spotted a parmesan romano Journey Bar while waiting for another OR meeting. What is that? Where did you get it? I grilled a poor guy about his unorthodox snack of a savory nutritional bar, while taking pictures and notes (his bar was still sealed, he said it was OK).
I later found my way to Journey Bar's booth where co-founders Marguarette Dau and Chris Kerslake introduced me to their line of four savory-flavored bars, the only ones on the market, they claim. The friends were both consultants and avid travelers who got tired of sweet energy bars and launched Journey Bars, made from organic whole grains and other all-natural ingredients, in 2010.
Parmesan romano and coconut curry are the flavor favorites. People either love or hate mesquite barbecue and wasabi ginger, said Dau of the two newest flavors. I concur. Anyone tired of sweet energy bars, or just looking to switch things up, should try Journey Bars. I have a sweet tooth and I still think this is a great idea. (12 bars for $19)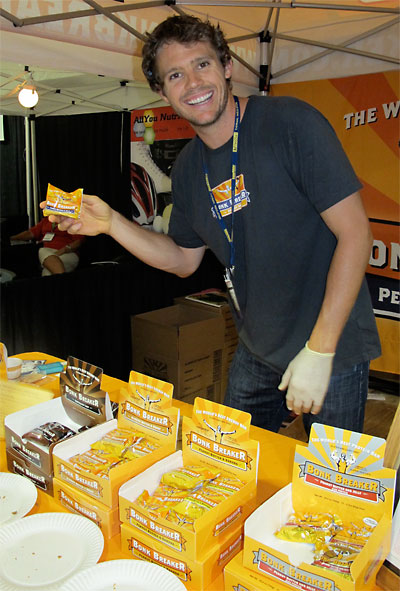 Meet Jason Winn, triathlete and creator of Bonk Breaker energy bars. Winn came up with the idea while training for an Ironman and having to force down bites of other (unnamed) energy bars with sips of water. Winn headed into his mom's kitchen and developed the first Bonk Breaker bar, Peanut Butter and Jelly, in 2006.
There are now seven flavors, including the newest Blueberry Oat, and the bars have been selected "best energy bar" by Competitor Magazine four times. Bonk Breaker even got the Oprah seal of approval, appearing in O magazine this June for a piece on gluten-free food. The bars also are dairy-free and "made with ingredients you can pronounce."
I tried some Bonk Breaker samples and the bars were tasty and pleasantly and surprisingly soft, like a fresh-from-the-oven baked good, which they are. Winn says all Bonk Breakers are baked fresh weekly and shipped from the oven within four days. PB&J is still his fave. (12 bars for $24.99)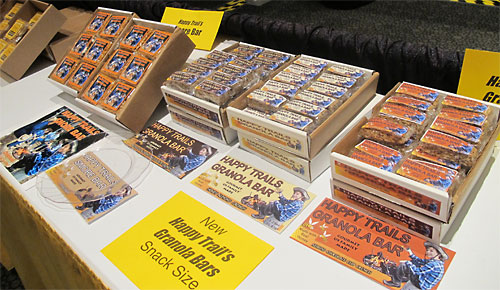 Olympia Granola bars (formerly Olympic Granola) weren't new to me; I've enjoyed their original tasty gourmet bars before. However, the company's s'mores original bar flavor and snack-size Happy Trails granola bars were.
Olympia Granola is another small company that wants you to know they're making bars with truly natural ingredients you can recognize. The 1.25-ounce Happy Trails bars are smaller and formulated to be less caloric ounce-per-ounce than the original bars, for when you're not as active. They come in honey almond crunch, espresso almond chocolate crunch, and almond chocolate chip crunch.
Founded in 2003, Olympia Granola is family-run. At OR, Bill Forsman shared his family's story and values that led him to start Olympia Granola in a church kitchen. He'd quit his job in plastics, and thought, "wouldn't it be interested to do something our family likes?" Now he does. Olympia Granola is a labor of love, but "it's always an interesting ride," he said. (18-pack of original bars for $49.99)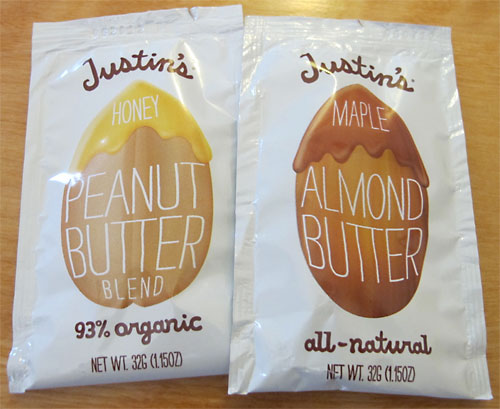 I haven't actually eaten these yet, but I've heard such good things about Justin's Nut Butters in our own community forums that I'm eager to try the sample packs on a hike, backpack, or maybe just a really long trail run very, very soon.
The nut butters come with an almond, peanut, or hazelnut base blended with other flavors, like chocolate, honey, and maple. If they're anywhere near as good as Justin's peanut butter cups I did try, I will be a happy camper/hiker/runner. (10 1.15-oz squeeze packs for $5.99-9.99, depending on flavor)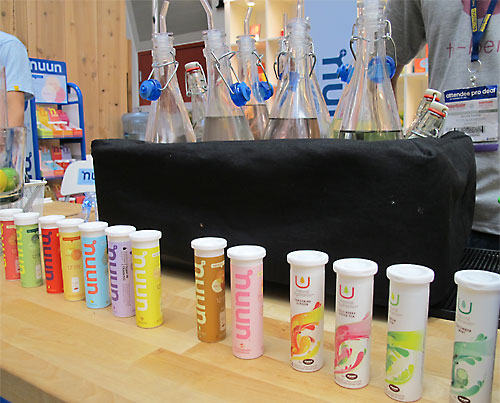 I like and regularly use Nuun's electrolyte hydration tablets. They're simple, sugar-free, electrolytes tabs without an overwhelming flavor. So, I stopped by to see what new flavors were out and found grape, fruit punch, strawberry lemonade, and tropical. I opted for a swig of some refreshing strawberry lemonade. (pack of four tubes/12 tabs each for $24)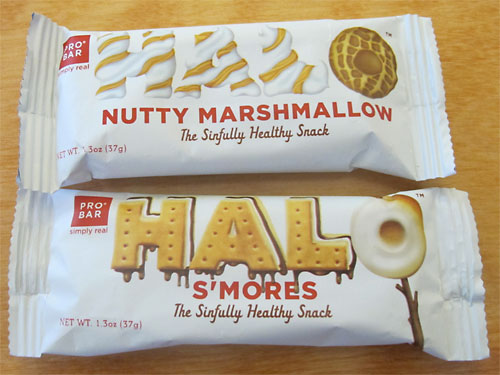 I mentioned ProBar's new Halo "sinfully healthy" S'mores and Nutty Marshmallow bars during Open Air Demo Day, but, they were good enough to mention again. I'm saving my sole S'mores sample bar for a special outdoor occasion. ($1.59 for a 1.3-ounce bar)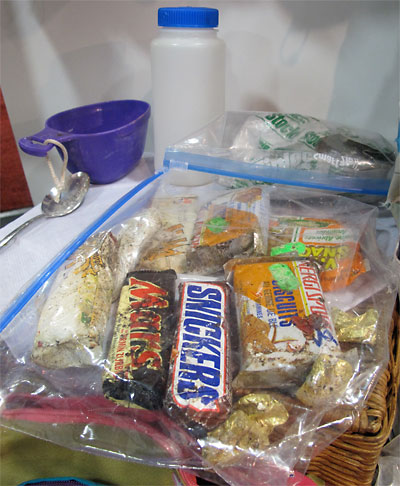 No, I didn't actually eat any of this, though it doesn't look half bad for 20-year-old food. That's climber Jeff Lowe's food bag recovered with his pack from the North Face of the Eiger this spring during filming for the documentary Jeff Lowe's Metanoia. It contains a Snickers bar (which looks like it could have been bought this morning), a Mars bar, plus some bits of cheese, hard candy, and biscuits.
I'll have a separate post just on Lowe's film project, which is community-funded and anyone can support, plus pictures of his recovered gear, which was on display at OR.