Meet FromSagetoSnow, Trailspace's Reviewer of the Month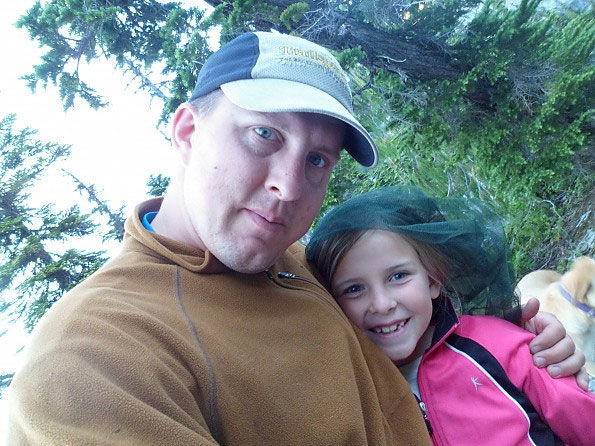 Congratulations to community member FromSagetoSnow (aka Jeff Ediger)! Jeff's Review Corps review of the insulated Rab Strata Hoodie was voted May's most helpful review by the Trailspace community.
"My wife says I have too many jackets. The Strata might allow me to pass a couple on to the next happy user. It fills the place of a down sweater and a soft shell jacket pretty well," wrote Jeff of the Strata Hoodie.
Congratulations, Jeff! You win a goodie pack of gear from GU, ProBar, A3 Action Snax, and Trailspace for your most recent effort.*
Write your own helpful gear reviews and you could be next month's most helpful reviewer.
Meet FromSagetoSnow
How did you get started exploring outdoors? Any favorite stories, memories?
Some of my oldest and fondest memories are of camping at the Dallas (Oregon) Reservoir with Dad in an old army tent and trudging through soaking wet clear-cuts chasing deer and wearing brown cotton gloves to stay "warm."
My first real backpacking trip was when I was in fifth grade. I carried a 30-year-old frame pack, wore K-mart/Texas Steer boots, and had the time of my life. We hiked to Spectacle Lake, got devoured by bugs, swam in the icy lake, and ate mountains of instant mashed potatoes and rice cooked over Sterno.
After a youth misspent in the woods, I took a solo, 68-mile backpacking trip for seven days through the Alpine Lakes Wilderness on the PCT. I was 16. Why my parents decided to let me do that I'll never know. I'm just grateful. I almost ruined my favorite hobby by working on a fire crew for the USFS in college spending 60 to 90 days a summer outside. I got to the point where I preferred sleeping on the ground. My wife thought I was odd.
Now, I work as hard as I can to earn time to get my five kids outside as often as possible. I want them to have their own experiences and learn to appreciate and enjoy outdoor fun. If I am going it solo, sans kids, I consider my time wasted.
What do you enjoy doing outdoors?
Anything when the kids are having fun. I will always be a backpacker and now I use that hobby to access my others. The kids and I rock climb, hunt, fish, mountain bike, and do easy summit scrambles.
I recently started enjoying morning trail runs with my daughters and we are training for an upcoming mud race. The whole family invades the woods annually to collect huckleberries to add to our winter oatmeal.
Why were you interested in reviewing the

Rab Strata Hoodie

for Review Corps? Anything you'd like to

share about testing/reviewing it?



I have had enough epics that I think that I have learned a good deal about what it takes to make a good jacket. I have benefited SO MUCH from reading other reviewers that I feel responsible to return the favor and help inform people's decisions when I can.
This particular jacket appealed to me because of its lightness and versatility; I carry lots of stuff for the kids when I hike so my own kit must be light and multipurpose. The lightweight Strata is warm, repels light rain and strong wind, and is packable, so it takes the place of two or more of my other jackets.
On a windy evening climb after work, my climbing buddy shivered in a cotton hoodie and I was toasty and happy in the Rab (no, I didn't offer to share). On a rainy early morning hike my legs got soaked and cold but the Strata kept my upper body warm and let my sweat pass though so I wasn't sweat-soaked. It's a keeper!
What are your favorite pieces of outdoor equipment? Why?
Besides my Trailspace hat, of course, I really love my Petzl Tikka 2. This lamp goes everywhere with me and hasn't failed me yet. The only issue I have with it is that the kids like it too and dig it out of the gear tub to use and sometimes I can't find it when I need it. A good headlamp, to me, is worth a lot. A lot more when I can find it.
Tell us about your favorite outdoor destinations.
Pretty much anyplace in the Alpine Lakes Wilderness. Four of the kids and I went to Robin Lake last summer and got to see the mountain goats there. I'd call that my favorite hike so far. I like high alpine meadows, exposed granite, and long views.
Anything else you'd like to share with the Trailspace community?
Don't think that because you're a parent that you can't enjoy the outdoors with the clones. They can do it, they will never forget it, and it's cheaper to get usable gear than you think. Look up Goodwill, yard sales, and clearance sales. A five-year-old doesn't know that being above the treeline or scrambling up a 6,000 foot mountain is something that most people think is out of their ability range. Take it easy and bring LOTS of snacks.
Where does your username, FromSagetoSnow, come from?
Our family adventures take us from sagebrush country where we live to high alpine mountains and everything in between, all in the same state. My oldest commented once that we see more snow in the summers hiking than in the winter.
---
Great job, Jeff!

*Besides Trailspace glory and appreciation, Jeff gets a goodie pack with a supply of GU Roctane Ultra Endurance Energy Drink, a selection of tasty ProBars, an A3 Action Snax bar, a Trailspace Trail Runner Cap, a Trailspace pint glass (for après-backcountry use), and Trailspace stickers.

Wondering how you can be as lucky as Jeff? Write some great gear reviews of your own. Next month the Trailspace community will recognize another reviewer (who'll win some prizes), and it could be you and your gear review.
Help recognize the best reviews on Trailspace by clicking that up arrow whenever you read a truly helpful review. You'll not only recognize good reviewers, you'll help highlight the best reviews of products for other members looking for outdoor equipment.