UPDATED Oct. 16, 2013: It has come to our attention that Peter has maintained multiple accounts on Trailspace. For the past several months he used those shadow accounts to vote up his own reviews, fraudulently boosting his reviewer reputation score by over 600 points.
Peter's actions violate the Trailspace Community Rules, and a represent a serious breach of trust. As a result, he has been stripped of his Reviewer of the Month award and banned from further participation in the Trailspace community.
We regret that we did not catch these violations earlier, and we are working to improve our systems and processes to better prevent and detect this sort of fraudulent activity in the future.
---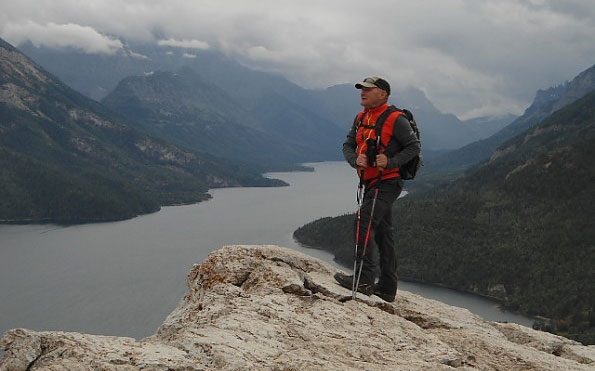 Congratulations to community member Peter McClure, Trailspace's newest Reviewer of the Month!
Each month we recognize and get to know a different member of the Trailspace community and this month it's Peter (above, in his beloved Canadian Rockies). Peter is an avid hiker and Review Corps member whose gear reviews were among the highest rated by the community in September.
Congratulations, Peter! You win a pair of waterproof-breathable Super Armadillo Nano Gaiters for your contributions, thanks to Hillsound ($98 value). Plus, you get a goodie pack from Black Diamond, Kind, Trailspace and Ibex, and Zipfizz.*
Join the Trailspace community in recognizing other helpful reviewers by voting up the reviews you find most useful. Write your own helpful gear reviews and you could be our next Reviewer of the Month.
---
How did you get started exploring outdoors?
I started hiking and canoeing as a kid in Ontario, and discovered the mountains when I got to Alberta in 1982. I've gone out hiking and backpacking ever since.
Now, I spend my weekends taking groups of people up into the Rockies, in summer and year round. I'm semi-retired, so it's mostly just for fun.
What do you enjoy doing outdoors?
Basically, I'm a hiker, but I do have a preference for high mountain trails. I'll switch to snowshoeing in winter, not because I particularly enjoy the workout, but because it gives me access to the backcountry.
Tell us about your favorite outdoor places.
I'll take Canada's Rocky Mountain Parks (Jasper, Banff, Kootenay, Yoho, and Waterton) as my first choice, but there are lots of other nice areas in Alberta and British Columbia that are well worth going to.
If you're headed this way, my favourites would be the Berg Lake Trail at Mt Robson, the Iceline Trail in Yoho, and Bald Hills in Jasper.
What's your perfect outdoor day?
My "perfect outdoor day" would be a challenging mountain hike in the Rockies on a blue sky, summer day, with good friends, some decent elevation, and some great views.
What are your favorite pieces of outdoor equipment? Why?
I need my gear to do what it's supposed to do.
I love my Salomon Mega Trek 6 Light GTX hiking boots, my Outdoor Research Foray Jacket, my MSR Denali snowshoes and Kahtoola Microspikes, and my Trangia stoves (Trangia 27-5 UL and Trangia Mini Trangia).
They have all proven their worth in a variety of real-world situations, including some that might have been dangerous if I'd been using equipment of lesser quality.
What motivated you to share your outdoor gear reviews with the Trailspace community?
As a guide, I've had to take care of a number of people on the trails who were using poor equipment, mostly from just not understanding what they should have been buying for the conditions.
In consequence, I feel a responsibility to provide the best information possible. Trailspace provides that opportunity, and lets me share my hiking experiences with other people who share my interests.
---
Great job, Peter!
*Besides Trailspace recognition, Peter wins a pair of waterproof-breathable Super Armadillo Nano Gaiters, thanks to Hillsound ($98 value).
Plus, he gets a goodie pack with a Black Diamond T-shirt, Kind bars, a Trailspace-Ibex Zepher Skull Cap, a Trailspace pint glass (for après-backcountry use), Trailspace stickers, and Zipfizz.
Wondering how you can be as lucky as Peter? Write some great gear reviews of your own. Next month the Trailspace community will recognize another reviewer (who'll win more prizes), and it could be you!
Help recognize the best reviews on Trailspace by clicking that up arrow whenever you read a truly helpful review. You'll not only recognize good reviewers, you'll help highlight the best reviews of products for other members looking for outdoor equipment.
Check out past Reviewers of the Month.