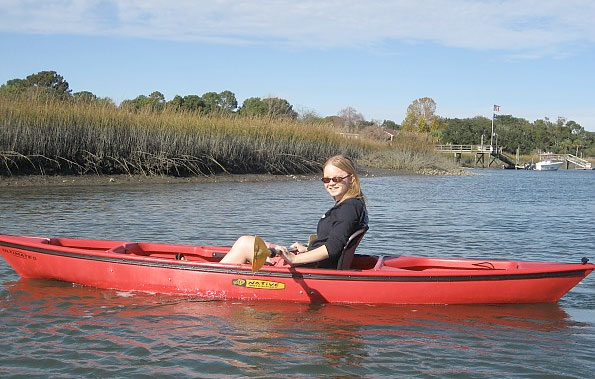 Congratulations to community member Megan Digeon (aka MrsMustard), Trailspace's newest Reviewer of the Month!
Each month we recognize and get to know a different member of the Trailspace community. This month it's Florida hiker and paddler Megan, who has had some incredible Southern outdoor experiences, including finding rare orchids and dodging alligators. In addition to paddling and hiking, Megan is an activity leader for the Big Cypress Chapter of the Florida Trail Association.
Congratulations, Megan, and thanks for joining Trailspace and sharing your experience and helpful gear reviews with us. For your contributions, you win this month's featured Reviewer of the Month prize, a Rand McNally Foris 850 GPS receiver. Plus, you get a goodie pack from A3, Kind, and Trailspace for your contributions.*
Join the Trailspace community in recognizing other helpful reviewers by voting up the reviews you find most useful. Write your own helpful gear reviews and you could be our next Reviewer of the Month.
---

Meet Megan/MrsMustard
How did you get started exploring outdoors? Any favorite stories or memories?
I've been enjoying the outdoors ever since I was little. My dad and his family are all avid hikers and paddlers so I grew up hiking and camping. He got me into backpacking when I was in college and I've hiked a couple hundred miles of the A.T.
I have a lot of great memories. but I'd say my most memorable experience so far happened about six months ago. I went hiking with a group of 15 people on the Florida Trail through Big Cypress National Preserve on a day hike around late July.
Because it was during the rainy season, the water covering the trail was knee deep. My dad and I were towards the front of the group. Because it was a nice warm summer day, there were a few alligators lounging on the edge of the trail. We knew they were just sunbathing and gave them their space.
My dad finally saw one that was about six feet long and he decided he wanted an up-close picture of it. So he bent over to get a close-up of the gator's face. This spooked the gator who jumped, causing us to also all jump back, which turned the water on the trail cloudy.
We didn't see the gator anymore and assumed he took off into the swamp. I picked up my right leg to start walking again and felt something hard, sharp, and scaly on my inner leg. Right then the trip leader started screaming, "It's between your legs!!!!"
I froze for a minute, but knew the alligator was as frightened as I was. Then I jumped straight up in the air and into the brush as the gator took off in the other direction. That's not a feeling I will forget anytime soon.
What do you enjoy doing outdoors?
My favorite activity is definitely backpacking, since it combines my love for both hiking and camping. I also love the idea of only carrying what you absolutely need for survival right on your back.
Tell us about your favorite outdoor places.
For hiking, I really love northeastern Georgia since there are so many beautiful trails with waterfalls. One of my favorites is Raven Cliff Falls.
However, I live in south Florida and have really grown to love hiking through Big Cypress. The trails there may be flat, but they are covered in knee-deep water most of the year and are filled with limestone solution holes, so those hikes can be just as challenging as hiking up a mountain.
My favorite place to go kayaking and canoeing is out in the Ten Thousand Islands on the west coast of Florida. It is a navigational nightmare without a GPS since you have to paddle through many identical looking mangrove islands.
We always camp at the beach campsites on the Gulf. Specifically, my favorite islands out there are Pavilion, Rabbit, and Panther Keys.
What's your perfect outdoor day?
My perfect outdoor day would be a 7-8 mile day hike somewhere in the Florida Everglades followed by a campfire and a cold beer.
What are your favorite pieces of outdoor equipment? Why?
For my birthday, I just received from my husband a new REI daypack (the Stoke 19) that I really love. It's super lightweight and so comfortable that I forget I'm wearing it half the time.
I also am a huge fan of my Big Agnes Seedhouse 1 tent. It is the perfect size for one person, really lightweight, and Big Agnes has amazing customer service.
I have reviewed both of those pieces of gear on Trailspace already.
(Check out all of Megan's helpful reviews.)
Have any stories to share about your favorite (or least favorite) gear?
This isn't necessarily about favorite or least favorite gear, but shortly after my dad introduced me to backpacking, I told my best friend about it and she insisted that we plan a trip together. I had used a lot of borrowed gear for my first trip and now had to purchase my own.
She and I both did our research separately and ended up buying almost entirely identical gear (tent, boots, stove, backpack, headlamp, pot, and sleeping bag) in the exact same colors.
When we finally met up to go over our gear we realized that we actually had to put our names on everything! I guess we really think on the same level!
What motivated you to share your outdoor gear reviews with the Trailspace community?
My friend Leah (Lah) told me about this site and her involvement with the Review Corps.
Where does your username come from?
My last name is Digeon (pronounced like Dijon mustard) so I jokingly made it Mrs. Mustard.
Anything else you'd like to share with the Trailspace community?
I have a blog about my hiking and paddling adventures that I am trying to be more diligent about updating called Tough Terrain. I'm also an activity leader for the Florida Trail Association.

---
Great job, Megan!
*Besides Trailspace appreciation, Megan wins a Foris 850 GPS receiver, thanks to Rand McNally, plus a goodie pack with A3 and Kind bars, and a Trailspace Trail Runner Cap, Pint Glass (for après-backcountry use), and stickers.
Wondering how you can be as lucky as Megan? Write some great gear reviews of your own. Next month we'll recognize another reviewer (who'll win a great prize), and it could be you!
Help recognize the best reviews on Trailspace by clicking that up arrow whenever you read a truly helpful review. You'll not only recognize good reviewers, you'll help highlight the best reviews of products for other members looking for outdoor equipment.