Congratulations to Jim51111, Trailspace's newest Reviewer of the Month!
Each month we recognize and get to know a different member of the Trailspace community. This month it's Jim, a hiker, backpacker, backcountry skier, and snowshoer in the White Mountains of New Hampshire.
Jim is also a member of Trailspace's Review Corps program and the Pemigewasset Valley Search and Rescue Team based in Franconia, N.H., which assists with lost and injured hikers throughout the White Mountains.

Congratulations, Jim, and thanks for sharing your helpful gear reviews with us, including recent reviews of the Cotopaxi Inca 26 and Berghaus Expedition Light 80 backpacks.

For his contributions, Jim wins a Grayl Water Filtration Cup, an MSR Double-Wall Insulated Mug, a Mountain House meal, bars from Clif and Kind, and a Trailspace cap.
---
Meet Jim
Tell us about yourself.
I am originally from the northwest corner of Connecticut where I spent time mountain biking and hiking the trails throughout my town. After high school I attended college in Maine where I had the opportunity to hike Mt. Katahdin as well as frequently visit Acadia National Park.
When I finished college I moved to Northern Virginia and spent my free time in the Shenandoah region of the state. Roughly four years ago my company allowed me to work remotely and my wife and I chose to move to northern New Hampshire so we could be closer to the mountains.
What do you like to do outdoors?
During the warmer months I enjoy hiking and backpacking, while during the winter I switch over to backcountry skiing and snowshoeing.
How did you get started exploring outdoors?
I began hiking and camping as a kid, but really became more interested in the outdoors during high school and college.
Any favorite stories?
Last winter I went ski touring with a friend to an area that is well known. It was a week after the snowstorm, which usually means everything would have been skied off. We explored a little ways away from where the crowds had gone and found waist deep powder stashes that were still untouched.
The best part was the opportunity to ski down a riverbed hopping effortlessly from one pillow of snow to the next. This was by far a rare day on the east and one of my best days on skis.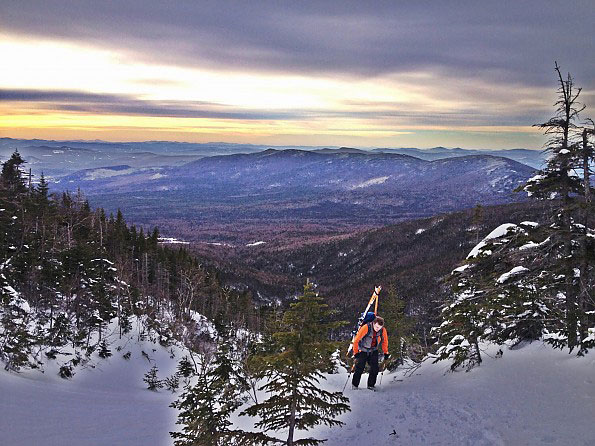 What's your favorite outdoor place?
My favorite places are above tree line in a secluded wilderness. There are a number of these places in the Whites, which is why my wife and I settled there.
Describe your happiest moment outdoors.
It is hard to rate my experiences. The reality is that anytime outdoors is a great moment.
Do you have any outdoor regrets?
The only outdoor regrets I have are when I'm stuck inside on a perfect day, whether it's a sunny day in the summer or a powder day in the winter.
Do you have any outdoor plans/goals/dreams you want to share?
My wife and I are working through completing the New Hampshire four-thousand footers. There are also a handful of European routes we are hoping to have the chance to explore.
Describe your ideal day outdoors.
An early start to avoid the crowds with bluebird skies and temperature. A quiet summit (or snowfield or camping area) to enjoy.
What motivated you to share your reviews with Trailspace?
I wanted to share my experience with equipment with others so that they could find quality gear and avoid purchasing something with flaws.
What's your favorite piece of outdoor gear? Why?
My Leatherman Juice S2. It is the perfect size to carry in a hip pocket of a pack and fits in a fifth pocket of most jeans. It has the right amount of tools and can be used every day.
Got any good, bad, funny, or epic gear stories?
Two days before my new backcountry skiing setup arrived I decided to take my old skis out for a final day on the hill. I was skiing in the resort and hit a roller faster than expected and came nowhere near landing successfully. During my tumbling slide I watched something roll by me. When I came to rest I found that the heelpiece to my binding was the mystery object. In the process of this crash I put a four-inch slice through my OR Furio hardshell pants.
I sheepishly called OR explaining what happened, fully expecting them to send me a patch kit or tell me there was no way to fix the rip. However, instead they told me to send in the pants and they sent me a brand new pair, honoring their infinite guarantee. While this was a terrible day for my bindings it was a great way to learn that there is a gear company that lives up to its promises.
What's in your backpack right now?
A customized first aid kit, a Leatherman, a headlamp, a map of the White Mountains, a compass, an old granola bar, rain shell, and an empty water bottle.
What's your favorite book (outdoors or not)?
My favorite book series is The Dark Towers series by Stephen King.
My favorite outdoor themed book is We Took to the Woods by Louise Rich Dickinson.
Where does your username come from?
I am not a very creative person; my username is my name plus an old expired license plate number.
What would Trailspace members be surprised to learn about you?
For the last year and a half my wife, and dogs, and I have lived in a small off-the-grid cabin. Originally this was to be a temporary arrangement while we built a home, but construction issues kept us in the cabin.
We found that was the perfect size and we decided to stay in this space and do a minor renovation to bring us into the 21st century. For those interested we have documented some of this in a blog: www.lifeinthecabin.wordpress.com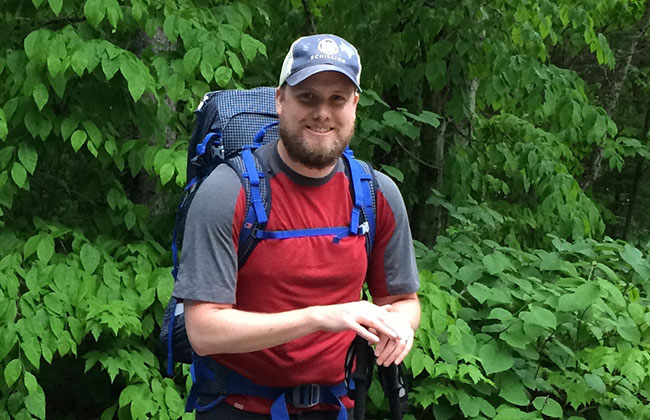 ---
Thanks, and great job, Jim!
Besides Trailspace appreciation, Jim wins a Grayl Water Filtration Cup ($69.95 MSRP) and G3+ Purifier cartridge, an MSR Double-Wall Insulated Mug, Mountain House Beef Stew Pro-Pak meal, energy bars from Clif and Kind, plus a Trailspace Trail Runner Cap and stickers.

Join the Trailspace community in recognizing other helpful reviewers by voting up the reviews you find most useful.
Write your own helpful gear reviews and you could be our next Reviewer of the Month.
Photo credits from top: 1) Jim hiking up Monroe Gully for some backcountry skiing. 2) Jim at the trailhead for North Twin Mountain in the White Mountains of N.H.