Congratulations to Sean Van Cleve, Trailspace's newest Reviewer of the Month!
Each month we recognize and get to know a different member of the Trailspace community. This month it's Sean, a backpacker, bartender, Wilderness First Responder, and Leave No Trace Trainer from Baltimore City, Maryland.
Congratulations, Sean, and thanks for sharing your helpful gear reviews with us, including recent reviews of your Darn Tough Merino Boot Socks and of the Climb On Bar.
For his contributions, Sean wins this month's featured Reviewer of the Month prize, a WhisperLite Universal hybrid-fuel stove, thanks to the good folks at MSR ($112 value).
Plus, we're sending him a pack of goodies including a LuminAID Lantern, Mountain House meal, energy bars from Clif and Kind, coffee from Pronto Cafe, and a Trailspace Trail Runner Cap.*
---
Meet Sean
Tell us a little about yourself.
I am a crazy, fun loving individual that constantly obsesses. When I'm not out in the woods, I am often working in my home music studio, enjoying a few libations. I work as a bartender in one of Baltimore's most prominent beer pubs, serving up everything from Belgian classics to American craft brews.
I am a certified Leave No Trace Trainer and from time to time host awareness workshops. I am a certified Wilderness First Responder and take the medical side of caring for people very seriously. I privately guide beginner backpackers on local trips anywhere from the A.T. to Shenandoah, Washington and Jefferson, and Monongahela National Forests.
What do you like to do outdoors?
Primarily I prefer day hiking and backpacking in wilderness areas. I'm always up for canoeing, kayaking, mountain biking, or any other outdoor activity that gets fresh air into my lungs!
How did you get started exploring outdoors? Earliest memories?
Many of my first memories are camping in West Virginia with my family when I was young. I was fortunate to travel cross-country as a little tyke, camping anywhere from Yellowstone to the Grand Tetons, the Badlands, and many other beautiful areas in the U.S.A. and Canada.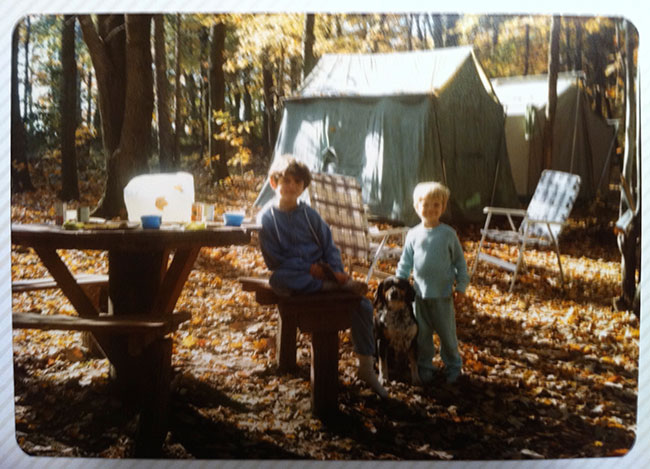 Any favorite stories?
I got a personal message on Trailspace one day, months after commenting that I was interested in purchasing a used winter tent. A few days later, I received a Hilleberg Staika that a Trailspace member good-willed to me!
Check out this link — "Trail Magic? No, Trailspace MAGIC!" — and you tell me this place isn't one heck of a community!
What's your favorite outdoor place?
Monongahela National Forest is the sleeper of the Mid-Atlantic! With areas like the Cranberry Wilderness, Otter Creek, Dolly Sods, there are over 900,000 acres of the park in West Virginia.
Published by Harper's monthly magazine in 1852, David Hunter Strother wrote:
"In Randolph County, Virginia, is a tract of country containing from seven to nine hundred square miles, entirely uninhabited, and so savage and inaccessible that it has rarely been penetrated even by the most adventurous. The settlers on its borders speak of it with a sort of dread, and regard it as an ill-omened region, filled with bears, panthers, impassable laurel-brakes, and dangerous precipices."
Describe your happiest moment outdoors.
Hiking with my wife to the summit of Mt. Washington, New Hampshire, on our honeymoon.
Do you have any outdoor regrets?
Only that I wish I could spend more and more time outdoors!
Do you have any outdoor goals you want to share?
Right now at the top of my bucket list: Gros Morne National Park in Newfoundland; the Enchantments in Washington; and the Highline Trail in the Uinta Mountains.
Describe your ideal day outdoors.
65°F, sunny with a couple of fluffy clouds, a slight breeze, a grassy meadow, bumble bees a buzzing… Maybe also a growler full of beer a few dozen miles from any road? Okay, that last one's never going to happen!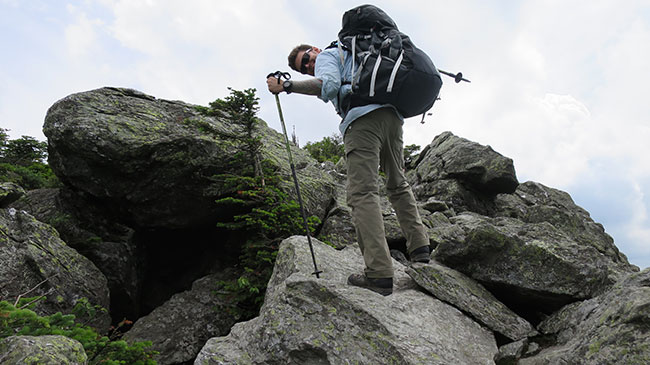 What motivated you to share your reviews with Trailspace?
I wanted to give back to all of the good people here who had already taken the time to help me with a couple of purchases I was looking to make.
What's your favorite piece of outdoor gear? Why?
My Helle Symfoni knife was a gift from my mother. Here's my review.
Got any good, bad, funny, or epic gear stories?
I was standing at the edge of a cliff in Theodore Roosevelt National Park when a gust of wind blew my hat off my head. It blew 20 feet up, out, and miraculously back into my hand. There would have been no chance of recovery. I wonder where that hat is now…
What's in your backpack right now?
I'm gearing up with my Hilleberg Staika and a couple of sleeping pads for a cold/wet/snowy one out on the A.T. near Harpers Ferry next weekend.
Who or what has been the biggest influence on your life?
Being humbled by Mother Nature on a regular basis! The beauty of the lands I have visited have taught me to never underestimate just how dangerous life can be…
What's your favorite book?
Don Quixote by Cervantes
What's your favorite quote?
"Twenty years from now you will be more disappointed by the things you didn't do than by the ones you did do. So throw off the bowlines. Sail away from the safe harbor. Catch the trade winds in your sails. Explore. Dream. Discover."
—Mark Twain
Do you have a trail name?
My trail name, HPM (Hours-Per-Mile), is pretty obvious that I'm no speedy hiker!
Anything else you'd like to share with the Trailspace community?
Don't Give Up! I try to get out on around eight annual backpacking trips, despite some pretty nasty spinal injuries.
Back when I was working as an import auto technician for SAAB, I fell in the shop one day and fractured my pelvis. After a few years of compensation, and sped spinal degeneration, I tore my L5-S1 disc.
I work my hardest to think that any day might be one of my last on the trail. This philosophy has helped me continue to advocate teaching others of the outdoors, and keep the cycle of emptying my pack, clean stuff, resupply, and reload for the next adventure!
---
Congratulations, Sean!
* Besides Trailspace appreciation, Sean wins this month's featured Reviewer of the Month prize, a WhisperLite Universal hybrid-fuel stove, thanks to the generous folks at MSR ($112 value).
Plus, we're sending him a pack of goodies including a LuminAID Lantern, Mountain House Pro-Pack meal, Pronto Cafe instant coffee, bars and blocks from Clif and Kind, and a Trailspace Trail Runner Cap and stickers.
Join the Trailspace community in recognizing other helpful reviewers by voting up the reviews you find most useful.
Write your own helpful gear reviews and you could be our next Reviewer of the Month.
Wide photo captions above: 1) Early car-camping days (Sean on the right, along with his stepbrother, Bill, and dog, Henry). 2) On the Long Trail, Mt. Mansfield, Vermont, this past summer. All photos courtesy of Sean Van Cleve.