Congratulations to Tam McTavish, Trailspace's newest Reviewer of the Month!
Each month we recognize and get to know a different member of the Trailspace community. This month it's Tam, a mountaineer, climber, ski tourer, and outdoor retail salesperson in the Canadian Rockies.
Congratulations, Tam! Thanks for sharing your gear reviews with us, including recent ones of your MSR Hubba Hubba NX 2P tent, Petzl Summit 2 ice axe, and Rab Neo Guide Jacket.
For his contributions, Tam wins this month's featured Reviewer of the Month prize, a Titanium BOT Bottle Pot, a BOT Cozy, a Titanium Pot Lifter, and Titanium Long-Handle Spoon, all thanks to our friends at Vargo Outdoors ($150 value).
On top of that, we're sending him a pack of goodies including a Trailspace Trail Runner Cap.*

---
Meet Tam
Tell us a little about yourself.
My name is Tam McTavish from Canmore, Alberta.
I work full time at an outdoor store in the Canadian Rockies, Valhalla Pure Outfitters Canmore, which allows me to get outside a lot and satisfies my gear addiction. I would describe myself as a mountaineer, so I do a bit of everything and nothing at a particularly high level. I like getting outside to get to unique and spectacular places.
What do you like to do outdoors?
I am a pretty all round kinda guy. Most of my activities these days are multi-pitch trad climbing, mountaineering, hiking, and trail running.
How did you get started exploring outdoors? Earliest memories?
I really was introduced to the outdoors by campout trips as a teenager, and I began leading friends back at home too. My first experiences in the outdoors were weekends at the age of 5 or 6 on my grandparents' farm. They would let me wander off totally unsupervised on my own. I would wander through the woods exploring. I never went far, but as a child it felt like I'd wandered into hitherto undiscovered lands.
Any favorite stories?
Oh man, so many stories. I guess that's why we do this. One of my most challenging days out that's always been a big impact on me is climbing Tower Ridge on Ben Nevis. I'd worked a full night at a pub, then packed my bag, slept for an hour, hoped in a car to drive across Scotland, only to arrive in rather foul conditions.
I followed my much more experienced and bold companions up the initial gullies as it started to rain. Halfway up the gully my feet blew, and I slipped. Somehow I threw my hands out and they landed on a jug. Rattled I worked my way up to my nonplussed friends who assured me that the rest was much easier. I looked at the grassy covered path ahead, disappearing into the mist, and thought "Yeah, it does look way easier".
Luckily no one bothered to tell me this was one of the hardest scrambles in Scotland, and often done as a climbing objective. The big exposure, the sections of unroped tricky moves were a lot to take in. Luckily the mist had obscured the valley, so it all seemed a little less threatening.
As the rain worsened I began to feel the effects of three hours of sleep, and no food. Moving unroped and without Pro was definitely a mental challenge and a half. One of them took one look at me, gave me a Mars bar and roped me up. It made the final portion of the trip way easier, and a lot more fun.
Still it's one of my best memories of pushing myself way out of my comfort zone.
How did you end up in Scotland?
I grew up in Vancouver, very close to Squamish. I did my final year of high school in Switzerland, and decided I really liked being in Europe. I ended up enrolling in The University of St Andrews in 2008. Misplaced perceptions of Scottish heritage definitely influenced my decision to go there.
Through their mountaineering club I ended up getting progressively more addicted to hiking, then climbing, then trad climbing, then winter climbing. Scotland is a great country for that. They have a strong culture of mentorship, and a really broad amount of terrain for a variety of ability levels. All that led to me taking a post university gap year of improving and developing my alpine skills. Now work in a gear store in Canmore.
What's your favorite outdoor place?
That's really hard to say. I like the B.C. Coast for its variety. Watersports, climbing, mountaineering, skiing. But the Rockies have a lot of my favorite activities, ice climbing and big adventurous multi-pitches.
Describe your happiest moment outdoors.
I think one of my happiest memories is completing Eisenhower Tower with my uncle who's a big outdoor idol of mine. It was the very first route he ever consciously thought about climbing and it was really special to share that with him.
Do you have any outdoor regrets?
It bothers me that this subject is so political, but my biggest outdoor regret is watching glaciers I have known for years recede at increasing speeds even within my own lifetime. Even this summer I watched new rock reveal itself as these spectacular hulks of ice decay.
Do you have any outdoor plans you want to share?
I'm hoping to compete in my first ski mountaineering competition this year. I've been touring for a couple years now, but I'd like to speed things up a notch.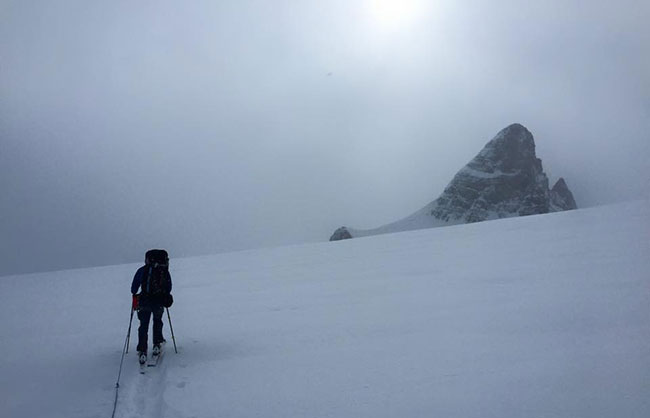 Describe your ideal day outdoors.
I think I'm happiest in the outdoors when I am moving faster than I anticipated, feeling strong, and capable. Hopefully with a good partner enjoying myself, and enjoying the momentum of moving quickly through technical terrain.
What motivated you to share your reviews with Trailspace?
I am a bit cynical about reviews, and working in a store I hear a lot of people come in completely turned off a product because they have heard one bad review. I want to try and build the idea that everyone has preferences, and hopefully people can take away what they need to from that.
What's your favorite piece of outdoor gear? Why?
I love my Petzl Nomic ice tools. They are just so much fun to use, very multipurpose and fun to get out and play on. I also really love my Arc'teryx Atom LT. I live in that thing.
Got any good gear stories?
My very first winter climb was in a pair of leather hiking books, with walking crampons, using a pair of Grivel X Monsters. These tools are designed purely for ice, so Scottish mixed may not have been the best place. Part of the route demanded jamming the pick into a crack, and torquing on it to get purchase.
The issue with the X Monsters is the shafts are just a sheet of aluminum, which started to bounce as I torqued. My unsteady feet slipped and I ended up bobbing from this tool like a hooked fish, before quickly getting my footing.
What's in your backpack right now?
I just finished unpacking from my last trip, so it's all empty now unfortunately. But I had my MSR Hubba Hubba, WhisperLite Universal, The North Face Superlight 15, Big Agnes Q Core SL, GSI Crossover Kitchen Kit, Petzl Tikka R+, Rab Flashpoint and Siltarp 2, Patagonia Ultralight Down Hoody, Black Diamond Convergent Down Hoody, and Icebreaker flannel amongst a bunch of other little backpacking knickknacks.
Who or what has been the biggest influence on your life?
My uncle has always been a big influence. My other uncle who passed away in his twenties on Mt. Logan is another person who I often think of.
But some of my biggest influences are the people around me. Here in Canmore there are so many inspirational people getting out and doing some really cool things. Will Gadd, Raf Androski, John Price to name a few. It's a pretty cool environment and I enjoy trying my best to keep up with what's going on in the valley.
What's your favorite book?
My favorite outdoor book is probably Into the Silence: The Great War, Mallory and the Conquest of Everest by Wade Davis. It's incredibly well written, and well researched. And while I hold Everest's Southeast ridge as blight upon the climbing community, I find the history of the mountain and its incredible mythology very interesting.
What's your favorite quote?
I actually can't find it anymore, so I may be misquoting. I read it in a piece that Rock and Ice ASCENT did translating Reinhold Messner. In the article he wrote (I may be recalling this incorrectly) "People often accuse me of great ego, that I go into the mountains to prove what a big man I am. The truth is, I go to be reminded just how small I am."
Where did your username come from?
Having such an unusual name that I get to use it as username since it's rarely taken.
What would Trailspace members be surprised to learn about you?
Despite growing up near Squamish, I never climbed until I moved to Scotland.
Anything else you'd like to share with the Trailspace community?
Just a little shameless self-promotion. if people are curious, I post a good deal of photos to Instagram @tammctavish If folks are curious how my kit gets used, this should give them an idea.
---
Vargo Reviewer of the Month Prize: Titanium Combo Pack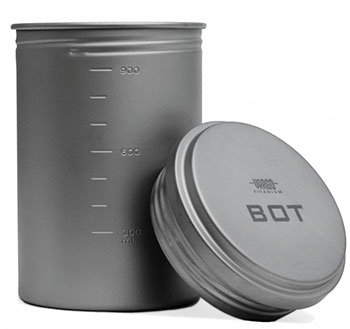 Congratulations, Tam! Besides Trailspace appreciation, he wins this month's featured Reviewer of the Month prize, a titanium gear prize package, all thanks to our friends at Vargo ($150 value):
Half water bottle, half cooking pot, the Titanium BOT Bottle Pot converts with a flip of the lid, yet its watertight, temperature resistant O-ring won't melt ($99.95). A neoprene BOT Cozy keeps food hot and drinks hot or cold ($10).

The ultra-lightweight Titanium Pot Lifter provides grip control and pot grabbing capability, yet weighs less than 1 ounce ($26.95).

The Titanium Long-Handle Spoon pairs with the BOT and lets you reach the bottom of your dehydrated or freeze-dried food bags without getting hands messy ($14.95).


*We're also sending Tam a pack of goodies including a Gerber Freescape Paring Knife, socks from Balega and Wigwam, a Soto Helix Coffee Maker, a Yeti Rambler 10 oz Low Ball to hold that coffee (or something else), Nikwax cleansers, water bottles from Avex and Innate, food from Bakery on Main and Navitas Naturals, and a Trailspace Trail Runner Cap and stickers.
Join the Trailspace community in recognizing other helpful reviewers by voting up the reviews you find most useful. Write your own helpful gear reviews and you could be one of our next Reviewers of the Month.
Photos above: 1) Top: On the summit of Mount Edith Cavell in Jasper National Park after climbing via the East Ridge (III AD+ 5.4). 2) Crossing the Wapta Icefield in the Canadian Rockies in whiteout conditions with St. Nicholas Peak in the background, the first visual navigation point for three hours.