"Your light is what gets you out before the sun comes out and keeps you adventuring well into the night," said Shannon Jidas, Associate Brand Manager for Ledlenser.
That headlamp stashed in your pack could mean the difference between successfully navigating sharp rocks and slippery roots or finding yourself face down in the dirt, between following the trail back to the car or spending a cold night out.
For these enlightening reasons and more, illumination earns the #4 spot on the outdoor list of 10 Essentials.
We talked to three lighting experts to learn more about headlamp technology and what to consider when selecting your own backcountry illumination. (Spoiler alert: it's more than just lumens.)
History: Making a "Head" Lamp
But first, let's go back in time, "to a time when helmets were not as ubiquitous as they are today." So begins Keese Lane, Digital Marketing Specialist for Petzl.
In 1970, caving explorer and equipment maker Fernand Petzl, with his sons Pierre and Paul, expanded his scope to mountaineering gear. After designing lighting for caving helmets, "Fernand was experimenting with battery packs and light elements and realized he could make comfortable, helmet-less light," said Lane. "The only problem was how to connect the power source to the light element."
Catherine Petzl, Paul's wife, solved that problem with a trip to the local French lingerie store. The first "all-on-the-head" lamps in 1973 featured blue, elastic nylon garters to comfortably hold the unit onto a climber's head.
Early batches of the lights had different color bands depending on the garters that Catherine purchased that day.
The new "all-on-the-head" lamps (name eventually shortened) were "an instant hit with the mountaineering community, and soon the Petzls were ordering elastic nylon in bulk," Lane said. Goodbye garters.
LEDs
After getting lights onto heads, the biggest headlamp advance came when high power LEDs (light emitting diodes) replaced halogen bulbs around 2000. Halogen bulbs "were much less efficient and typically had only twenty hours of life," said Joe Skrivan, Black Diamond Equipment Technical Director for Lamps.
LEDs allowed engineers to ditch battery packs on the back of heads to create a more compact light. The Petzl TIKKA, launched in 2000, was the first LED headlamp.
Today's headlamps also use LEDs, but the technology continually improves, allowing designers "to wring even more light out of an LED," as Lane says.
"Nowadays, LED manufacturers like Cree and Lumiled are constantly pushing quality, size, output, and a competitive price, ultimately giving product designers a lot more flexibility," said Skrivan. That means more and brighter lighting options for us.
Lumens (Brightness)
As LEDs increase light output, practical applications increase for hikers, climbers, trail runners, and other outdoor enthusiasts.
#
4. Illumination
"Even if the climbing party plans to return to their cars before dark, it is essential to carry a headlamp or flashlight, just in case. Batteries and bulbs do not last forever, so carry spares of both at all times."
—
The 10 Essentials, The Mountaineers
"The further a lamp can effectively illuminate the faster you can move," said Lane. "Today you can ski down in the dark at a good speed with a bright headlamp."
In most cases, all of those lumens are a good thing. After all, "when was the last time you wished for less light?" Lane asks.
But, there are drawbacks. More lumens mean more and heavier battery power needed. And the brighter the light, the faster your battery will run down.
"There is a race to create the most lumens, in the smallest package, for the best price," acknowledges Jidas of Ledlenser. "However, consumers really need to evaluate how they are going to use their light. A casual camper in the Pacific Northwest has different lumen and feature needs than a climber in Joshua Tree."
Beams (Spot to Flood)
Before you simply opt for the headlamp with the most lumens, consider these words from Black Diamond's Skrivan: "It is not always about lumens."
Or in the words of Jidas, "more lumens, does not necessarily mean the better the light."
The type of beam, how it's angled, and quality of the beam pattern all affect your illumination area, and different activities call for different illumination.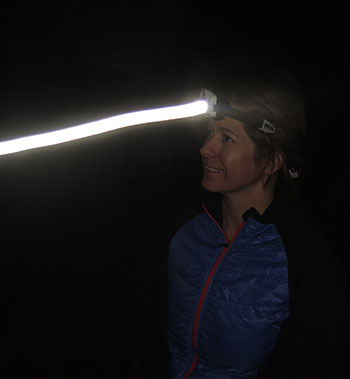 "The best designs will incorporate a lens that is tuned for a specific activity," Skrivan said. For example, a runner's lamp, like the Black Diamond Sprinter, will have a different beam design than a lamp typically used by a climber or for Search and Rescue, like the Icon.
"Runners typically need a wider area illuminated so that they see clearly a few strides out," Skrivan said. "Climbers need to be able to spot rappel anchors. And backpackers usually need a combination."
Types of beams usually include spot (for focused light at longer distances), flood or wide (for dispersed light over a larger area), and variable (which can be switched between the two).
In addition to the beam, a headlamp's light levels can range from low to high, and modes may include a flashing strobe (for emergency signaling), boost (for a short burst of bright light), red light (to maintain night vision), and other colors like green (for hunting).
Features and Advances
As much, or more, engineering goes into a headlamp as any other piece of outdoor gear say our experts. In fact, said Lane, your light may be "the most technologically advanced item in your pack."
On top of that, "what other piece of outdoor gear do you use as often?" he asks. "Whether during a power outage, while working in a confined space, or taking an evening stroll, your headlamp is probably your most commonly used piece of outdoor gear."
To make the best use of it, you'll want to consider specs and features beyond lumens and run time, such as the following:
Illuminating Terms
Average Run Time: Often measured on the lowest lumen setting, so know the run time for each light level.
Batteries: Type(s) used by that lamp, generally alkaline (AA or AAA) or rechargeable lithium-ion (check FAA rules on batteries when flying) or NiMH. Lithiums perform best in the cold. Follow the brand's recommendation. Bring extras.
Beam Distance: Usable light in meters for each light level, as measured by the brand.
Beam Type: Spot, flood/wide, or a combo
IPX Ratings: IPX-4 (splashing water) through IPX-6 (powerful water jets) offer some water resistance. IPX-7 and 8 and above are waterproof (7 when immersed up to 1 meter; 8 when immersed more than 1 meter).
LED: Light Emitting Diode
Lumens: Measure of how much light is put out. More lumens mean brighter, though how well they're focused matters.
Regulated Output: Automatically adjusts a lamp's light levels to keep overall brightness consistent
Batteries
Many headlamps run on AA or AAA alkaline batteries, though some have rechargeable and USB options. Which to choose?
Rechargeable battery capacity has been a limiting factor, says Jidas, but the "technology is evolving to have longer run times and the ability to charge thousands of times without losing significant battery capacity." Plus, rechargeables mean less alkaline batteries in landfills.
On the other hand...
"In the backcountry, recharging can be a hassle and putting in another set of AAA's is pretty simple and is much lighter weight than a charger or solar panel," Skrivan said. For most backcountry use, he recommends looking at a "lumen-hours-per-gram" comparison.
Since AAA batteries only weigh 12 grams each, sometimes just carrying an extra set of batteries is the better way to go, said Skrivan. "If the user is the type that cuts off clothing labels and unwraps their energy bars before heading out, then they are looking for the most efficient headlamp," he said.
Whichever you choose, always bring spare batteries or have a backup.
Regulated Output
"The brighter you make a headlamp, the faster it consumes the stored power in the battery," Lane said. That conflict of brightness versus battery life (and size and weight) is a challenge for every mobile light manufacturer.
Petzl's answer to this challenge is Reactive lighting, introduced in 2012 in the NAO. With Reactive lighting a light sensor monitors the reflected light that the user sees and adjusts output instantaneously to maintain level lighting, increasing battery life without decreasing performance.
"If you look down, ski into the trees, or are climbing a wall the headlamp reduces the light output. If you look out into the distance the lamp dials up the light output," Lane said.
Ledlenser introduced its own regulated output with Optisense Technology, found in its SEO 7R headlamp.
Our Illumination Featured Prize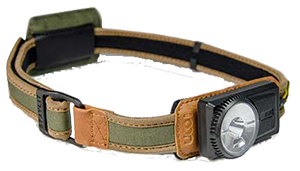 Our 10 Essentials illumination prize for 2016 is the
UCO A-120
headlamp. It features an infinitely adjustable dial to control light level—up to 120 lumens—a red LED for night-vision mode, and an adjustable neoprene strap ($39.99).
Each of our 2016
Reviewers of the Month
gets one as part of their
Year of Essential Gear 10 Essentials prize packs
.
Review your gear today
and you might be our next Reviewer of the Month!
A few more pointers from our experts:
Consider where the battery pack is located and what activity you will be doing with the headlamp says Jidas. "For "activities in tight spots, like caving or working under a car, think about opting for a battery pack located in the back of the headlamp. It will cut down the profile on the lamp itself."
"Waterproof lamps that still allow the battery box to breathe are great because the electronics are sealed from moisture and are therefore protected from anything that could disable them," Skrivan said.
"Things like battery meters, quick brightness resets, night vision colors, lockout, etc are really great features in modern headlamps and more sophisticated users will appreciate them," Skrivan said. "However, the grade-school age camper typically doesn't need anything more than white light that turns on and off with the ability to adjust brightness."
"Flashlights and headlamps are electronics at their core. You want a light that is backed by the manufacturer. Consider a company that offers a warranty of at least five years," Jidas said.
"Quality counts," Lane said. "Having a lamp you can rely on for years matters a lot more than a lamp that lasts a few months."
Conclusion
As Jidas points out (and a quick browse of Trailspace shows), there are literally hundreds of headlamps and flashlights from which to choose. Consider for what activities you'll use your light. Will you be mountain biking at night, hiking before sunrise, setting up camp at dusk? And remember, there is no one perfect light for all of your needs.
"Some users just need one ultra bright headlamp," Lane said. "Others will be best served with five or six headlamps stuffed into various jackets, packs, and the glovebox."
Ultimately, "the essential headlamp is the one that you turn on when you need it," Lane said. That's the one you brought with you. Just don't forget the spare batteries.