Congratulations to Christine Kelly, our newest Reviewer of the Month! Christine, who lives in New York's Hudson Valley, is a backpacker and last year hiked the Pacific Crest Trail.
Since finishing her PCT thru hike, Christine has reviewed her Helly Hansen HH Wool LS Crew, MontBell Frost Smoke Parka, Outdoor Research Rocky Mountain High Gaiters, and Zpacks Duplex Tent, among other gear.
In thanks for her contributions, Christine wins a $300 prize pack from AlpineAire, Black Diamond, EMS, Katadyn, Klean Kanteen, and Sea to Summit. Check out her prizes and get to meet Christine below.
---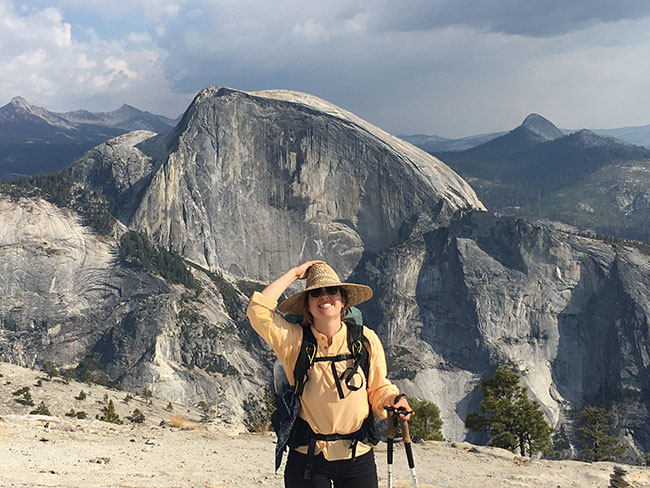 Please tell us a little about yourself.
I am a 29-year-old Eastcoaster who just returned back home after living in California for several years. I've always liked outdoor sports, but going west gave me access to bigger mountains and dreamy weather—which ruined me, so now I'm in perpetual need of new adventures. I work in nonprofit development, have a superfly 6-month-old border collie mutt, and hang out on my friends' farms in the Hudson Valley.
How did you become a Trailspace community member?
I heard about Trailspace from friends, and decided to check it out. Reviews were really helpful to me when making gear decisions for my first thru hike, so I want to pay that forward.
How do you spend your time outdoors?
Recently it's mostly been backpacking, but I also bike, run, car camp, day hike, and I am a very hesitant rock climber.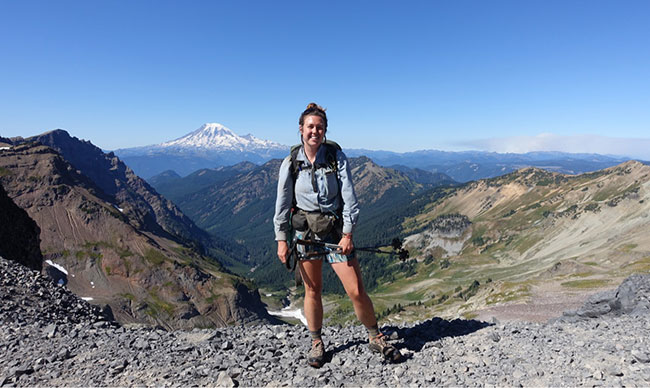 Do you prefer to go out solo or with partners?
Partners, but solo is absolutely worthwhile too!
What prompted you to hike the PCT last year? How did it go?
One of my best friends and backpacking partners decided to quit everything and do the Pacific Crest Trail. As she was getting ready, I went on her prep trips and helped her look into gear... then decided I should join for a month... then realized I should just do the whole thing.
I had a great experience. I did struggle with knee issues throughout the six months I was hiking. That plus the record high Sierra snowpack lead to a lot of flip-flopping and unplanned logistics, but it all worked out in the end.
I got to finish on top of Mt. Whitney with great friends, after flipping back down to the Sierra from Canada. It was pretty unbeatable.
Who has influenced your outdoor life?
My dad and my grandpa. They're both conservationists, fly fishermen, and hunters. They introduced me to the outdoors and took me on all of their fishing trips.
What's your favorite outdoor place?
Probably a tie between Desolation Wilderness [California] and Goat Rocks [Washington].
What is your dream outdoor adventure?
A forever thru hike, with no chronic issues and access to avocados, string cheese, and Fritos.
Do you have a favorite piece of outdoor gear? What? Why?
I love my cook pot (MSR Titan Kettle). Yes, more than $40 is way too much for a pot, but it is so light, so durable, and can really take abuse from drops and smashes and somehow isn't scraped by aggressive spork and knife use. I'll be eating out of that thing when I am 90.
What's your favorite book (outdoors or not)?
To a God Unknown by John Steinbeck made a big impression on me.
Do you have a trailname or nickname?
Hitch. When my injury got really bad on the PCT I needed to hitchhike into town, but I stood on the wrong side of the road. So all told I went 80 miles out of my way, but at least I was resting my knee. Hence the trailname.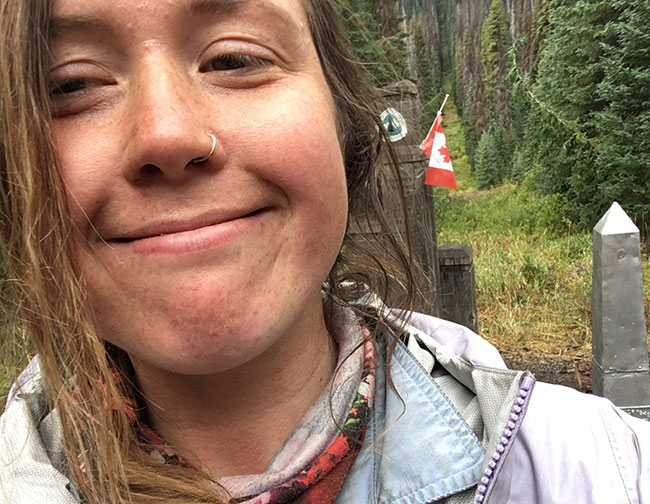 Wide Photo Captions:
On a three-day hiking trip in Yosemite National Park
On the PCT in Washington with Mount Shasta behind
Dirty but happy at the Canadian border
---
2018 Reviewer of the Month Prize Pack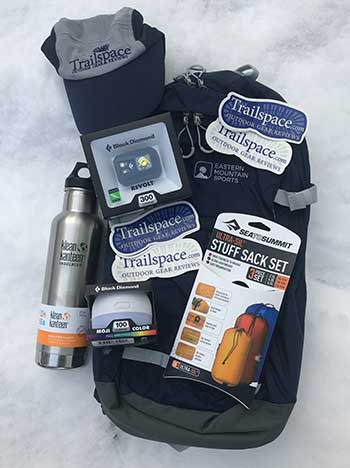 Congratulations, Christine!
To thank them for their essential contributions, we're giving Christine and every 2018 Reviewer of the Month the following prize pack worth more than $300, thanks to these generous brands: